This collection of over 40 easy college recipes all have some very important things in common. They have simple ingredients and are easy enough to prepare in a small dorm or off-campus apartment kitchen.
Lots of delicious, practical choices!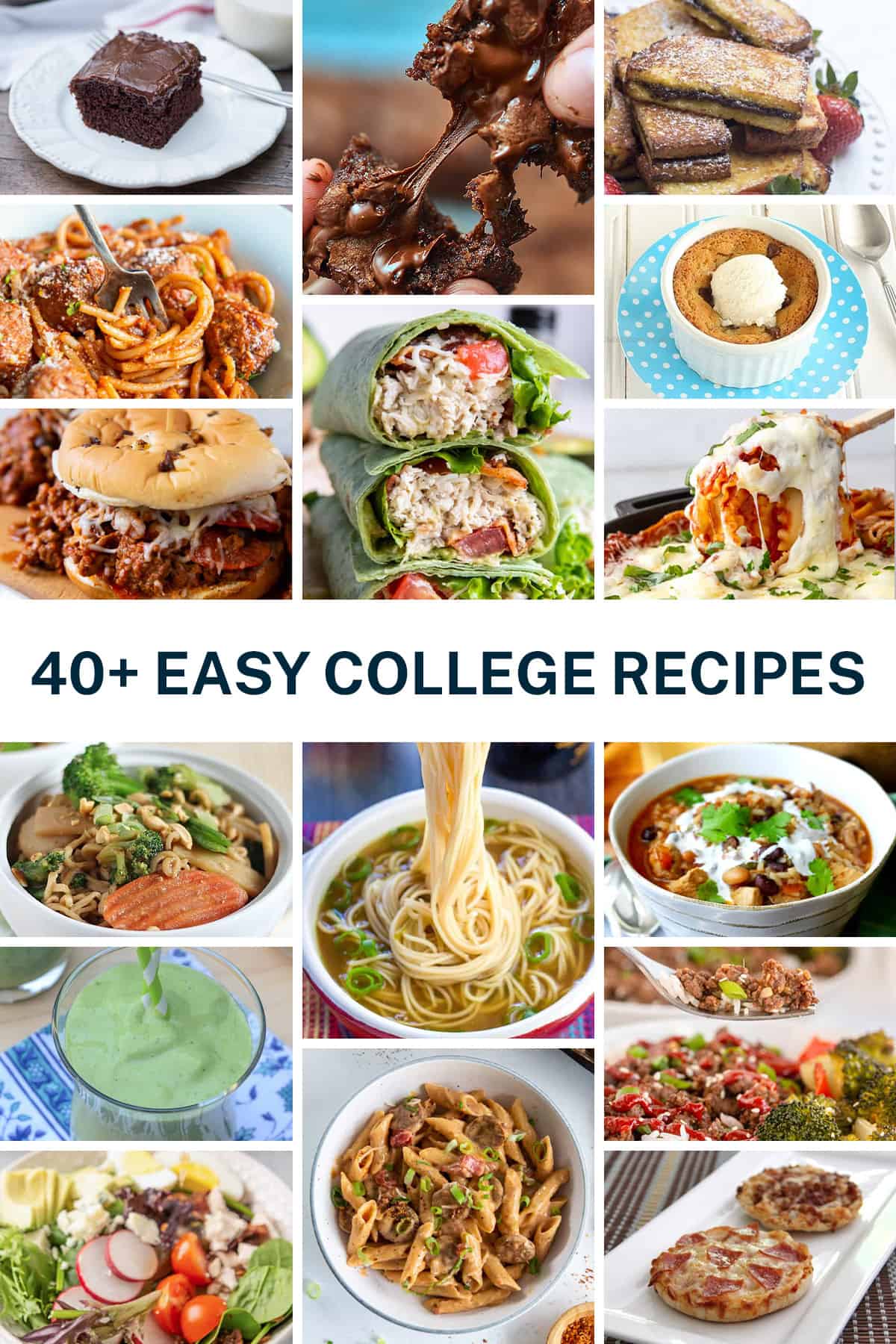 If you are a college student looking for a little cooking inspiration, you're in the right place! If you are the parent of a college student, give them a little nudge and share these easy college meals with them. College cooking should hopefully spark a life-long interest in preparing healthy food.
Most college kids will find that splitting meals between the campus dining halls and fast food joints won't cut it. This will be very apparent on their visits home.
"What's for dinner, Mom (or Dad!)" takes on a whole new meaning for them once they've had to fend for themselves for a few months. I guarantee they will return home for visits with a new level of appreciation for your efforts in the kitchen. They may start taking notice so they can attempt to duplicate some of those meals on their own.
Even if your kids have shown zero interest in cooking, the college experience will most likely bring them into the kitchen. And, these easy college recipes are the perfect place to start!
Breakfast Recipes for College Students
It's easy for college kids to get in the habit of skipping breakfast as they rush off to class each day. Here are some healthy, hearty options to keep them on track.
Easy Noodle and Ramen Recipes
Ramen and college go hand in hand. These easy noodle and ramen recipes are a great way to ease into cooking in a small space. They are comforting and oh, so satisfying!
Easy Pasta Recipes
This assortment of easy pasta recipes for college students includes lots of familiar, comforting flavors. These recipes will reheat beautifully in the microwave or on the stove. Simple ingredients and no special kitchen equipment required!
Soups, Sandwiches and Wraps
You'll find lots of no cook and one pot recipes in this collection of easy soups, sandwiches, and wraps. These are all easy dinner choices and leftovers are perfect for lunch the next day.
Shortcut Pizza Recipes
Skip the expensive takeout and make your own pizza! These easy pizza recipes are creative choices perfect for a dorm or small apartment kitchen.
Healthy Salads and Bowls
There are some some fun, healthy options in this collection of salads and bowls. These delicious recipes make it easy to add a boost of fiber to your diet.
Easy Dessert Recipes for College Students
A selection of delectable but simple recipes to satisfy your sweet tooth. All of these recipes are easy to make in a small college kitchen.
Sign up for my free newsletter for all the latest recipes and join me on Facebook, Instagram and Pinterest for more cooking inspiration!