I've had the pleasure of working with Crisp Cooking and their new line of kitchen tools and today I'm spreading a little of the kitchen gadget love with a gift pack of some of my favorites.
Once the holidays are over, I'm always ready to shift gears into cleaner, healthier eating. I'm sure that many of you can relate. It's time to lighten up, freshen up, get your body movin', and feel good. This assortment of kitchen tools from Crisp Cooking is precisely in line with that idea. I've found countless uses for them over the holidays and they've inspired me to create some delicious, healthy dishes.
Let's take a look at each of these handy kitchen tools in a little more detail.
This knife has barely made it into our utensil drawer since I got it. It has become my husband's go-to knife for slicing up limes and lemons for cocktails and I've been loving it for slicing up veggies for party trays and salads. It comes with a sheath for storage so you can just throw it right into your drawer with all your other utensils and the very sharp blade is completely protected. The sheath also works as a sharpener so it will always stay sharp and ready for use. Loving this knife. Retail value – $11.99
This tool is meant specifically to shred through your fresh herbs and mince them easily and perfectly. It also has a stripper for use with herbs like rosemary that need to be stripped from the stem. I use a lot of fresh herbs in my cooking so this is a tool that will get a lot of use in my kitchen. It comes apart for easy cleaning and has a blade cover for storage. Retail value – $15.99
This all-in-one utensil handles all of your avocado needs. It includes a knife to slice open and pit the avocado, as well as a slicing scoop to remove the fruit from the skin and neatly slice it into serving sized wedges. The knife folds in to the handle, making it compact and easy to store with your other kitchen utensils. Retail value $14.99
Out of all the kitchen tools, this is the one that gets the most "ooohhs and aaahhhs" because – well, because it looks so darn cool. The wavy edge creates beautifully decorative cuts on fruits and veggies. Sharp high quality stainless steel blade. Safety cover included for storage. To see what this awesomely cool kitchen tool can do, take a look at my holiday veggie tray tips. Retail value – $12.99
A multi-use tool that includes a scoring blade, channel knife, and two zesting blades. Large blade folds in handle for safe convenient storage. Retail value – $12.99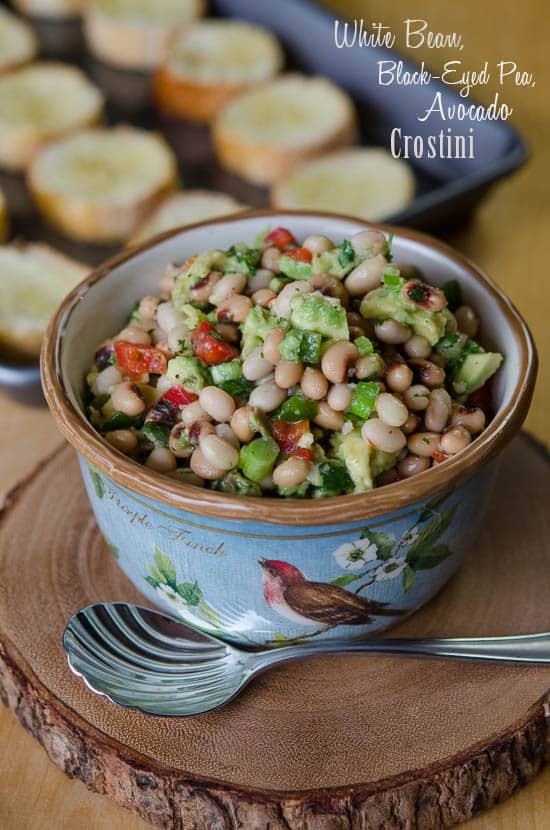 I recently put several of the tools above to good use and made this super fresh appetizer that is perfect for your New Year's Eve celebration. I guarantee this stuff will disappear in no time flat. Take a look HERE for the recipe for this White Bean, Black-Eyed Pea, Avocado Crostini.
Here's to a happy, healthy, delicious New Year!
Enter below for your chance to win all five of these fun, fabulous kitchen tools so you can put them to work in your own kitchen. Contest runs from December 30 through January 6 and is open to U.S. residents 18 years and older. Winner will be randomly chosen via Rafflecopter, notified by email, and will have 48 hours to respond or another winner will be chosen.
Disclosure: I have a working relationship with Crisp Cooking, but all opinions expressed in this post are my own. I received the items demonstrated in this post to aid me in my review.