For the past several months I've had the opportunity to work with Crisp Cooking and try out their great new line of kitchen tools. They have generously offered to provide this gift pack of some of my favorites to one of you to help you prepare healthy, delicious food and stay on track in the new year!
This post is brought to you by Crisp Cooking.
When the clock struck midnight on New Year's Eve, I think at least half the world made a resolution to get healthier and lose weight. After a two month calorie binge of holiday meals, desserts, and lots and lots of wine (just me?) it's easy to feel resolved about making positive changes. The trick is sticking with it. And, now here we are more than two weeks into the new year. If you made a food related resolution, how's it going?
The goal is to make healthy eating part of our lives throughout the year instead of a resolution that only sticks until the Super Bowl appetizers arrive. As you can tell from the recipes I share, I indulge quite frequently, but I also constantly balance those indulgences with light, healthy fare, I workout on a regular (mostly) basis, and I can't stress enough how important portion control is. This is especially true if you eat out a lot. Restaurant portions are ridiculous! My husband and I share dishes frequently which helps us save both calories and cash. If we don't share, I always pack up and bring home at least half of my meal. These strategies used through the entire year, not just January, have worked for me.
An easy change that can make a huge difference is to pack up healthy, delicious salads for lunch on the go. Limiting the number of restaurant meals you consume during your work week can really help to cut calories since we tend to eat higher calorie foods and just eat more, in general, when we eat out.
I'm definitely feeling the need for balance this month and my kitchen tools from Crisp have been seeing a lot of action in my kitchen. I love how brightly colored they are – just like the fruits and veggies I use them on. They're perfect for creating fresh, beautiful salads with seasonal ingredients that will help you stay on track in a delicious way.
One of my favorite ways to stay on track is to shop for seasonal greens, fruits, and veggies and make big, beautiful salads like this Winter Kale Chopped Salad that I posted yesterday. This makes for a fabulous side dish and since kale holds up so well, it's a great choice to pack up for lunch away from home. If you want to add even more protein, add some grilled chicken for a super satisfying, guilt-free dinner.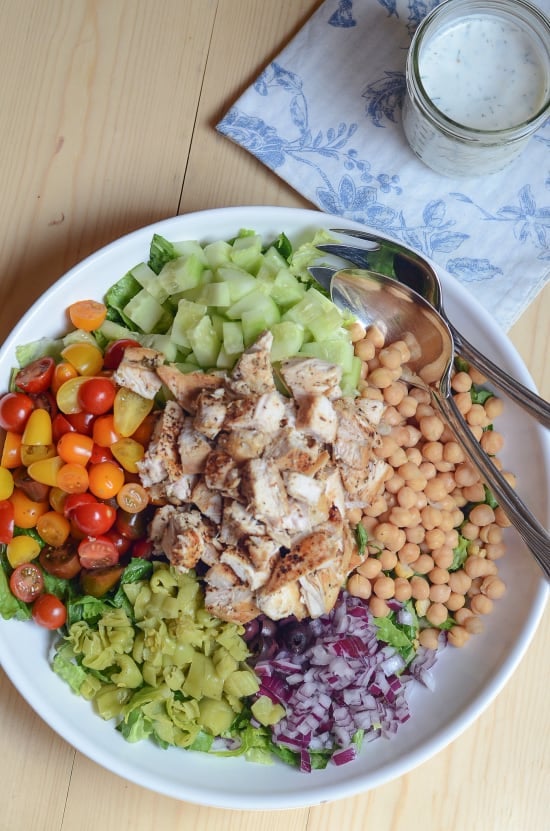 Another favorite is this Mediterranean Chicken Chopped Salad with Creamy Feta Dill Dressing. I love the great combination of textures and flavors in this hearty salad and the seasoned chicken is absolutely divine.
Let's take a look at the tools up for grabs in this month's giveaway.
I love purple so I instantly loved the look of this knife. This handy kitchen tool allows you to cut lettuce without browning. It's also the perfect cutting tool for slicing soft produce like tomatoes, mushrooms or strawberries.
Crisp has really put thought into the design of their tools. These tongs have a removable locking spring so they can be used independently to toss your salad or together for serving. They also have a clever locking mechanism that locks them together for easy storage in your utensil drawer.
The angled head creates an effortless cutting position making it easy and comfortable to peel all kinds of fruits and veggies. The serrated blade makes it perfect for soft skinned fruits and vegetables.
These brightly colored berry baskets are super cute. They have a one-quart capacity and serve as both a colander and a great looking storage and serving container.
This super useful little board is reversible and includes a drainage channel on both sides to help ensure less mess while you cut and prep ingredients. The edges are wrapped in rubber to create a non-skid base so it will stay put while you're using it.
For more information on their entire kitchen tool lineup, visit Crisp Cooking online.
Enter below for your chance to win all five of these kitchen tools to help you create fun, healthy recipes. Contest runs from January 20 through January 28 and is open to U.S. residents 18 years and older. Winner will be randomly chosen via Rafflecopter, notified by email, and will have 48 hours to respond or another winner will be chosen.
Disclosure: I have a working relationship with Crisp Cooking, but all opinions expressed in this post are my own. I have been compensated and received the items demonstrated in this post to aid me in my review.