The company behind my very favorite movie night snack recently sent me a super fun package filled with movie night goodies and their delicious popcorn. Now it's my turn to pass the fun and the popcorn along to one of you!
Thanks so much to G.H. Cretors for sponsoring this post. As always, all opinions expressed here are my own.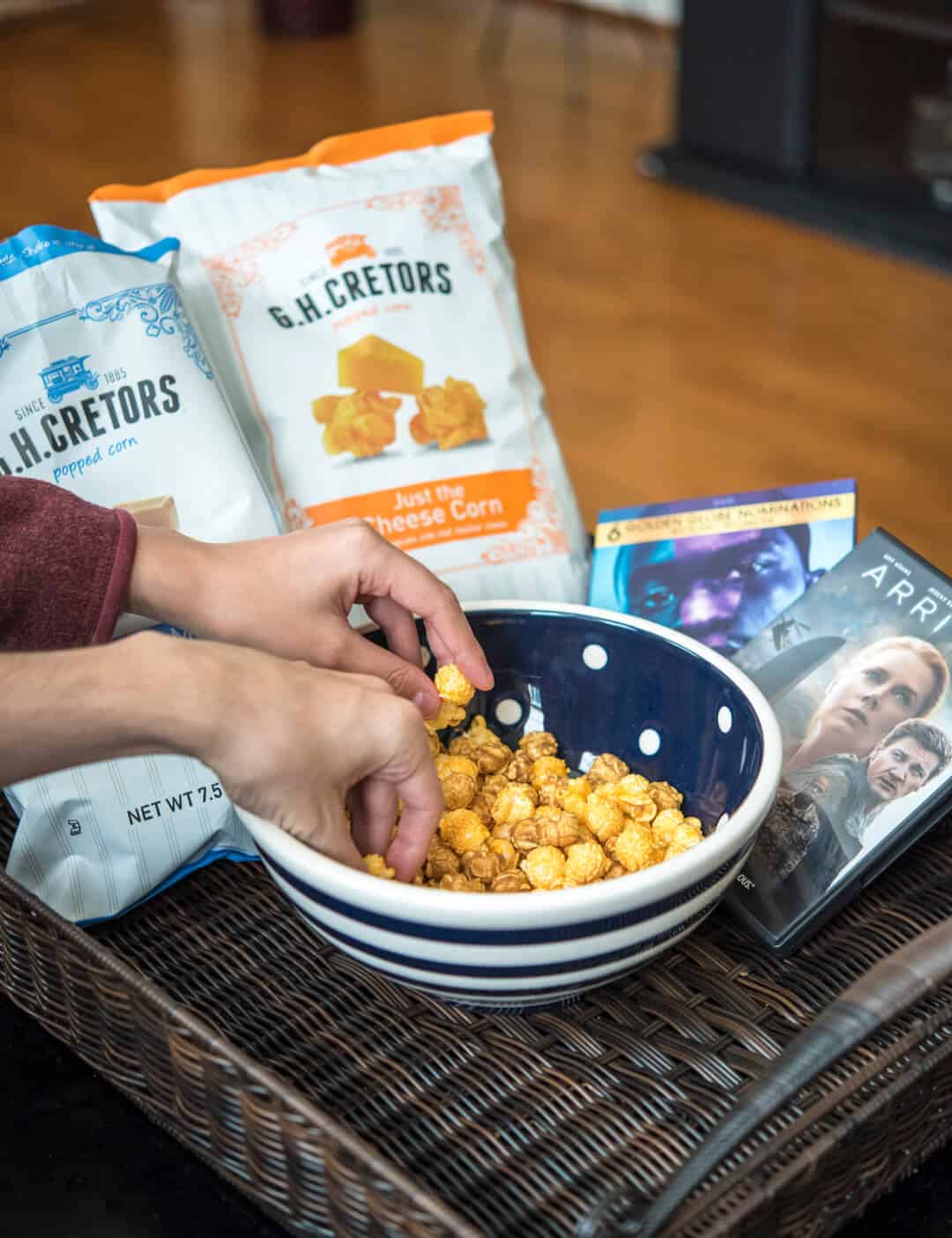 Movies have always been a big deal for me. Like, a serious deal.
Every year as the Academy Awards approach, I always do my best to get to as many of the Oscar nominated movies as I possibly can and then end up watching those we don't catch at the theater here at home.
Then there are those movies that are so good you need to watch them again, and again, and again. I refer to those as my "housework movies". You know, the movies you can't resist whenever they just happen to be on, even if you're hustling around the house getting work done and you just catch pieces of it. I have a pretty long list of those movies and it grows longer every year.
We have a good, old-fashioned movie night at home at least once a week (or more) with popcorn, a cozy blanket, and the whole shebang. Even on the busiest of days I can look forward to a spontaneous, fun night at home.  
Between DVD's, Netflix, all our cable channels we're never more than a click away from a great night. Add in some tasty movie night snacks and a beverage or two and that is pretty much my idea of the perfect night.
If you're not familiar with G.H. Cretors, I'm happy to make the introduction. They make a tasty assortment of flavors of handcrafted, fluffy gourmet popcorn.
The flavors we've been snacking on are Just the Cheese and my all-time favorite, The Mix – the most irresistible blend of buttery caramel corn and premium, aged cheddar cheese corn. Sweet and salty and totally up my alley! One handful and you'll be hooked.
Certified gluten-free, no GMO's, high-quality, real ingredients, incredible flavors!
I'm going to make this really simple. Just leave me a comment below and you will automatically be entered to win one bag each of the flavors shown in this post – Just the Cheese and The Mix.
Tell me what your favorite Oscar movie was this year, or your favorite movie of all time. Any comment will do!
Best of luck and happy snacking!
Follow along with G.H. Cretors | Facebook | Twitter | Pinterest | Instagram
CONTEST HAS ENDED – CONGRATULATIONS TO OUR WINNER, MELANIE!
Contest will run through 11:59 pm on June 9, 2017. Leave a comment below to be automatically entered to win two bags of G.H Cretors Popped Corn. One winner will be randomly selected and contacted via email. Please be assured that your email address will not be used for any other purpose. Winner must respond and claim their prize within 48 hours or another winner will be selected. Must be a U.S. resident and 18 years of age or older to enter. Only one entry per person allowed. Duplicate entries will not be allowed.
This giveaway is sponsored by G.H. Cretors who provided the contest prizes and the items reviewed in this post. All opinions expressed on Valerie's Kitchen are solely my own.
For lots of delicious recipes, giveaways, and more, be sure to follow Valerie's Kitchen