Sweet apples baked into a cinnamon and nutmeg spiced cake, topped with a knock-your-socks off homemade butterscotch sauce. If you're not feeling the fall vibe yet, this cake is guaranteed to do it for you.
As much as I love summer, I always embrace the change of seasons. What happens in my kitchen abruptly changes when I feel that first cool, crispness in the air and the sun starts setting earlier and earlier each day. Here in sunny California we don't see as much of a drastic change as many of you out there, but I can feel it…it's coming…and I'm ready.
My first fall baking happened over the weekend when I whipped up this super cozy apple cake. It is is a wonderful choice for dessert at a holiday gathering or just for the heck of it on a lazy Sunday evening.
Or, for breakfast. Why not?  It's got apples in it.
For baking, I like to use a crisp, sweet apple,  like these Gala apples. Sweetness in the apple means we can add a bit less sugar than if we we use a tart apple, like the Granny Smith that is called for in so many recipes. Gala, Envy, Honey Crisp, or something similar would be my apple of choice for this recipe.
Peel, core, and coarsley chop the apples.
Cream together softened butter, sugar, and vanilla. Mix until it resembles coarse crumbs.
Add two eggs, one at a time, mixing well after each addition.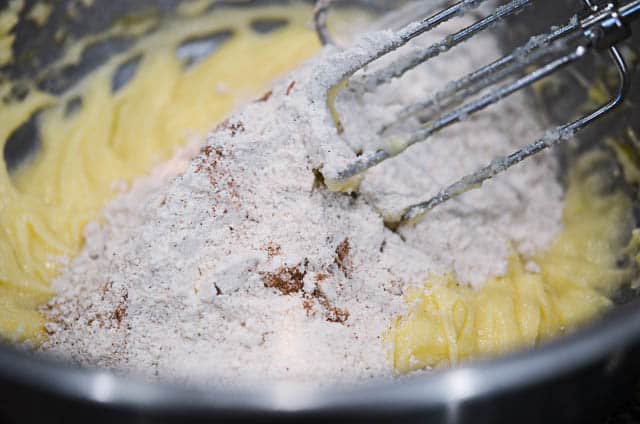 Combine flour, cinnamon, nutmeg, cloves, salt, and baking soda in a small bowl and add about 1/3 third of the dry mixture to the butter mixture and mix on LOW speed just till combined.
Add half the sour cream and mix again until combined. Repeat until all of the dry ingredients and sour cream have been added. The sour cream makes this an incredibly moist cake.
In go the chopped apples.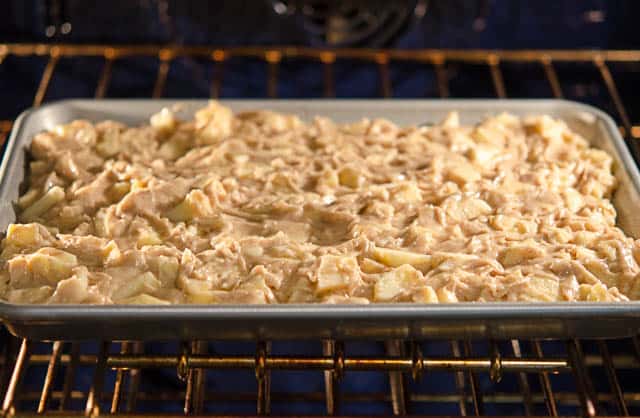 Pour the batter out into a 13″ x 9″ pan that has been coated with non-stick cooking spray. You can use a traditional baking dish but I did mine in a brownie pan, which is just a 13″ x 9″ rimmed baking sheet. Smooth out the top of the batter and pop it in a preheated 350 degree oven. Bake the cake for 35 to 40 minutes, till nicely browned. To check for doneness, insert a toothpick in the center of the cake. It's ready to come out of the oven when the toothpick comes out clean.
Let the cake cool for about 30 minutes and then slice it up and serve it with a super simple, but incredibly delicious, homemade butterscotch sauce. See the printable recipe below for the easy directions.
The cake would be awesome on it's own but with this sauce – it's phenomenal! For those of you not fluent in California lingo – phenomenal is two levels above awesome with amazing sandwiched in between.
Happy fall baking!
Apple Cake with Butterscotch Sauce
Prep Time 15 minutes
Cook Time 40 minutes
Total Time 55 minutes
Servings 12 servings
Change the number in the box above to adjust serving size. Please note that size of cookware and cook time may vary.
Ingredients
Apple Cake:
1/2 cup butter softened
1-1/2 cups sugar
1 teaspoon vanilla extract
2 eggs
2 cups all-purpose flour
1-1/2 teaspoons ground cinnamon
1/2 teaspoon ground nutmeg
1/4 teaspoon ground cloves
1/2 teaspoon salt
1/2 teaspoon baking soda
1/3 cup light sour cream
3 medium crisp apples gala, envy, etc.., peeled and coarsely chopped (approximately 3-1/2 to 4 cups)
Butterscotch Sauce:
1/2 cup packed brown sugar
1/4 cup butter sliced
1/4 teaspooon sea salt
1/2 cup heavy whipping cream
1/2 teaspoon vanilla
Instructions
Preheat oven to 350 degrees. Spray a 13" x 9" baking dish with non-stick cooking spray.

In a large bowl, use an electric hand mixer or stand mixer to cream the butter, sugar and vanilla. Add eggs, one at a time, beating well after each addition.

In a separate bowl combine the flour, cinnamon, nutmeg, cloves, salt and baking soda; gradually add to creamed mixture in small amounts, alternating with the light sour cream, and mix well (batter will be stiff). Use a spoon to stir in apples until well combined.

Spread into prepared baking dish, smoothing surface with the back of a spoon. Bake for 35-40 minutes or until top is lightly browned and toothpick inserted into center of cake comes out clean.

Meanwhile, in a small saucepan, combine brown sugar and butter. Cook over medium heat until butter is melted. Add salt and gradually add cream. Bring to a slow boil over medium heat, stirring constantly. Reduce heat to low and simmer for about 3 minutes. Remove from the heat and stir in vanilla. Serve drizzled over cake.
Recipe Notes
Butterscotch Sauce can be made a day ahead. Store in an airtight container in the fridge and reheat in the microwave, just till warmed.
Since this is such a moist cake, I like to store leftovers in the fridge covered in foil. It's not necessary but the cake will stay fresh and tasty longer if refrigerated.