Incredibly tender, melt-in-your-mouth pot roast in about an hour is possible with the help of your Instant Pot and a few tips and tricks. This Instant Pot Pot Roast recipe with carrots and potatoes and a luscious, flavorful gravy is just what is in order for the cooler fall and winter months.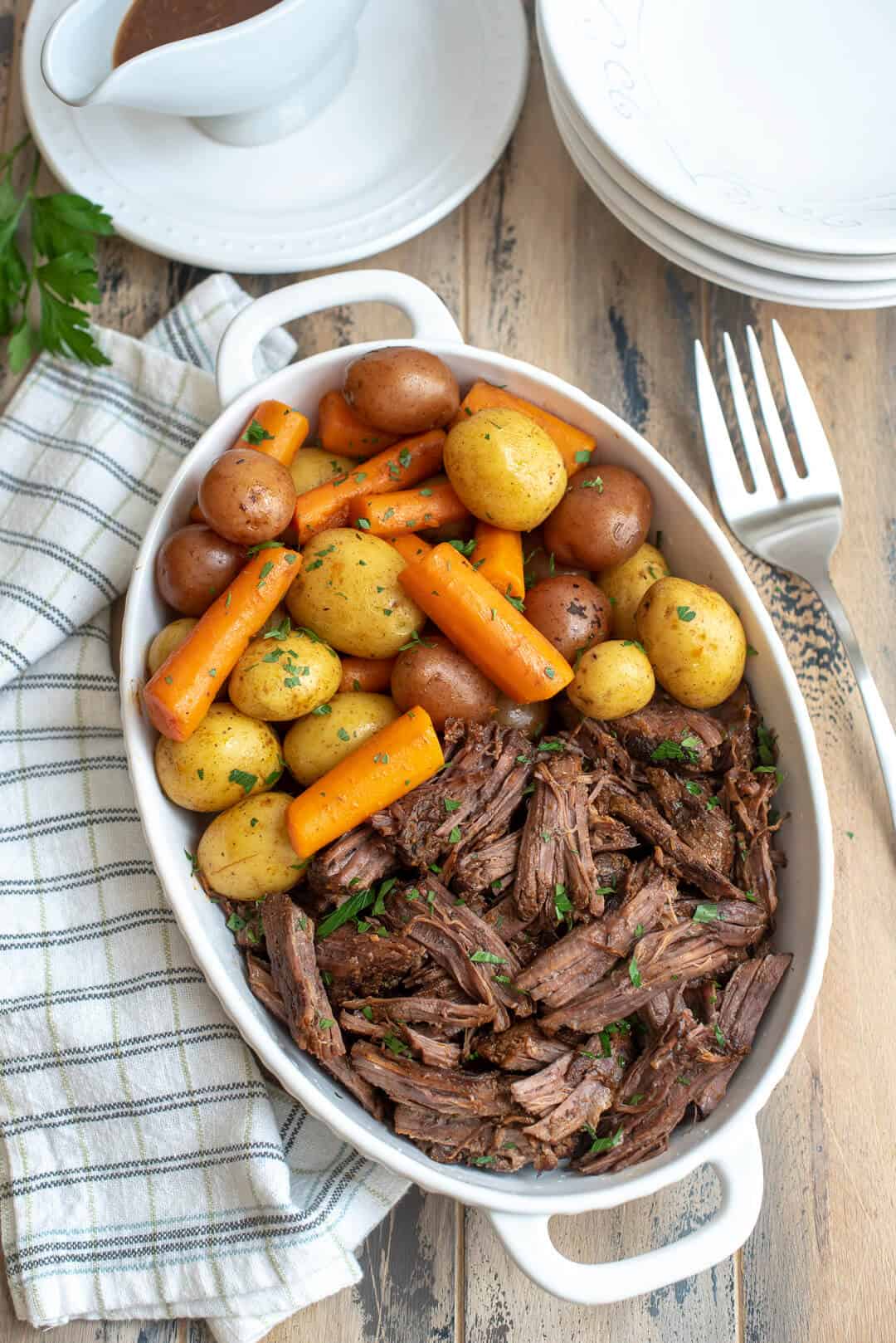 I was bound and determined to create a recipe for pot roast using my Instant Pot that would be fast, easy, and flavorful. I'm thrilled with the result and so happy to be sharing it with you today!
I've been told by the folks in my house that this is the best pot roast they've had. This is a big statement as there have been a whole lot of pot roasts cooked up in my kitchen.
There are several things about this recipe that set it apart from others in the flavor department and make it super fast to prepare. I've set all of these things out in this post for you with the hope that you can duplicate the result perfectly.
Pot roast is such a comfort food classic. I think we all grew up eating our mom's or grandma's version which was most likely cooked on the stove or oven or both. The Instant Pot allows you to reach that same tender result but in a fraction of the time.
No more having to start a meal like this in the early afternoon. You can literally have this on your table in just over an hour which is pretty darn incredible.
The Best Cut of Beef for Instant Pot Pot Roast:
Chuck roast is the most commonly used cut of beef used in pot roast recipes. Chuck is from the front part of the animal and different cuts will be labeled as blade, boneless cross rib, top blade, bottom blade, and shoulder. There are even different names for the same cut and it can differ from store to store – I know… so confusing!
While you might instantly think of the rectangular, highly marbled chuck roast widely available at most grocery stores, some of the other cuts are also a great choice for pot roast.
The popular rectangular cut of chuck will have a large amount of fat both around the edges of the cut and running through it. I have used this cut with great success in this recipe and nothing rivals it in terms of a tender result but it takes a bit more prep to make it work well (see below). Since a big part of my end goal in this recipe is to create a luscious, fuss-free gravy, I went with a boneless chuck cross rib roast, aka, shoulder roast (pictured above), this time around. It is a leaner cut of chuck which means less trimming of fat before the cooking process and cleaner drippings that will result in an effortlessly perfect gravy.
Rump roast, which is obviously not from the front portion of the animal, is another cut that will work here. This was my mom's cut of choice for her roast and a much leaner cut than chuck. This recipe has not been tested with a rump roast and it's possible it could need a longer cook time.
Certified Angus Beef has detailed information on the specific cuts that are best for braising.
I suggest you give the different cuts a try for yourself and see what works best for you. Pick up what is on sale and give it a whirl. Regardless of the cut you use, I'm going to tell you how to prep the meat for success in this recipe.
Pot Roast Dry Rub
This seriously killer dry rub is part of what makes this recipe so special. This mixture adds a TON of flavor to both the roast and the gravy.
The amounts called will make exactly the amount needed for this recipe but it can be mixed up in advance and stored in an airtight container to save time.
How to Prepare the Beef for Instant Pot Pot Roast
One of the goals of pressure cooking is to speed up the cooking process and cutting large cuts of meat down into chunks is the best way to achieve this. It can cut the cooking time in half versus tossing in a whole roast. The other benefit is that you can season the individual chunks with the dry rub, covering more surface area of the meat which means more flavor. It also gives you the opportunity to more effectively trim the fat which will yield a better gravy.
Using a sharp knife, cut the roast into 4 to 6 chunks. How many chunks will depend on the size of your roast. If you are using a highly marbled cut of chuck, cut it at the seams where you see veins of fat running through it. Trim and discard the fat from all the edges of each piece. Just do the best you can. There will be small fat deposits left and that is just fine. If you are using a 4 pound highly marbled piece of chuck, you may end up trimming as much as 1/2 pound of fat. This is one of the reasons I prefer using a leaner cut of chuck. They are easier to trim and you'll end up with more meat. More bang for the buck! And, trust me, it will still get tender. None of these cuts stand a chance against the Instant Pot.
Sprinkle the dry rub over both sides of the chunks of beef and use your hands to press it into the surface of the meat. I like to do this on a foil lined board for easy cleanup.
Next, you'll use the sauté function on your Instant Pot to sear the seasoned beef chunks in a little olive oil in batches, if necessary, to avoid overcrowding the pot. The seared beef is set aside while you sauté some diced onion and garlic. Then in goes some tomato paste, a little red wine, beef broth, and Worcestershire sauce. Flavor baby!
The seared chunks of beef are added back to the pot and tucked down into the liquid.
Because the meat has been cut down and will cook much faster, you can add the carrots and potatoes at the beginning of the cooking process. This means the pot only needs to come to pressure and release pressure once and saves you about 15 to 20 minutes.
Look for substantial carrots and cut them into large 2- to 3-inch pieces. I used The Little Potato Company's Dynamic Duo creamer potatoes. They are small so they should be cooked whole. If you are using larger potatoes you can halve or quarter them, depending on their size. Add them to the Instant Pot right on top of the meat. They should not be completely immersed in the liquid but instead, layered on top of the chunks of meat as they cook.
Bring the pot to pressure and cook on Manual for 35 minutes.
See the printable recipe card below for all the details on finishing this off and whisking up the easy gravy.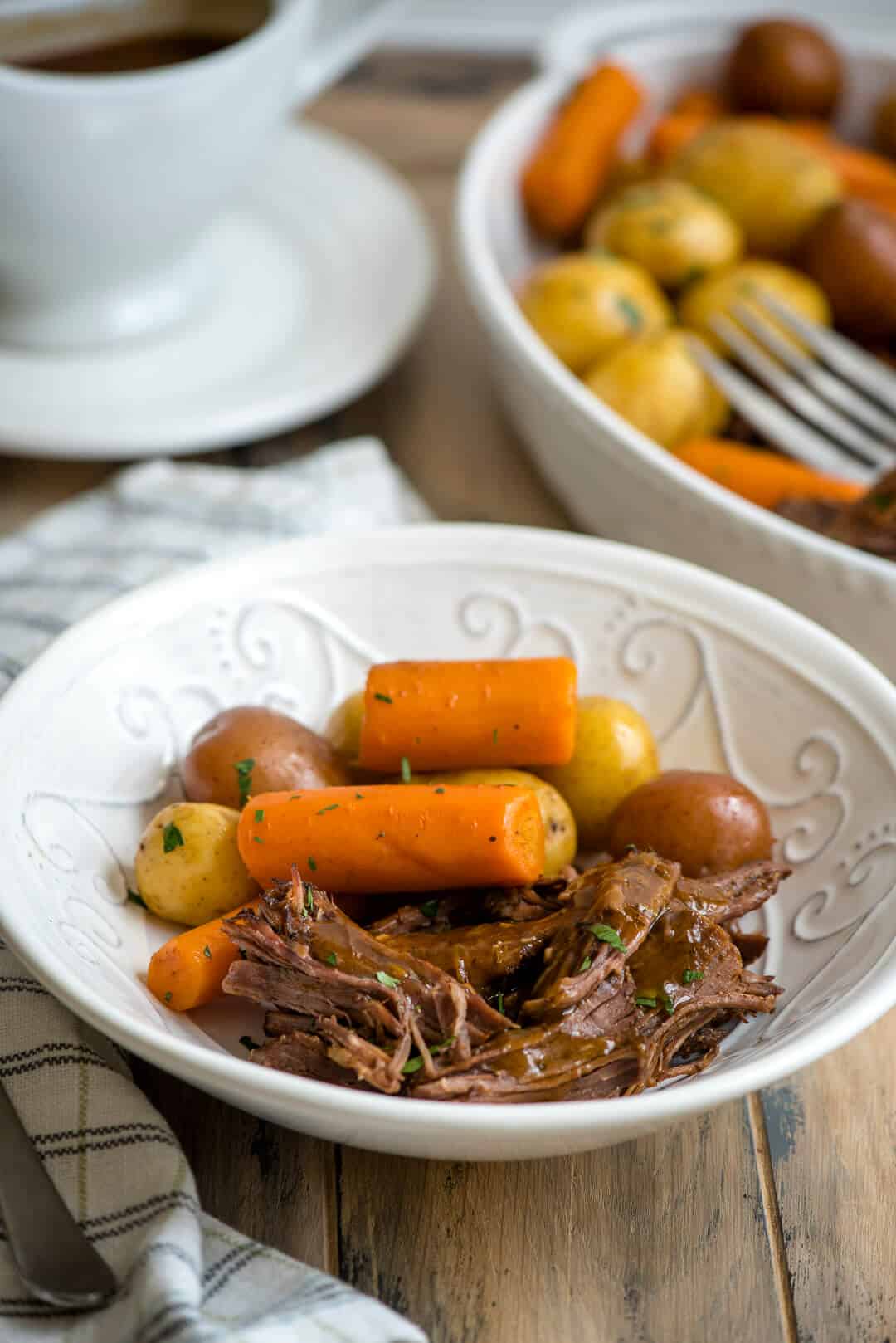 If you try this recipe I'd love to hear how it worked out for you.
Now, go forth and eat pot roast!
More delicious choices for the Instant Pot:
Instant Pot Beef Stew | Valerie's Kitchen
Instant Pot Chili | Oh Sweet Basil
Instant Pot Rotisserie Chicken | A Mind Full Mom
Instant Pot Baked Potato Soup | Living Locurto
Instant Pot Mexican Casserole | Well Plated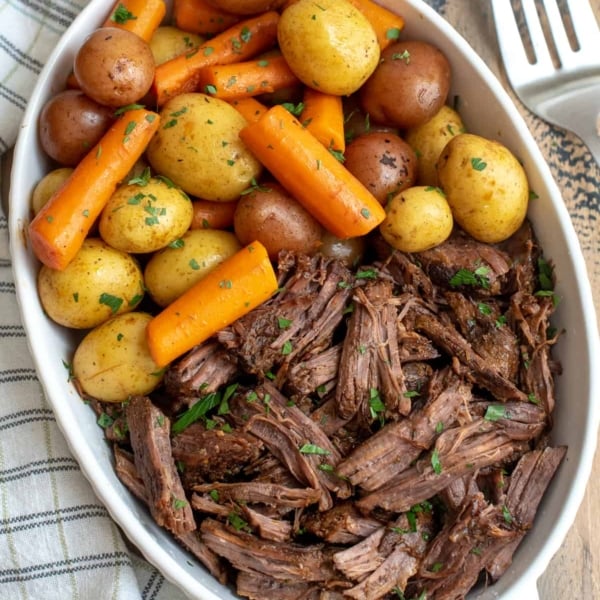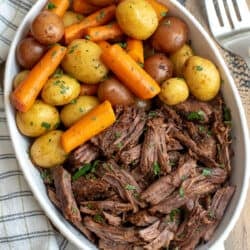 Instant Pot Pot Roast
Incredibly tender, melt-in-your-mouth pot roast in about an hour is possible with the help of your Instant Pot and a few tips and tricks. This Instant Pot Pot Roast with carrots and potatoes and a luscious, flavorful gravy is just what is in order for the cooler fall and winter months.
Ingredients
For the Pot Roast
3 ½ to 4

pound

beef chuck roast

3

tablespoons

olive oil

,

divided

1

cup

diced onion

2

teaspoons

minced garlic

2

tablespoons

tomato paste

½

cup

medium to full-bodied red wine

,

(like Cabernet, Zinfandel, or Merlot)

2

cups

low-sodium beef broth

1

tablespoon

Worcestershire sauce

4

carrots

,

peeled and cut into large 2- to 3-inch chunks

1 ½

pounds

whole baby potatoes
For the Pot Roast Dry Rub
1 ½

teaspoons

sea salt

1 ½

teaspoons

dried crushed rosemary

1 ½

teaspoons

dried thyme

1

teaspoon

fresh ground black pepper

1

teaspoon

granulated garlic or garlic powder

1

teaspoon

onion powder

½

teaspoon

paprika
For the Gravy
1 to 1 ½

cups

water

,

or as needed

2

tablespoons

cornstarch

2

tablespoons

cold water
Instructions
Cut the chuck roast into 4 to 6 chunks, separating at the seams to expose the fat deposits (if using a highly marbled chuck roast). Use a sharp knife to trim as much of the fat as possible from the chunks of roast. It's fine if some fat remains but trim as much as you can to ensure that your gravy will not be overly greasy. Place the trimmed chunks of roast on a large piece of foil for easy cleanup.

Combine the spice rub ingredients in a small bowl. Sprinkle the rub over the pieces of beef and use your hands to press the seasoning into the meat. Wash those hands!

Press the SAUTÉ key on the instant pot and the ADJUST key to toggle to the MORE setting. Wait for the pot to say "HOT" before adding ingredients.

Add 2 tablespoons olive oil to the heated pot. Add half of the seasoned beef (or as much as will fit comfortably without being too crowded) and sauté for 2 to 3 minutes per side, or until nicely seared. Transfer seared beef to a plate and repeat with remaining 1 tablespoon oil and the rest of the beef. Transfer second batch of beef to the plate and set aside.

Press CANCEL and then select SAUTÉ again and ADJUST to the REGULAR setting. Add the onions and garlic to the pot and sauté for 2 to 3 minutes or until tender. Add the tomato paste and cook, stirring to scrape up any browned bits from the bottom. Add the red wine, broth, and Worcestershire sauce. Nestle the chunks of browned beef down into the sauce and then top with the carrots and potatoes. Don't stir. You want the meat submerged in liquid and the carrots and potatoes on top.

Place the lid on the Instant Pot. Press the MANUAL button, select HIGH, and set the time to 35 minutes (making sure the steam release handle is in the "Sealing" position). After the cooking is complete allow the Instant Pot to do a natural release for 10 minutes then use a long handled spoon to push the steam release handle to the "Venting" position to allow any remaining steam to release completely before you open the pot. Press CANCEL.

Transfer the carrots and potatoes to a serving dish and tent with foil to keep warm. Transfer the beef to a cutting board and let it rest while you make the gravy.

Press SAUTÉ and ADJUST to select the LOW setting Stir 1 cup water into the very concentrated cooking liquid in the Instant Pot to dilute it a bit. Taste and if needed, add additional ½ cup of water to dilute as desired. In a small bowl stir together 2 tablespoons water and 2 tablespoons cornstarch. Whisk the mixture into the Instant Pot and simmer for about 5 minutes or until the gravy has thickened to your liking, stirring occasionally. Press CANCEL and unplug the Instant Pot. Transfer the gravy to a gravy boat.

Shred or chunk the roast and serve with the potatoes, carrots, and plenty of gravy!
Notes
This recipe was tested in the 6 Quart Instant Pot DUO60. Other models may have different settings than those listed in the recipe.
Blot the beef dry with paper towels before cutting into chunks and seasoning. Dry beef will sear better when it hits the oil.
Cook time doesn't include time it takes for the Instant Pot to come to pressure or to naturally release which should take about 10 to 15 minutes in total for this recipe. Please consider this when timing your meal.
If gravy is not as thick as you'd like after simmering with the cornstarch slurry, mix together an additional 1 tablespoon water with 1 tablespoon cornstarch and whisk it in to the thicken further.
Nutrition
Calories:
569
kcal
·
Carbohydrates:
24
g
·
Protein:
68
g
·
Fat:
19
g
·
Saturated Fat:
6
g
·
Cholesterol:
183
mg
·
Sodium:
781
mg
·
Potassium:
1529
mg
·
Fiber:
3
g
·
Sugar:
3
g
·
Vitamin A:
5235
IU
·
Vitamin C:
21.5
mg
·
Calcium:
61
mg
·
Iron:
8.1
mg
Nutrition information is automatically calculated using generic ingredients, and is an estimate not a guarantee. For more accurate results, please refer to the labels on your ingredients at home.
Did You Make This?
We love seeing what you've made! Tag us on social media at @fromvalerieskitchen for a chance to be featured