A whole week full of no-sweat, kid-friendly Back to School Lunch Ideas that can be put together in 5 minutes or less!
Thanks to Rubbermaid LunchBlox® for sponsoring this post.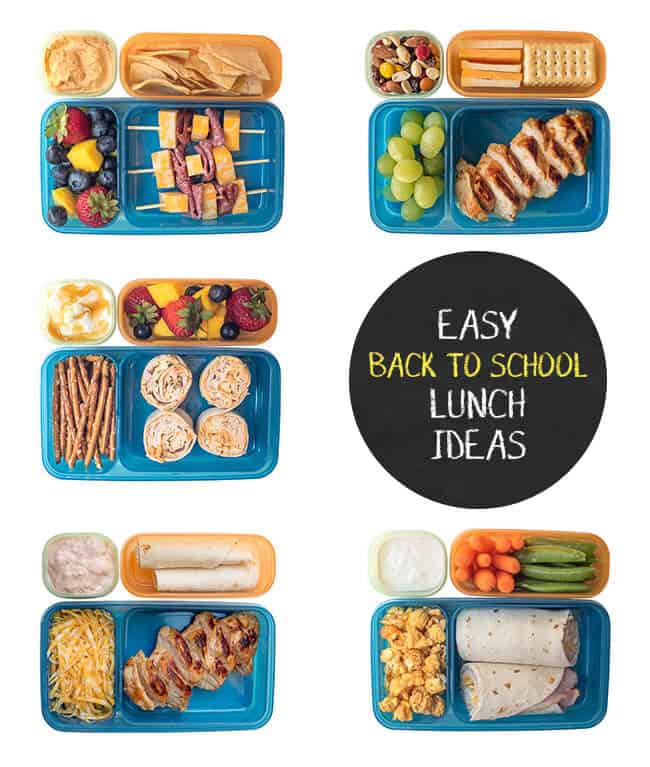 I always started each school year off with the best intentions. Initially, I'd be so organized, so on top it all, but once the initial back to school excitement had died down so did my school lunch inspiration. After a long day of work I'd come home, prepare dinner for the six of us, be sure the guys were doing their homework (you know the drill), and inevitably be way too tired to deal with putting their lunches together for the following day.
But from the ashes of exhaustion rise some clever ideas on how to make life easier!
Although all of my "little ones" are now college age and beyond, I will never forget the demands back to school time puts on parents and I'm thinking about you! I've put together this collection of super easy lunch ideas that your kids will love including variations for each so you can customize them to your child's liking. Whether you pack your kids' lunches the night before or just before they head out the door, all of these lunches can be put together in 5 minutes or less.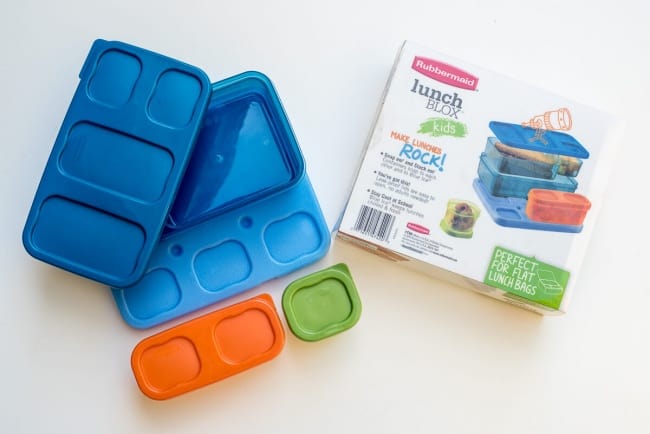 Target has some great deals on an assortment of Rubbermaid LunchBlox® for back to school. I've packed all of these lunches in the cleverly designed Rubbermaid LunchBlox® Kids for Flat Lunch Bags. While the sandwich container is perfectly sized to hold sandwiches, I thought it would be fun to mix things up a bit and show you some alternative kid-friendly lunch options. The kit includes 1 large divided container, 1 snack container, 1 sauce container, and a specially designed block of Blue Ice™ that allows you to snap the containers in place, keeping the lunch items chilled until it's time to eat. It's designed to fit inside your child's flat lunch bag and the lids are secure enough so you don't have to worry about any leakage issues. The BPA-free containers are microwave, dishwasher, and freezer safe.
The LunchBlox® Sandwich Kit and the Fasten+Go™ Entree, Soup, and Salad Kits are perfect for your older kids or for taking your own lunch to work.
5 Easy Back to School Lunch Ideas
Lunch #1
Salami and cheese kabobs
Assorted fresh fruit
Pita chips with hummus
It just so happens that if you snap a standard wooden kabob skewer in half, it fits perfectly in the sandwich container. It also makes these kabobs the perfect size for little hands. I did salami and cheese here but I've included some other variations below. Use your imagination!
Kabob variations:
Swap out the salami for any type of deli meat your child prefers.
Add cubes of bread to create sandwich kabobs.
Add cherry tomatoes, olives, or pickles.
Lunch #2
Leftover grilled chicken
Grapes
Cheese and crackers
Trail mix
Whenever we grill chicken, I always try to add an extra piece or two because it's so nice to have the leftovers on hand for a quick lunch. Add some grapes, cheese and crackers, and a little trail mix for a complete meal.Variations:
Use store-bought rotisserie chicken.
Replace the trail mix with a dipping sauce for the chicken. Some mayonnaise or Ranch salad dressing mixed with a little BBQ sauce is really tasty and kid-friendly.

Lunch #3
Deli turkey and ham wrap with garden vegetable cream cheese and shredded Colby Jack cheese
Cheese popcorn
Veggies with Ranch dressing
Wraps are always a fun choice for kids and it's easy to keep all kinds of ingredients on hand to make them interesting. The one here is super basic and starts with a flour tortilla with a smear of garden vegetable cream cheese. It's then layered with deli turkey, ham, and shredded Colby Jack cheese. If your kids are more adventurous eaters, go for it! See the variations below – the possibilities are endless! I've also included some cheese popcorn and veggies with Ranch dressing for dipping.Wrap Variations:
Add greens, shredded carrot or store-bought broccoli slaw.
Use any of the delicious flavors of store-bought spreadable cream cheese.
Replace cream cheese with hummus.
Make a turkey BLT wrap with deli turkey, crisp bacon, and thinly sliced tomato.
Use colorful, flavored wraps like sun-dried tomato or spinach.
Veggie Dip Variations:
Jazz up Ranch dressing by adding a touch of pesto or Sriracha if your child likes a little heat.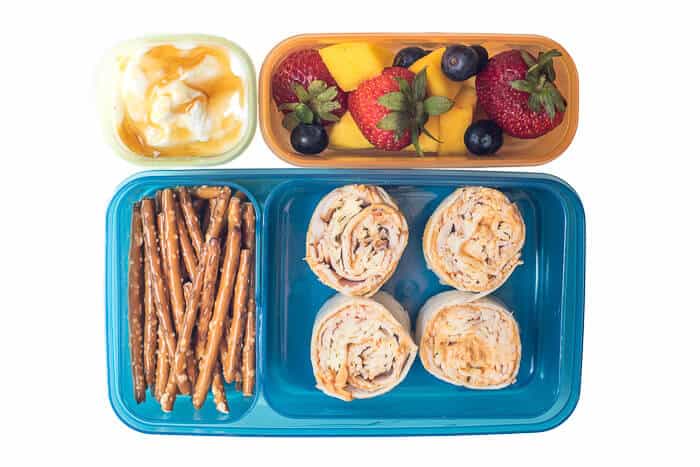 Lunch #4
Turkey hummus pinwheels
Pretzels
Fruit
Plain Greek yogurt with a honey drizzle
Pinwheels are fun – period. Tortillas, store-bought hummus, and deli meat make for a super easy, really tasty lunch item.Spoon some plain Greek yogurt into the sauce container and drizzle it with honey. This honey Greek yogurt dip is delicious with both fruit and pretzels! Try it for yourself, it is so simple but incredibly tasty.Pinwheel Variations:
Add finely chopped greens, shredded carrot, or store-bought broccoli slaw.
Replace hummus with flavored cream cheese.
Add chopped olives.
Fruit Dip Variations:
Stir a small pinch of cinnamon and sugar into the yogurt before drizzling with honey.
Swirl a teaspoon of any flavor of jam into plain Greek yogurt.

Lunch #5
Leftover grilled chicken
Shredded cheese
Tortillas
Creamy salsa
These DIY chicken soft tacos may be my favorite out of the group and another great way to use up leftover chicken. I sliced soft taco size flour tortillas in half and rolled them up to make them fit perfectly in the container. The creamy salsa dip is just a couple of spoonfuls of sour cream with a bit of salsa mixed in.Variations:
Use rotisserie chicken.
If your child is not a fan of salsa or sour cream use the small container for shredded lettuce, chopped tomatoes, or any other taco toppings.
I hope these ideas will make your mornings a little easier and provide some inspiration to make wholesome, tasty meals your kids will love!