A simple but delicious saucy BBQ chicken mixture bakes on top of cornbread batter to create this comforting BBQ Chicken Cornbread Skillet.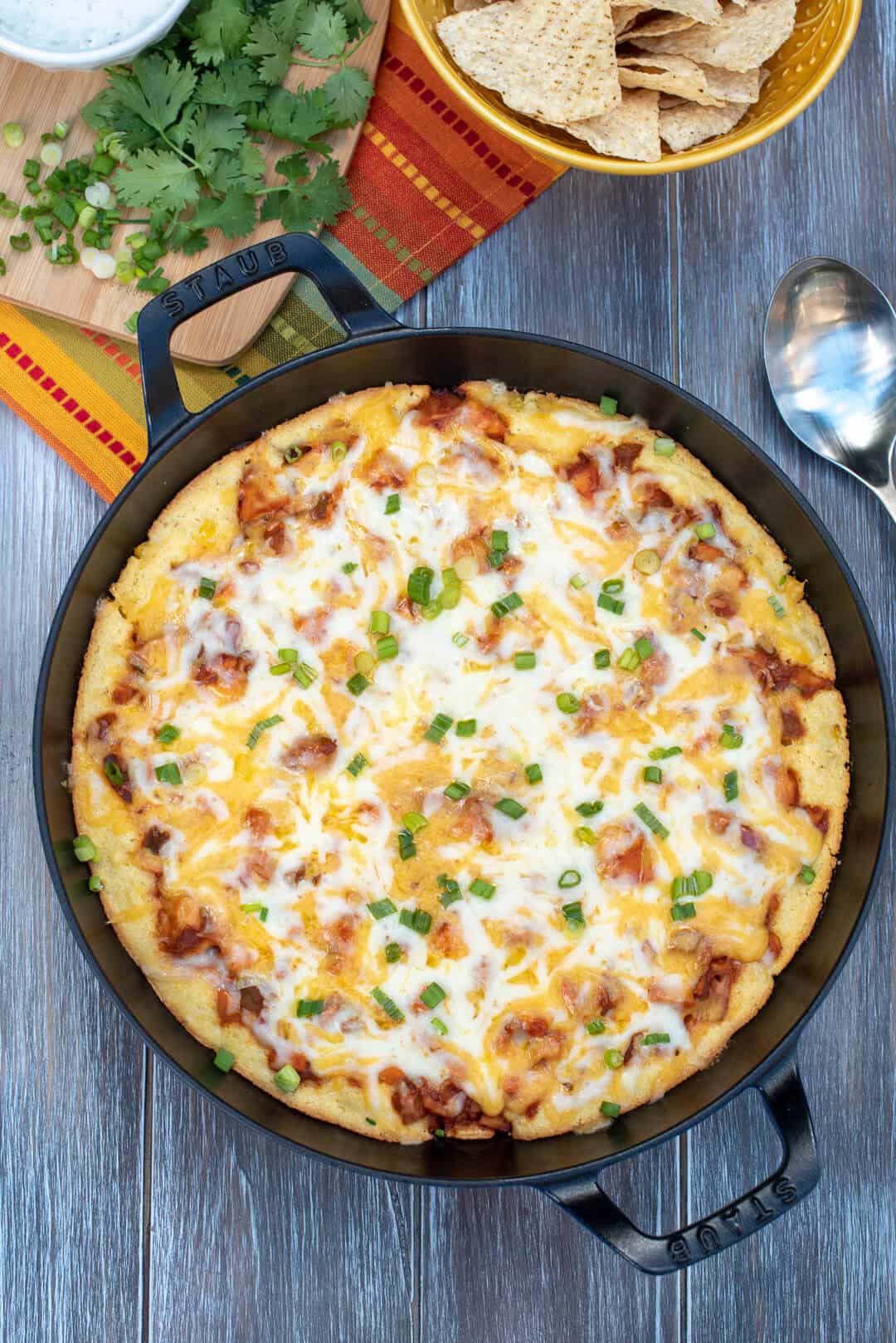 Last week we got our first rain of the season and just like clockwork, I started craving BBQ.
Happens every time.
It's as if my appetite senses summer slipping away and decides I need to pack in a little more BBQ before it's gone forever. Or, for what seems like forever to a girl who's craving BBQ.
So I set out to create this delicious skillet of goodness to satisfy my craving in a comforting dish that was just what we needed on a rainy day.
I have a history of baking things on top of cornbread batter, as those of you who've tried my Chili Cornbread Bake are probably aware. This time I mixed a little frozen corn into the cornbread batter, made super easy with a box of Jiffy Corn Muffin Mix, and spread it in a skillet. Instead of topping it with chili, I opted for chopped rotisserie chicken combined with tomato sauce, BBQ sauce, red onions, and diced green chiles.
Simple but so effective at handling my craving.
The mixture is spooned right over the cornbread batter and then baked until the edges of the cornbread are golden brown.
Then it's time for the cheese.
I used a combination of sharp cheddar and Monterey Jack but I just know pepper Jack would also be an awesome choice.
We thought this was delicious with a drizzle of Ranch dressing and a little chopped cilantro. All totally optional. You could go with sour cream and sliced avocado. Or just a good shake of hot sauce!
I baked this in my cast iron 12″ Staub braiser but you could also bake this in a 10″ skillet if you'd like. Take a look at note on the recipe card below for the details.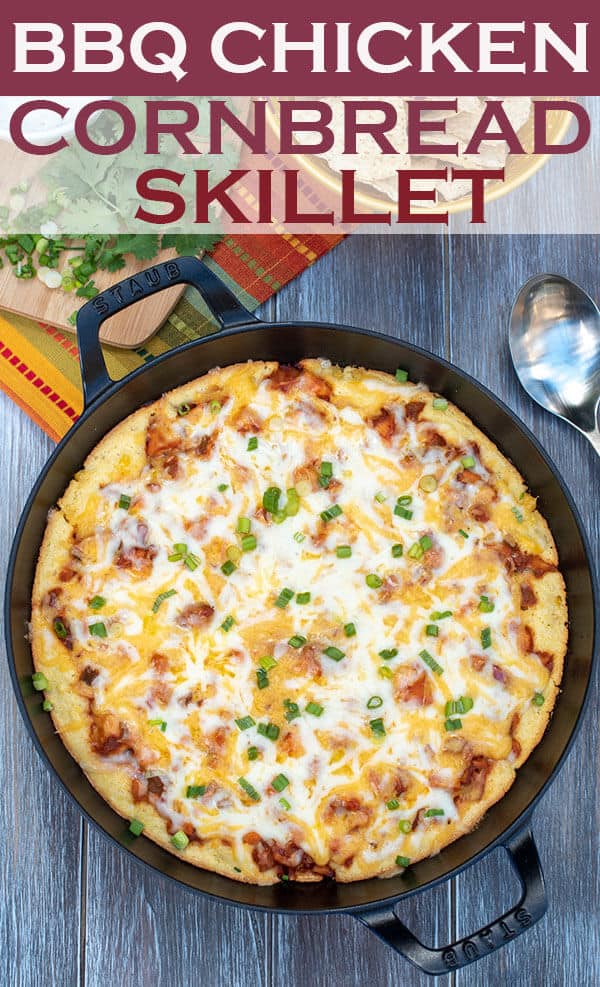 BBQ Chicken Cornbread Skillet
A simple but delicious saucy BBQ chicken mixture bakes on top of cornbread batter to create this comforting BBQ Chicken Cornbread Skillet.
Prep Time 10 minutes
Cook Time 35 minutes
Total Time 45 minutes
Servings 6
Change the number in the box above to adjust serving size. Please note that size of cookware and cook time may vary.
Ingredients
1 (8.5 ounce) box Jiffy Corn Muffin Mix
1 egg
1/3 cup milk
1/2 cup frozen corn
2 1/2 cups chopped cooked chicken (rotisserie chicken works perfectly)
1 (4 ounce) can diced green chiles, drained
1/2 cup diced red onion
1 (8 ounce) can tomato sauce
1/2 cup BBQ sauce
1 cup shredded sharp cheddar cheese
1 cup shredded Monterey Jack or pepper Jack cheese
1/4 cup thinly sliced green onions
Optional toppings: chopped cilantro, Ranch Dressing, sour cream
Instructions
Preheat oven to 350 degrees F. Spray a 10" or 12" deep skillet or sauté pan with non-stick cooking spray.

Combine the Jiffy corn muffin mix, egg, and milk in a medium mixing bowl. Stir until well combined and then add in the frozen corn, stirring until well incorporated. Transfer the cornbread batter to the prepared skillet and set aside.

Combine the chicken, green chiles, red onion, tomato sauce, and BBQ sauce in a medium mixing bowl. Spoon the mixture evenly over the top of the cornbread batter within about 1/2" to the edge (leaving the very outer 1/2" edge of the cornbread uncovered).

Bake in the preheated oven for 25 to 35 minutes or until the edges of the cornbread are lightly browned. Remove the pan from the oven and sprinkle the cheddar and Jack evenly over the top of the BBQ chicken mixture. Return the pan to the oven for an additional 5 to 10 minutes or until the cheese is melty and glorious.

Remove the pan from the oven, sprinkle with green onions and serve with cilantro, Ranch dressing or sour cream.
Recipe Notes
If you use a 10" skillet it will yield a thicker, higher profile result and will need to cook a bit longer than if prepared in a 12" skillet.
Nutrition
Calories: 384kcal
Fat: 22g
Saturated fat: 12g
Cholesterol: 131mg
Sodium: 820mg
Potassium: 342mg
Carbohydrates: 16g
Sugar: 9g
Protein: 29g
Vitamin A: 625%
Vitamin C: 2.9%
Calcium: 436%
Iron: 1.1%
Course Main Course
Cuisine American
Valerie's Kitchen is a participant in the Amazon Services LLC Associates Program, an affiliate advertising program designed to provide a means for us to earn fees by linking to Amazon.com and affiliated sites.