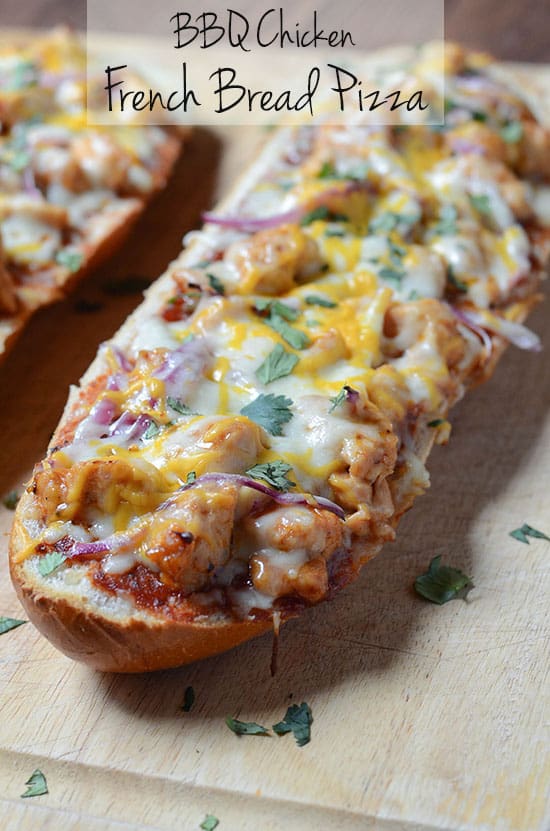 Typically I have a pretty impressive amount of discipline and self control when it comes to food. When I'm cooking for a blog post, I normally decide before I even hit the kitchen whether or not I'll eat after the last photo is taken. Most of the time, the answer is a big fat NO. It goes straight into the fridge to be consumed later for dinner or by the fist lucky guy to come across it.
That was the plan for this pizza.
The plan failed miserably.
I swear, it was calling my name. And after all, a girl's got to eat. Right?
This recipe is incredibly fast and easy to put together since there is no pizza crust involved. A loaf of French bread is all you'll need. Stay away from the hard, crusty variety and instead go with a fresh baked loaf that has some give when you give it a squeeze. Yes, I admit it, I'm a bread squeezer.
Slice that loaf of bread right down the middle and place the halves on a foil lined baking sheet.
For the sauce you'll need a basic jarred marinara and your favorite BBQ sauce. I have deep feelings for Kinder's Organic BBQ Sauce. I've been dedicated to this stuff ever since the first time I tried it.
Combine 1/2 cup marinara with 1/4 BBQ sauce and set it aside. We'll need it later.
Chop two boneless, skinless chicken breasts into small, bite-sized pieces. Coat a large skillet with vegetable oil and place it over medium-high heat. Cook the chicken till no longer pink, While the chicken cooks, season it with a little Lawry's Seasoning Salt (or your favorite all-purpose seasoning mix).
Add 3 tablespoons of BBQ sauce to the cooked chicken.
Continue to cook and stir until the chicken is thoroughly cooked through and the sauce has begun to thicken. Remove the pan from the heat.
Slice up about 1/2 cup red onion, very thinly.
The cheese! An integral part of any pizza. This is an 8 ounce ball of fresh mozzarella, shredded, and about 1/2 cup of shredded cheddar.
Divide the marinara/BBQ sauce mixture evenly between the halves of bread.
Top with the cooked chicken.
The thinly sliced red onion.
The glorious cheese!
Pop the baking sheet in a pre-heated 425 degree oven for about 10 minutes.
Cilantro is a great compliment but I use it sparingly and allow my cilantro lovers to add as much as they'd like to their individual servings.
Allow the French bread pizza to sit for a few minutes before slicing and serving.
For lots of delicious recipes, giveaways, and more, be sure to follow From Valerie's Kitchen
Facebook | Twitter | Pinterest | Instagram | Google +
BBQ Chicken French Bread Pizza
Ingredients
2 tablespoons vegetable oil
1 loaf French bread
2 boneless, skinless chicken breasts, cut into small, bite-sized pieces
1 teaspoon Lawry's Seasoning Salt
Fresh ground pepper, to taste
1/2 cup plus 3 tablespoons BBQ sauce, divided
1/4 cup marinara sauce
1/2 cup thinly sliced red onion
8 ounces fresh mozzarella cheese, shredded
1/2 cup shredded cheddar cheese
2 tablespoons chopped cilantro, or to taste
Directions
Coat a large skillet with vegetable oil and place over medium-high heat. Saute chopped chicken until nearly cooked through and barely any pink remains. Season with seasoning salt and fresh ground pepper as it cooks. Add 3 tablespoons BBQ sauce, reduce heat to medium, and continue to simmer for 3 or 4 minutes, until chicken is thoroughly cooked and sauce has thickened. Remove skillet from heat and set aside.
In a small bowl combine 1/2 cup BBQ sauce and 1/4 cup marinara. Cut French bread in half and place it on a foil-lined baking sheet. Coat each half of bread with the sauce mixture. Divide chicken evenly between bread. Top with sliced red onions. Sprinkle with shredded mozzarella and cheddar.
Bake at 425 for 10 to 12 minutes, or until cheese is melted and bubbly. Remove from oven and top with chopped cilantro. Allow to sit for about 5 minutes and then slice and serve.
Adapted from Allrecipes