These Berry French Toast Kabobs are gorgeous on a platter and make a super convenient pick-up and go finger food. Perfect for a brunch buffet!
This post is part of a Rubbermaid #Freshworks sponsored series for Socialstars™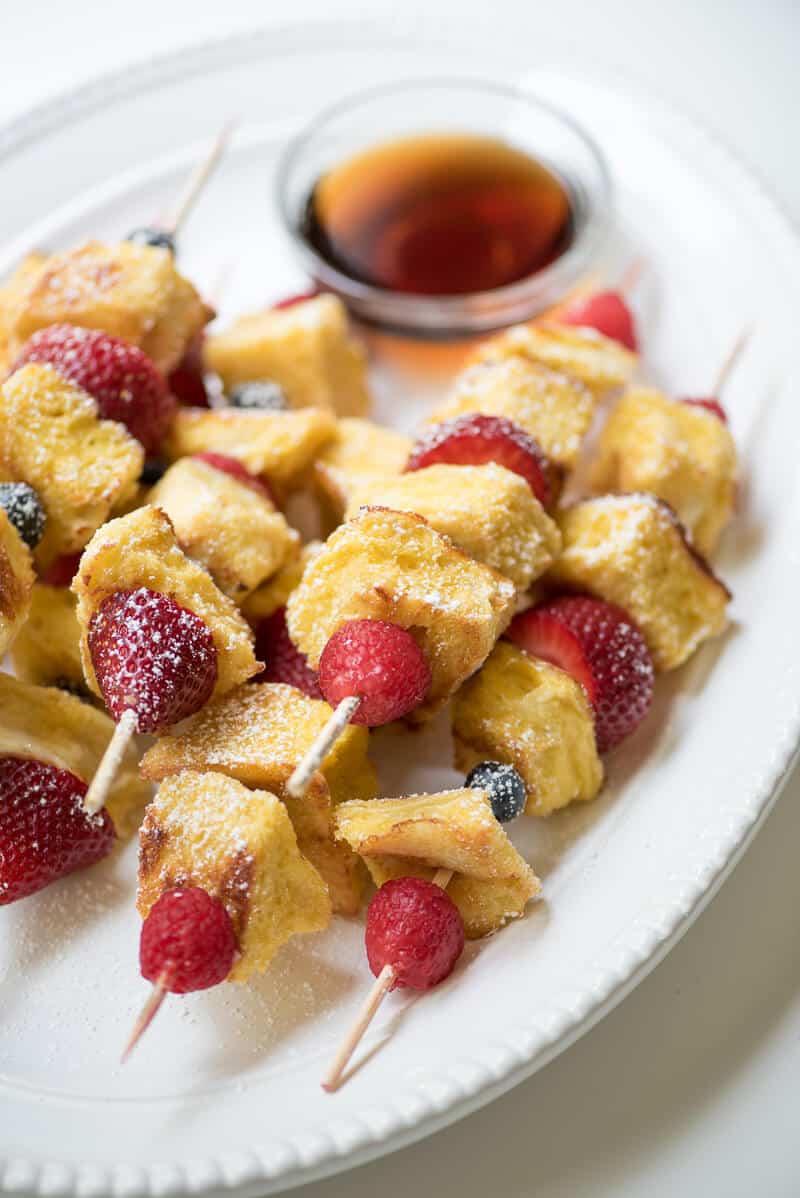 I love food on a stick. Why it has taken me this long in life to make kabobs for breakfast will forever be a mystery to me but I'm resolving the issue today with these tasty bites of goodness.
This recipe takes a traditional knife and fork breakfast dish and turns it into finger food making it an awesome choice for a Mother's Day breakfast buffet this weekend. Eat them straight off the stick or pull off the little chunks of French toast and dunk them in maple syrup. They're fun to assemble and you can get the kids involved in creating their own.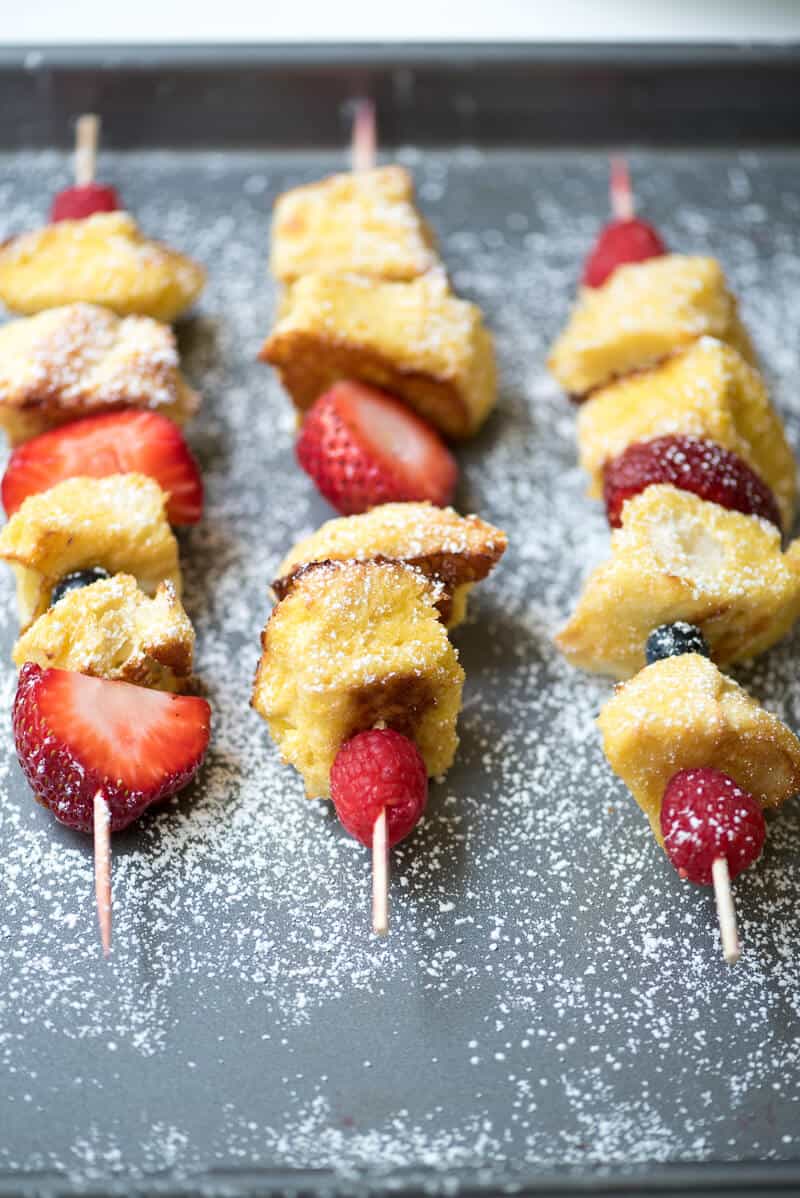 Beautiful fresh berries and a little powdered sugar can never hurt a situation.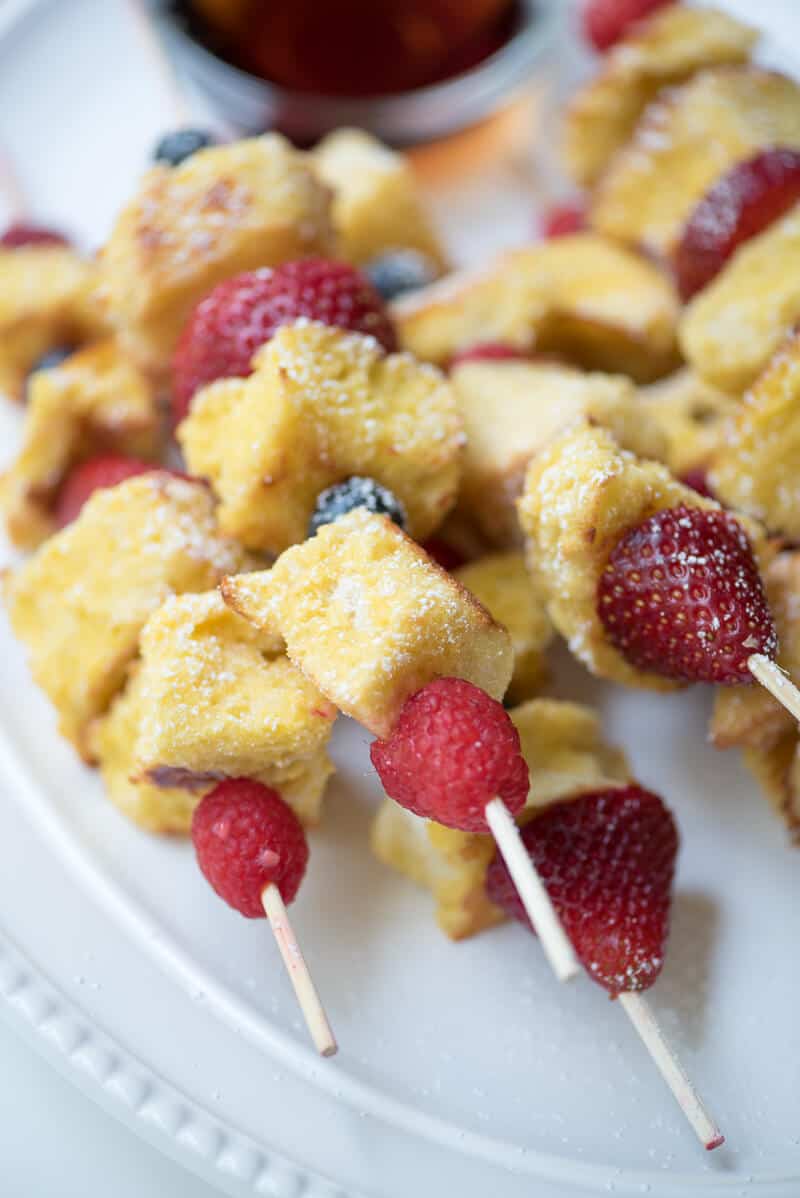 Instructions
I started with a one pound loaf of French bread from the bakery of my local grocery store. Trim off the crust.
Slice the trimmed bread into thick slices.
Cut the slices into 1″ cubes.
The cubes get dunked in a mixture of egg, milk, vanilla extract, and a bit of sugar. Toss them around to coat them well.
Allow the excess egg mixture to drip off the cubes and then transfer them to a large rimmed baking sheet that has been coated with non-stick cooking spray. Repeat with remaining bread cubes spreading them out on a second prepared baking sheet. Transfer the baking sheets to a preheated 375 degree oven and let them cook for about 5 minutes or until the cubes are nicely browned on the bottom. Remove the baking sheets from the oven and lightly spray the tops of the bread cubes with non-stick cooking spray. Flip each cube over and return the pans to the oven for an additional 5 minutes or until toasted and golden brown.
Fresh Produce Storage
Why am I including a photo of moldy strawberries? Because I wanted to show you guys the difference between two packages of berries I purchased the same day. I immediately transferred one package to my Rubbermaid® Freshworks™ Produce Saver when I got home from the store (pictured on left). The other strawberries stayed in their store packaging. Check out the striking difference after one week in my refrigerator. There is nothing worse than reaching for an ingredient and realizing it's unusable because it has spoiled.
When you've got a recipe that involves berries, one sure-fire way to be sure they'll be fresh and ready for you is to store them in these cleverly designed containers. The CrispTray™ elevates produce away from moisture and promotes airflow to help prevent spoilage and FreshVent™ technology will keep produce fresher up to 80% longer than if stored in the store packaging. This is huge if you've got to do your shopping days in advance.
Assemble the Kabobs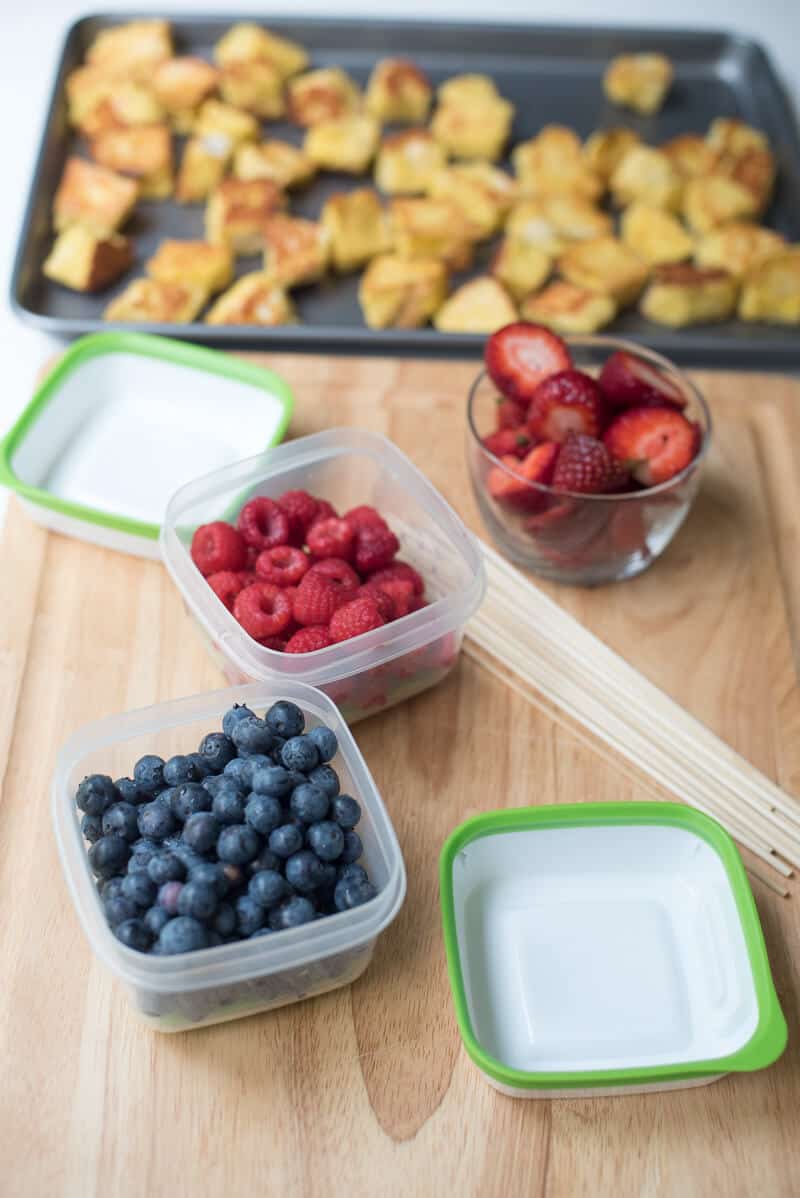 Create your kabob assembly line with your berries or other fruit of choice, wooden skewers, and your French toast cubes.
Alternate berries with French toast cubes and when finished, sprinkle them with powdered sugar.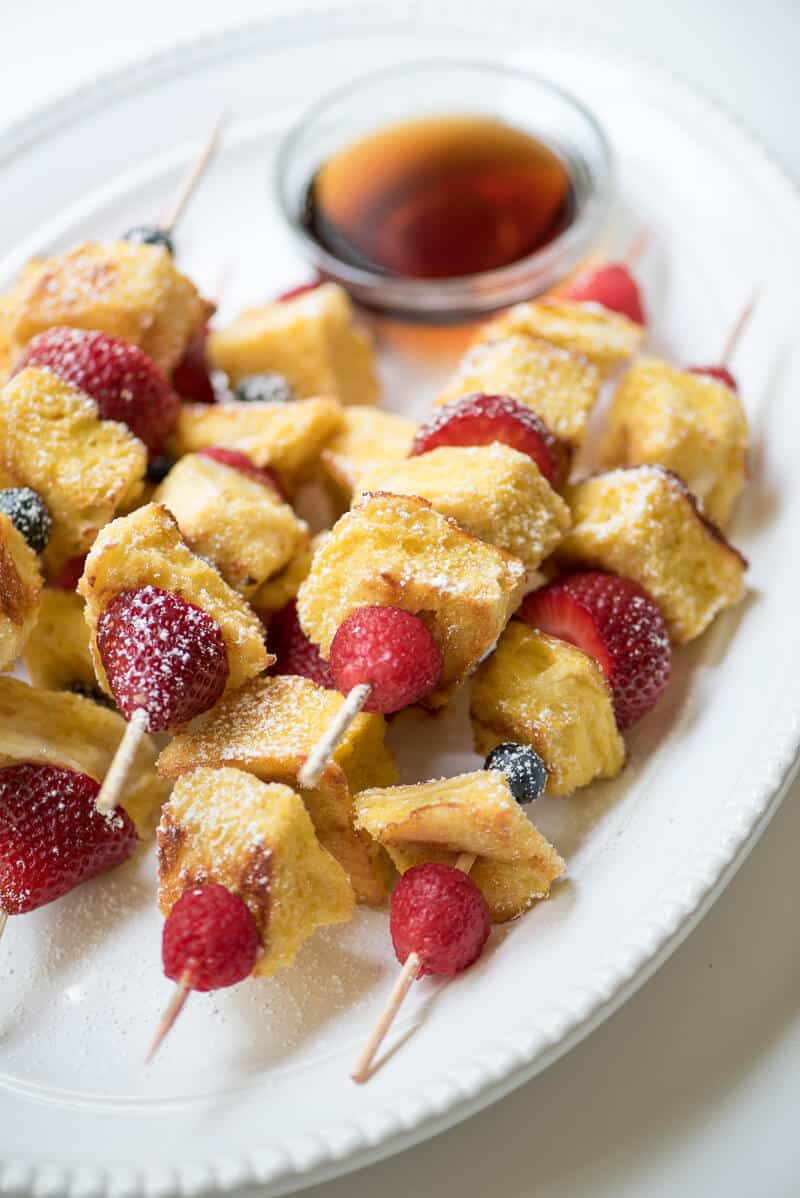 Berry French Toast Kabobs
These Berry French Toast Kabobs are gorgeous on a platter and make a super convenient pick-up and go finger food. Perfect for a brunch buffet!
Prep Time 20 minutes
Cook Time 15 minutes
Total Time 35 minutes
Servings 12 to 14 kabobs
Change the number in the box above to adjust serving size. Please note that size of cookware and cook time may vary.
Ingredients
1 pound loaf French bread
6 eggs
1/2 cup milk
2 tablespoons sugar
1 teaspoon pure vanilla extract
2 pounds assorted berries and/or other fruit
powdered sugar for sprinkling
maple syrup
12 to 14 wooden skewers (12-inch)
Instructions
Preheat oven to 375 degrees F. Generously coat two large rimmed baking sheets with non-stick cooking spray.

Use a serrated bread knife to trim the crust from the loaf of French bread. Slice trimmed bread into 1-inch slices and then cut each slice into cubes.

In a shallow plate (a pie plate works well), whisk together eggs, milk, sugar, and vanilla extract. Dip the bread cubes into the egg mixture, turning to coat all sides well. Allow excess egg mixture to drip off and then transfer to the prepared baking sheet. Repeat with remaining bread cubes, leaving a little space between each one, and spreading between the two baking sheets. Bake for 5 to 8 minutes, until bread cubes have browned nicely on bottom side. Remove the baking sheets from the oven and lightly coat the tops of the bread cubes with a little non-stick cooking spray. Use a spatula to flip each bread cube over and return to oven for an additional 5 to 7 minutes or until well toasted and golden brown on both sides. Remove from oven.

Assemble your kabobs by alternating pieces of French toast with assorted berries. I used 4 cubes of French toast per skewer and spaced them apart with blueberries, raspberries, and sliced strawberries. You could also use blackberries and banana chunks or any other fruit you like.

Sprinkle assembled kabobs with powdered sugar and serve with maple syrup for dipping.
Nutrition
Nutrition facts per serving (1kabob)
Calories: 193kcal
Fat: 3g
Saturated fat: 1g
Cholesterol: 83mg
Sodium: 231mg
Potassium: 133mg
Carbohydrates: 33g
Fiber: 3g
Sugar: 10g
Protein: 8g
Vitamin A: 164%
Vitamin C: 2%
Calcium: 47%
Iron: 2%
Course Breakfast
Cuisine American