These festive, refreshing Blackberry Lemonade Margaritas include fresh blackberry puree, lemonade, and tequila. Tart, lightly sweet, and delicious. A great warm weather party drink!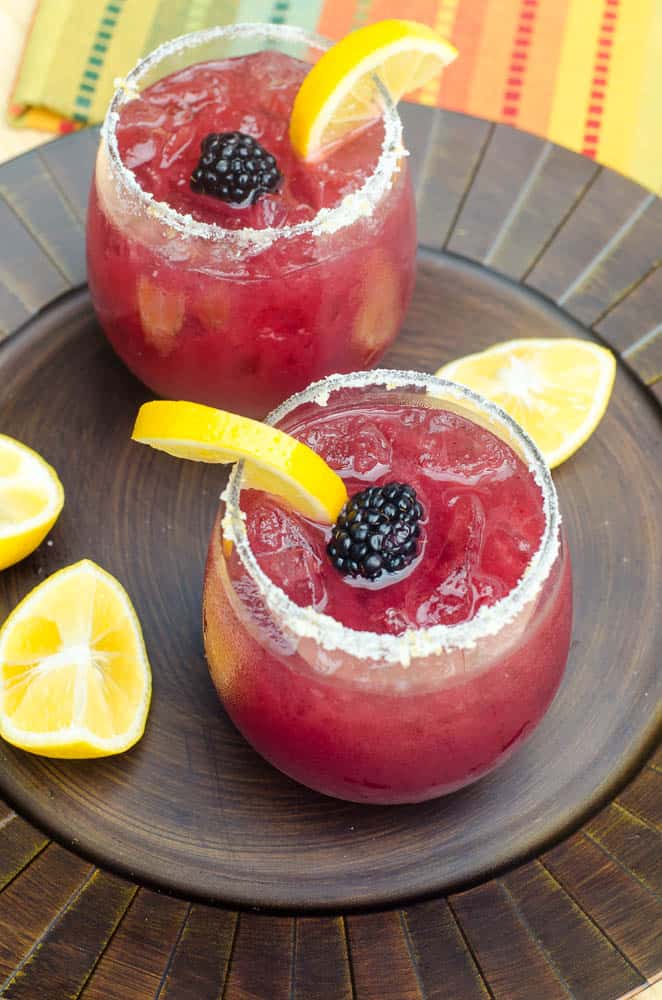 Our house has become somewhat famous for the margaritas that happen here. These aren't your run-of-the-mill, jug of margarita mix combined with cheap tequila kind of drinks. I'm talking about fresh ingredients at their peak, lots of fresh squeezed citrus, and high quality tequila – the good stuff! They're fabulous and a little dangerous. In a good way of course.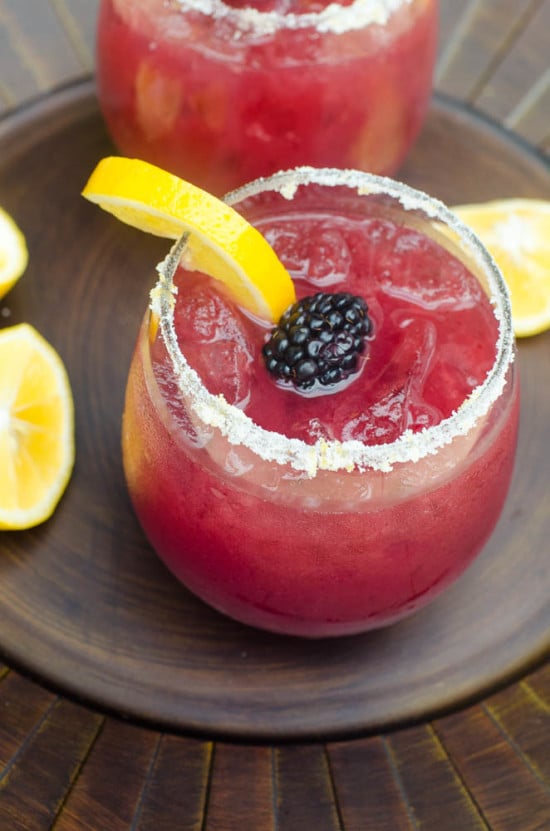 My husband has become quite the bartender over the years and I have become completely and thoroughly spoiled by his barkeep skills. It's a rare occasion that I get a drink anywhere that I feel is on par with his creations which is why I enlisted him as my expert consultant when I came up with this tasty margarita.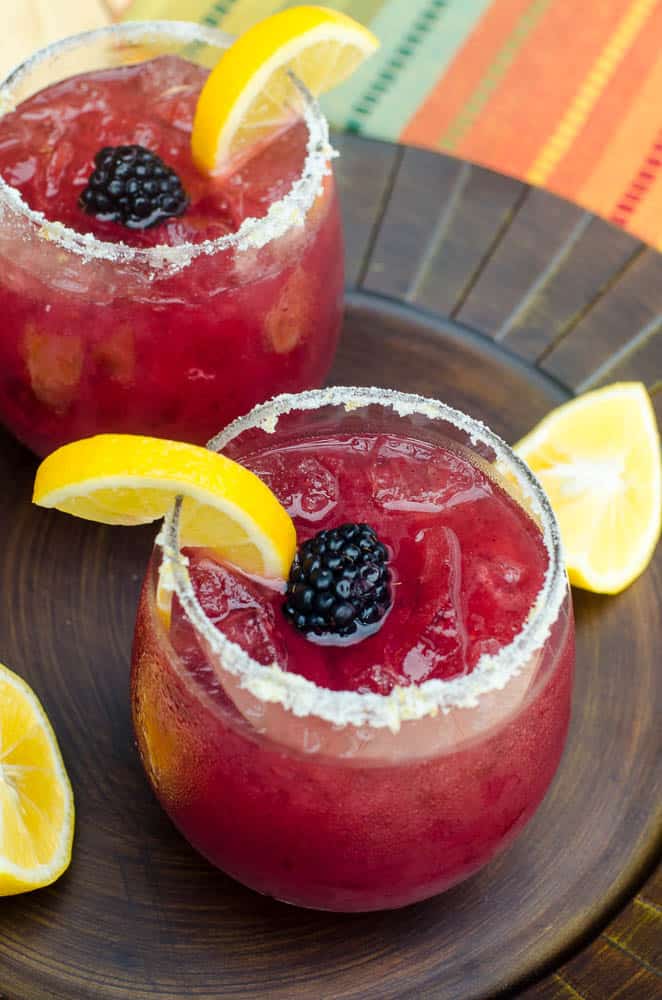 It's precisely what is in order for Cinco de Mayo, but honestly, why wait?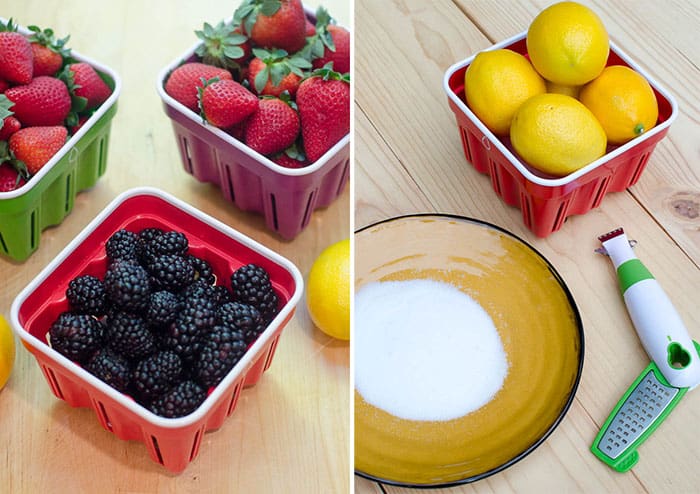 I've been sharing the good news about the Crisp™ line of cooking tools with you now for quite some time and after spending lots and lots of time with them in my kitchen, they have become some of the coolest kitchen gadgets I've ever owned. The Berry Baskets and Zester were put to good use to create this cocktail. These perky, brightly colored baskets are great for holding all kinds of ingredients in a very fashionable way. The colander type construction allows you to rinse, drain, and store your berries all in one container. The Zester is a multi-function citrus tool that includes a scoring blade and channel knife that allow you to easily score or lightly grate your citrus fruit. It's equipped with two zesting blades, plus a larger blade that neatly folds inside the body of the handle for easy storage. These tools aren't just good looking, they are smartly designed to feel good in your hands and store safely and neatly when not in use.
Let's make a drink!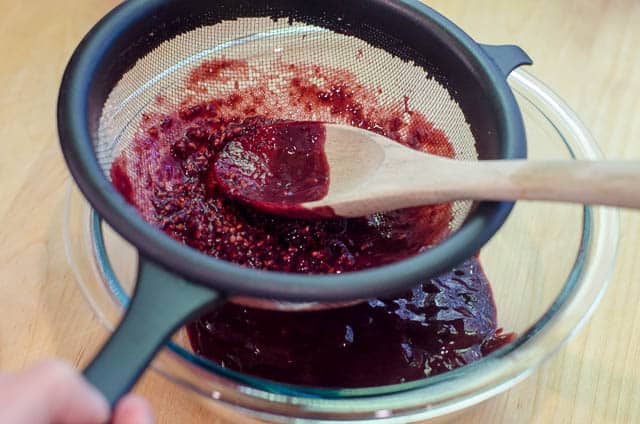 To create fresh, seedless blackberry puree, process a container of fresh blackberries in a blender until smooth and then pour the puree into a wire mesh colander over a small bowl. Use a spoon to push the liquid through the mesh, leaving the seeds behind.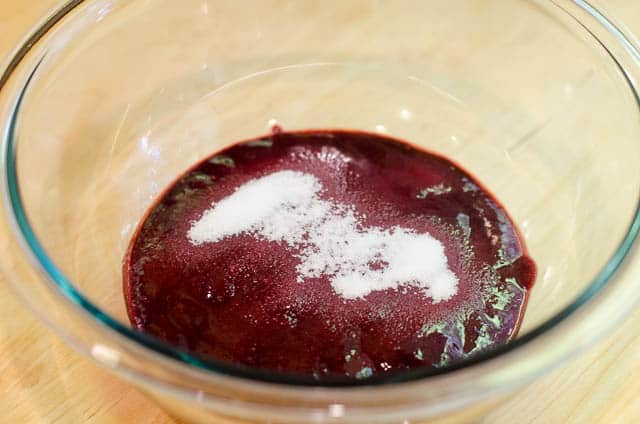 Add 1 to 2 tablespoons of sugar to the seedless blackberry puree. How much sugar you should add depends on the sweetness of your berries and your own taste. This can be done several days in advance if you'd like to get it done and out of the way. Just keep the puree in a covered container in your refrigerator until you're ready to mix up your cocktails.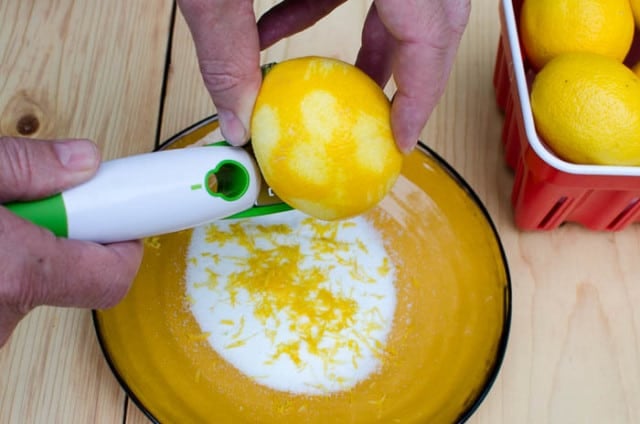 For a pretty (and tasty) touch, combine some sugar and lemon zest for the rim of your glasses. Just run a cut lemon around the rim of the glass to moisten it and roll the edge of the glass around in the sugar/zest mixture.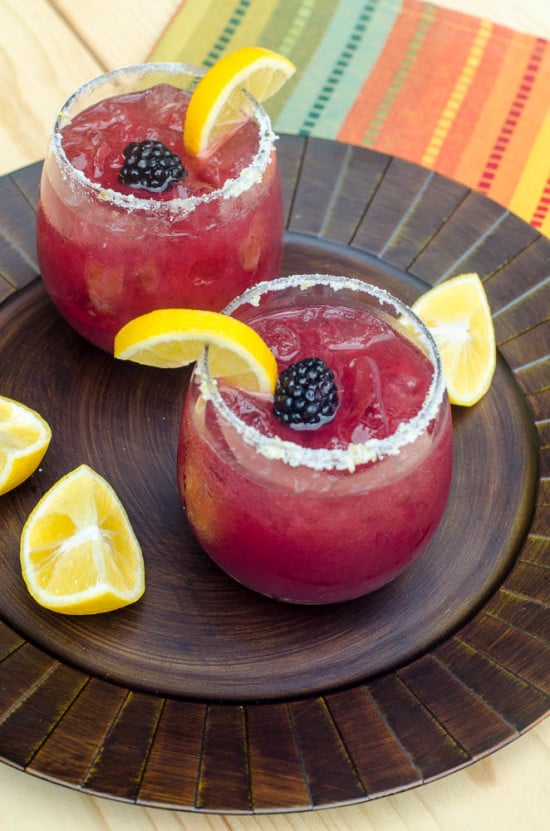 Spoon some of the blackberry puree into an ice-filled cocktail shaker (for the precise measurements, see the printable recipe below). Add some prepared lemonade, a nice quality silver tequila (see my note below), and the juice of a lemon. I always choose Meyer lemons when I can get my hands on them. They are vibrantly yellow, a bit sweeter than other types, and SO delicious in cocktails. Shake that shaker like there's no tomorrow and then strain the drinks over ice. I like to garnish each cocktail with a slice of lemon and a fresh blackberry just to let folks know what they're getting into.
There are many different varieties of high quality tequila out there but for this Blackberry Lemonade Margarita, I prefer a silver tequila. It's crisp, clear, and has a clean finish that works really well when mixing up margaritas. Patron Silver is always a good choice but we also like Don Julio, Milagro, and Corzo. For a really nice tequila at a bargain price you should totally give Camarena a try. It's a good one!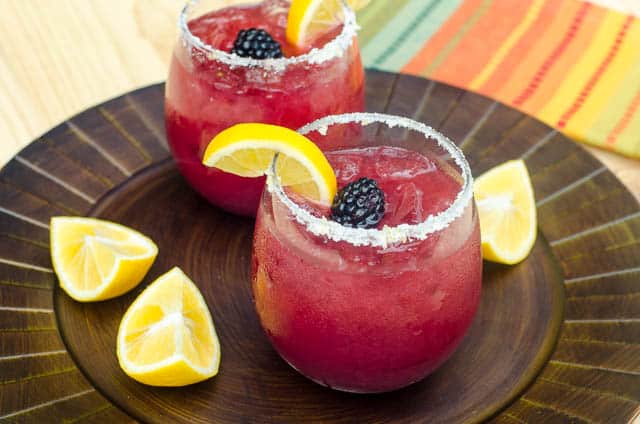 Blackberry Lemonade Margaritas
This tart and lightly sweet cocktail has a fresh berry flavor and vibrant color. The perfect drink to serve while blackberries are at their peak.
Print
Pin
Rate
Servings: 2 margaritas
Ingredients
For the Blackberry Puree:
1-1/2 to 2 cups fresh blackberries rinsed and drained
1 to 2 tablespoons sugar
For the Margarita:
1/4 cup sugar
2 lemons use Meyer lemons if possible
4 teaspoons blackberry puree
4 ounces prepared lemonade homemade or store bought
4 ounces good quality silver tequila
Instructions
Process blackberries in a blender until smooth. Place a wire mesh colander over a small bowl and pour the blackberry puree into the colander, pushing it through the wire mesh and into the bowl with the back of a spoon. Add 1 to 2 tablespoons sugar to the seedless puree and stir to combine. Taste and add additional sugar if desired. Cover bowl and refrigerate puree until ready to make cocktails. Can be made several days in advance.

Place 1/4 cup sugar on a small plate. Add the zest of one lemon and mix to combine. Run the cut side of a lemon lightly around the rim of your margarita glasses and then dip the moistened rim into the sugar/zest mixture to coat the rim. Fill each glass about half-way with ice.

Fill a cocktail shaker about 3/4 full with ice. Add 2 teaspoons of the blackberry puree, 2 ounces lemonade, and 2 ounces silver tequila. Squeeze in the juice of 1/2 a lemon. Place cover on shaker and shake vigorously. Strain through the cocktail shaker over ice. Garnish with a slice of lemon and a blackberry and serve.

Repeat with remaining ingredients for second cocktail.
Disclosure: This post was sponsored by Crisp Cooking, but as always, all opinions expressed here are my own. Thank you for supporting the brands that support From Valerie's Kitchen!