A little granola does something very special to my favorite blueberry muffin recipe. Blueberry Granola Crunch Muffins are a delicious way to start your day!
This post is part of a Rubbermaid #Freshworks sponsored series for Socialstars™
Do you have the end-of-summer blues? Well, I've got just the recipe to help lift your spirits today. These delightfully crunchy breakfast muffins are a great transitional summer-to-fall recipe.
I'm continuing to take advantage of the abundant berry season we had this year by baking them into a cozy little muffin, perfect for feeding to the kids before school or snacking on with a cup of tea in the afternoon.
I'm a firm believer in the ritual of cup of tea and snack in the afternoon to slow the crazy circus of life down for just a few minutes.
This recipe is based on my Spectacular Blueberry Muffins that many of you have told me are, well… spectacular!
I wanted a slightly more substantial muffin that would be perfect for breakfast so I added some granola to the batter and then to drive the point home, I sprinkled a little more on top before baking. The result was fabulous!
For this recipe you'll want to pick up some basic granola without any dried fruit. I used a simple, store-bought honey oat granola. The ingredients include non-fat plain Greek yogurt which adds a bit of protein and great texture to baked goods. See the printable recipe below for the complete ingredient list and instructions.
They bake up big and beautiful every time and the granola works so well as a replacement for a traditional crumb topping. One or two of these muffins would make a fantastic breakfast on-the-go.
This recipe is the last in a series of recipes I've developed to introduce the new Rubbermaid® Freshworks™ Produce Saver. As we near the end of the season, the life of our berries is even more precious and I plan to stretch it out as long as possible! My containers have been restocked on a weekly basis which means we've had plenty of fresh berries on hand for adding to our morning oatmeal, tossing into salads, and whipping up smoothies. These containers allow me to stock up on berries on my weekend shopping trip and keep them perfectly fresh for healthy snacking through the week.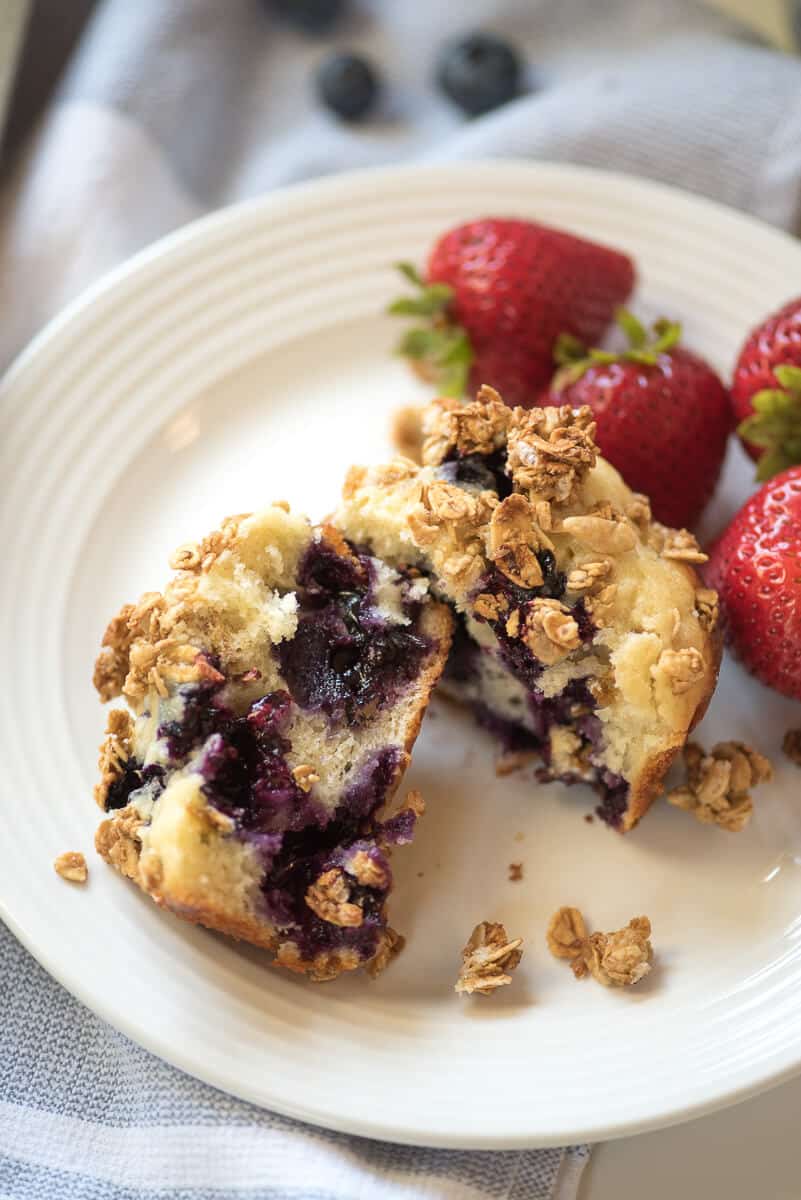 Blueberry Granola Crunch Muffins
A little granola does something very special to my favorite blueberry muffin recipe. Blueberry Granola Crunch Muffins are a delicious way to start your day!
Print
Pin
Rate
Servings: 12
Calories: 299kcal
Ingredients
2 eggs
1 cup white sugar , plus additional 1 to 2 teaspoons for sprinkling
1/2 cup vegetable oil
1 teaspoon vanilla extract
1 1/2 cups all-purpose flour
1 1/2 cups granola (a basic variety with no raisins or other dried fruit, divided)
1/2 teaspoon salt
1/2 teaspoon baking soda
1 cup non-fat plain Greek yogurt (can substitute light sour cream)
1 cup fresh blueberries , rinsed and drained
Instructions
Preheat oven to 400 degrees F. Coat a 12-cup muffin pan with non-stick cooking spray.

In large bowl beat eggs with an electric hand mixer. Add 1 cup white sugar and beat for a minute or two until completely combined. Pour in the oil, with beaters running, and then add vanilla. In a separate bowl, stir together flour, 1/2 cup granola (reserve the rest for topping), salt and baking soda.

Using a wooden spoon, mix dry mixture into wet mixture a little at a time, alternating with the Greek yogurt.

Add the blueberries and mix with the wooden spoon just until combined. Divide the batter between the prepared muffin cups. Sprinkle muffin tops with remaining granola.

Bake in preheated oven for 18 to 20 minutes, or until muffins are cooked through and granola topping is golden brown. Watch closely towards end of baking time and if granola is browning too quickly, lightly lay a sheet of foil over the top for remaining baking time.

Remove from oven and allow muffins to cool for about 10 or 15 minutes and then carefully remove from tin to cool completely. Store leftovers in an airtight container.
Notes
Granola topping will be have a crunchy, slightly chewy texture when muffins are fresh and will soften a bit more if stored for more than 24 hours.
Nutrition
Serving: 1muffin | Calories: 299kcal | Carbohydrates: 41g | Protein: 6g | Fat: 13g | Saturated Fat: 8g | Cholesterol: 28mg | Sodium: 165mg | Potassium: 119mg | Fiber: 2g | Sugar: 22g | Vitamin A: 46IU | Vitamin C: 1mg | Calcium: 38mg | Iron: 2mg