A fudgy brownie layer is topped with fluffy marshmallow frosting and a crunchy, chocolate and peanut butter topping. These layered Brownie Marshmallow Crunch Bars will knock your socks off!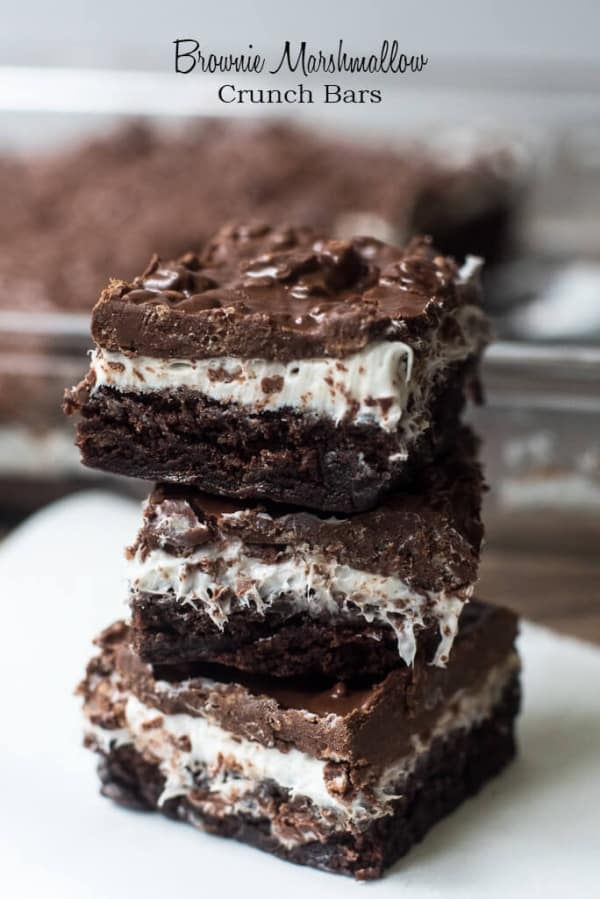 If you're hosting a gathering for the big game this year you've probably got a great list of tasty appetizers and finger food going but I'm here to remind you to include something sweet! These Brownie Marshmallow Crunch Bars are the perfect choice to satisfy your group of football fans. They are fudgy, decadent, and utterly delicious and there are no forks needed  – always a bonus at a gathering.
Another big bonus – this recipe starts with a box of Pillsbury™ Brownie Mix which means they're fun and easy to put together.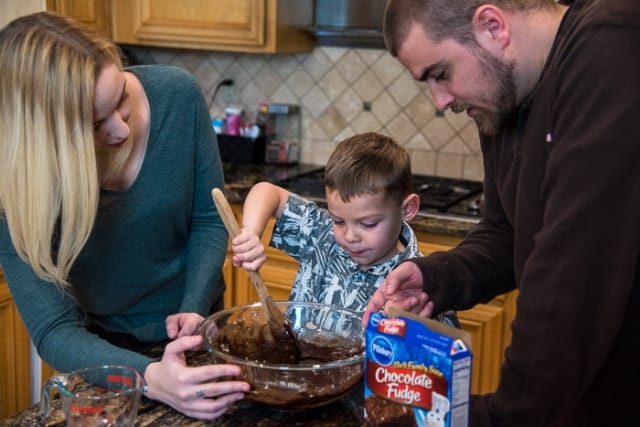 If you've got little ones, or little ones visiting, it's so fun to plan ahead for a simple recipe that you can do together. It never fails that when you have a group over, everyone ends up in the kitchen. So, why not put them to work! That's my big boy, Connor with his girlfriend, Madison and her completely adorable son, Hunter. And, let me tell you, the party does not start until Hunter arrives. This little guy is so much fun.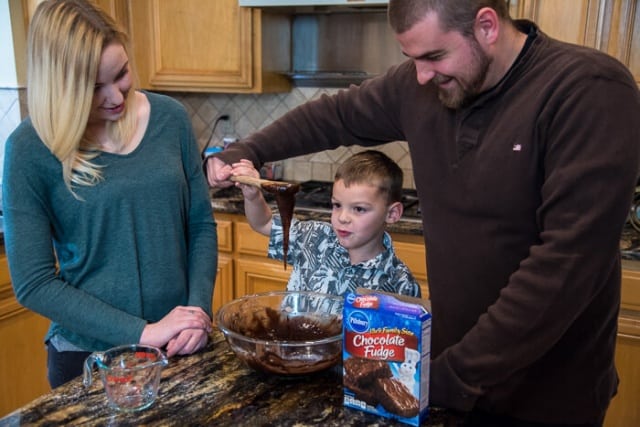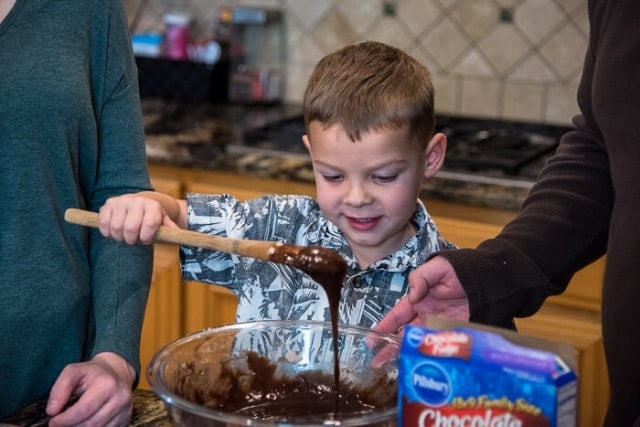 Recipes that involve a boxed mix are the perfect choice when baking with little ones. If you go for something too complex, they'll lose interest. Keep it simple, fun and delicious and they are guaranteed to have a good time and you'll be creating memories that will last a lifetime. Depending on their age, there are all kinds of skills you can work on even with the simplest of recipes- measuring the ingredients – counting the 50 strokes it takes to combine the brownie batter – cracking the eggs. Letting them help with a recipe like this will bring instant gratification and build their kitchen confidence. It might seem like a small thing but this is huge!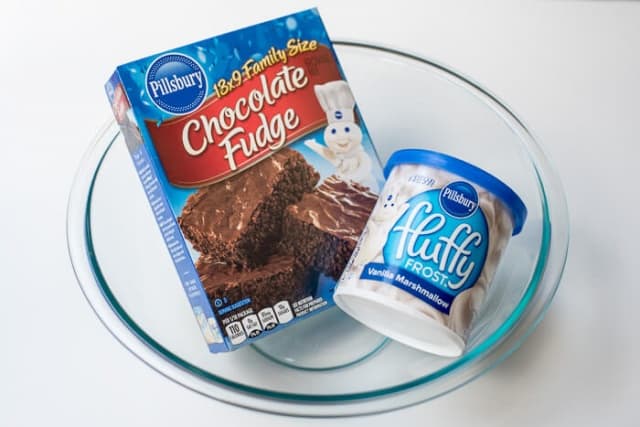 Two items you'll need for this recipe- Pillsbury™ Chocolate Fudge Brownie Mix and Vanilla Marshmallow Fluffy Frost™ .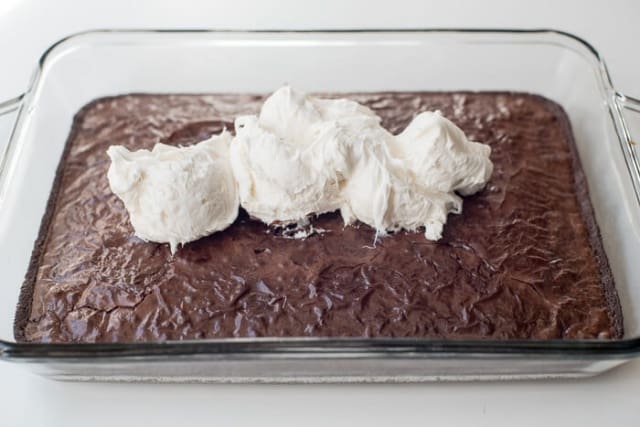 Bake the brownies in  a 13″ x 9″ baking dish according to the package directions. Once they've cooled, spoon the Fluffy Frost™ over the top. Look at that amazing texture of this frosting! And, just wait until you taste it…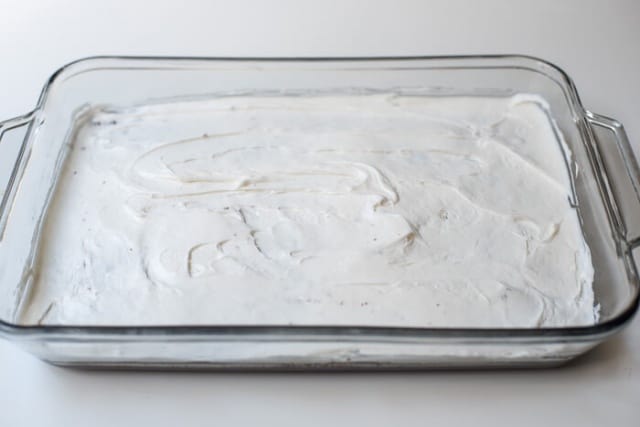 Gently spread the frosting over the brownies in an even layer.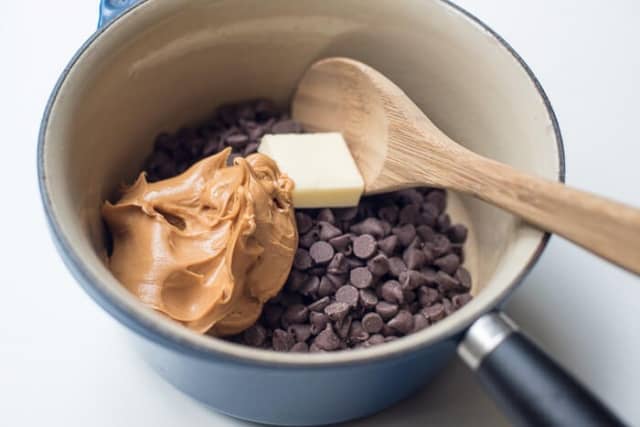 In a medium saucepan over medium heat, melt together 2 cups of semi-sweet chocolate chips, 1 cup of peanut butter, and 1 tablespoon butter.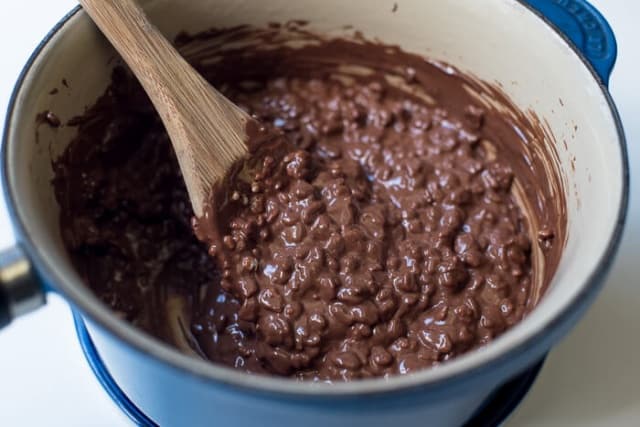 When the mixture is completely melted and smooth, remove the pan from the heat and add 1-1/2 cups of crisp rice cereal. Stir well to combine.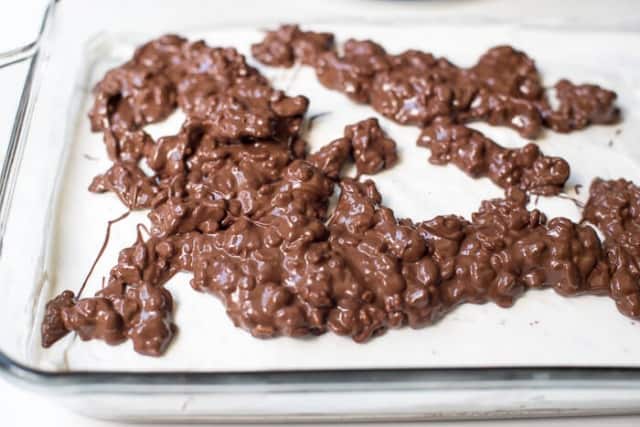 Spoon the topping over the frosting layer.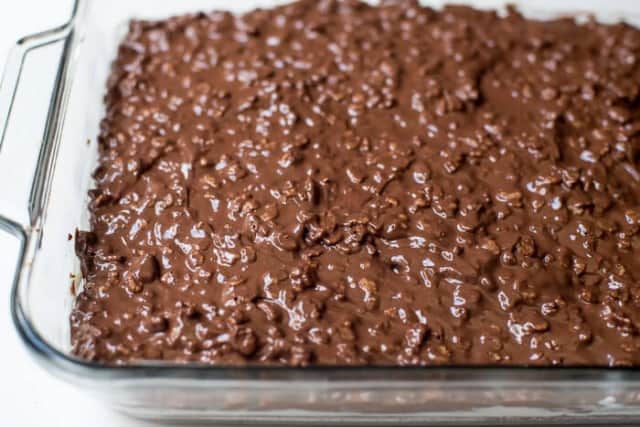 Use an offset spatula or a plain ole' butter knife to gently smooth the topping out in an even layer. Refrigerate the bars until the chocolate topping has set up.
This is going to be good…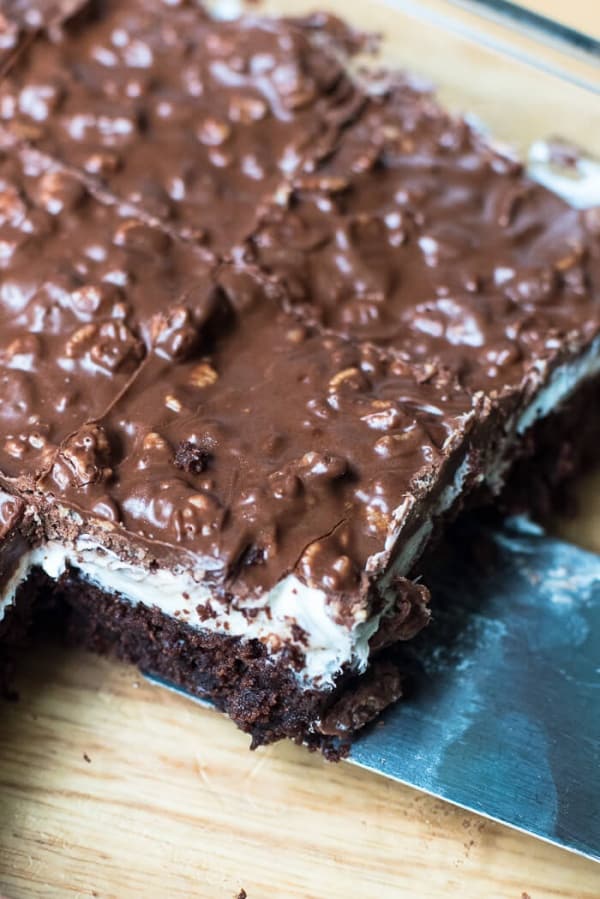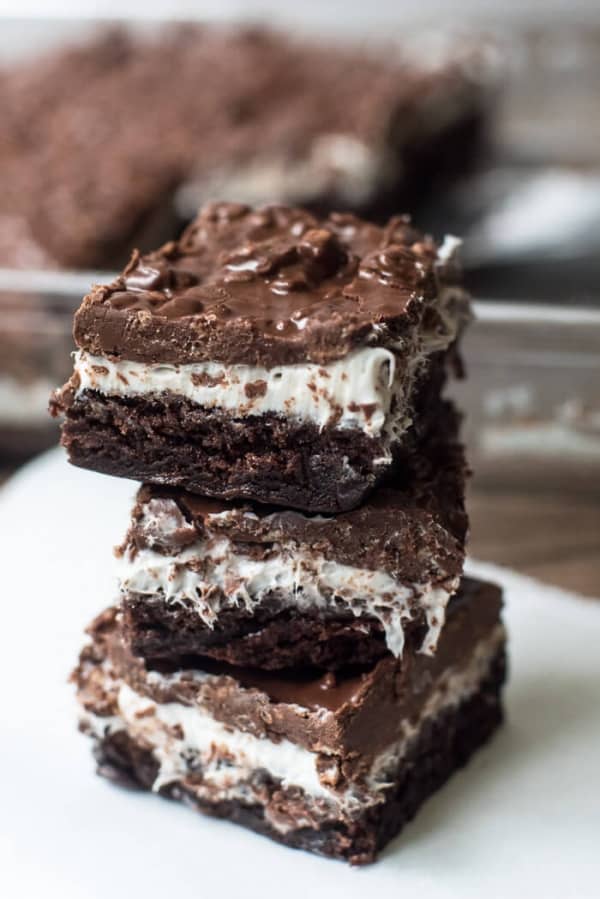 They will soften and get gooey and delicious as they come to room temperature. Fabulous!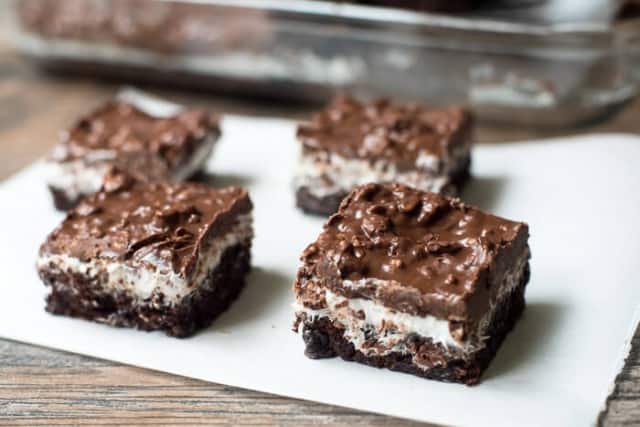 Be sure to check back soon for another fun Pillsbury™ recipe to get you inspired for Valentine's Day.
Brownie Marshmallow Crunch Bars
A fudgy brownie layer is topped with fluffy marshmallow frosting and a crunchy, chocolate and peanut butter topping. These layered Brownie Marshmallow Crunch Bars will knock your socks off!

Prep Time 1 hour 30 minutes
Cook Time 30 minutes
Total Time 2 hours
Servings 20
Change the number in the box above to adjust serving size. Please note that size of cookware and cook time may vary.
Ingredients
18.4 ounce package Pillsbury™ Chocolate Fudge Brownie Mix
2/3 cup vegetable oil
1/4 cup water
2 eggs
12 ounce container Pillsbury™ Vanilla Marshmallow Fluffy Frost™
2 cups (12 ounces) semisweet chocolate chips
1 cup peanut butter
1 tablespoon butter
1-1/2 cups crisp rice cereal
Instructions
Follow package directions and combine brownie mix with oil, water, and eggs. Bake in a 13" x 9" pan, as directed. Remove from oven and allow to cool for about an hour.

Top brownie layer with the frosting, smoothing out evenly.

For topping, combine the chocolate chips, peanut butter and butter in a small saucepan. Cook and stir over low heat until chocolate chips have completely melted and mixture is well combined. Remove from the heat and quickly stir in crisp rice cereal. Immediately spoon the mixture over the top of the frosting layer and gently spread out evenly. Chill until set.

Allow to sit out for 10 minutes before slicing and serving. Bars are delicious served cold or at room temperature.
Course Dessert
Cuisine American
This is a sponsored conversation written by me on behalf of The J.M. Smucker Company. The opinions and text are all mine.