This vibrant Chicken Berry Pasta Salad includes everything you need for a satisfying, nutritious summer meal.
This post is part of a Rubbermaid #Freshworks sponsored series for Socialstars™
I just returned home from a whirlwind weekend in Sacramento. I was there to eat and have fun with friends. Actually, I was there to attend a food blogging conference but guess what happens when you put a bunch of food bloggers together for the weekend? Yep, you got it. So Much Food!
In addition to being our nation's capital and the heart of California's farming and agricultural industry, Sacramento can be HOT as heck at this time of year. This weekend was no exception with temps hovering at 95 degrees+ the entire time. The combination of a ridiculous amount of amazing and indulgent food and the sizzling heat brought me home feeling the need to keep things fresh and light this week.
This recipe is all about summer and includes a little bit of everything you need for a complete, nutritious meal. Fresh greens, gorgeous, ripe berries, some good lean protein, and a little pasta to boot! In this house, we need a little protein in our salads to feel satisfied and pasta, well that just never hurts.
Here is how it's done.
I lightly seasoned and grilled a couple of boneless chicken breasts. After cutting the chicken into bite-size pieces I squeezed the juice from half a lemon over the top. If you want to save time and make this salad even easier you could use a store-bought rotisserie chicken.
My Rubbermaid® Freshworks™ Produce Savers have been in constant use this summer. As you can see from the images above, the largest container is big enough to hold an entire head of lettuce while the others are perfectly sized for berries. Extend the life of your greens and berries by up to 80% by transferring them from the store packaging into the Produce Savers when you get home from the grocery store. It's just become a part of my routine when I unpack my groceries which means I can do my shopping for the weekend and feel confident I'll have beautifully fresh ingredients on hand throughout the week.
This translates to eating fresher, eating healthier, and enjoying summer's bounty at it's best by creating fun recipes like this one!
Chopped romaine, blueberries, strawberries, baby spinach, avocado, grilled chicken, sliced almonds, bow-tie pasta, and crumbled feta cheese. Like goat cheese better than feta? Sometimes I do too and they both work wonderfully in this salad. Chop the romaine, avocado, grilled chicken, and strawberries so that you'll get a little bit of everything in each bite.
Chopped salads are the best!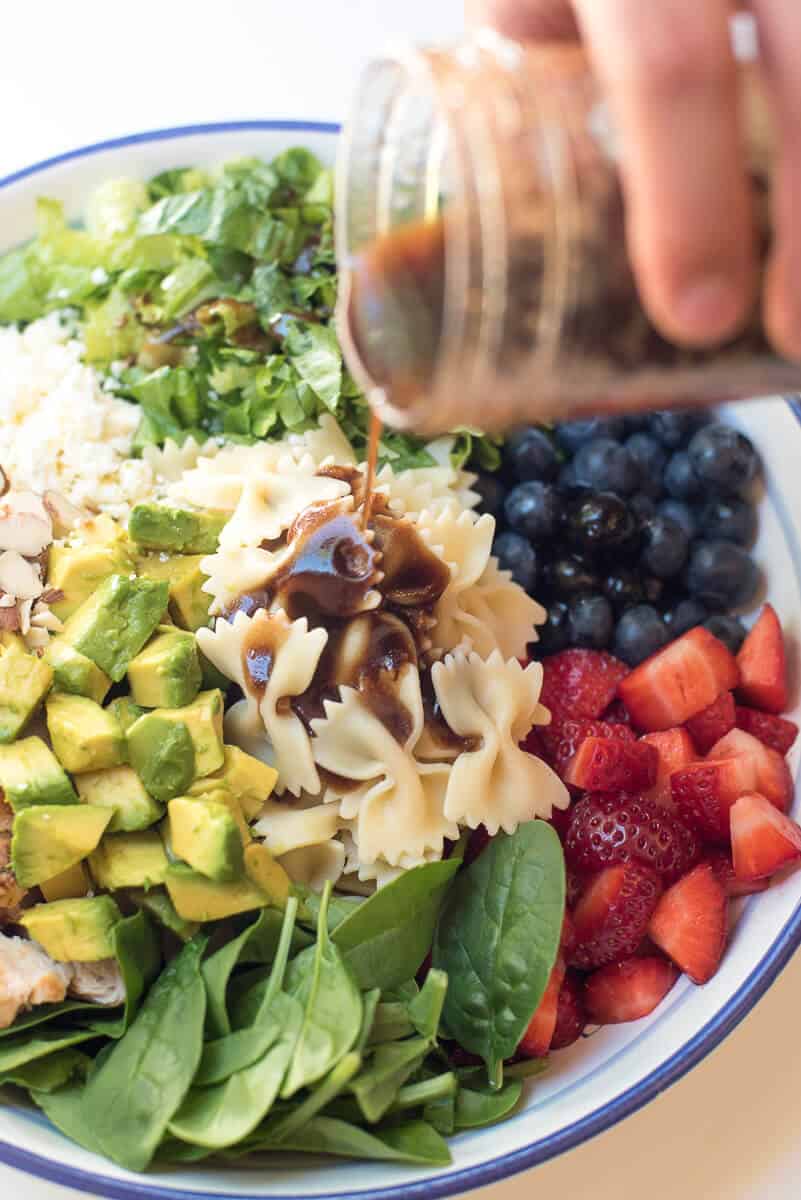 I dressed this salad with a simple but delicious Honey Balsamic Vinaigrette. Berries, balsamic, and feta are a heavenly trio.
Ingredients
Chicken Berry Pasta Salad:
1 pound boneless skinless chicken breast
1 teaspoon seasoned salt
olive oil as needed
1/2 lemon
1-1/2 cups dry bow-tie pasta
2 cups chopped romaine
1 cup fresh baby spinach
1 cup blueberries
1 cup chopped strawberries
1 avocado pitted and chopped
1/3 cup sliced almonds
1/3 cup crumbled feta cheese
Honey Balsamic Vinaigrette:
1/4 cup olive oil
1/4 cup balsamic vinegar
1 teaspoon honey
1/2 teaspoon Dijon mustard
1/2 teaspoon minced garlic
Fresh ground black pepper to taste
Instructions
Sprinkle seasoned salt over both sides of the chicken and then follow with a drizzle of olive oil. Grill over medium heat until thoroughly cooked and no longer pink in the center. Transfer from the grill to a cutting board and cut into bite-size pieces. Squeeze the juice from half a lemon over the chopped chicken and allow to cool a bit while preparing remaining ingredients.

Cook pasta according to the package directions. Immediately after cooking, rinse pasta with cold water and then drain well.

Combine dressing ingredients in a mason jar or other container with a tight-fitting lid and shake vigorously until well combined. If making ahead, refrigerate until ready to serve.

Place all of the salad ingredients in a large serving bowl and toss with the dressing.