These Corned Beef Breakfast Sandwiches are a delicious way to make use of any leftover corned beef you may have on your hands after St. Patrick's Day. If you don't have any leftover corned beef, pick some up from the deli and make this delicious breakfast sandwich any time of year!
Click HERE to sign up for your FREE email subscription and never miss a recipe!
I've got a plan for tomorrow.
It's Saturday. It also happens to be the day after St. Patrick's Day and many of us will have leftover corned beef in the fridge so…..
I say we sleep in late and make these Leftover Corned Beef Breakfast Sandwiches. Sound good?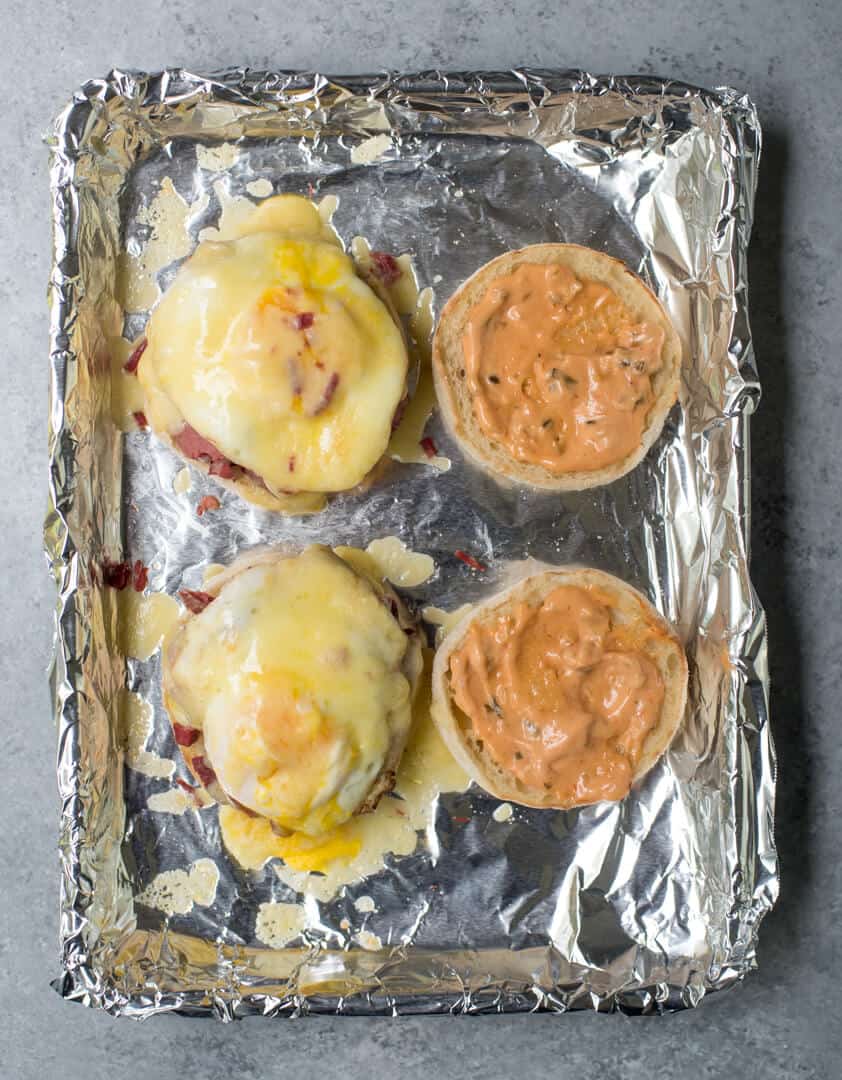 They are oh-so simple to make.
Just top a couple of English muffins with a fried egg, some of your leftover corned beef, a good amount of shredded Irish white cheddar cheese and pop them under the broiler for a minute or two until melt-y, toasty, and glorious. Once they come out of the oven, top them off with some Thousand Island dressing and you've got a warm, delicious breakfast sandwich that is perfect for a lazy weekend morning.
Especially if you had a pint (or two) the previous night.
Look for Irish white cheddar in your grocery store's deli or gourmet cheese section. I used this Aged White Cheddar from Kerrygold. It enhances this sandwich with a creamy, nutty, salty bite that is entirely intoxicating. I'm certain you'll happily consume any that is left after you make your sandwiches.
If you're lucky enough to have corned beef leftovers this weekend, I hope you'll give these delicious breakfast sandwiches a try!
More delicious ideas for your corned beef leftovers:
Reuben Dip | The Blond Cook
Cheesy Corned Beef Pull Apart Sliders | Foodness Gracious
Reuben Loaded Potatoes | Lemons for Lulu
Corned Beef Hash | Valerie's Kitchen
Reuben Egg Rolls and Thousand Island Dipping Sauce | Foodie with Family
Leftover Corned Beef Low-Carb Reuben Bake | Kalyn's Kitchen
LEFTOVER CORNED BEEF BREAKFAST SANDWICHES
Ingredients
2 tablespoons butter
2 large eggs
salt and fresh ground black pepper to taste
A couple of slices cooked corned beef
2 English muffins
2 ounces shredded Irish white cheddar cheese
Thousand Island salad dressing your favorite brand, as needed
Instructions
Melt butter in a 10" skillet over MEDIUM-LOW heat. Crack eggs into skillet and place cover on skillet. Cook for 2 to 3 minutes, or until eggs are set to your liking. Season eggs with salt and pepper, to taste. Remove from heat and set aside.

Meanwhile, preheat your oven to BROIL.Separate English muffins and place the halves on a baking sheet. Place corned beef on bottom halves and then layer with cooked eggs and shredded Irish white cheddar. Place the baking sheet in the oven, watching closely, and allow to BROIL for just a minute or two until muffins are lightly toasted and cheese has melted. Remove from oven.

Add a dollop of Thousand Island dressing to each sandwich and serve.