This hearty salad is packed full of steak, roasted pototoes, and grilled corn and will satisfy even your most steadfast carnivores.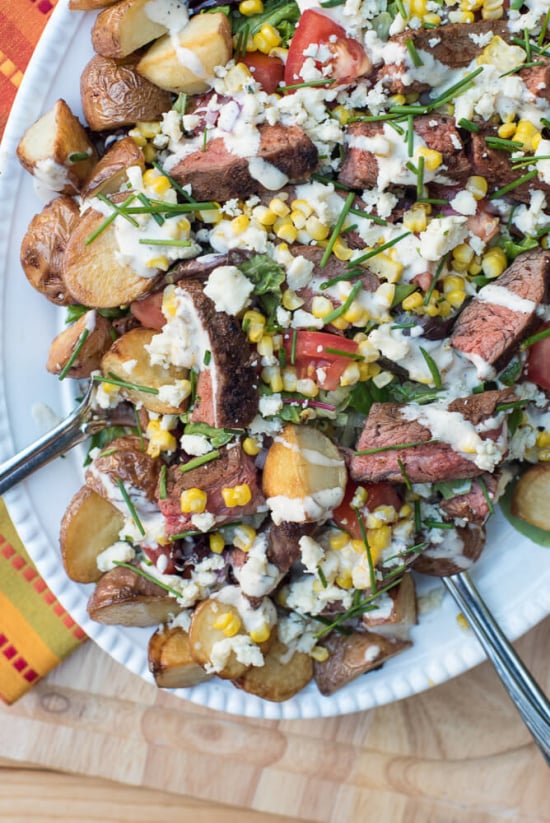 I don't like to generalize but in my experience guys kinda like steak and potatoes. No? So, when it came time to name this recipe, Cowboy Steak Salad immediately popped into my head.
Although, technically there are no cowboys in my house, I did raise four boys and I'm married to a man who most likely was a cowboy in a previous life, so I feel I can speak with some authority on the subject of man-pleasing food.
This gorgeous salad includes all the elements of a delicious steak dinner – smoky grilled flank steak, roasted potatoes, grilled corn, chopped tomatoes, and diced red onion. I piled it all on a platter full of greens, then in true cowboy fashion, I topped it off with some Jalapeno Ranch dressing and a little crumbled blue cheese. Yee haw!
Before we get grilling, a quick ingredient note. To add great smoky flavor to the flank steak I'm using Liquid Smoke. Liquid Smoke sometimes gets a bad rap but I love the flavor this stuff adds to a dish. It works wonders on beef and it's also excellent for adding smoky flavor to marinades, soups and especially baked beans. A lot of recipes I see out there call for WAY too much – you need very little to get the smoky element we're after. Used correctly, it's a fabulous addition to a recipe like this. Don't fear the Liquid Smoke!
I like to place the steak on a foil lined baking sheet for the seasoning and marinating process. Sprinkle about 1/2 teaspoon of Liquid Smoke over each side of your flank steak.
The next step – the dry rub. A quick and easy mixture of chili powder, cumin, paprika, onion powder, garlic powder, oregano, salt, and fresh ground pepper. Big flavor!
Cover the surface of both sides of the steak with the dry rub. Cover the baking sheet with foil or plastic wrap and transfer the steak to the fridge to chill for an hour or longer.
About 45 minutes to an hour before you're ready to assemble your salad get the potatoes going. Preheat your oven to 400 degrees and slice 1-1/2 pounds of baby red potatoes into quarters. Place them on a rimmed baking sheet and toss with enough olive oil to coat all of the potatoes well – about 2 tablespoons. Pop the potatoes in the preheated oven and roast them for 35 to 40 minutes, tossing with a spatula every 15 minutes to ensure even browning.
While the potatoes are roasting remove the flank steak from the fridge and drizzle both sides of the seasoned steak with a little olive oil to prevent it from sticking to the grill. Let it sit while you prepare and heat the grill.
It only takes about 7 minutes per side over direct heat to reach a nice medium-rare to medium doneness for this cut. Remove the grilled steak to a cutting board and let it rest for 5 to 10 minutes before slicing.
It's important to slice your flank steak across the grain, like so. After this initial slice, I cut each slice into 3 pieces to make them more manageable on the salad.
While the steak is grilling, throw a couple of ears of corn coated with a little olive oil on to the grill as well. Some folks prefer to grill the corn with the husks on but I love this charred, grilled look so I grill my corn naked! Once the corn is cool enough to handle, use a sharp knife to slice it off the cob.
Now it's just a matter of assembling the great big salad. Place the chopped iceburg lettuce and your choice of mixed greens on a big platter. Next, layer on the chopped tomatoes, red onion, and the grilled steak and corn.
I like to scatter the roasted potatoes around the edge of the salad so they stand out a bit and say "hey fella, come get me!" Roasted potatoes are sexy.
Drizzle the top of the salad with Ranch dressing, add a little crumbled blue cheese and chopped fresh chives.
I make it easy on myself and use a bottled Ranch dressing. This Jalapeno Ranch from Litehouse is SO, So, so good. It's really good! It adds only a touch of heat but has great flavor and is perfect on this salad. Use the bottled Ranch you like best.
Ranch dressing and crumbled blue cheese with grilled steak and potatoes. I'm telling you…this works.
Cowboy Steak Salad
A hearty salad that even your most steadfast carnivores will love.
Ingredients
For the Steak:
1

1-1/2 to 2 pound flank steak

1

teaspoon

Liquid Smoke

2

tablespoons

olive oil
For the Dry Rub:
2

teaspoons

chili powder

1

teaspoon

cumin

1

teaspoon

paprika

1

teaspoon

garlic powder

1

teaspoon

onion powder

1

teaspoon

oregano

1

teaspoon

salt

,

or to taste

1/2

teaspon fresh ground black pepper
For the Roasted Potatoes:
1-1/2

pounds

baby red potatoes

,

quartered

2

tablespoons

olive oil

,

or enough to coat potatoes

Salt

,

to taste
For the Grilled Corn:
1

or 2 ears corn

1

tablespoon

olive oil
For the Salad:
1/2

head iceburg lettuce

,

chopped

Mixed greens

,

as needed

2 to

matoes

,

chopped

1/4

cup

diced red onion

Bottled Ranch dressing

,

I used Litehouse Jalapeno Ranch

1/4

cup

blue cheese crumbles

2 to 3

tablespoons

chopped fresh chives
Instructions
Lay flank steak out flat in the bottom of a rectangular dish or foil lined baking sheet. Sprinkle both sides of the steak with about 1/2 teaspoon liquid smoke per side.

Combine all the dry rub ingredients in a small bowl. Sprinkle evenly over both sides of the flank steak. Cover the dish or baking sheet with foil and refrigerate the steak for at least an hour.

Meanwhile, preheat oven to 400 degrees. Spray a rimmed baking sheet with non-stick cooking spray. Place the quartred potatoes on the baking sheet and drizzle with the olive oil. Use your hands to toss the potatoes until they are all thoroughly coated with oil. Bake for 35 to 40 minutes. stirring about every 15 minutes through cooking time. Remove from oven. sprinkle with salt to taste, and set aside.

Prepare and heat your outdoor or indoor grill. Drizzle the seasoned flank steak with olive oil on both sides. Grill steak over direct heat for about 6 to 7 minutes per side for medium-rare to medium, or longer, depending on your preference. While steak is cooking, brush corn with olive oil and add it to the grill. Allow corn to cook, turning every few minutes.

Remove steak from grill to a cutting board and allow to rest for 5 to 10 minutes and then slice against the grain. Cut slices into 2" to 3" pieces.

Remove corn from grill and let sit until cook enough to handle and then use a sharp knife to slice the corn off the cob.

Assemble salad by placing the iceburg lettuce and the mixed greens on a large platter. Layer with tomatoes, red onion, steak, potatoes, and grilled corn. Drizzle with Ranch dressing, sprinkle on the crumbled blue cheese, and garnish with fresh chives.
Nutrition information is automatically calculated using generic ingredients, and is an estimate not a guarantee. For more accurate results, please refer to the labels on your ingredients at home.
Did You Make This?
We love seeing what you've made! Tag us on social media at @fromvalerieskitchen for a chance to be featured