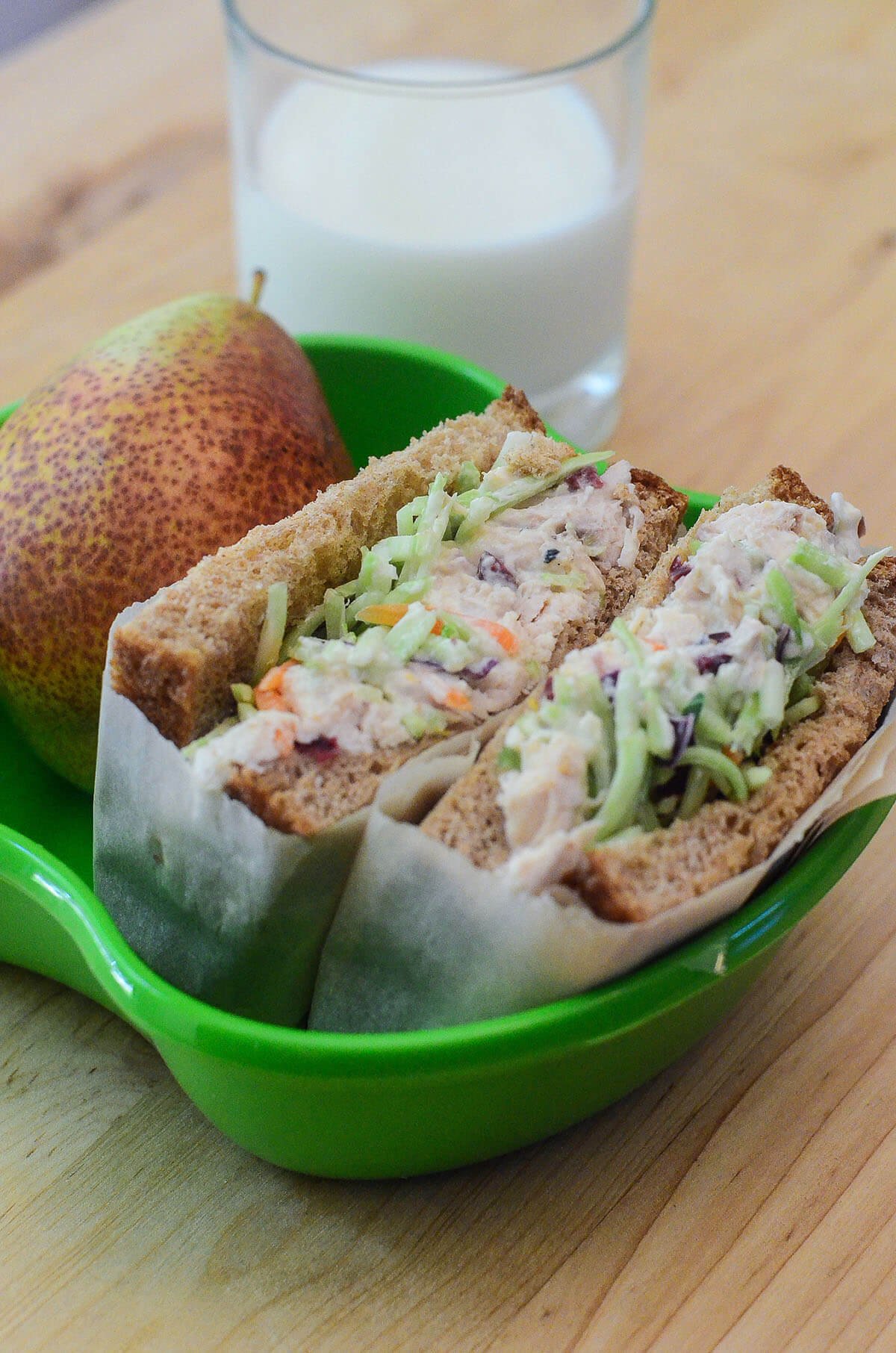 When I was contacted by Rudi's Organic Bakery and asked to help them promote National Take Your Parent's to Lunch Day and the Say Cheese Photo Contest I immediately knew that I was in. I am a long time lover of Rudi's products and I'm thrilled to support their efforts to promote healthy school lunches for our kids. Their products are high in fiber, organic and don't contain preservatives, GMO's, or high fructose corn syrup. On top of that, this bread is incredibly tasty and substantial enough to hold up to your filling of choice.
After raising four little ones, I found some tricks along the way to incorporate healthy items into their meals. They might say "I don't like tomatoes" or "I hate onions" when many times it's a textural, not a taste thing. In reality, they probably love the flavors of many of the foods they think they despise. My answer to this is dicing. They will undoubtedly object if they bite into a sandwich and get a big chunk of the item they've decided they don't like, but when you dice it, it's more about adding flavor. Sneaky but effective.
I believe in including these items in their meals as often as possible because it helps them develop a more sophisticated, less finicky palate. I had my boys eating all kinds of stuff when they were quite young by using this method and I swear I can pretty much put anything in front of my now grown-up guys and they'll eat it. They have all developed into quite adventurous eaters.
The dressing for this chicken salad uses a mixture of non-fat Greek Yogurt and mayonnaise. I always use light mayo but use what you have on hand. A little Dijon mustard and the juice and zest of a fresh lemon brighten up the flavor and natural sweetness comes from chopped dried cranberries. We've also got some diced red onion, celery, and add a little salt and pepper to taste.
This bagged broccoli slaw makes for a great sandwich or wrap topping and adds even more fiber and great nutrition to this sandwich. Use any leftovers to throw into salads or add coleslaw dressing for a great summery side dish. You can substitute lettuce or leave it out altogether if you have very small children that might object. But trust me, don't leave it off the sandwich you make for yourself.
For the chicken, I used the breast portion of a store-bought rotisserie chicken. Easy peasy. Just remove and discard the skin and pull the meat off the bone. Shred it with your hands. You should have about 2-1/2 cups shredded chicken. Save the remaining dark meat for another purpose.
The shredded chicken and some toasted walnuts are mixed into the amazing dressing and you are ready to make lunch. I'd recommend mixing this up the night before and keep it covered in the fridge overnight to save time. The flavor will only improve with some time in the fridge.
I used Rudi's Honey Sweet Whole Wheat bread which is absolutely 100% kid-friendly. I can't wait to make a grilled cheese on this yummy bread.
Layer the bread with the chicken salad and top it with some of the broccoli slaw.
This is not your typical tired peanut butter and jelly bag lunch. It's fresh, healthy, and full of flavor. The full printable recipe appears at the very bottom of this post.
***Giveaway Closed***
Now, on to the giveaway! I'm trying out Rafflecopter for the very first time. I hope it goes smoothly but if you have any problems entering the giveaway below, please let me know. There are several easy ways to enter but only entries left on the Rafflecopter application will be eligible.
Contest Rules:
Giveaway closes on Monday, August 19 at midnight. Winner will be chosen at random and contacted by email by Tuesday, August 20. If winner does not claim their prize within 48 hours, another winner will be selected.
Contest is open to U.S. residents only.
Thanks and good luck to you all!
Disclosure: This giveaway is sponsored by Rudi's Organic Bakery who provided me with a Canon Powershot Camera in addition to the one I am giving away. All opinions expressed on From Valerie's Kitchen are solely my own.
Crunchy Sweet Chicken Salad Sandwiches
Ingredients
1

rotisserie chicken

1/2

cup toasted walnuts, chopped (optional)

1/2

cup non-fat plain Greek Yogurt

1/2

cup light or regular mayonnaise

1

tablespoon Dijon mustard

1/3

cup dried cranberries, chopped

1

stalk celery, diced

1/3

cup red onion, finely diced

1

zested and juiced lemon

Salt and fresh ground black pepper

8

slices of sandwich bread or 4 wraps

1

cup packaged broccoli slaw
Instructions
Remove and discard the skin from the breast portion of the rotisserie chicken. Pull white breast meat from the chicken to a cutting board and use your hands to shred it. You should have approximately 2-1/2 cups shredded chicken. Reserve dark meat for another purpose.
Preheat the oven to 350 degrees. Place 1/3 cup walnuts in a small baking dish and bake for 5 to 7 minutes or until lightly toasted. Remove from oven and set aside until cool enough to handle. Chop walnuts and set aside.
In a large mixing bowl combine Greek yogurt, mayonnaise, Dijon mustard, chopped dried cranberries, celery, red onion, lemon juice and zest, salt and pepper. Mix well to combine. Add shredded chicken and chopped walnuts and mix until well combined.
Divide mixture between the sandwich bread or wraps. Top with some of the broccoli slaw. Serve immediately or place in an airtight container in a chilled thermal bag to send to school with your child for lunch.
Adapted from Foodnetwork.com