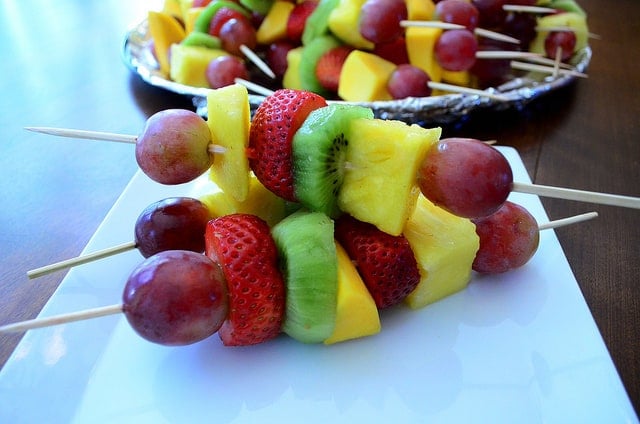 This is more an idea than a recipe but I was so happy with it that I wanted to share it with you all. Especially those of you who have kids that play sports, do scouts, or any other activitiy where you've got a big group of them together at the same time.
It's swim season for Boy #4 and last week I had the task to provide snacks for the swim meet. I came up with this idea and it went over like gangbusters. I always want to offer healthful choices, especially at sporting events, but bowls of cut up fruit can be boring.
There is just something enticing to kids about any kind of food on a stick. So why not fruit?
I raided the produce section at Costco. I bought grapes, strawberries, kiwi, pineapple, and some gorgeous yellow mangoes.
It's just so pretty!
I cut it all it into bite size chunks
Then I thread it onto skewers. It works well to have a grape at each end to cap it off.
It was easy for the kids to run up and grab a kabob and walk away with a variety of healthy, fresh fruit to chomp on between their events.
No utensils needed. Clean and easy!
Fresh Fruit Kabobs
Prep Time 20 minutes
Total Time 20 minutes
Change the number in the box above to adjust serving size. Please note that size of cookware and cook time may vary.
Ingredients
Pineapple peeled
Kiwi peeled
Strawberries
Mangoes peeled and cored
Grapes
Wooden skewers
Instructions
Prepare fruit by washing and cutting it into large chunks. Thread on to wooden skewers, starting with a grape and ending with a grape.

Can substitute with any fruit of choice.
Course Snack
Cuisine American