A vibrant, fresh fruit salad is one of my favorite ways to celebrate the change from winter to spring. Make it special with a simple sweet lime dressing and fresh mint. Always a welcome addition to Sunday brunch or as an elegant side to your Easter ham.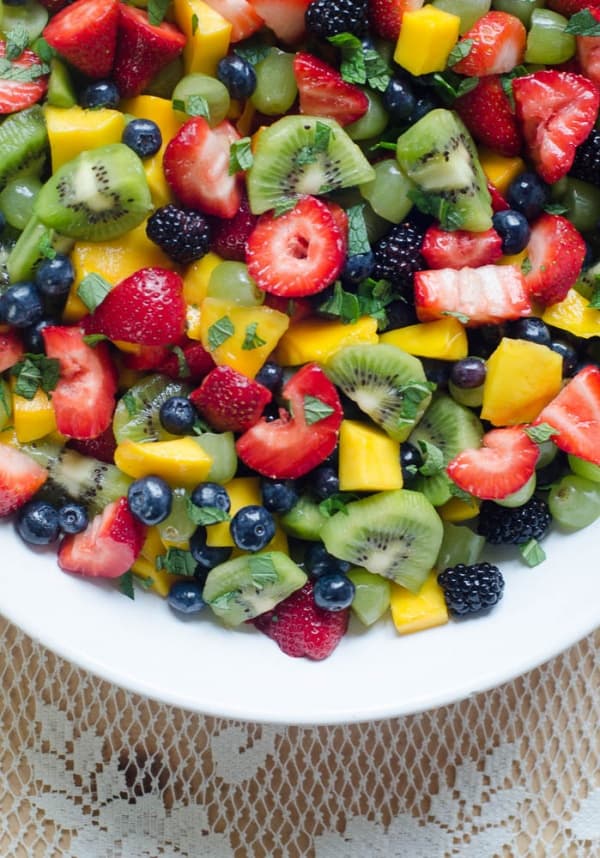 Spring has sprung my friends and I am feeling it. We've had incredible, unseasonably warm weather here in Northern California for the past several days. I'm talking mid-80's, crystal clear blue skies…perfection. I am a California girl through and through and this is the weather I live for. We also happen to be in the midst of a severe drought and while we all have our fingers crossed for a great big burst of rain, it's impossible not to enjoy the gorgeousness outside.
When I feel that first shift from winter to spring it's time to make a great big, beautiful fruit salad and the timing could not have been better.
I also have a fun giveaway for you guys today! But first, let's talk about this pretty fruit salad.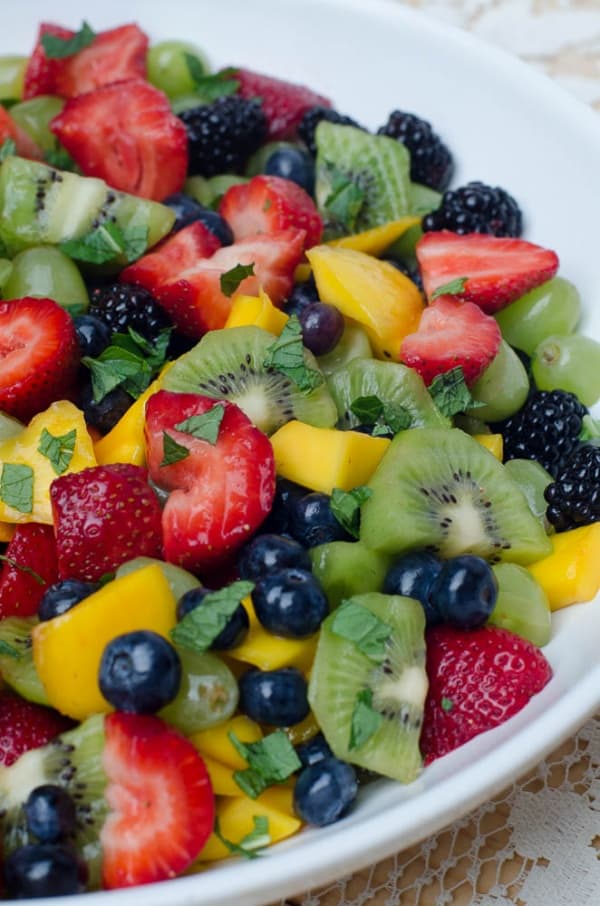 We drove down to Santa Barbara last week to retrieve Boy #4 after his very last final to bring him home with us for Spring Break. Because after all, who wants to go to Mexico or Vegas when you can spend Spring Break in San Jose with your parents….woo hoo! (I'm so happy he's not in Mexico or Vegas).
When I asked him what foods he was craving most he said fruits and veggies – not really what I was expecting! It's funny what the college experience can do to a young man. He does a great job cooking for himself in his off-campus home but eating fresh healthy foods is always a challenge during the college years. Lucky for him, I had this beauty of a salad on the menu.
I'm finding my tools from Crisp™ Cooking indispensable when it comes to tasks like this. The pretty red and white Serrated Peeler is designed to feel secure in your hand and is perfect for peeling softer fruits like kiwi and mango with ease. The Straight Paring Knife has become my constant companion in the kitchen – perfect for so many tasks it barely makes it into the drawer. I love the compact size and when I am ready to put it away I just pop the blade cover over the sharp blade and toss it in the drawer. In addition to protecting the blade, the handy cover also works as a sharpener. The Berry Baskets are great for storing far more than berries. These ultra cute containers have been in my fridge constantly and do wonders for brightening up a breakfast buffet. And, that Wavy Knife there in the background. I am in love. It adds a little something special to both your fruit and green salads when you slice up the ingredients with a decorative edge. Especially nice for a holiday presentation.
You want these tools in your kitchen! Enter below for your chance to win two cooking tools of your choice from the great assortment of tools from Crisp. Their collection includes far more than I've shown here. Go take a look for yourself come back and let me know what catches your eye. It's your kitchen and it's your choice! For the complete collection of kitchen gadgets from Crisp click HERE.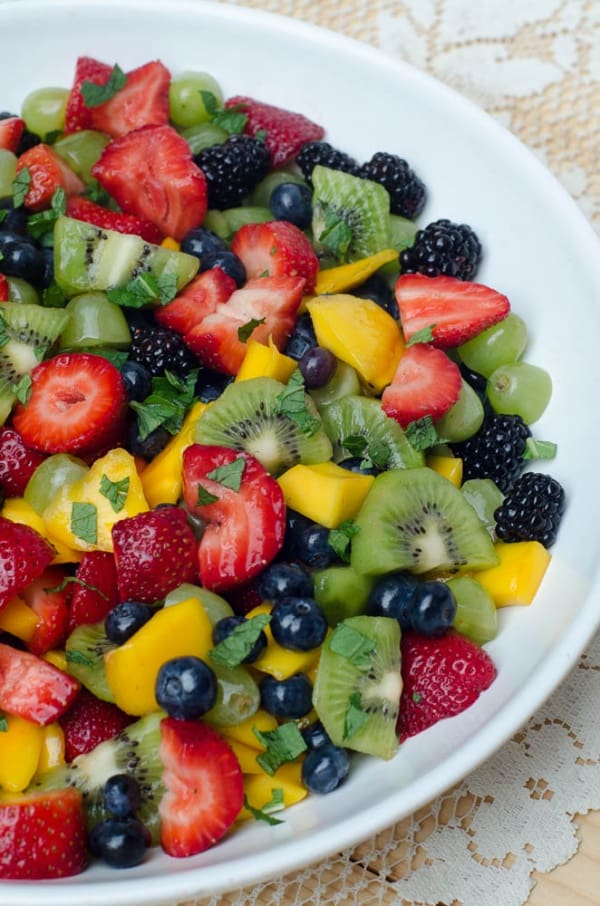 Fruit salad is a fabulous choice for your Easter brunch, lunch or dinner menu. You can do the prep ahead and then just toss the chopped fruit with dressing and garnish it with fresh chopped mint just before serving. The Sweet Lime Dressing is so darn simple but adds a wonderfully sweet, citrus-y twist and the chopped mint brightens up the flavors in a beautiful way.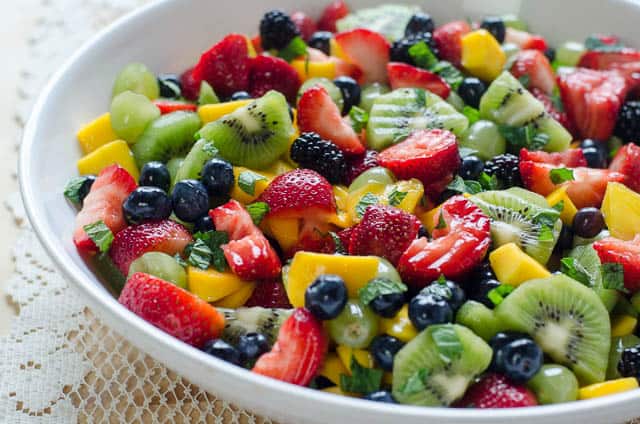 *** GIVEAWAY CLOSED ***
Contest is open to U.S. residents, 18 years of age and older. The giveaway will end at 12:00 PST on April 6, 2015, at which time a winner will chosen at random and notified by email. Winner must respond within 48 hours or another winner will be chosen. I'm downright heartbroken when this happens so please check your email!
Prizes limited to single tools only. All gift packs and bundles are excluded.
Best of luck to you all!
Disclosure: I have a working relationship with Crisp Cooking, but all opinions expressed in this post are my own. I have been compensated and received the items demonstrated in this post to aid me in my review. Thank you for supporting the brands that support From Valerie's Kitchen!

Fruit Salad with Sweet Lime Dressing
A beautiful addition to your spring or summer menu. Suitable for everything from Sunday brunch to an elegant evening gathering.
Print
Pin
Rate
Servings: 8 to 10 servings
Ingredients
For the fruit salad you'll need approximately 1 heaping cup of each of the following:
Strawberries hulled and sliced
Blueberries
Blackberries
Green Grapes cut in half
Champagne Ataulfo Mangoes (2 or 3), peeled and chopped
Kiwi 4 or 5, peeled and thickly sliced
Sweet Lime Dressing:
1 lime juiced (approximately 2 or more tablespoons fresh lime juice)
2 tablespoons powdered sugar
Chopped fresh mint for garnish
Instructions
Combine the prepared fruit. In a small bowl, whisk together the lime juice and powdered sugar. Add to the fruit and toss lightly to combine

If making ahead, toss with dressing and garnish with mint just before serving.