These pretty Holiday Tortilla Pinwheels will add a festive touch to your next holiday gathering. A rich and creamy feta and cream cheese mixture, deli ham, and tart-sweet dried cranberries make them unique and totally delicious!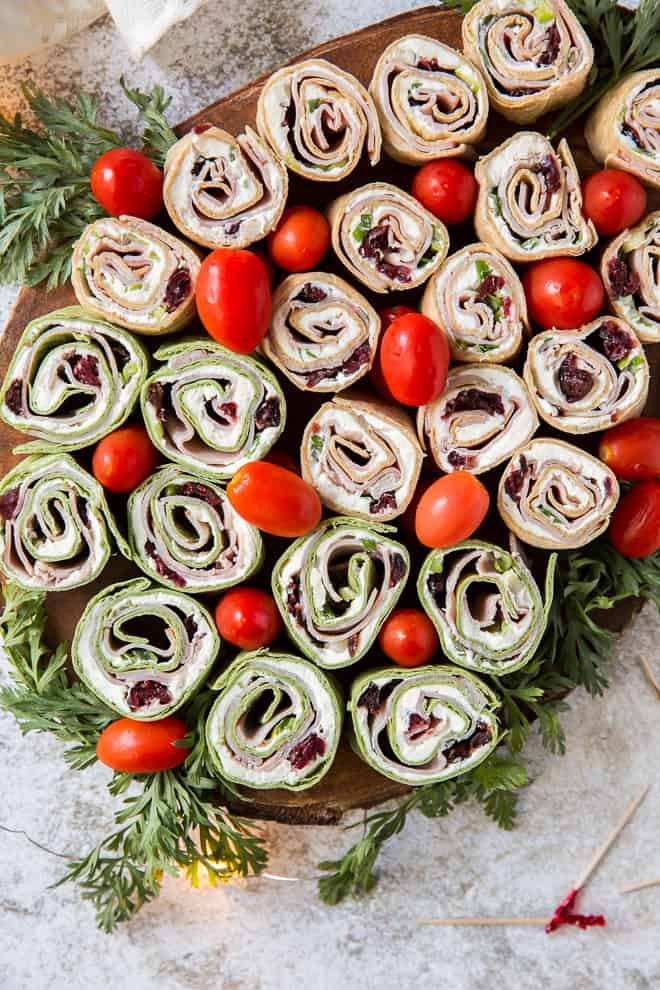 Retro party snacks are the best!
I've been making different varieties of tortilla pinwheels forever and a day and just like cocktail meatballs and slow cooker cocktail sausage, they just never go out of style. There are an endless number of ingredients you can stuff inside, they can be made ahead, and they transport well, which makes them a great choice for potlucks at any time of year.
The pretty red and green contrast in these festive little babies make them perfect for the holiday season. The flavorful filling is perfect for serving with cocktails or a nice glass of wine.
Use Different Types of Tortillas for Contrast
Whenever I do tortilla pinwheels of any kind, I love to use a couple of different types of tortillas for a pretty presentation.
For these holiday-inspired pinwheels I use a combination of green spinach wraps (I use Mission Garden Spinach Herb Wraps) and regular flour tortillas. This color combo with the pretty dried cranberries and green onions peeking out creates a really festive vibe.
What Type of Cream Cheese Works Best?
Many pinwheel recipes call for the whipped variety of cream cheese because of its spreadability, but I prefer regular cream cheese. It has a richer, denser consistency that I like better for pinwheels.
I always use the less fat (Neufchatel) variety but feel free to use the regular if you wish. I honestly cannot tell the difference with the less fat variety and I'm banking those saved calories and fat grams for dessert!
I have big love for this crumbled feta I buy at Costco. I almost always have one of these great big containers in my fridge and never run out of ways to use it up. It is SO good on scrambled eggs, tossed into salads, and in pasta dishes and it adds a salty, tangy bite to these pinwheels.
How to Make Holiday Tortilla Pinwheels
These really could not be easier to make. A few simple steps and some chilling time is all they need.
Start by combining a couple of packages of softened cream cheese, a little sour cream, and plenty of crumbled feta. Beat it with an electric mixer until it is smooth and creamy.
Spread one tortilla with a layer of the cream cheese and feta mixture and then top it with some thinly sliced green onions, dried cranberries, and some thinly sliced deli ham.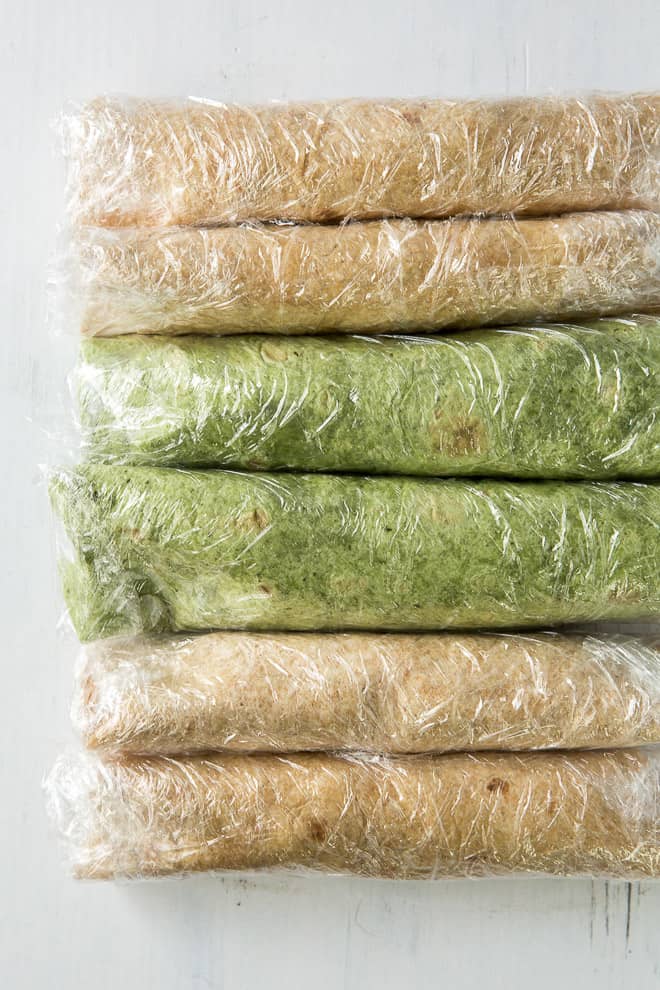 Tightly roll up the tortillas and wrap them securely with plastic wrap so they will hold their shape. Refrigerate them for at least an hour or more but I don't recommend letting them chill for more than a few hours or the tortillas can become soggy.
After the chilling time, slice and serve! You should get 6 pinwheels from each roll-up or 36 in total.
Pretty up your platter with some fresh herbs and bright red grape tomatoes.
This post was originally published on November 27, 2015. It has been updated with new images.
CLICK HERE OR ON THE IMAGE BELOW TO PIN THIS RECIPE!
Holiday Tortilla Pinwheels
These festive Holiday Tortilla Pinwheels are stuffed with a creamy feta and cream cheese mixture, deli ham, and tart-sweet dried cranberries.
Print
Pin
Rate
Servings: 36 pinwheels
Calories: 85kcal
Ingredients
16 ounces regular or Neufchatel (less fat) cream cheese (2 8-ounce packages)
1 cup crumbled feta cheese
1/4 cup sour cream (light or regular)
3/4 cup dried cranberries
4 green onions thinly sliced
3/4 pound thinly sliced deli ham
6 10-inch (burrito size) flour tortillas or wraps (use a variety of colors)
Instructions
Combine cream cheese, sour cream, and feta. Divide mixture between 6 tortillas, spreading out in a thin layer to within 1/2" of the edge. Sprinkle each tortilla with cranberries and green onions. Layer on some ham and roll up tightly.

Wrap rollups tightly in plastic wrap and refrigerate for one hour. Cut off and discard the uneven ends and slice each rollup into 6 pieces.

Adapted from Taste of Home
Nutrition
Serving: 1pinwheel | Calories: 85kcal | Carbohydrates: 6g | Protein: 4g | Fat: 5g | Saturated Fat: 3g | Cholesterol: 17mg | Sodium: 254mg | Potassium: 76mg | Fiber: 1g | Sugar: 3g | Vitamin A: 106IU | Vitamin C: 1mg | Calcium: 48mg | Iron: 1mg