This rustic, flavor-packed Italian Tortellini Salad will make a delicious addition to a summer potluck menu.
Click HERE to sign up for your FREE email subscription and never miss a recipe!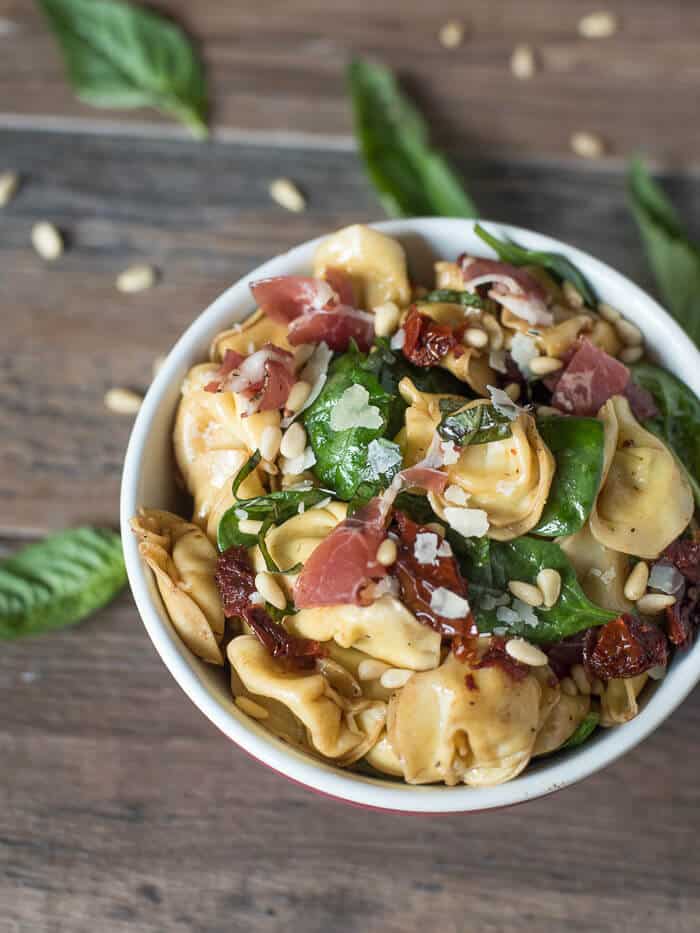 I had no idea what I was getting into when I got to work in my kitchen yesterday but making this pasta salad quickly became a lesson in self-control. I'm telling you, it was rough. I cook, I photograph, and I wrap items up and stash them away in my fridge to consume with my family at mealtime. Always. I'm good that way.
But, this salad… I really struggled to keep to my plan.
There's only so much deliciousness one can resist at 9:30 am when one is alone in one's kitchen.
The list of ingredients are all delicious on their own but when tossed together with an Italian-seasoned balsamic vinaigrette they mingle, get happy, and come to life in the most fantastic way.
You'll need a big package of cheese tortellini, a jar of sun dried tomatoes, and a couple ounces of cured Italian deli meat. I highly recommend you pick up some coppa (aka capicola) but prosciutto would be fabulous in this too. You could even go salami or pepperoni. See the printable recipe at the end of the post for the full ingredient list.
The dressing consists of olive oil, balsamic vinegar, minced garlic, Dijon mustard, Italian seasoning, and a touch of black pepper. Place the lid on the jar and shake it up. Easy.
Be sure to heed the package directions when cooking your tortellini. It cooks very quickly and will get mushy, quickly, if you let it go too long. Pull it from the heat and immediately rinse it with cold water to stop the cooking process. Drain it well and transfer it to a large mixing bowl. Coat the cooled tortellini with about half the dressing to prevent it from sticking together.
Add the remaining salad ingredients – sun dried tomatoes, thinly sliced fresh basil, the coppa, and fresh baby spinach.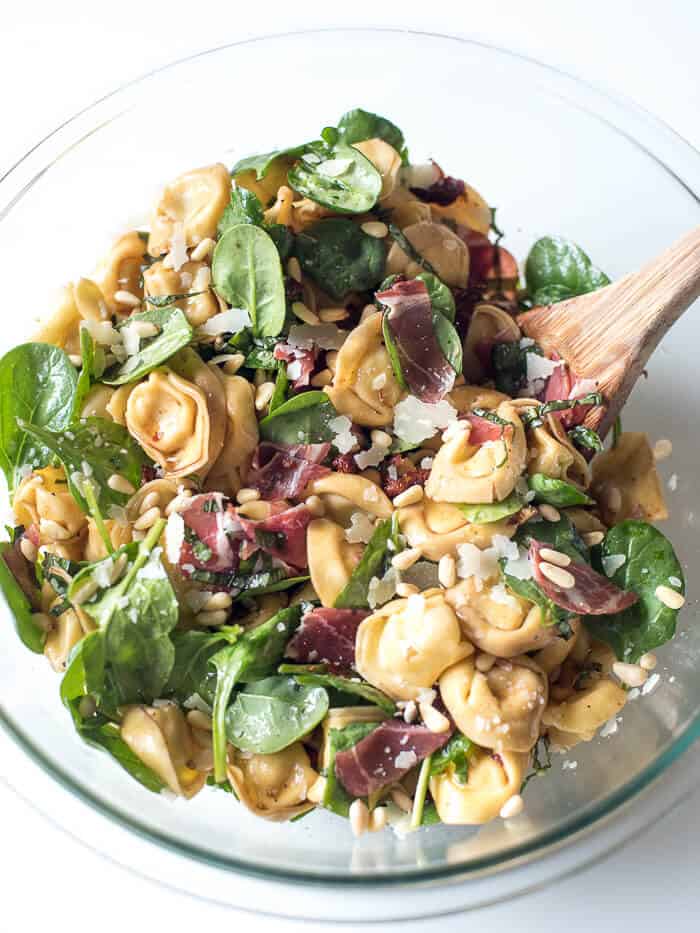 Give it a toss and add additional dressing if needed. Garnish the salad with some Parmesan and pine nuts.
Check out the quick video below to see it happen!

It's a gorgeous salad and you won't believe the flavor. It's intense, man!
Ingredients
Pasta Salad:
1 22 ounce package cheese tortellini
1 cup fresh baby spinach
1/2 cup chopped sun-dried tomatoes
2 ounces sliced coppa prosciutto, or other cured Italian deli meat of your choice, chopped
1/3 cup thinly sliced fresh basil
1/4 cup grated Parmesan cheese
2 to 3 tablespoons pine nuts
Dressing:
1/2 cup extra-virgin olive oil
1/4 cup balsamic vinegar
1 teaspoon dijon mustard
1/2 teaspoon minced garlic
1/2 teaspoon Italian seasoning
fresh ground black pepper to taste
Instructions
Cook tortellini according to package directions, being careful not to overcook. Rinse cooked pasta with cold water and drain well. Transfer to a large mixing bowl.

While tortellini is cooking, place all dressing ingredients in a container with a tight-fitting lid (like a mason jar) and shake until well combined (and then shake a little more!). Alternately, whisk ingredients together in a small bowl.

Drizzle 1/2 of the dressing over the cooked and cooled tortellini and toss to combine to prevent it from sticking together. Add remaining salad ingredients, except Parmesan and pine nuts, and toss. Add as much of the remaining dressing as desired. Garnish with Parmesan and pine nuts and serve.
Make-Ahead Instructions:
Follow recipe directions as stated but do not add spinach, basil, Parmesan, and pine nuts. Cover and refrigerate the salad and reserved dressing separately. When ready to serve, add the spinach, basil, and additional dressing, as needed. Garnish as stated.
CLICK HERE OR ON THE IMAGE BELOW TO PIN THIS RECIPE!