This Long Grain and Wild Rice Chicken Salad is full of flavor, texture and color. Delicious on its own or rolled up in a tortilla or wrap for lunch on the go!
This post has been sponsored by Uncle Ben's®. All thoughts and opinions are my own.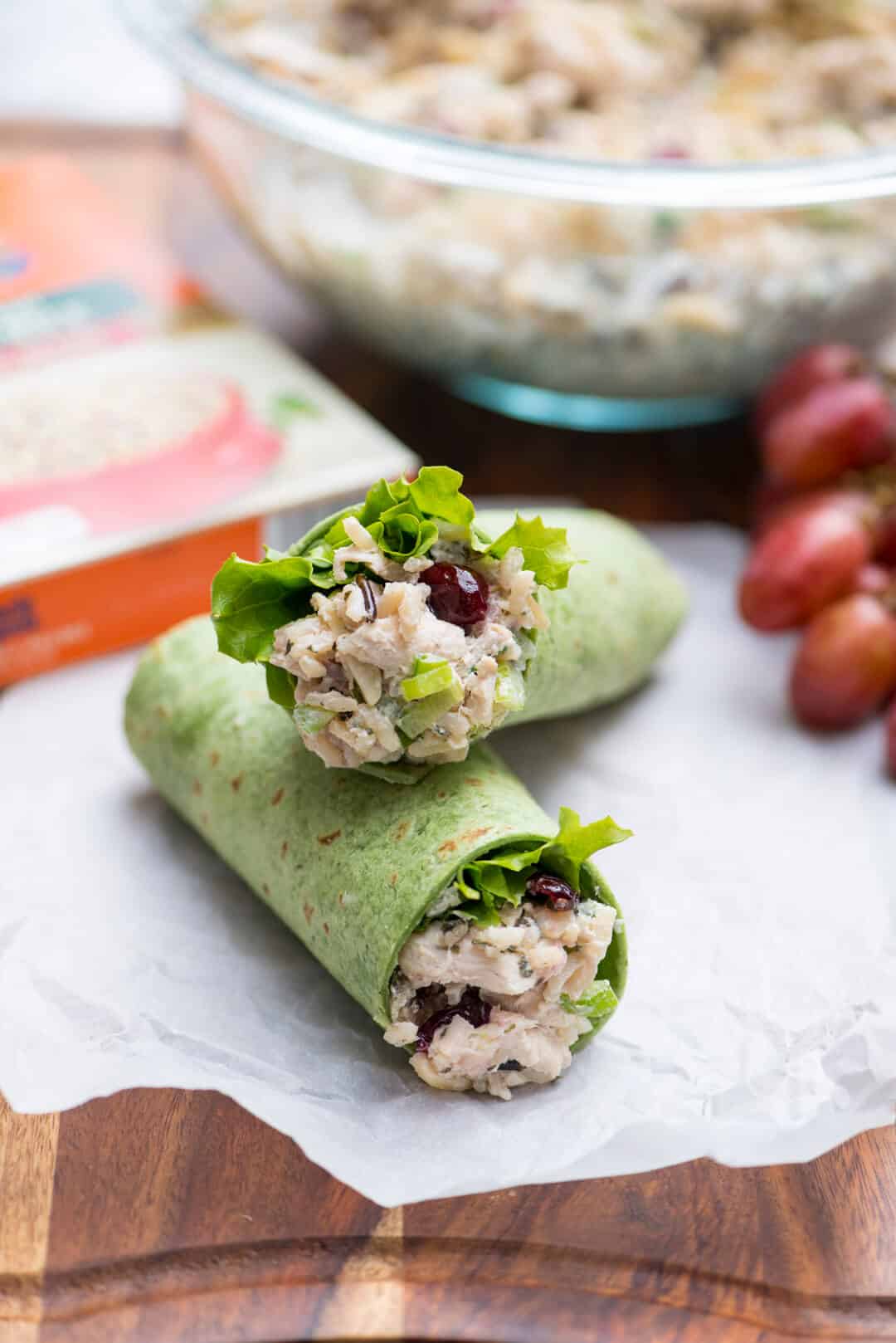 My job as food blogger means that I get to work from my home office which is a fabulous thing, but it also presents a lot of potential for eating a random diet of whatever I happen to be photographing on any given day. This is why it is so important for me to plan ahead and have easy, nutritious things on hand to grab for lunch. This Long Grain and Wild Rice Chicken Salad has become a new favorite for fending off the temptation to dive into chocolate cake at 11:00 am!
I think this is an issue for everyone, no matter what job you may have or whether you work from home or trek to your office each day. Chicken salad has long been one of my favorite easy, nutritious lunch solutions.
What makes this chicken salad stand apart from the others? The addition of Uncle Ben's® Long Grain and Wild Rice. The deliciously seasoned rice is the perfect complement to the chicken, dried cranberries, crunchy celery and slivered almonds and creates a substantial, satisfying meal. Rolled up in a wrap it makes the perfect, easy to pack, on-the-go lunch that will keep you on track with healthier eating in the new year.
Target is THE place to go for quick and easy meal inspiration. I love that I can do my usual perusing of the home and kitchen aisles and then head over to the grocery section and get all of my shopping done in one trip! They have a great selection of Uncle Ben's Flavored Grains products and everything else you might need for meal planning and prep.
Click HERE to grab Target's Cartwheel offer and get 10% off all Uncle Ben's Products between 2/12/17 and 3/11/17. This recipe is just one example of what you can do with their delicious white, brown, long grain, and wild rice products.
We start with the bright, light dressing. A combination of non-fat plain Greek yogurt, light mayonnaise, fresh lemon juice and zest, and a touch of salt and fresh ground black pepper. The seasoned rice adds the perfect amount of flavor so you don't need to add anything else.
Add the cooked and cooled Uncle Ben's Long Grain and Wild Rice, diced celery, dried cranberries, and green onions.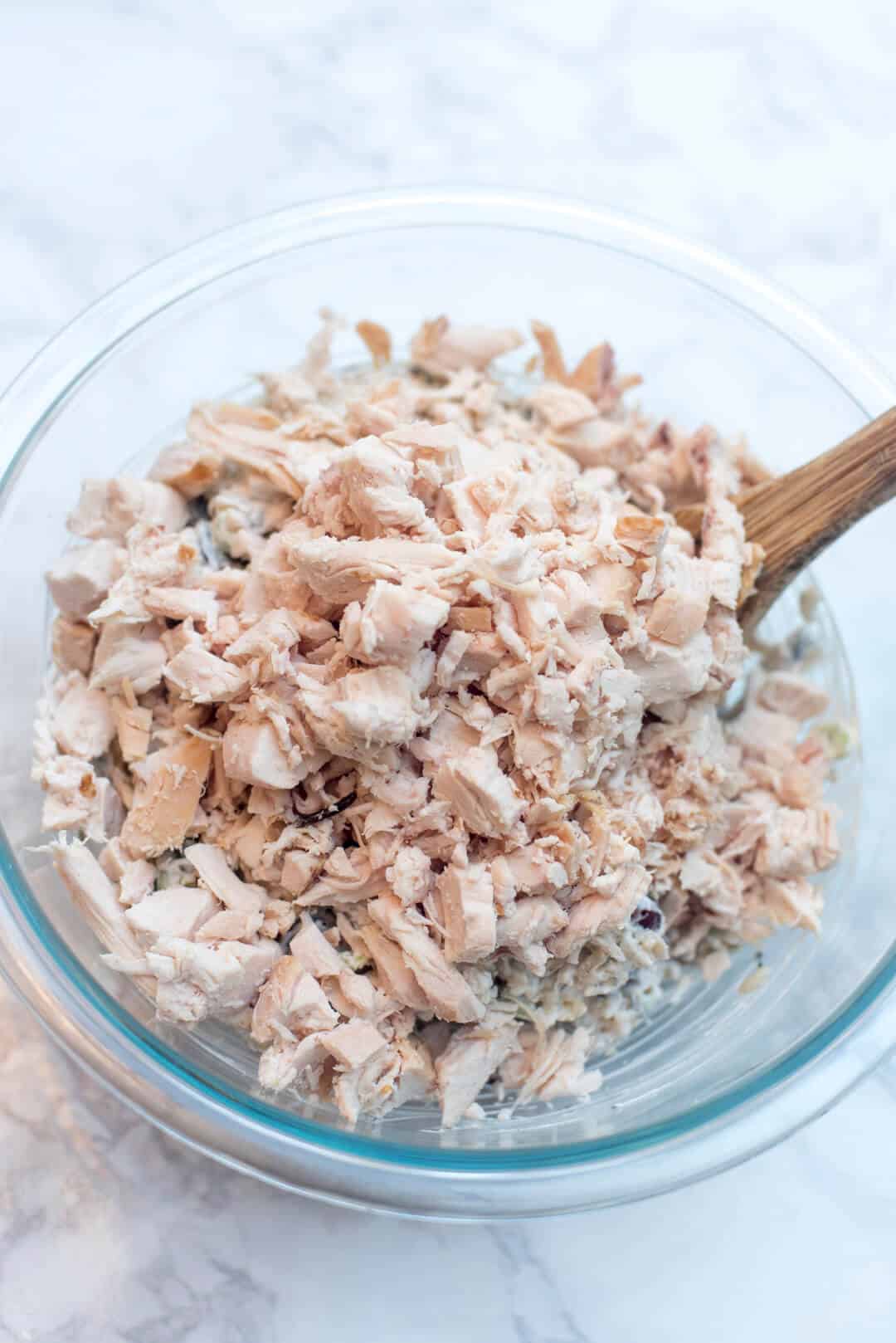 I used the meat from a rotisserie chicken – so easy!
Some slivered almonds for a little crunch and additional nutritional value.
Mix up a batch on the weekend for lunches through the week. The salad will keep well for 4 or 5 days if stored in an airtight container in your fridge.
I kept it simple by rolling it into spinach herb wraps with lettuce but it would be delicious with a variety of toppings. Add a slice of cheese, some broccoli slaw, sliced tomatoes, or avocado.
Wholesome, delicious, and so easy!
Ingredients
1 6 ounce package Uncle Ben's® Long Grain and Wild Rice
2 cups cooked chopped chicken breast rotisserie chicken works perfectly
1/2 cup non-fat plain Greek yogurt
1/2 cup light or regular mayonnaise
1/4 teaspoon salt
fresh ground black pepper to taste
1/2 cup diced celery
1/3 cup dried cranberries
2 green onions thinly sliced
1 lemon juiced and zested
1/3 cup slivered almonds
tortillas or wraps I used spinach herb wraps
optional toppings - lettuce tomato, broccoli slaw, tomato, avocado
Instructions
Prepare the Uncle Ben's® Long Grain and Wild Rice according to the package directions. Set aside to cool while you prepare remaining ingredients.

In a large mixing bowl combine Greek yogurt, mayonnaise, lemon juice, zest, salt, and pepper. Mix well to combine. Add celery, dried cranberries, green onion, and cooked and cooled rice, stirring to combine. Fold in cooked, chopped chicken and slivered almonds and mix until well combined.

Store chicken salad in an airtight container in the refrigerator. Keeps well for 4 or 5 days.

Delicious on its own or rolled into wraps with your choice of toppings.