A savory meatloaf mixture is studded with sautéed mushrooms, onions, and garlic and topped off with a creamy stroganoff-style sauce. This Meatloaf with Stroganoff Sauce is a delicious take on the classic comfort food.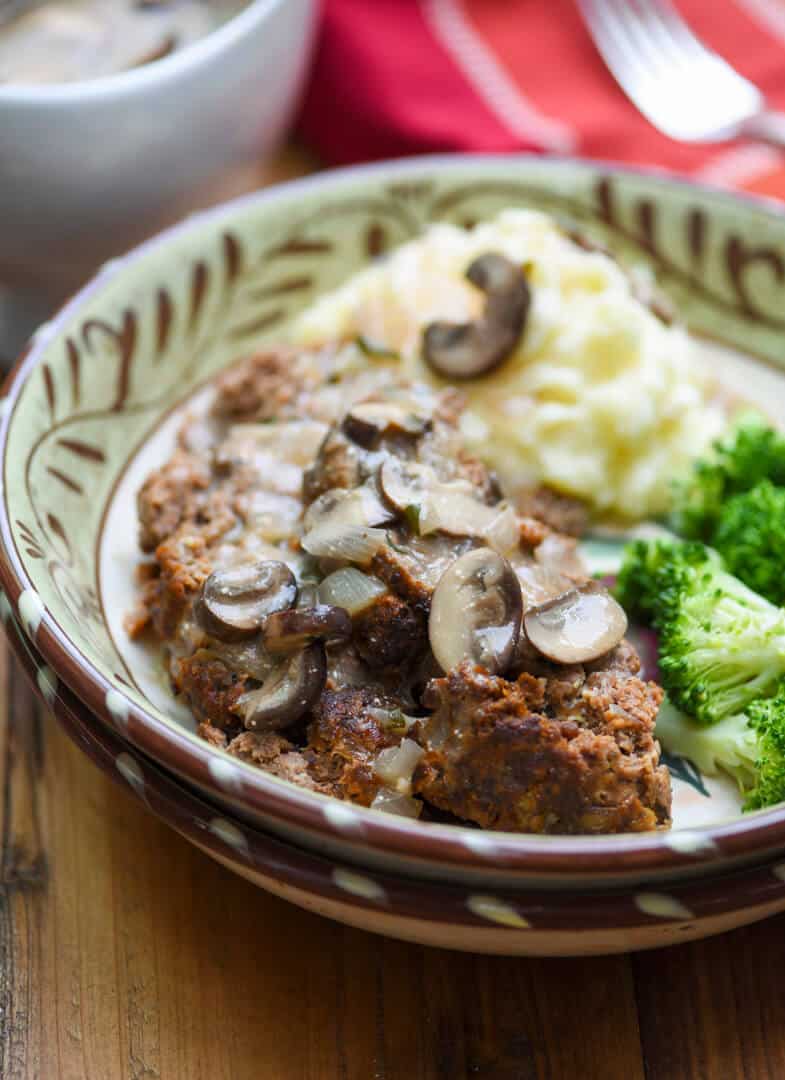 My inspiration for this recipe came from a pretty surprising source. Asian food.
One of my boys recently brought home lunch from a brand new local Asian supermarket. It was a hamburger patty served over rice, topped with mushroom gravy and a fried egg. This Japanese hamburger steak is known as "Hambagu" it inspired me to create something I could feed my family that would carry the same flavors as his tasty lunch.
And, just like that, the idea for this recipe was born. Instead of hamburger patties, I went with meatloaf and instead of rice, I went with mashed potatoes, because… potatoes. We love 'em! I didn't include a fried egg to keep the integrity of my marriage intact and decided to stroganoff-up the sauce because I just knew it would be incredible.  
And, my friends, it is! A big departure from my source of inspiration but seriously, delicious.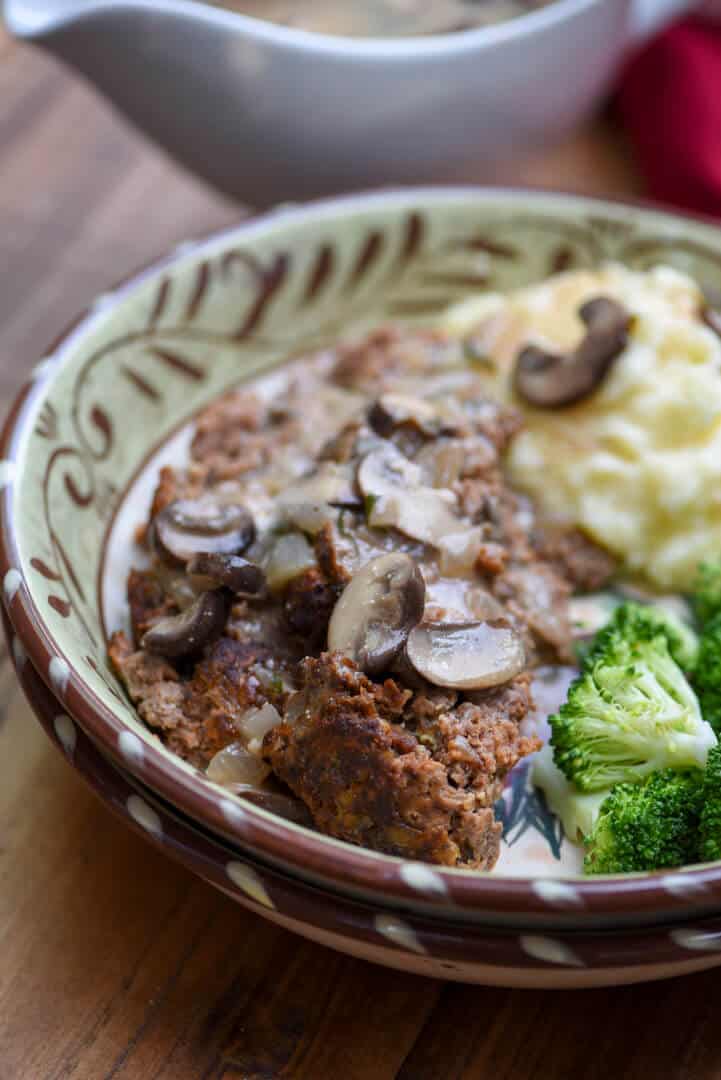 The first task at hand is to sauté a package of cremini mushrooms with diced onion, minced garlic, and fresh Italian parsley. Half of the mushroom mixture is folded into the flavorful meatloaf mixture and the other half is reserved for the simple stroganoff sauce that is quickly put together once the meatloaf comes out of the oven.
A time saving cleanup tip! I like to line a 13″ x 9″ baking dish with heavy duty foil, spoon the meatloaf mixture on top of the foil and use my hands to form it into a football shape like you see in the image above. Baking meatloaf on foil allows you to easily lift it out, transfer it to a serving platter, and toss the grease.
You could absolutely serve this with rice or egg noodles, just like beef stroganoff.
However you serve it, it will be wonderful!
More tasty meatloaf ideas:
Italian Sausage Market Meatloaf | Valerie's Kitchen
Lasagna Stuffed Meatloaf | Cupcakes and Kale Chips
Cheese Stuffed Taco Meatloaf | Melissa's Southern Style Kitchen
Mini BBQ Meatloaves | Valerie's Kitchen
Bacon Wrapped BBQ Meatloaf | Wishes and Dishes

Meatloaf with Stroganoff Sauce
Prep Time 15 minutes
Cook Time 1 hour
Total Time 1 hour 15 minutes
Servings 8
Change the number in the box above to adjust serving size. Please note that size of cookware and cook time may vary.
Ingredients
Meatloaf
2 tablespoons olive oil
1 tablespoon butter
8 ounces cremini brown button mushrooms, cleaned and sliced
3/4 cup diced onion
3 tablespoons minced fresh Italian flat-leaf parsley
1 teaspoon minced garlic
1/2 teaspoon salt
fresh ground black pepper to taste
2 pounds lean ground beef
2 beaten eggs
1/2 cup ketchup
1/2 cup Italian-style bread crumbs
1 tablespoon Dijon mustard
1 tablespoon Worcstershire sauce
1/2 teaspoon Lawry's Seasoned Salt
Stroganoff Sauce
3 cups low-sodium beef broth
1 teaspoon Dijon mustard
1 teaspoon Worcestershire sauce
2 tablespoons water
2 tablespoons cornstarch
1/3 cup sour cream
salt and fresh ground black pepper to taste
Instructions
Line a 13" x 9" or similar sized baking dish with foil. Preheat oven to 350 degrees F.

Add olive oil and butter to a 12" skillet and place over MEDIUM heat. Add mushrooms, diced onion, parsley, and garlic and saute for a couple of minutes, just until slightly softened. Season with 1/2 teaspoon salt and fresh ground black pepper, to taste. Remove from heat and set aside.

Combine ground beef, beaten eggs, ketchup, bread crumbs, mustard, Worcstershire sauce, and seasoned salt in a large mixing bowl. Add half of the cooked and slightly cooled mushroom mixture and combine well. Scrape the mixture into the foil-lined baking dish and use your hands to form it into a football shape.

Transfer remaining cooked mushroom mixture to a small bowl and refrigerate for later.

Bake meatloaf for 50 to 60 minutes, or until it reaches an internal temperature of 160 degrees F. The meatloaf should be cooked through with no pink remaining when cut through the center. Remove dish from oven and and allow meatloaf to rest while you make the sauce.

Add beef broth, Dijon, Worcestershire sauce and reserved cooked mushroom mixture to a deep skillet and place over MEDIUM heat. Combine cornstarch and water in a small bowl and stir the slurry into the sauce until thickened. Stir in the sour cream and continue to cook on LOW until warmed through. Taste and season with additional salt and fresh ground black pepper, if desired.

Carefully transfer meatloaf to a serving platter or cutting board. Serve sliced meatloaf with a ladle of sauce.
Recipe Notes
Can sub ground turkey.
Nutrition
Calories: 357kcal
Fat: 20g
Saturated fat: 7g
Cholesterol: 122mg
Sodium: 714mg
Carbohydrates: 16g
Fiber: 2g
Sugar: 6g
Protein: 28g