If you've stopped by recently, I'm sure you've noticed that things are not quite the same around here. Valerie's Kitchen launched a new custom design a little over a week ago and I'm ready to give you a tour of my sparkly new kitchen today. I'm confident that some of the changes will benefit you and I'm excited to show you around!
I want to share a little behind the scenes information about the process we went through to get to this point. If you are a blogger who is considering a new site design, feel free to shoot me an email if you'd like to talk in more detail. It's a huge project but so worth the effort.
The Logo – The Design
The Development
Instead of working with one designer/developer to create all the aspects of my new site, I broke it down into several projects and worked directly with the people who have strong skills in each of the areas that build a website.
The Logo
This was the best place to start because the logo helped us flesh out the remaining aspects of the site design. I worked with Laura Missioreck and the team at The Graphic Element, a woman-run graphic design and development company located in Manhattan Beach, California.
After filling out a questionnaire, Laura spent about an hour on the phone with me going over the details of what I was looking for in a new logo. I had to put into words the personality of Valerie's Kitchen and what I was trying to convey to my readers. This can be a tough task but Laura really made the process easy and I could tell she got me.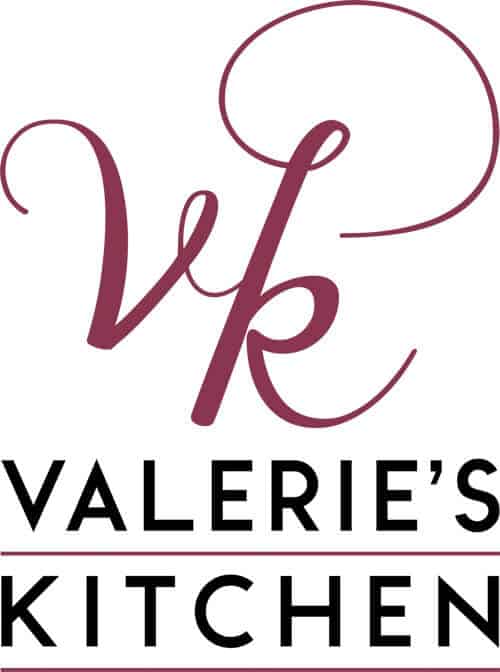 Choosing a logo is a fun process but not one that should be rushed. Once I was presented with my first round of designs, Laura suggested I "live with them" for a week or so and this was very good advice. I taped the different logos up around my office area and it was crazy how much I went back and forth on which I liked best before settling in on my final choice. Now looking back, I can't imagine having made any other choice. I wanted a fresh, simple, classic logo and they nailed it!
The Design
The next step was to locate a designer who could bring my vision to life. For this project I worked with Courtney Kirkland of Sweet Southern Media. I could tell from her other design work that her and I have a similar aesthetic which I think is vital. Her task was to create mock-ups of the layout of the entire site, including all the individual pages.
After lots of back and forth via email, she put together a design that is both pretty and practical and pulled together the perfect color palette to go along with my new logo.
Ingredient Tip
Store unpeeled fresh ginger root in a small resealable plastic freezer bag in your freezer. Peel and use a microplane zester or cheese grater to grate the frozen ginger root for recipes, when needed. Ginger root will keep well in the freezer for about a month.
You'll find these Ingredient or Kitchen Tips here and there throughout some of my posts when I have kitchen hacks or other useful information to share. Some of these tips will include links out to equipment or ingredients I recommend.
She also made suggestions for new features of the site that I hope make it both fun and easy for you to find recipes. I've included more about those features below.

Courtney worked tirelessly with me on this project over the holidays and with a new baby at home! I am so grateful to her for her sweet disposition and creative ideas.
The Development
The next and most important step is to choose a developer and wow, did I make a good choice here! I worked with Lauren Gray of Once Coupled and I cannot sing her praises loudly enough. Although I've listed this as the last step, you need to contact your developer early in the process to be sure you get on their often busy schedule.
Once Courtney and I finished the design process, Lauren's task was to turn it into a clean, fast, fully-functioning custom WordPress theme built on the Genesis framework. We talked face-to-face on a video chat for about an hour at the beginning of the process and then the conversation moved to a workflow program called Asana that kept everything organized. The awesome thing is that instead of having to search through a ton of emails I can refer back to this program any time to find answers to questions I asked or information from Lauren on the functionality of my site. Awesomely cool and adds a nice level of reassurance for me.
Lauren is an incredibly sweet, patient soul but also an impressively skilled developer. This is the ideal combination of traits needed to get through this process. She could dial down the language for my non-techy brain when needed and kept me on task and moving forward. The process the day we launched was effortless for me. I was even able to continue work while Lauren took care of everything and then boom, there it was. No interruption of traffic to the site. Incredible.
If you are considering a new site design, contact her!
The Recipe Box
There is a fully detailed category list in the Recipe Box where you can search, view and sort by every category available on the site.
Printable Recipe Card
My new recipe card design allows you to adjust the serving size and recalculate the ingredient amounts and includes a great big, easy to find Print button. Nutrition information is being added and will be listed along the bottom of the recipe cards. This process is being undertaken slowly and carefully and I appreciate your patience as we work towards converting all of the recipes to the new format.
Beyond the Kitchen
My Shopping, Travel, and Critters sections are alive and well and I have some fun plans to be adding to all of these sections in the coming months. Stay tuned for more!
Video Gallery
I have a powerful new Video Gallery coming that's going to knock your socks off. Check back towards the end of the month for that. Our existing Video Gallery is in place until then.
A Look Back
This is the 3rd incarnation of Valerie's Kitchen. Let's take a quick look back to see how we got here.
If you've been with me since the beginning, you might get a kick out of remembering how the site looked when it first launched back in August of 2011.
A major rehaul took place in 2014. If you are newer to my site, this is the look we had up until last week.
And, here we are today. I'd love to hear how you feel about the new site. Take some time to look around and let me know what you think!