This One Bowl Chocolate Cake is nearly as easy to make as a boxed mix. This simple, classic recipe results in a perfect chocolate cake every time!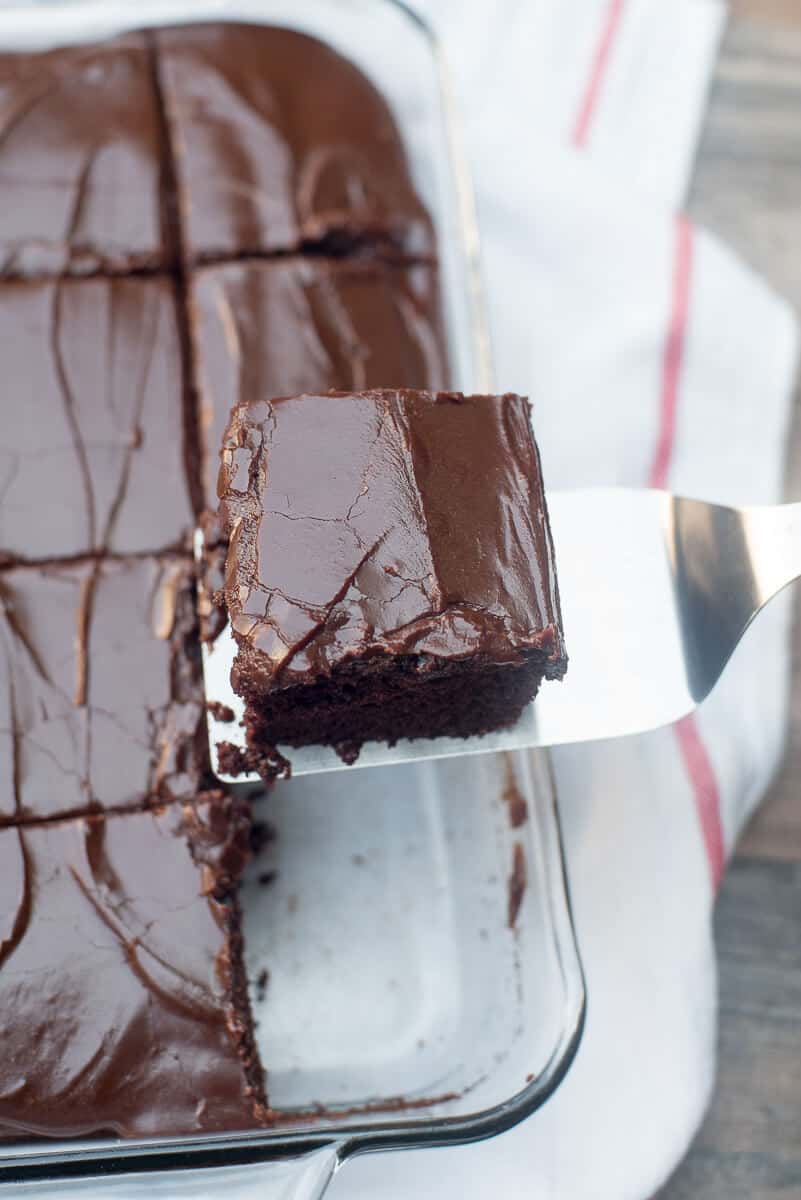 The other night after we had finished dinner I had a strong, persistent craving for chocolate cake. I frequently get a sweets craving after a meal, but this time around the craving was specific. Chocolate cake! It had to happen.
For some odd reason, I've yet to share my basic chocolate cake recipe with you. This is just craziness considering how often I bake that cake! This recipe is my quick version of that beloved cake and since I needed chocolate cake and I needed it fast, this one had to come first.
It has a seriously no-fuss method that I love. All you'll need is a large mixing bowl, an electric mixer, and a few minutes on your hands to get it in the oven.  
I frosted it with an equally quick and Easy Chocolate Buttermilk Icing but you could go with any frosting you like.
Watch the quick video below to see how it's done and scroll to the bottom of the post for the printable recipe.
Whisk together the dry ingredients in a large mixing bowl – all-purpose flour, sugar, cocoa powder, baking soda, baking powder, and salt.
Add some buttermilk, vegetable oil, eggs, and vanilla extract.
Use an electric mixer and mix until well combined. You could do this all in the bowl of your stand mixer if you'd like.
Add 1 cup of very hot water and mix again until combined. The batter will be quite thin. Transfer it to a 13″ x 9″ baking dish that has been coated with non-stick cooking spray.
Bake at 350 degrees for 35 to 40 minutes.
See the recipe below for all the details on how to cook up the satiny, luxurious Easy Chocolate Buttermilk Icing. Sometimes I'll stir in some chopped pecans. Yum.
I wish I could share this with you all because it's currently sitting in my kitchen calling out my name…
One Bowl Chocolate Cake
Prep Time 5 minutes
Cook Time 40 minutes
Total Time 45 minutes
Servings 15
Change the number in the box above to adjust serving size. Please note that size of cookware and cook time may vary.
Ingredients
One Bowl Chocolate Cake
2 cups all-purpose flour
2 cups sugar
3/4 cup cocoa powder
2 teaspoons baking soda
1 teaspoon baking powder
1/2 teaspoon salt
2 large eggs
1 cup buttermilk
1/2 cup vegetable oil
2 teaspoons pure vanilla extract
1 cup very hot water
Easy Chocolate Buttermilk Frosting
1/2 cup 1 stick butter
4 tablespoons cocoa powder
6 tablespoons buttermilk
1 teaspoon pure vanilla extract
16 ounces 4 cups powdered sugar, or as needed to reach desired consistency
1/2 cup finely chopped pecans or walnuts optional
Instructions
For the Cake:Preheat oven to 350 degrees F. Coat a 13" x 9" baking dish with non-stick cooking spray.

In a large mixing bowl, whisk together the flour, sugar, cocoa powder, baking soda, baking powder, and salt. Using an electric hand or stand mixer, beat in eggs, buttermilk, oil, and vanilla. Add hot water and mix until combined. Batter will be quite thin.

Pour batter into prepared baking dish. Bake for 35 to 40 minutes or until a toothpick inserted in center comes out clean. Cool completely in pan before frosting.

For the Frosting:Melt butter in a large saucepan over MEDIUM heat. Whisk in cocoa powder, buttermilk and vanilla. Turn heat to LOW and whisk in powdered sugar until you've reached desired consistency. It should be thick but pourable. Continue whisking vigorously until smooth. Stir in chopped nuts, if using.

Immediately pour frosting over cake and use an offset spatula or butter knife to spread it out evenly over the surface. Allow to set for a few minutes before slicing and serving the cake.