Celebrate the red, white, and blue with these Patriotic Funfetti Mason Jar Cupcakes. They are pretty, portable, and SO good!
This post has been sponsored by MARS. All thoughts and opinions are my own.
With Memorial Day right around the corner and the Fourth of July quick to follow, I was inspired to create these fun patriotic mason jar cupcakes. They are just perfect for a summer gathering and if that gathering is away from home these easily transportable mason jar desserts are just the ticket!
They may look complicated but honestly, they couldn't be simpler to put together thanks to Pillsbury's new Stars and Stripes Funfetti Cake Mix. Along with some M&M's Milk Chocolate Red, White, & Blue and few other assorted decorations you can create a summer dessert that will totally impress your friends and family. No decorating skills required! Trust me, I'm not a decorating whiz so if I can do it, so can you!  
Pillsbury Stars & Stripes Funfetti Cake Mix, M&M's Milk Chocolate Red, White, & Blue, and M&M's Crispy S'mores Red, White, & Blue are some of the fun and festive seasonal items available at Target for summer. I went with Pillsbury Creamy Supreme Vanilla combined with cream cheese for the frosting here but be sure to check out Pillsbury's Stars & Stripes Patriotic Funfetti Frosting – also available at Target. Whichever frosting you go with, you'll need to pick up two containers for this recipe.
Make the cupcake batter according to the package directions. Generously spray your cupcake pan with non-stick cooking spray and fill each hole nearly to the top with batter. There's no need to use liners. Bake at 350 degrees for 17 to 19 minutes.
Allow the cupcakes to cool for about 20 minutes and then turn them out on a cutting board. Look how pretty the funfetti looks on the bottom of the cupcakes!  I got 14 cupcakes total.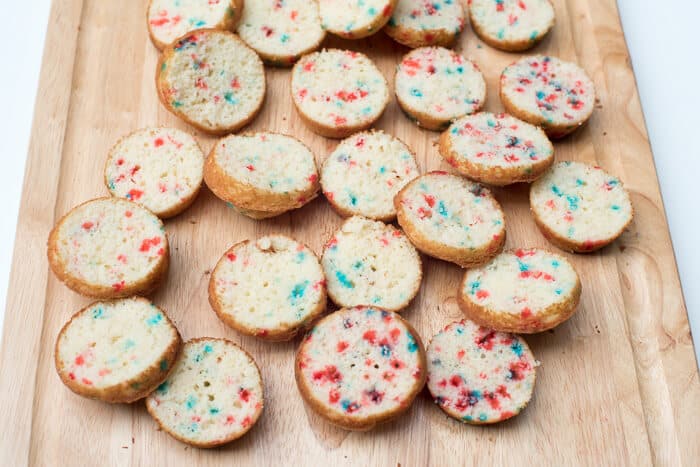 Slice the cupcakes evenly in half. You'll have 14 tops and 14 bottoms.
Place one of the cupcake bottoms in a jar. Did you know a cupcake happens to fit perfectly in the bottom of an 8 ounce (half pint) mason jar?  How cool is that?
Use a piping bag with a decorative tip (I used a 1MM tip) to pipe on some frosting.
Add some sprinkles and/or M&M's on the first layer of frosting if you'd like.
Grab a cupcake top and place it top down on top of the frosting. You want the flat side to be facing up. Smoosh it down with your fingers a bit so that it fits snugly in the jar.
Pipe some more frosting on top and decorate it to your hearts content.
At this time of year, you'll find all kinds of cute patriotic decorations like these flag and star picks in the stores. They are an inexpensive way to really add some oomph to your creations.
Are you packing up and heading to the park or a friend's house? Not a problem! Just place the lids on your mason jars, grab some plastic spoons, and you are good to go!
Patriotic Funfetti Mason Jar Cupcakes
Prep Time 20 minutes
Cook Time 17 minutes
Total Time 37 minutes
Servings 14 cupcake jars
Change the number in the box above to adjust serving size. Please note that size of cookware and cook time may vary.
Ingredients
1 15.25 ounce box Pillsbury Stars & Stripes Funfetti Cake Mix
1 cup water
1/2 cup vegetable oil
3 eggs
2 16 ounce containers Pillsbury Creamy Supreme Vanilla Frosting
1 8 ounce package cream cheese, softened
14 8 ounce mason jars
Optional Decorations
Milk Chocolate Red White & Blue M&M's
Crispy Smores Red White & Blue M&M's
patriotic sprinkles
flag and/or star picks
Instructions
Preheat oven to 350 degree F. Generously coat 14 muffin cups with non-stick cooking spray.

Prepare cake mix with water, oil, and eggs, according to package directions. Divide batter between prepared muffin cups, filling nearly to the top. Bake for 17 to 19 minutes, or until a toothpick inserted in the center of a cupcake comes out clean. Remove from oven and allow cupcakes to cool completely in pans.

When cupcakes have completely cooled, prepare the frosting. Use a mixer to mix the Pillsbury frosting with 4 ounces cream cheese until thoroughly combined and creamy.

Remove cooled cupcakes from cupcake pan and use a serrated knife to cut them in half so you have 14 cupcake tops and 14 bottoms.

To assemble mason jar cupcakes, place a cupcake bottom in the bottom of a mason jar. Use a pastry bag with decorative tip (I used such and such tip) and pipe on some of the frosting. Decorate with a few M&M's or patriotic sprinkles, if desired, then add a cupcake top (top down). Pipe frosting on top and decorate with additional M&M's and/or patriotic sprinkles, as desired.

Decorate with additional patriotic decorations like the flag and star picks pictured. For a portable dessert, place the lids on the jars, pack up some plastic spoons, and take them with you!