Raspberries and bittersweet chocolate chips are a heavenly pairing in these Raspberry Dark Chocolate Muffins.
My love for freshly home-baked muffins knows no bounds and is precisely why this recipe was born.
One day while dreaming of muffins (What? Is something weird about that?) I got to thinking that if my Spectacular Blueberry Muffins were so amazing with blueberries, why not raspberries? So, I baked up a batch with raspberries and was pleased as punch with the result. This is where Boy #2 and his girlfriend come into the story. Although they were miles away, their "Mom's baking" radar went off and they magically showed up at my door just as I pulled a batch out of the oven. Shortly thereafter, I heard someone with a mouthful of raspberry muffin say "I wonder how these would be with chocolate?".
Chocolate! Aha! Boy #2's girlfriend is extremely intelligent.
The next batch included some chocolate. Not just any chocolate; dark chocolate. Raspberries and dark chocolate. A heavenly pairing.
This is the true story of how these beautiful and incredibly tasty muffins were born.
The star players – bittersweet chocolate baking pieces, fresh raspberries, and non-fat Greek yogurt.
First, rinse and drain your container of raspberries. Pour them out on to some paper towels and blot them dry.
Fold the raspberries and dark chocolate baking pieces into the base muffin mixture.
Use a wooden spoon to fold the mixture gently and just until incorporated.
Transfer the muffin batter to a muffin pan that has been coated with non-stick cooking spray.
Bake at 400 degrees for about 18 to 20 minutes.
They are so easy to make and truly incredible to eat.
Bake up a batch for a sweet treat on Valentine's Day or any old day.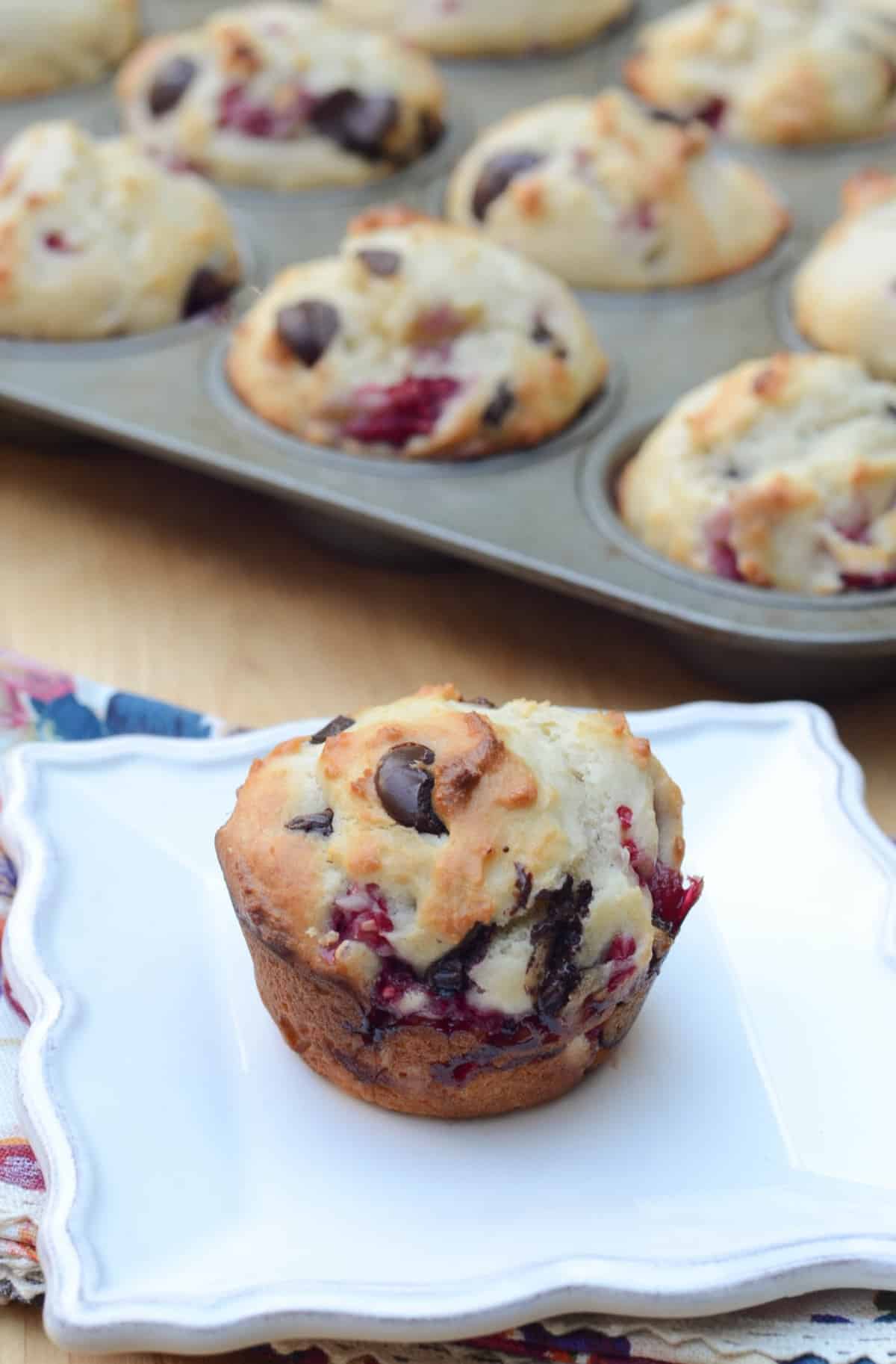 Raspberry Dark Chocolate Muffins
Raspberries and bittersweet chocolate chips are a heavenly pairing in these Raspberry Dark Chocolate Muffins.
Print
Pin
Rate
Servings: 12 muffins
Calories: 288kcal
Ingredients
2 eggs
1 cup white sugar
½ cup vegetable oil
1 teaspoon vanilla extract
2 cups all-purpose flour
½ teaspoon salt
½ teaspoon baking soda
1 cup non-fat plain Greek yogurt (can substitute light sour cream)
6 ounces fresh raspberries rinsed, drained, and blotted dry with paper towels
½ cup bittersweet chocolate baking chips
Instructions
Preheat oven to 400 degrees F. Coat a 12-cup muffin pan with nonstick cooking spray.

In large bowl beat eggs with an electric hand mixer. Add 1 cup white sugar and beat for a minute or two until completely combined. Pour in the oil, with beaters running, and then add vanilla. In a separate bowl, stir together flour, salt and baking soda.

Using a wooden spoon, mix flour mixture into wet mixture, a little at a time, alternating with the Greek yogurt.

Add the raspberries and chocolate chips and carefully fold in to the batter with the wooden spoon just until combined. Divide the batter between the prepared muffin cups.

Bake in preheated oven for 18 to 20 minutes, or until golden brown. Remove from oven and allow muffins to cool for about 10 or 15 minutes and then carefully remove from tin to cool completely. Store leftovers in an airtight container.
Nutrition
Serving: 1muffin | Calories: 288kcal | Carbohydrates: 39g | Protein: 6g | Fat: 12g | Saturated Fat: 10g | Cholesterol: 28mg | Sodium: 168mg | Potassium: 125mg | Fiber: 2g | Sugar: 20g | Vitamin A: 44IU | Vitamin C: 4mg | Calcium: 52mg | Iron: 1mg