This creamy Roasted Cauliflower Corn Chowder is precisely what is in order on a cool, crisp fall day. Roasting the cauliflower creates a delicious layer of flavor that pairs perfectly with sweet corn, crispy bacon bits, and Parmesan cheese.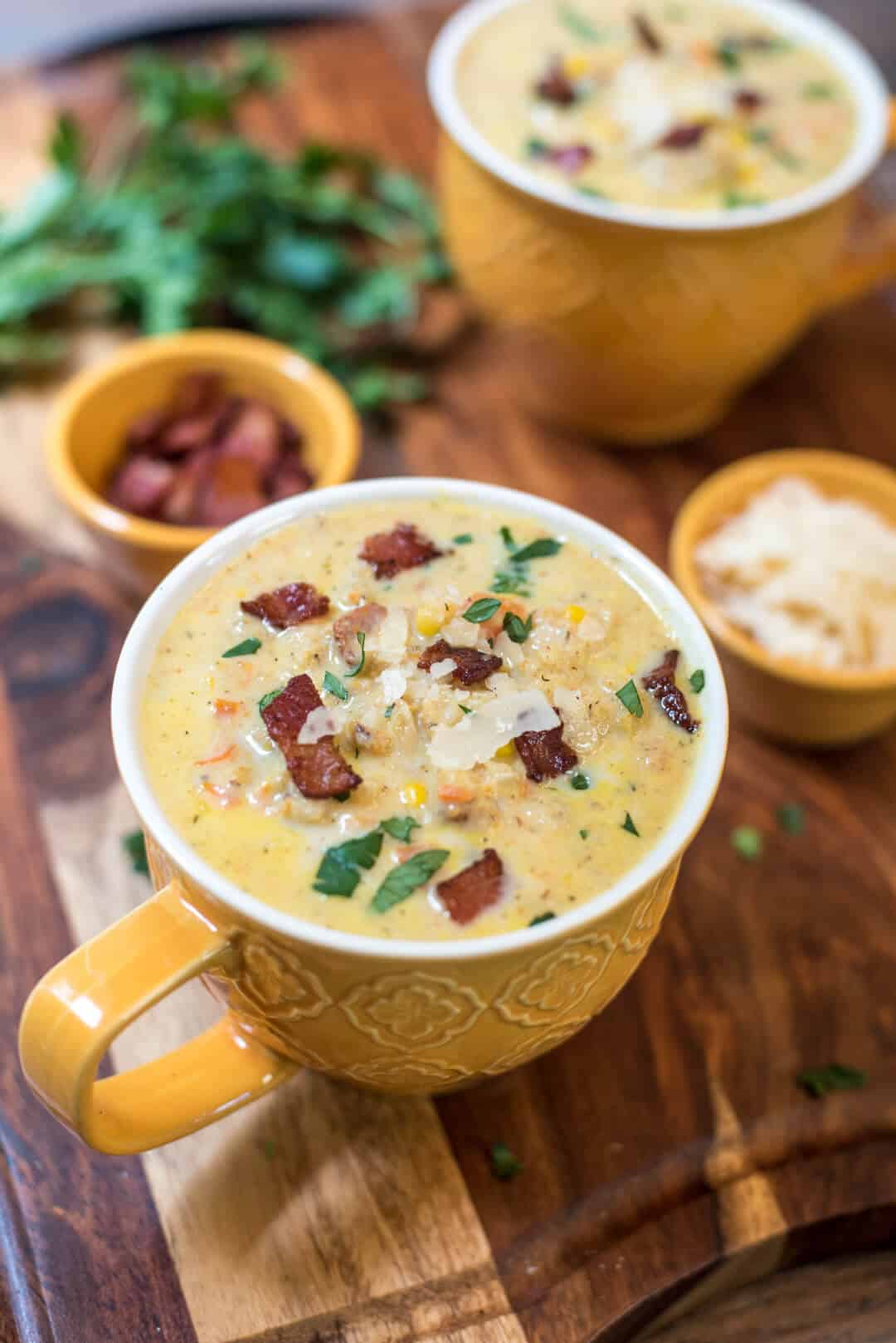 On my last shopping trip to Costco I ventured into the freeeezing cold produce room and grabbed a two pound bag of cauliflower florets. Literally grabbed it, did a quick spin around the room and jetted the heck outta there. Next time I swear I'm bringing my ski jacket.
I just love the convenience of cut and bagged veggies. One less step in the kitchen and we are closer to the goal of getting that food on the table!
With our weather turning to rain this weekend, I woke up this morning with just one thing on my mind. We needed a hearty, soul-satisfying soup and I needed to use up that bag of cauliflower. And that is how this delicious Roasted Cauliflower Corn Chowder was born.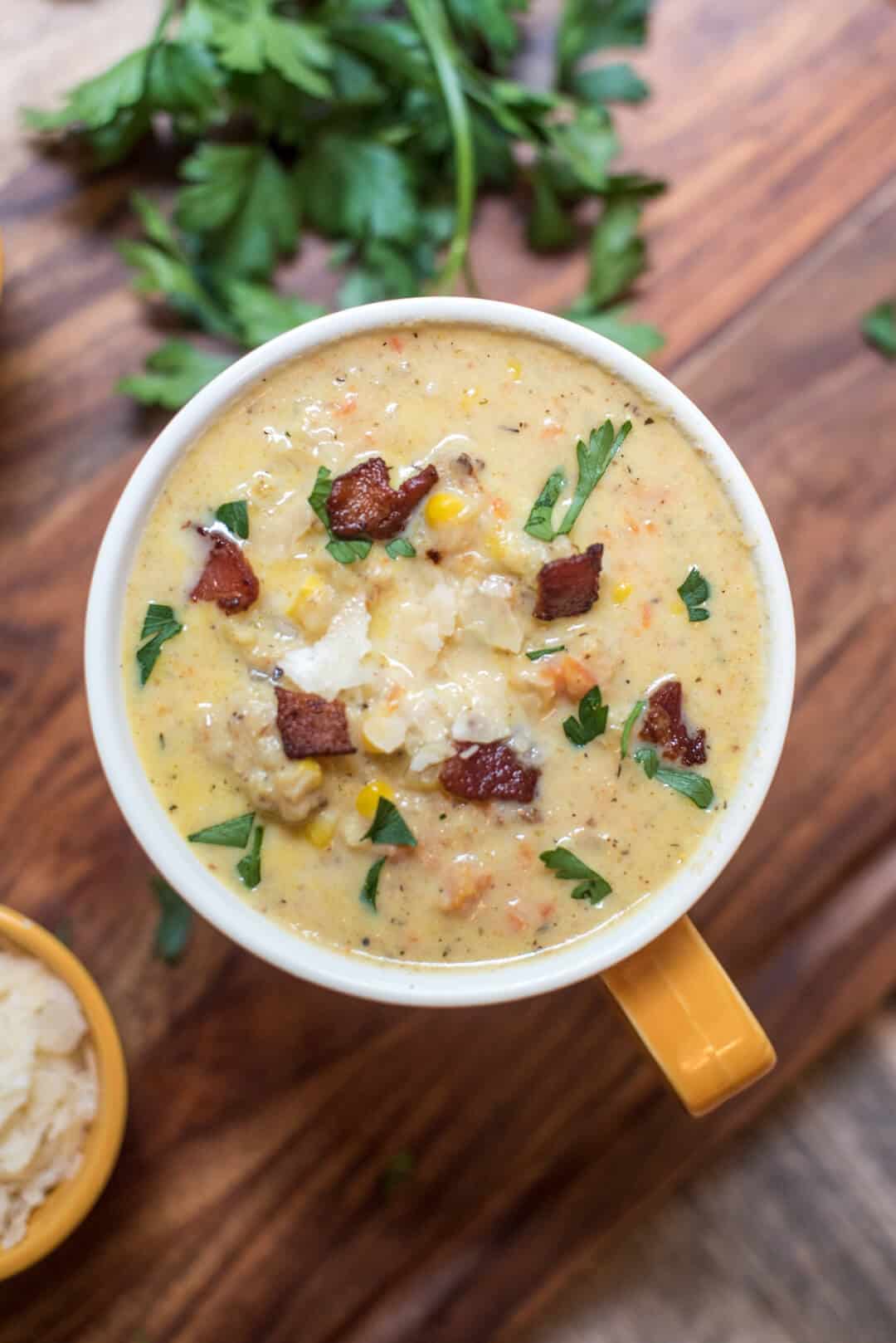 I decided to do a basic chowder, added some frozen corn for touch of sweetness and texture, some Parmesan cheese (because CHEESE), and some crisped bacon. Friends, it is crazy delicious!
It may sound decadent but really, it's quite light since I used 2% reduced fat milk and with a fabulous result. The cauliflower adds such great creaminess that I think that using half and half or heavy cream would be too much. You just don't need it and I don't think most of us need the extra fat and calories.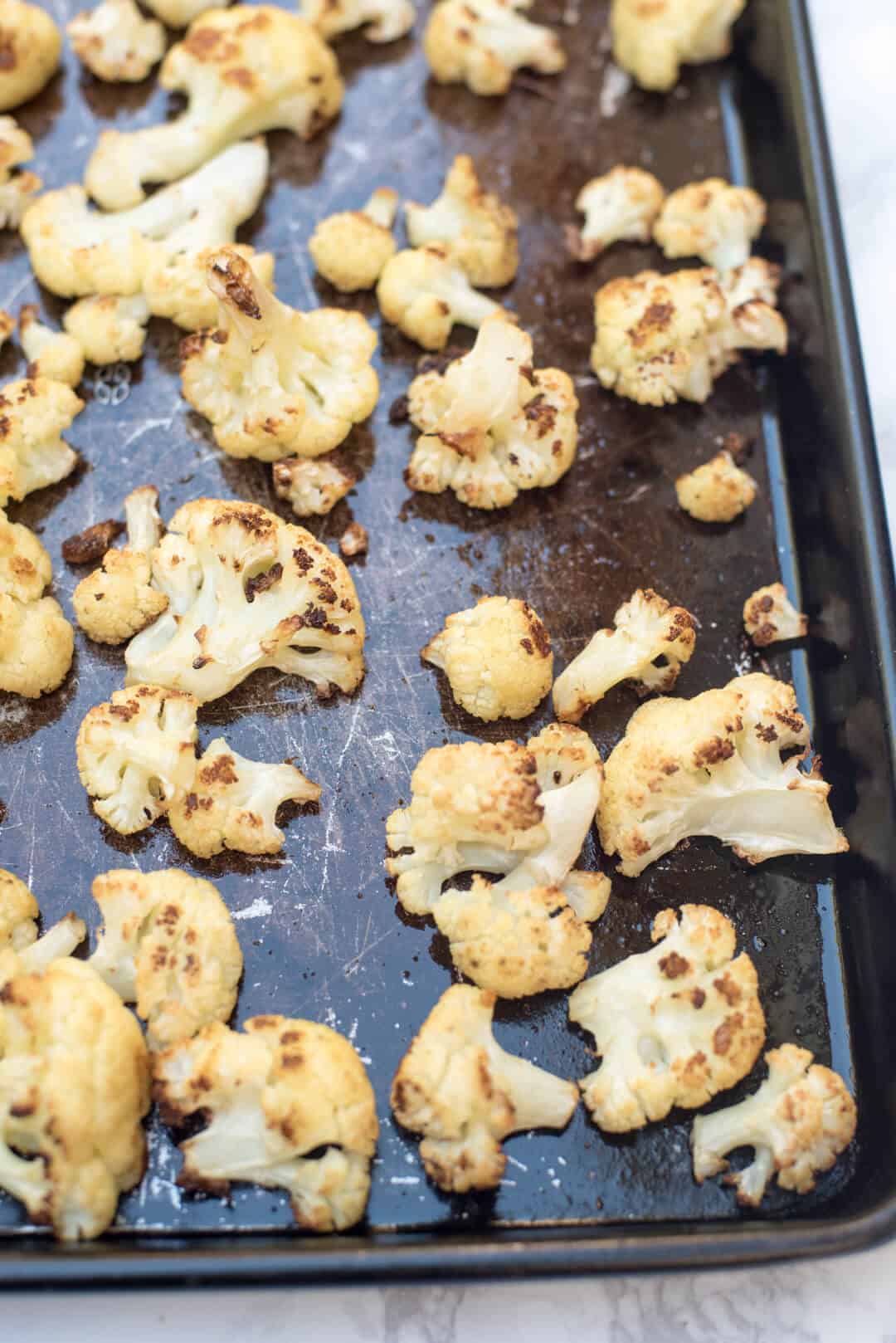 The first step in the process is to roast your cauliflower. I like to use one of my darker, well-used baking sheets when roasting veggies. A darker pan will roast your cauliflower more efficiently and to a nice golden brown color. Just toss the cauliflower florets with a couple tablespoons of olive oil and sprinkle with a bit of salt. Roast at 400 degrees F for 30 to 35 minutes until fork tender and golden brown.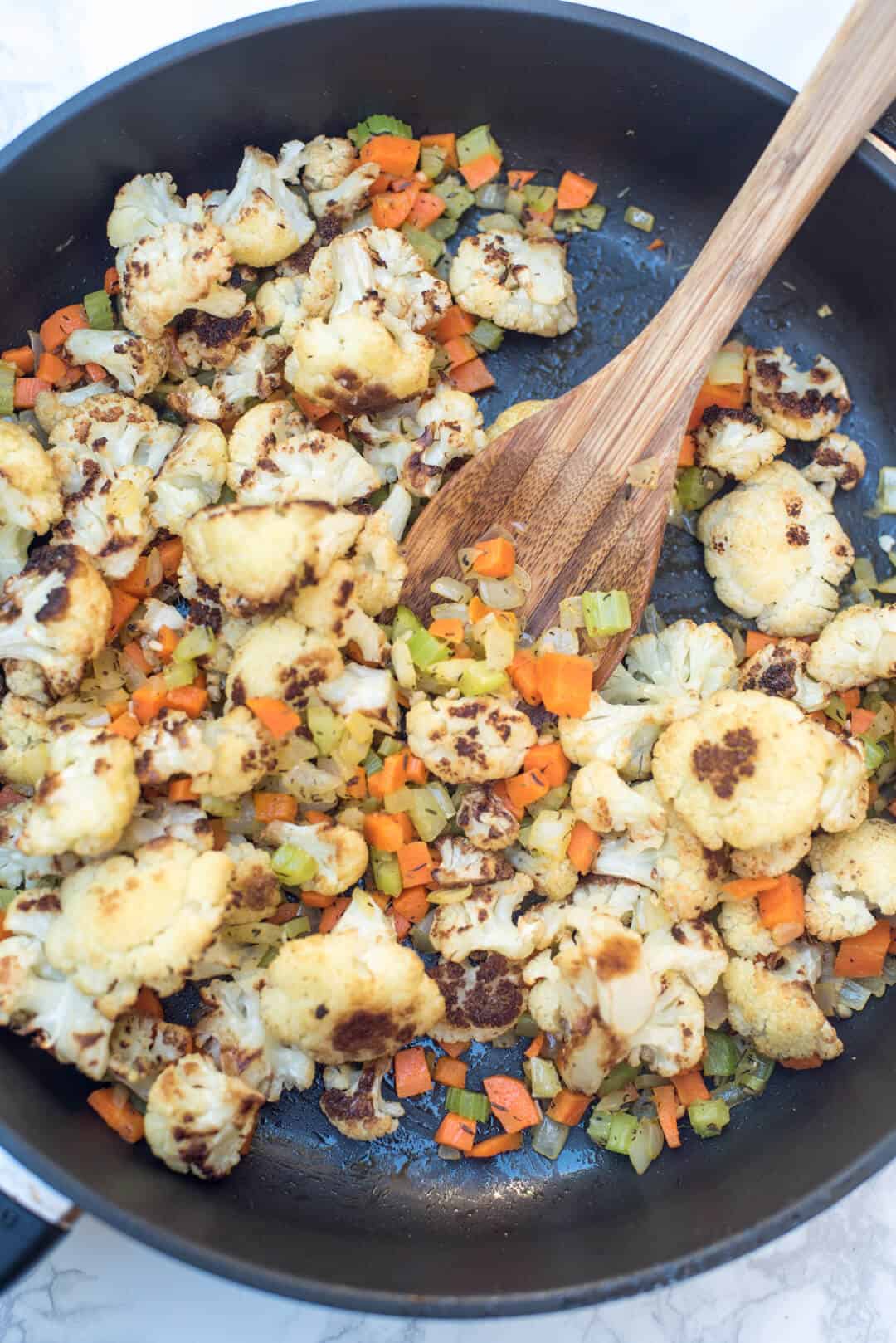 The roasted cauliflower is then added to a sauté of onion, carrots, celery, and garlic. Season the mixture with a teaspoon of dried thyme.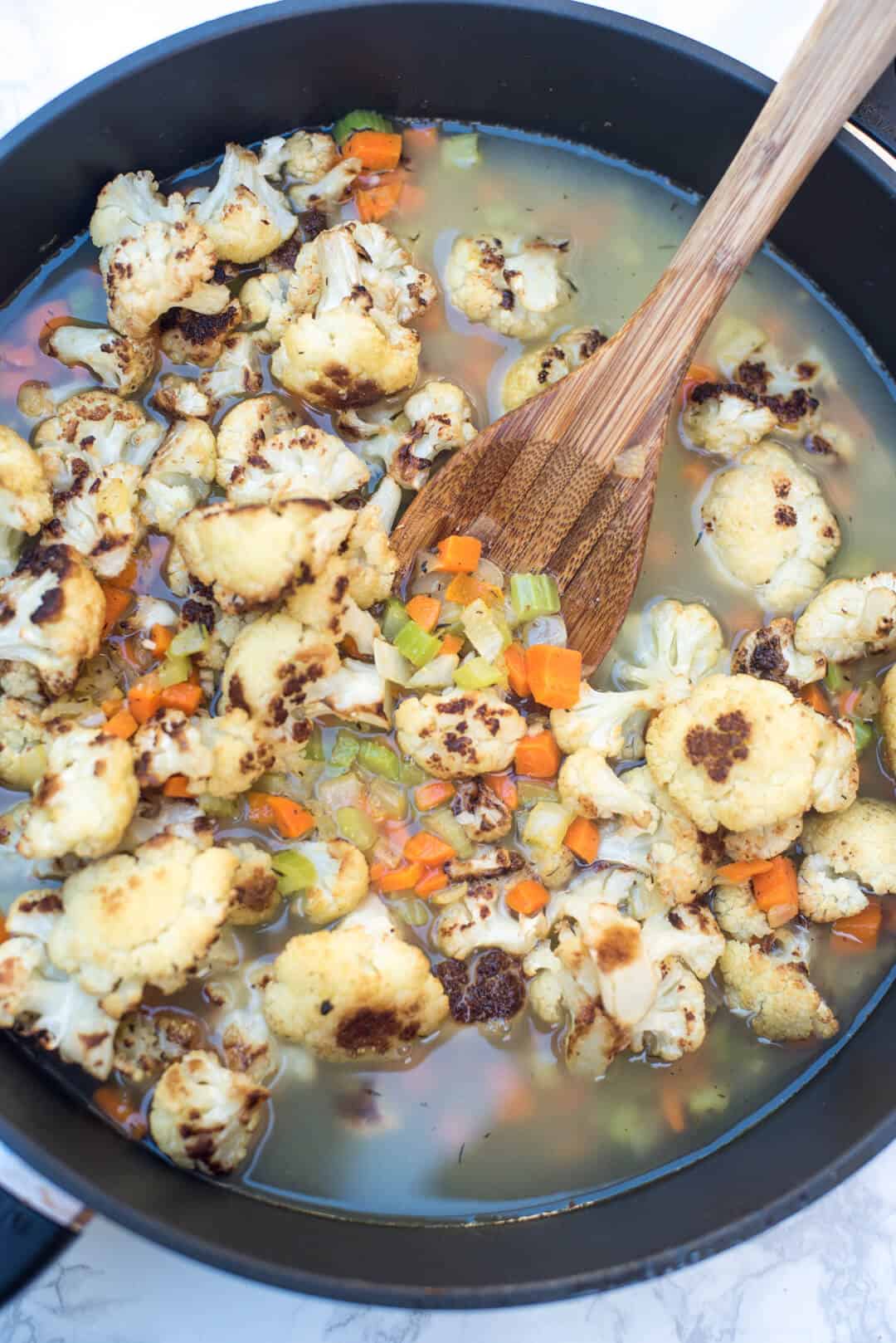 Add 4 cups of low-sodium chicken broth and tuck a bay leaf into the center. Bring soup to a boil then reduce the heat, cover the pan and let it simmer for 15 minutes.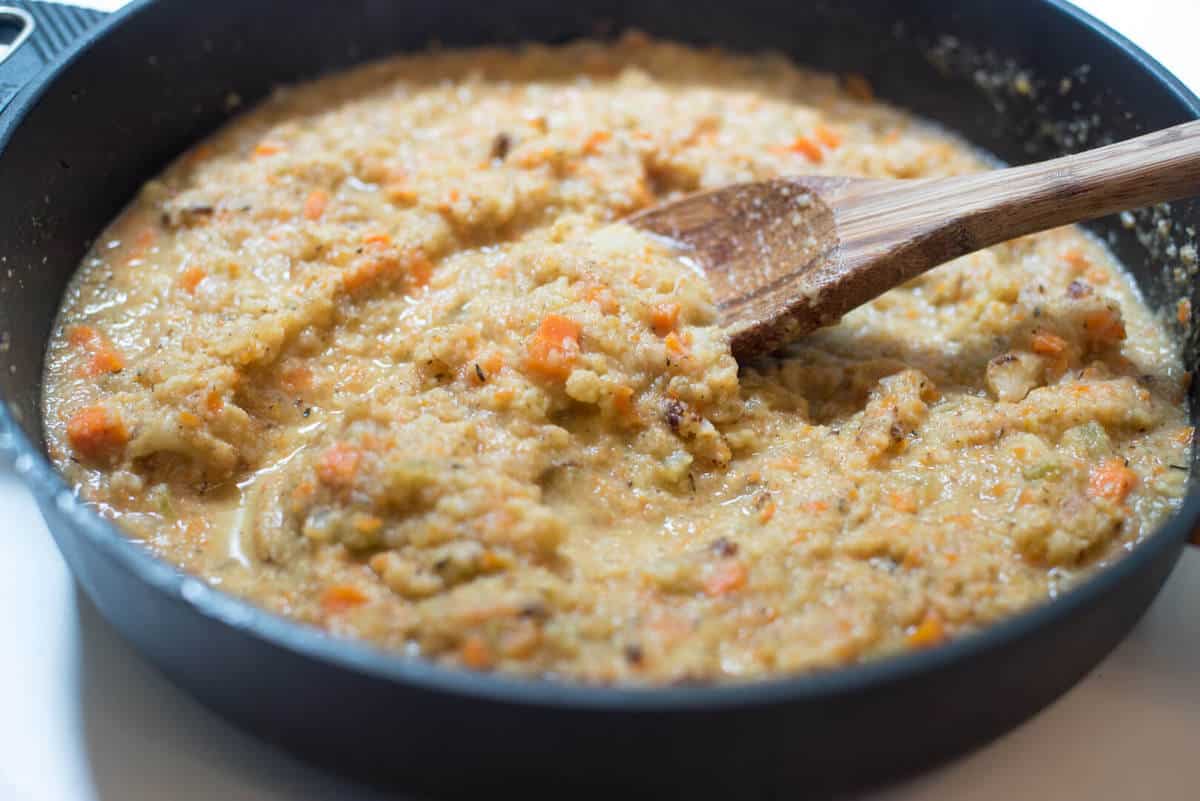 Purée a portion of the soup right in the pan with an immersion blender or transfer it in batches to a regular blender and then return it to the pan. I puréed about 3/4 of the batch, leaving some of the cauliflower and veggies intact for some nice texture.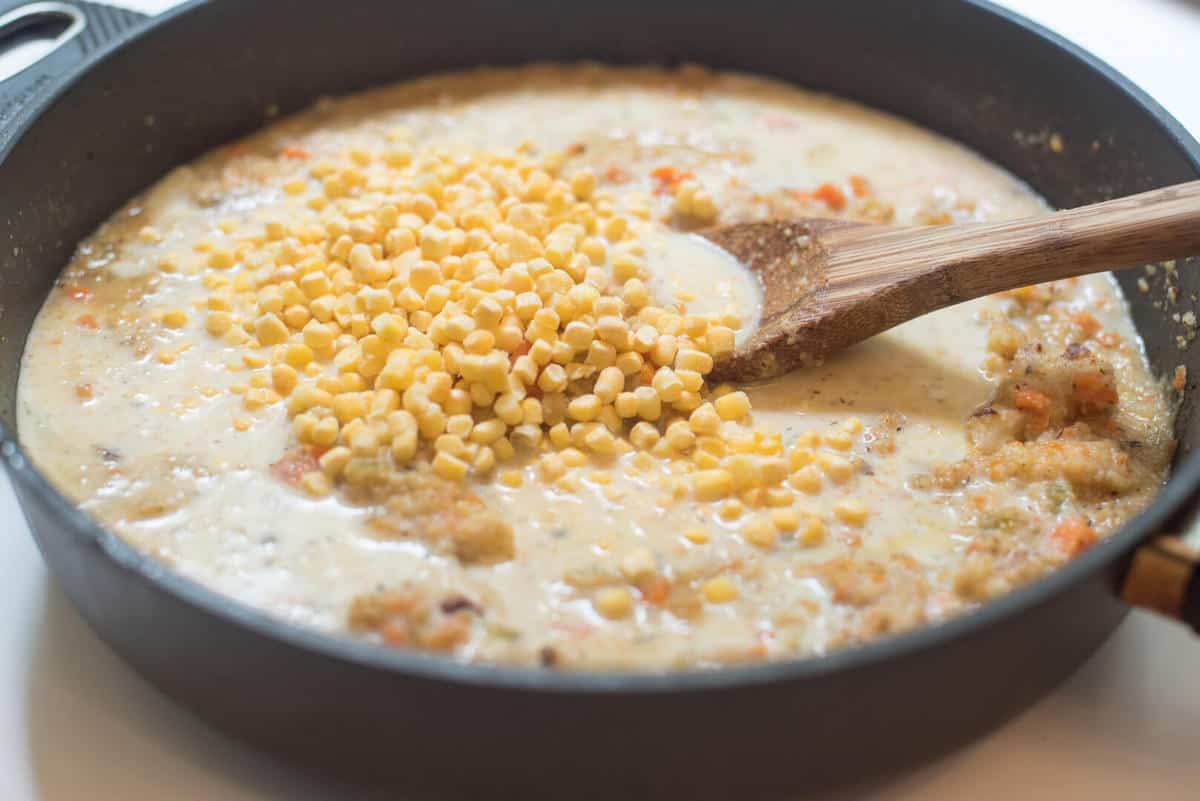 Add 1-1/2 cups milk and 1 cup of frozen corn. There is no need to thaw the corn before adding it to the pan. Add some chopped, cooked bacon and Parmesan and it is time to serve.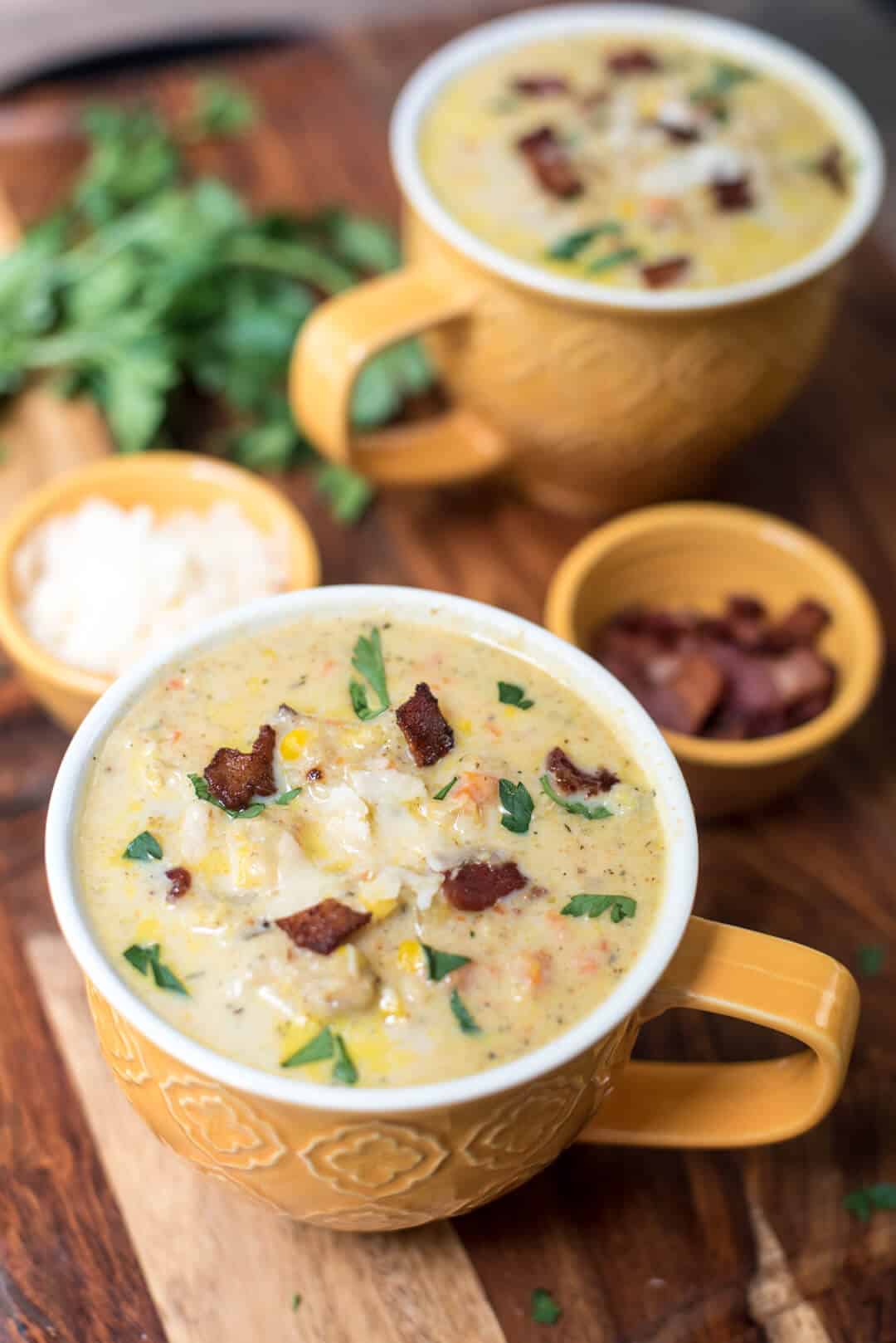 I garnished the soup with a little additional crispy bacon, Parmesan, and fresh Italian parsley.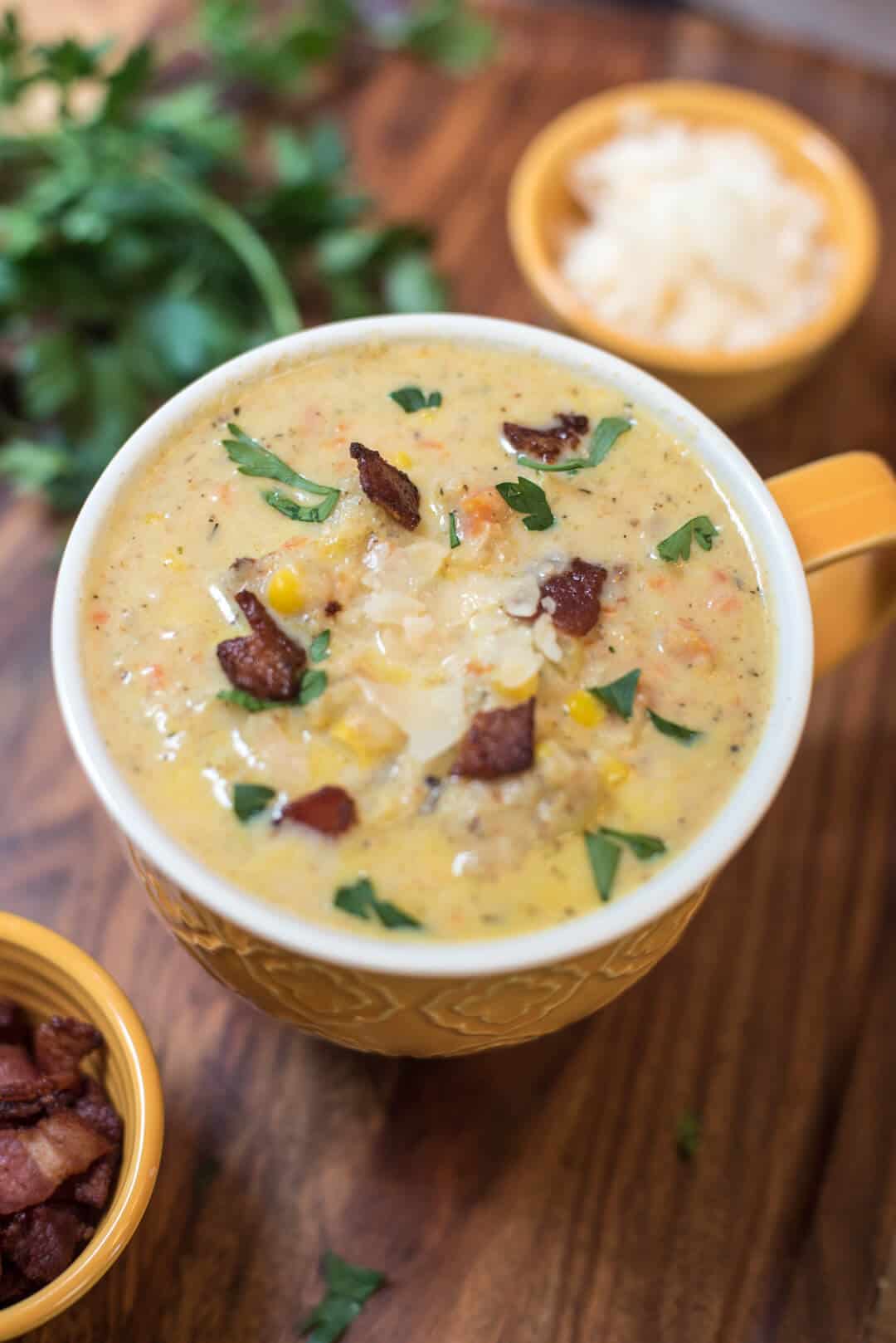 CLICK HERE OR ON THE IMAGE BELOW TO PIN THIS RECIPE TO YOUR SOUP BOARD!
For lots of delicious recipes, giveaways, and more, be sure to follow From Valerie's Kitchen
Facebook | Twitter | Pinterest | Instagram
Click HERE to sign up for your FREE email subscription and never miss a recipe!
Roasted Cauliflower Corn Chowder
Ingredients
6

strips bacon, cut into 1/2" pieces

1

large head cauliflower, cut into florets (approximately 5 cups)

3

tablespoons olive oil, divided

1

cup diced white or yellow onion

1

cup peeled and diced carrot

2

teaspoons minced garlic

1

teaspoon dried thyme

4

cups low-sodium chicken broth

1

bay leaf

1-1/2

cups milk (I used 2% reduced fat)

1

cup frozen corn

1/3

cup shredded Parmesan cheese, plus additional for garnish

1

teaspoon salt, plus additional to taste

fresh ground black pepper, to taste

fresh chopped parsley, for garnish
Instructions
Preheat oven to 400 degrees F. Place cauliflower florets on a rimmed baking sheet and drizzle with 2 tablespoons olive oil. Roast cauliflower for 30 to 35 minutes until fork tender and golden brown.
Place a large saucepan or Dutch oven over MEDIUM heat. Add chopped bacon and cook until crispy. Use a slotted spoon to transfer bacon to a plate and set aside.
Pour off most of the bacon fat from the pan, leaving behind about 1 tablespoon. Add remaining tablespoon of olive oil to the pan and add diced onion, carrot, and celery. Cook for several minutes, stirring often until vegetables have softened. Add minced garlic and thyme and cook just until garlic is fragrant.
Add roasted cauliflower and broth to the pan. Bring to a boil then reduce heat to LOW, tuck bay leaf into soup and cover and simmer for 15 minutes.
Remove bay leaf and use an immersion blender to purée slightly, leaving some of the cauliflower chunky to add texture to the soup. Alternately, you can carefully transfer about 3/4 of the soup into a blender and purée until smooth, working in batches if necessary. Add puréed soup back into the pot.
Stir in milk and add frozen corn. Simmer, stirring occasionally, for 3 or 4 minutes or until milk and corn are warmed through. Stir in the Parmesan cheese, 1 teaspoon salt, fresh ground black pepper, and half of the cooked bacon.
Taste and season with additional salt and pepper, if needed. Garnish with reserved bacon, fresh parsley, and additional cheese.