I promise I will move on from my obsession with feta cheese soon but I came across this  on Allrecipes and I just couldn't stop myself. The name drew me in, I saw that it had feta, and then it was too late. I was in love.
A happy accident or a pleasant surprise is how the word serendipity is defined and this bread is true to it's name. A fun cooking method and simple ingredients result in something really special. It also happens to be the name of a romantic comedy starring the one and only, John Cusack. It seemed every time I turned the television on in the month of December this movie was on which was just fine with me. So there you go – feta cheese and a John Cusack movie – two great reasons to make this bread.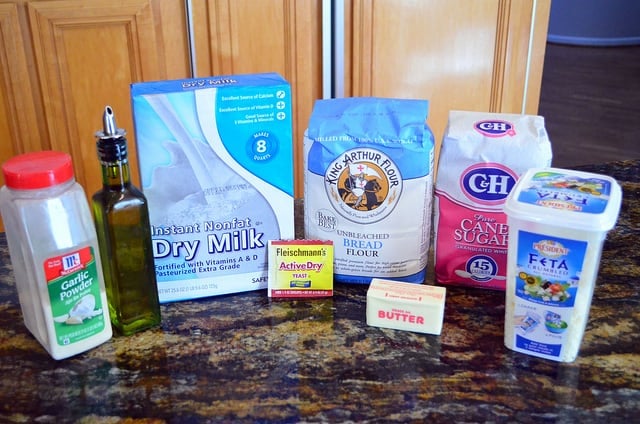 The ingredients: Yeast, sugar, butter, dry milk powder, flour, olive oil, garlic powder, feta cheese. You'll need a little salt (which I realized after I shot this photo) and some fresh basil. The original recipe does not call for basil but I thought it added a nice touch.
Start with warm water, not hot, just warm. You should be able to comfortably hold your finger in the water but it should feel very warm. Mix the warm water and sugar together in the bowl of your stand mixer. Sprinkle the package of yeast over the surface of the water and let it sit for about 5 minutes.
The yeast should "come alive". You are ready to proceed when it has expanded in size and you see some bubbles on the surface.
Add the melted butter, dry milk powder, and salt. Turn the mixer on to low, or speed 2 on a KitchenAid, and mix for about a minute.
Time to add the bread flour. Gradually add it in, while mixing. Once flour is well incorporated into the dough, run mixer on speed 2 for another 5 minutes.
The dough should be clinging to dough hook at end of the process.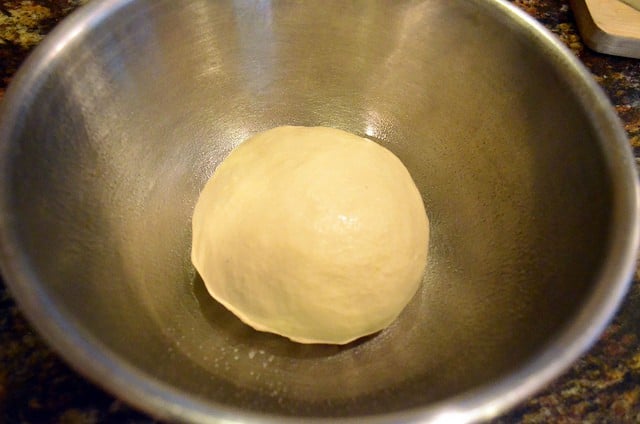 Shape the dough into a ball and place in a large bowl that has been coated with cooking spray or olive oil. Cover the bowl with a dish towel and let it rest in a warm place to rise. This should take about an hour.
After resting, the dough will have almost doubled in size.
Punch the dough down and on a floured board, cut it into four equal pieces.
Using a rolling pin, roll each piece out to an 8″ circle.
Place your stove top grill over medium heat – or, if the sun is shining, fire up your outdoor grill. Coat it with a bit of olive oil and place the dough on the grill. Drizzle a little olive oil on the tops of the rounds while cooking.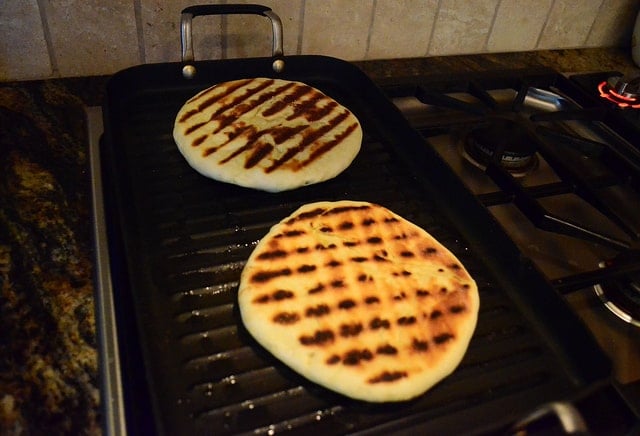 Watch closely and as soon as you see some nice grill marks, flip the pieces over.
After breads have cooked for another couple of minutes, sprinkle each piece with just a little bit of garlic powder (about 1/8 teaspoon), some feta cheese, and chopped fresh basil.
Slice it up into serving size pieces and serve as a side to a pasta meal or it would work perfectly as finger food at a party.
Serendipity baby!
Serendipity Bread
Prep Time 1 hour 30 minutes
Cook Time 4 minutes
Total Time 1 hour 34 minutes
Change the number in the box above to adjust serving size. Please note that size of cookware and cook time may vary.
Ingredients
Bread:
1-1/2 cups warm water
2 tablespoons white sugar
1 package active dry yeast
2 tablespoons butter melted
2 tablespoons dry milk powder
1-1/2 teaspoons salt
3 1/3 cups bread flour
Topping:
2 tablespoons olive oil
1/2 teaspoon garlic powder
1/2 cup crumbled feta cheese
Fresh basil chopped, for garnish
Instructions
Place warm water in the bowl of your stand mixer. Mix in the 2 tablespoons of sugar. Sprinkle yeast over the top of the water. Allow to sit for about 5 minutes or until yeast has expanded in size.

Turn mixer on to speed 2 (or low) and add melted butter, milk powder, and salt. Add flour a little at a time until you've added 3-1/3 cups and mix until well combined. Once the mixture is well combined, continue to run mixer on speed 2 for 5 minutes to knead the dough. Dough should be clinging to dough hook.

Transfer the dough to a bowl that has been coated with cooking spray or olive oil. Place a dish cloth over the bowl and allow bowl to sit in a warm place for an hour or until doubled in size.

Divide dough into 4 equal pieces. Using a rolling pin, roll dough into 8" circles.

Preheat an outdoor grill or your stove top grill to medium heat. Coat the grill with olive oil or, if using an outdoor grill, brush the top of each dough circle with olive oil and place the bread circles oil side down onto the grill. Drizzle some oilive oil on the top of the bread rounds while cooking, and watch carefully. When the bottom side is browned, turn over the bread, and grill the other side until golden. Sprinkle with garlic powder, feta cheese, and fresh basil.

Cut circles into serving size pieces with a pizza cutter.
Bread machine instructions:
Place ingredients for bread into the pan of the bread machine in the order recommended by the manufacturer. Select DOUGH cycle; press START. Do not put in the olive oil, garlic powder or feta cheese.

After dough cycle has completed, continue with instructions above for rolling out and cooking the bread rounds.
Adapted from Allrecipes.com