A quick and easy retro party classic. This Shrimp Dip is a perfect choice for your New Year's Eve menu!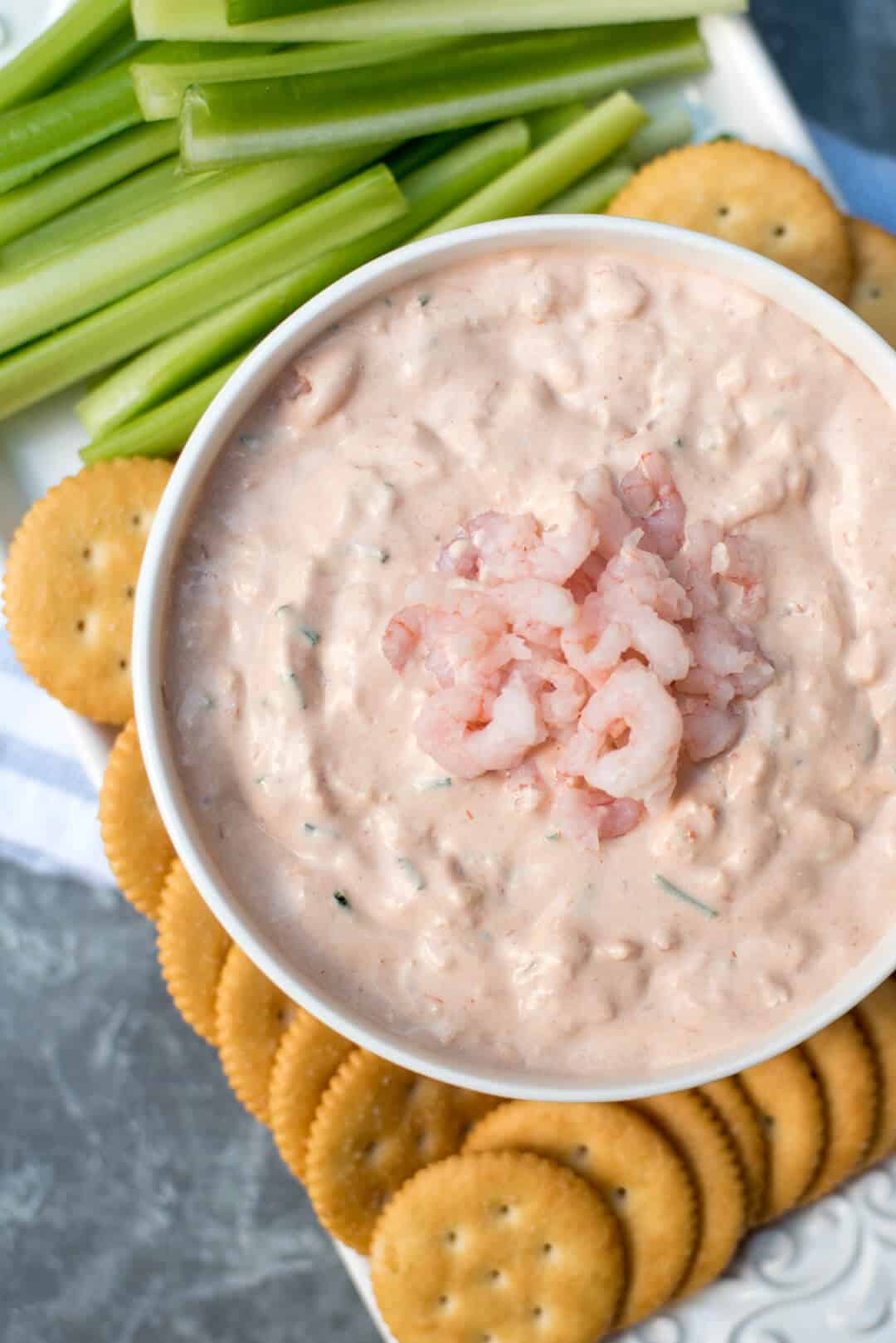 This recipe comes from my niece, April. Before we get to the dip, a few things about the sweetie pie that gave it to me.

April is my brother Jim's oldest daughter and my very first niece. I was only 7 when she was born and thought it was pretty cool that she called me "Aunt Valerie" when she was little, seeing as we are closer in age than I am to most of my sibs.
I still think it's kinda cool.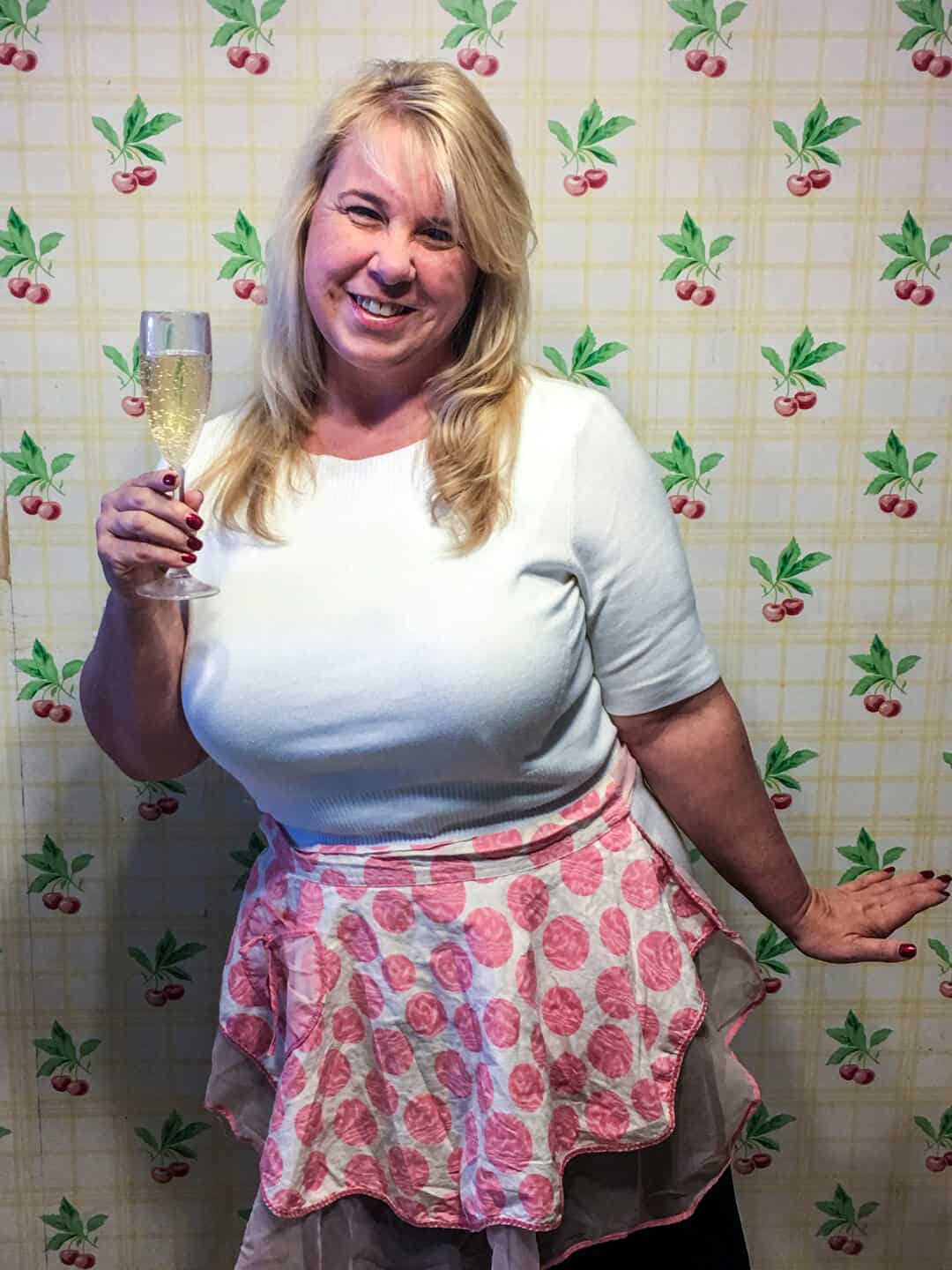 She is bubbly. And, when I say bubbly, I mean BUBBLY. She has a fabulous laugh that is completely contagious, a smile that lights up a room, a slightly wicked sparkle in her eyes, and she's mama to 3 amazing boys. She is crazy about the holiday season (seriously, counting-the-days-insanely-crazy), loves all things pink, and retro recipes like this one.
If you're over the age of 30, you may have encountered a dip similar to this somewhere in your party history. I had completely forgotten about it until she messaged me about it one day.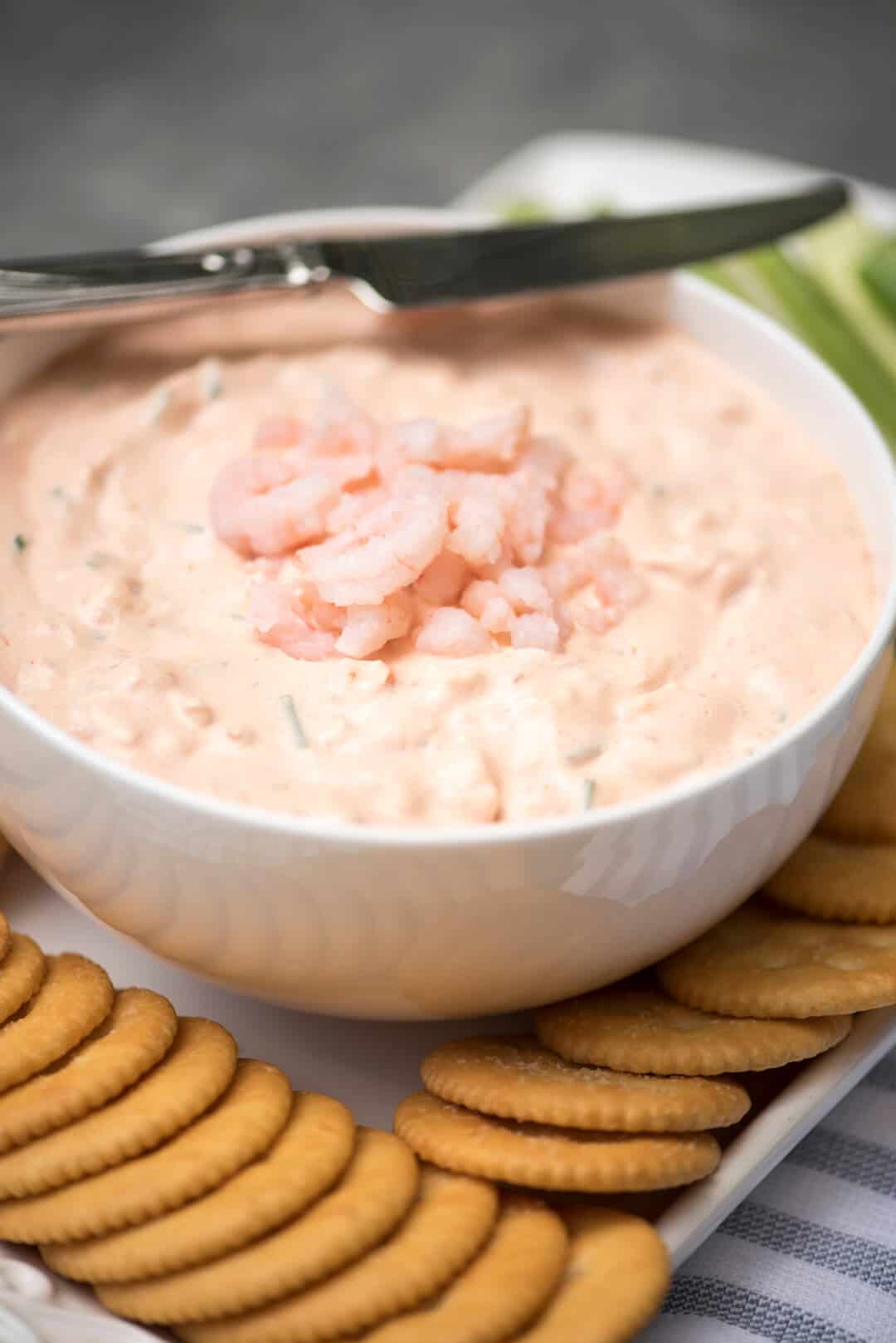 It is absolutely, spot-on perfect for serving at holiday parties which is why I'm sharing it with you today while there is still time to pull it together for your New Year's Eve shindig.
I strayed only slightly from the original recipe and it was voraciously consumed at our Christmas Eve festivities without a trace left at the end of the night.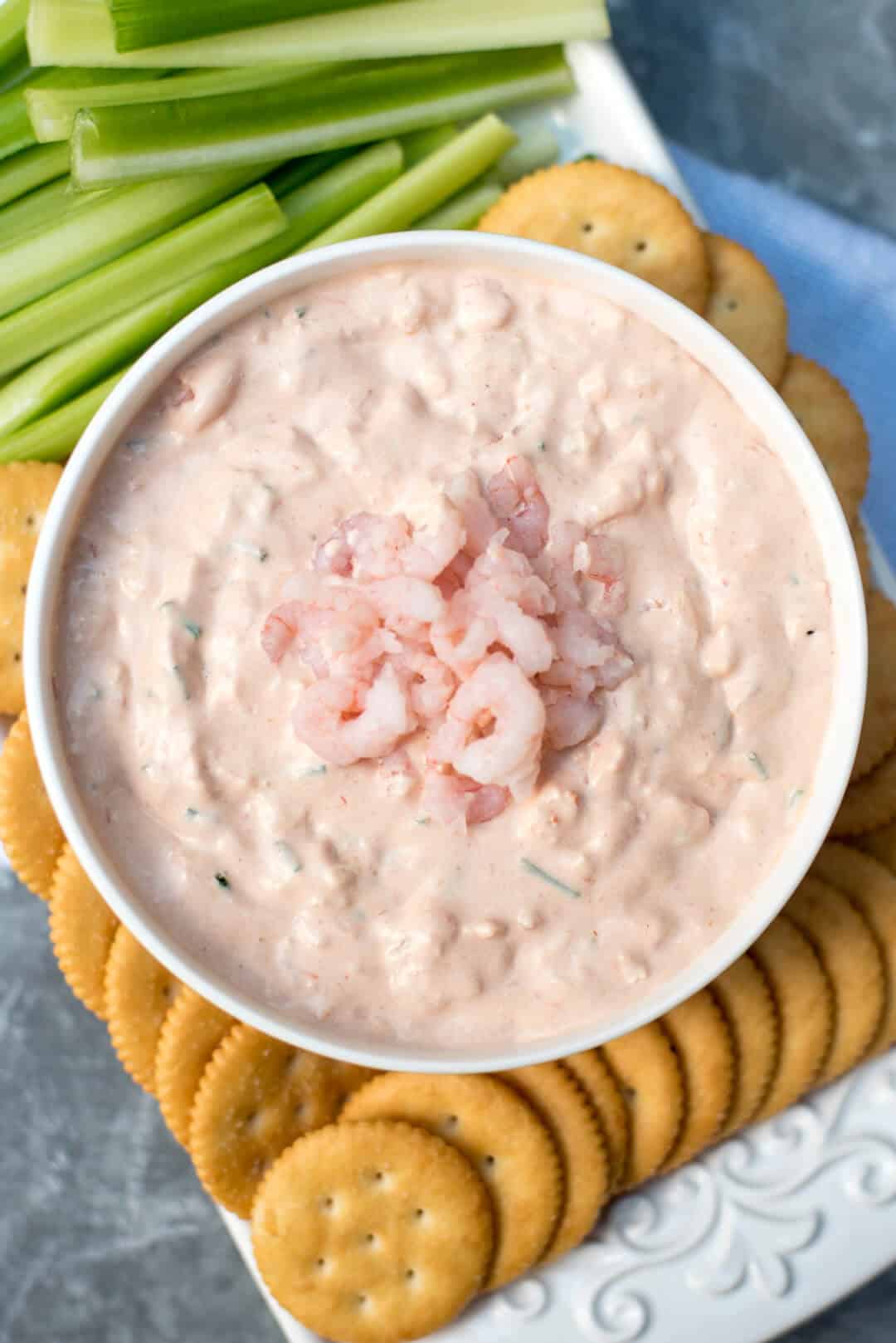 A few quick ingredient notes:
The original recipe calls for canned shrimp but I highly recommend picking up some inexpensive baby shrimp from the meat counter at your local store or you can use the frozen variety.
Reserve some of the shrimp to pile on top of the prepared dip just before serving. It adds a nice visual element but it's also a fabulous way to let everyone know what type of dip they are about to dive into.
I subbed chili sauce (I used Heinz) for the ketchup called for in the original recipe. Chili sauce packs a bit of punch and I think it's nice here.
I added some chopped, fresh chives. Totally optional.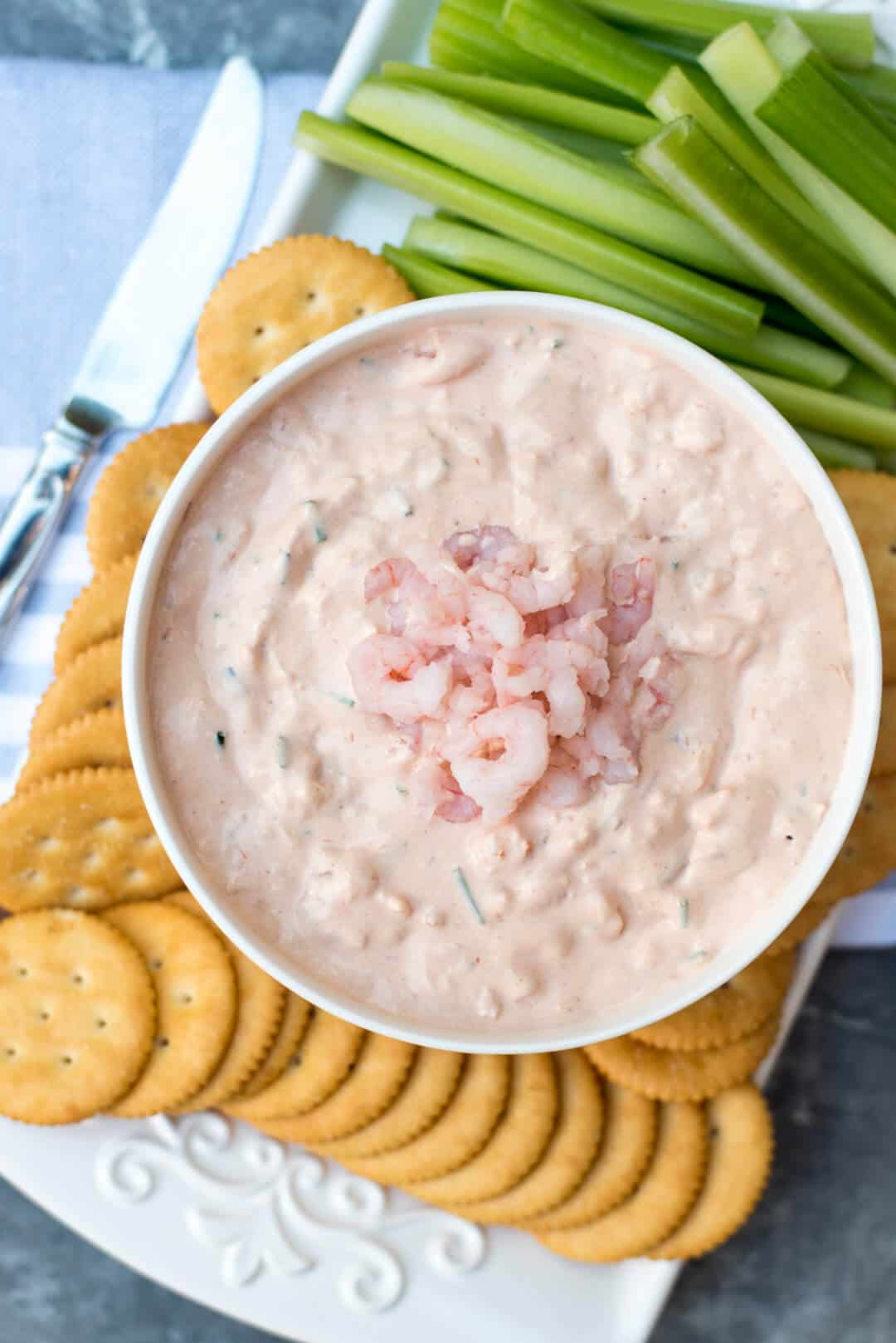 April suggested serving the dip with "tried and true Ritz Crackers" (good call, April) and I added some fresh, crunchy celery sticks.
Simple, classic, party perfection.
Shrimp Dip
For a ton of party menu planning inspiration, head on over to Bloggers' Best Party Food 2016.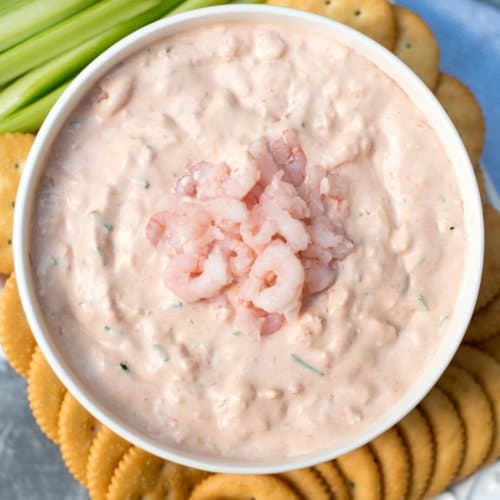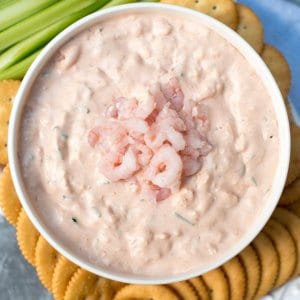 Ingredients
1/2 cup chili sauce I used Heinz
1 8 ounce package cream cheese, slightly softened
1/2 cup mayonnaise
1/4 cup grated onion use your cheese grater
1 teaspoon creamed horseradish
1 dash or two of Worcestershire Sauce
1 dash or two, or three of Tabasco Sauce
1/2 pound cooked salad shrimp or shrimp meat can sub small can shrimp, divided
2 tablespoons chopped fresh chives
Instructions
Use an electric mixer to blend the chili sauce into the cream cheese in a large mixing bowl until very smooth. Add all of the remaining ingredients, except the shrimp, and blend until well combined.

Use a spoon to fold in the shrimp and chives, reserving a couple of tablespoons of shrimp for garnish. Cover and chill for at least an hour or two prior to serving.

Pile the reserved shrimp in the center of the dip and serve with Ritz Crackers and celery sticks.
Notes
Prep time does not include chilling time.