These Slow-Cooked 3-Bean Cowboy Beans are meaty, substantial and darn right delicious! They'll make a great addition to your summer cookouts.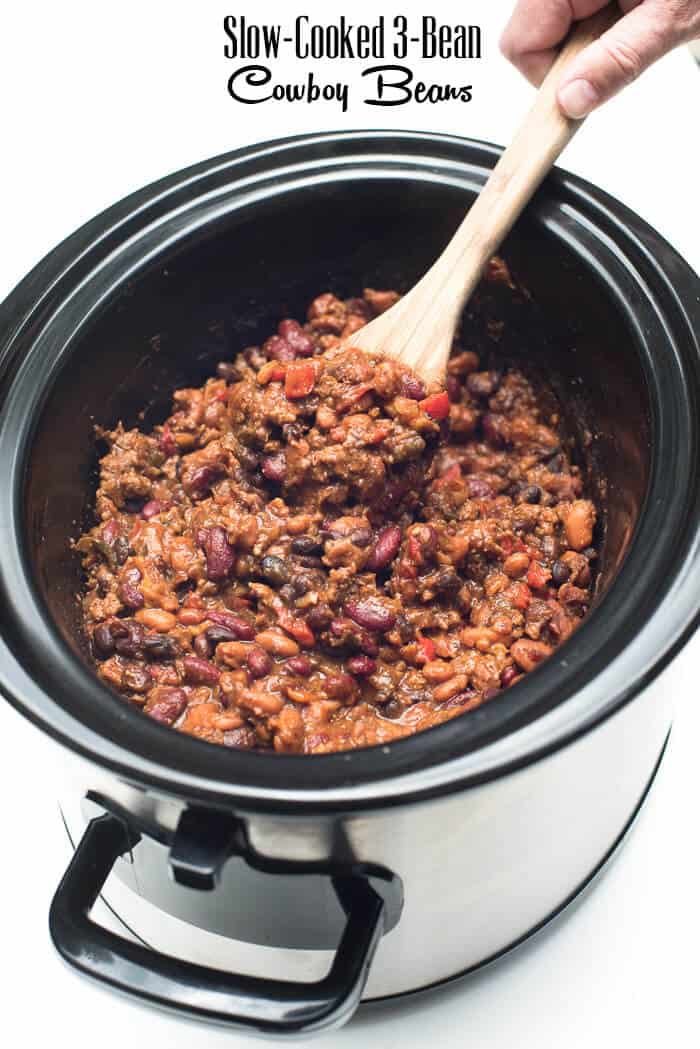 I'm excited to be sharing this recipe with today because it is from a very special cookbook that was written by a very special lady, Melissa Sperka of Melissa's Southern Style Kitchen. I've been a fan of Melissa's blog and her Southern-inspired recipes since nearly day one of my blogging career.
I have always been drawn to Southern cooking. The recipes are typically steeped in tradition, many being handed down from generation to generation. A lot of the comfort foods we are all familiar with have Southern roots and Melissa's got many of these classics covered in her cookbook. Recipes like Chicken and Biscuit Cobbler, Homestyle Potato Salad, Gooey 5-Cheese Macaroni and Cheese, Cast-Iron Buttermilk Fried Chicken (you have to try this one!), and Layered Corn Bread Salad. You'll also find more contemporary recipes but always with a delicious Southern twist.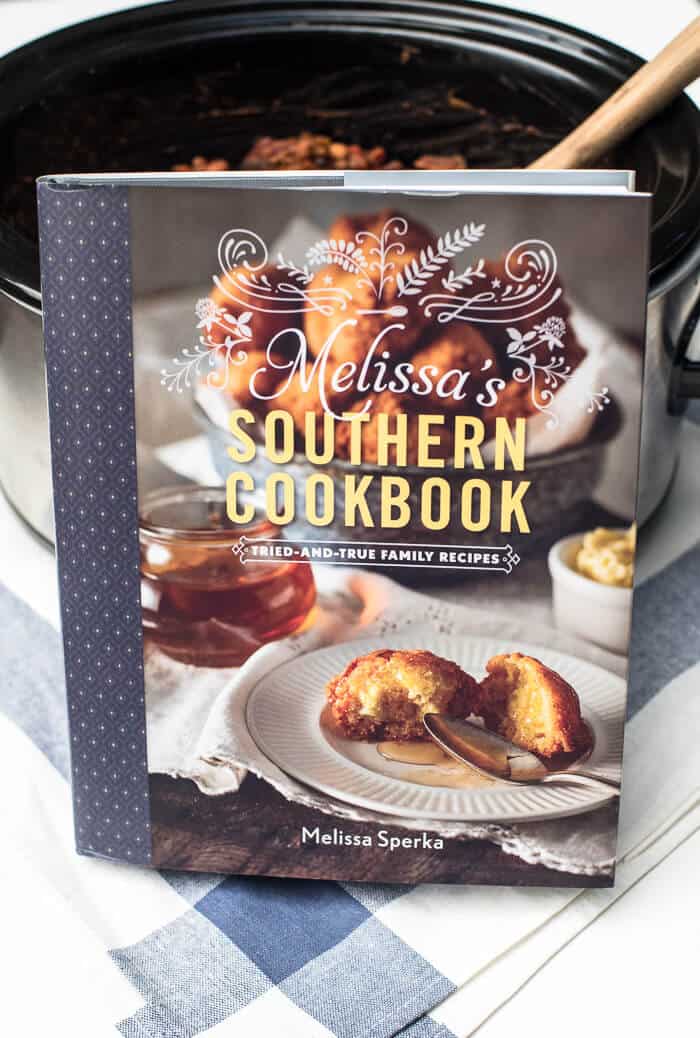 The cookbook is filled with big, glorious photos and easy to follow instructions. It runs the gamut from starters through to desserts and even includes some of Melissa's holiday favorites. I'm happy to be sharing the cookbook love today and will be giving a copy away to one of you!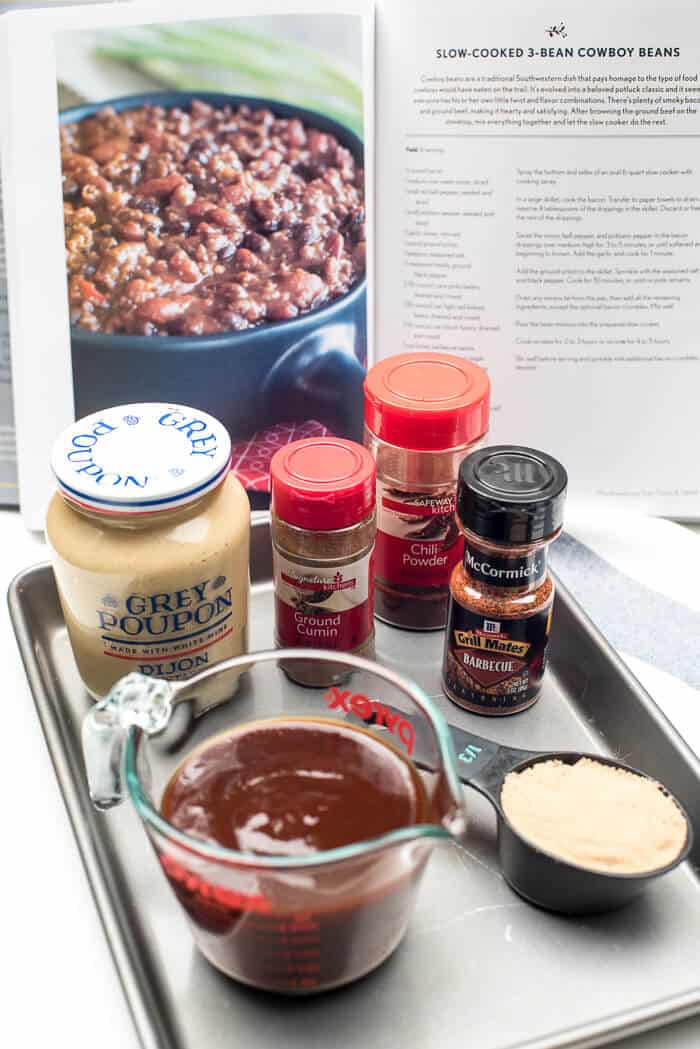 It was tough to decide which recipe to try first but decided on these Slow Cooked 3-Bean Cowboy Beans because I knew they'd be just the thing for a Memorial Day weekend BBQ.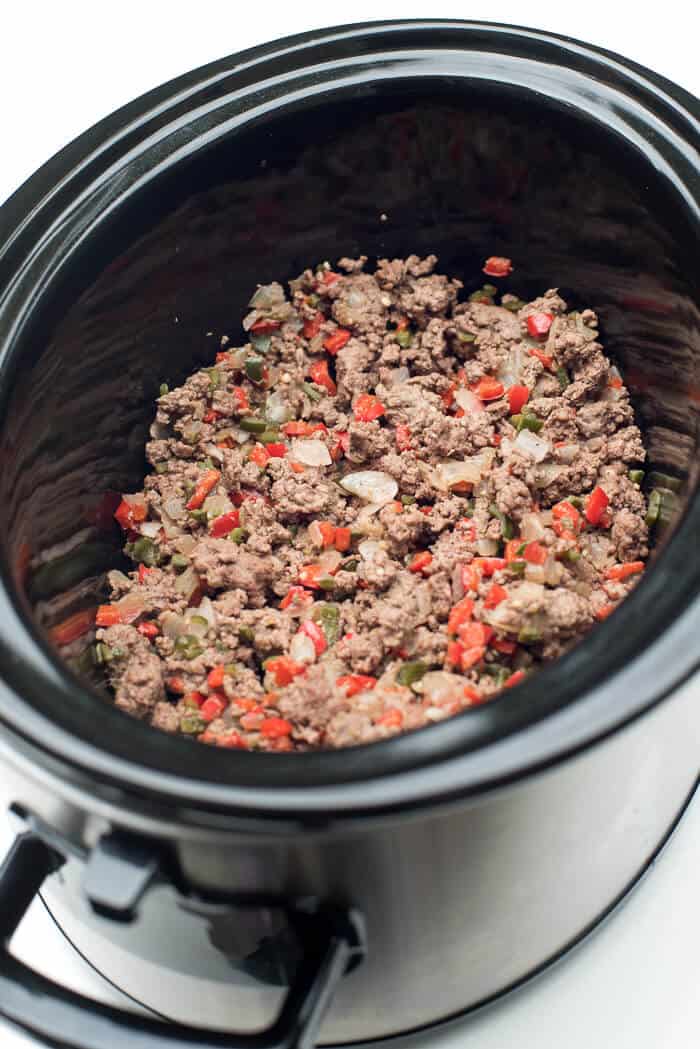 They include a full pound of ground beef that is cooked with onion, red bell pepper, and a diced poblano pepper.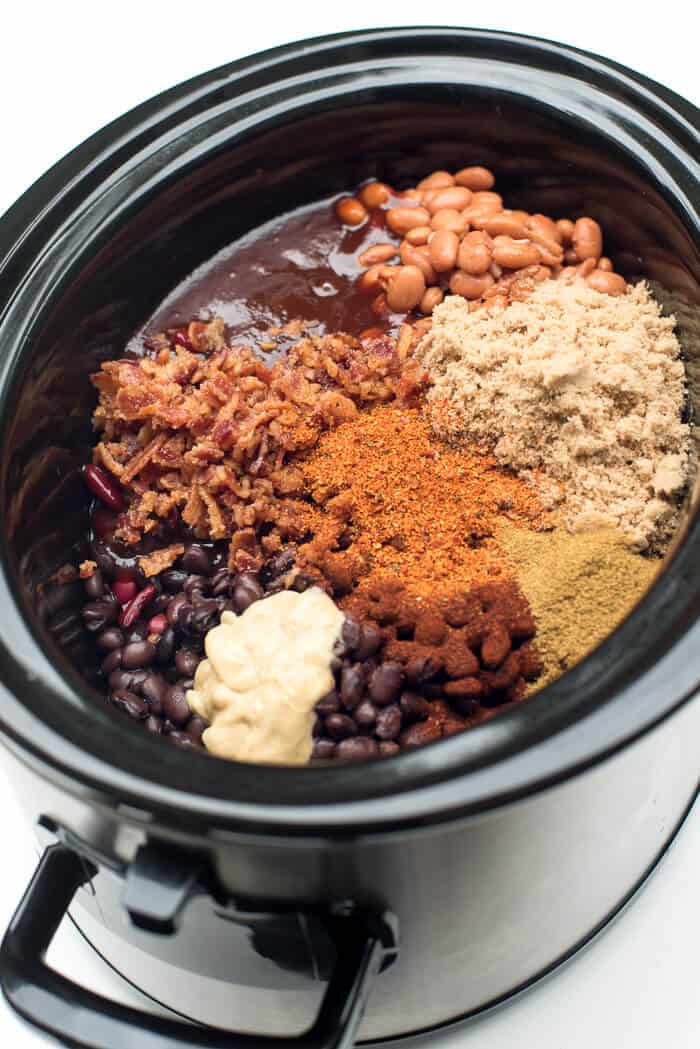 Pinto, kidney, and black beans make up the "3-bean" situation. Of course, we need some cooked crumbled bacon in there (of course!), a little brown sugar, spicy brown mustard, chili powder, cumin, BBQ seasoning, salt and fresh ground black pepper, and a cup of your favorite BBQ sauce. There is SO much flavor here!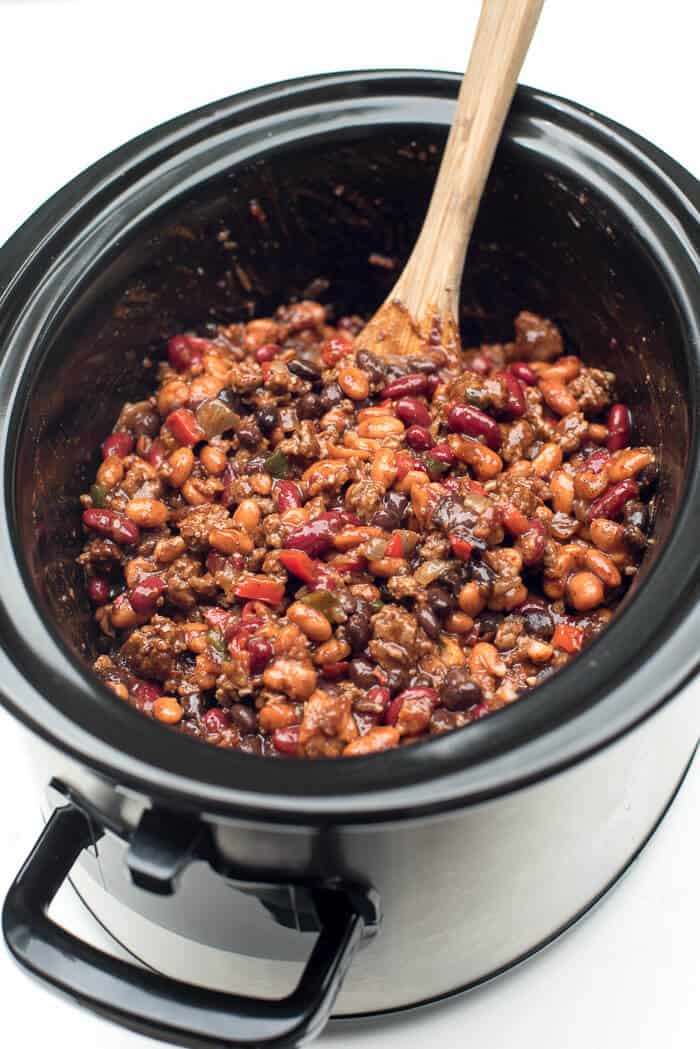 Combine all this goodness in your slow cooker and set it to LOW for about 4 hours or on HIGH for 2 hours.
That's all there is to it. When you have a group coming, it is so nice to have one dish simmering away in your slow cooker. Hands-off cooking at it's best.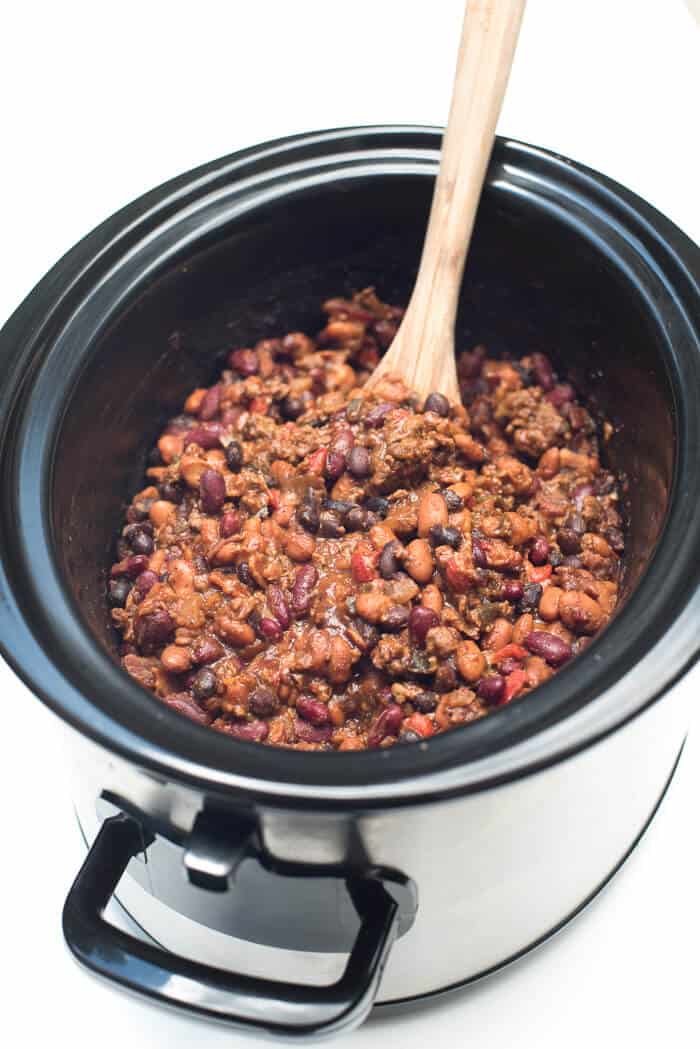 These beans are meaty, substantial and so flavorful. A great choice for a hungry group!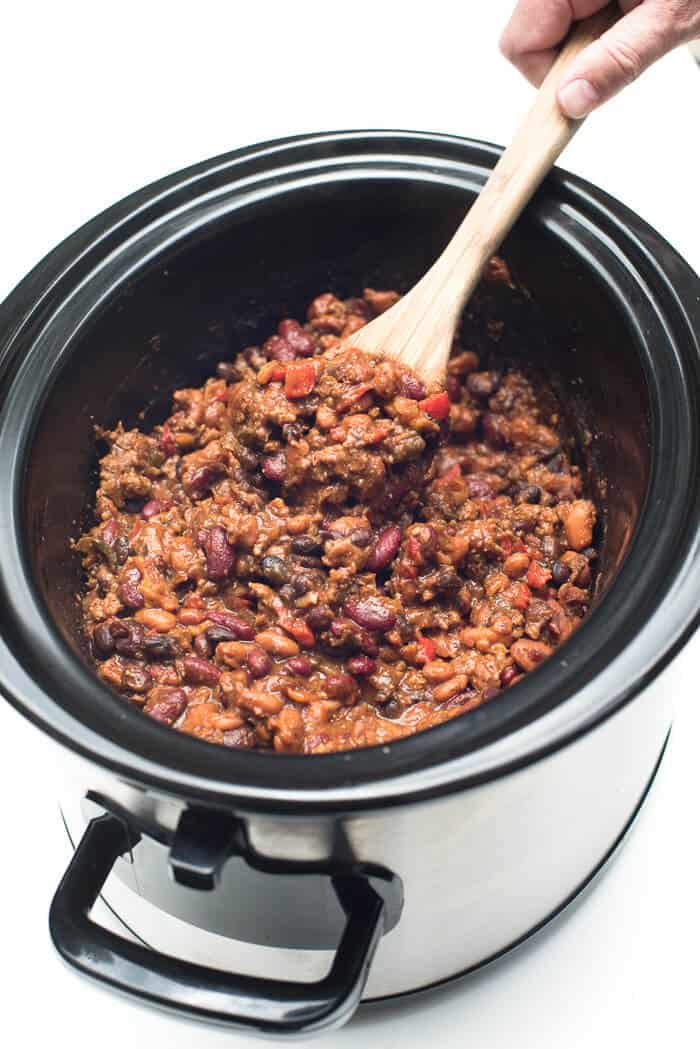 GIVEAWAY CLOSED.
Slow-Cooked 3-Bean Cowboy Beans
These Slow-Cooked 3-Bean Cowboy Beans are meaty, substantial and darn right delicious! They'll make a great addition to your summer cookouts.
Print
Pin
Rate
Servings: 8
Calories: 687kcal
Ingredients
1/2 pound bacon
1 tablespoon vegetable oil
1 medium sweet onion diced
1 small red bell pepper seeded and diced
1 small poblano pepper seeded and diced
3 garlic cloves minced
1 pound ground sirloin
1 teaspoon seasoned salt
1/2 teaspoon freshly ground black pepper
32 ounces pinto beans, rinsed and drained (2 16-ounce cans)
16 ounces light red kidney beans, rinsed and drained
1 16 ounce can black beans, rinsed and drained
1 cup barbecue sauce your favorite brand
1/3 cup packed light brown sugar
1 tablespoon barbecue seasoning
1 tablespoon chili powder
1 tablespoon spicy brown mustard
2 teaspoons cumin
bacon crumbles for serving (optional)
Instructions
Spray the bottom and sides of an oval 6-quart slow cooker with non-stick cooking spray.

In a large skillet, cook the bacon. Transfer to paper towels to drain and crumble when cool enough to handle

Heat vegetable oil in a large saute pan over medium-high heat. Add onion, bell pepper, and poblano pepper for 3 to 5 minutes, or until softened and beginning to brown. Add the garlic and cook for 1 minute. Add the ground sirloin to the skillet. Sprinkle with the seasoned salt and black pepper. Cook for 10 minutes, or until no pink remains. Drain any excess fat from the pan and transfer mixture to prepared slow cooker. Add all the remaining ingredients to the slow cooker with the beef, except the bacon crumbles. Stir well to combine.

Cover and cook on HIGH for 2 to 3 hours or on LOW for 4 to 5 hours.

Stir well before serving and sprinkle with additional bacon crumbles, if desired.
Nutrition
Calories: 687kcal | Carbohydrates: 85g | Protein: 36g | Fat: 24g | Saturated Fat: 9g | Cholesterol: 57mg | Sodium: 929mg | Potassium: 1366mg | Fiber: 21g | Sugar: 23g | Vitamin A: 963IU | Vitamin C: 34mg | Calcium: 146mg | Iron: 8mg