With just 15 minutes of prep time you'll have this beefy Slow Cooker Salsa Chili simmering away for a fun game day meal or no-fuss dinner on a busy day.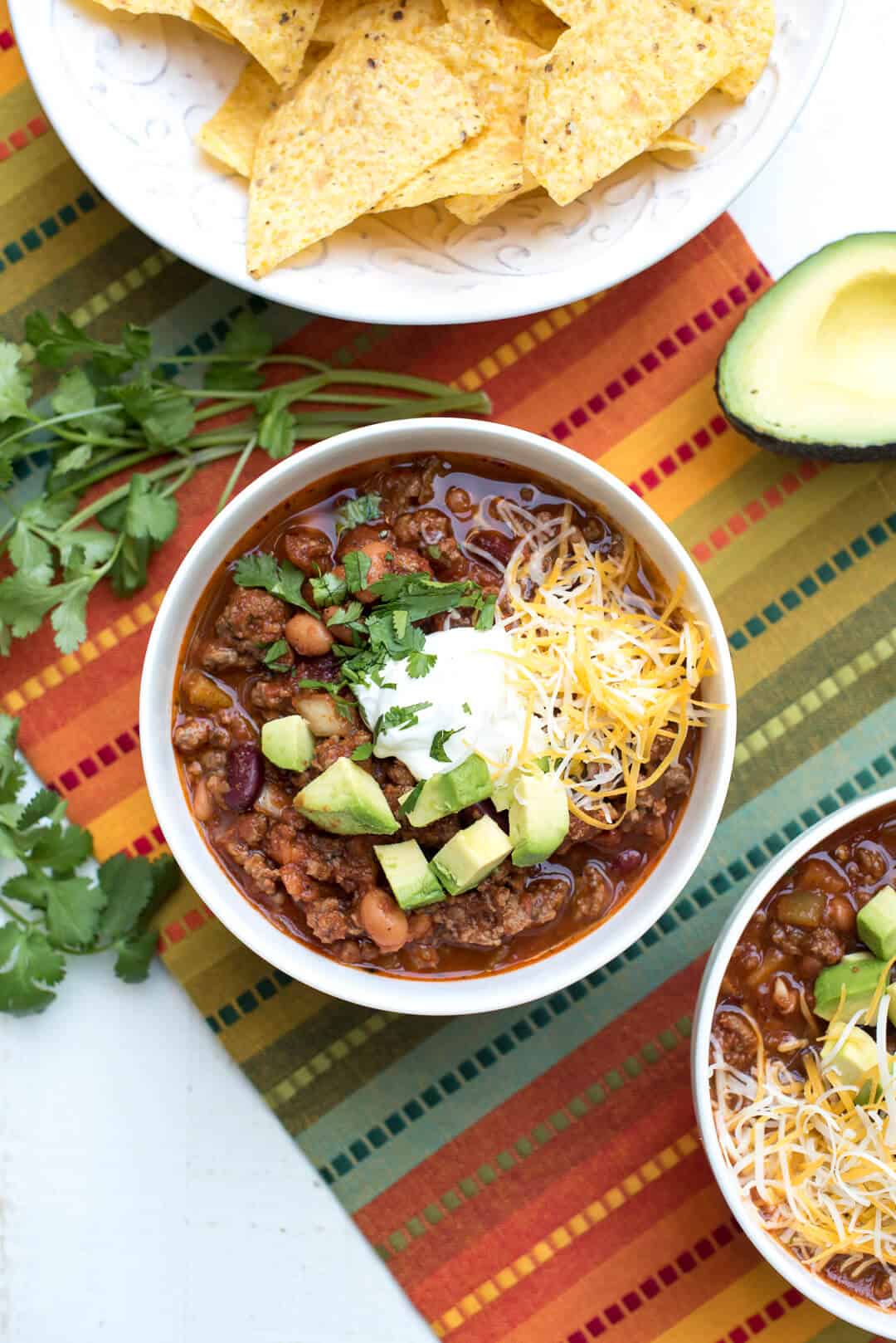 This post has been sponsored by Fresh Cravings. All thoughts and opinions are my own.
I crave Mexican flavors all the time, but even more so at this time of year. All of the traditional holiday fare we've consumed over the past couple of months just puts me in the mood for something different, fun and flavorful.
Whether you're still entertaining, laying low in recovery mode, or have plans that will take you out of the house for the day, this Slow Cooker Salsa Chili is just what you need for a satisfying, stress-free meal.
It's beefy, substantial, warm and comforting which makes it the perfect post-holiday, lazy day meal or spot-on perfect for a game day gathering.  
Fresh Cravings Chunky Salsa adds zesty flavor with minimal fuss, making this recipe an awesome busy day dinner idea any time of year. Fresh Cravings also has a Restaurant Style variety, but I think the chunks of tomatoes work really well in this hearty chili.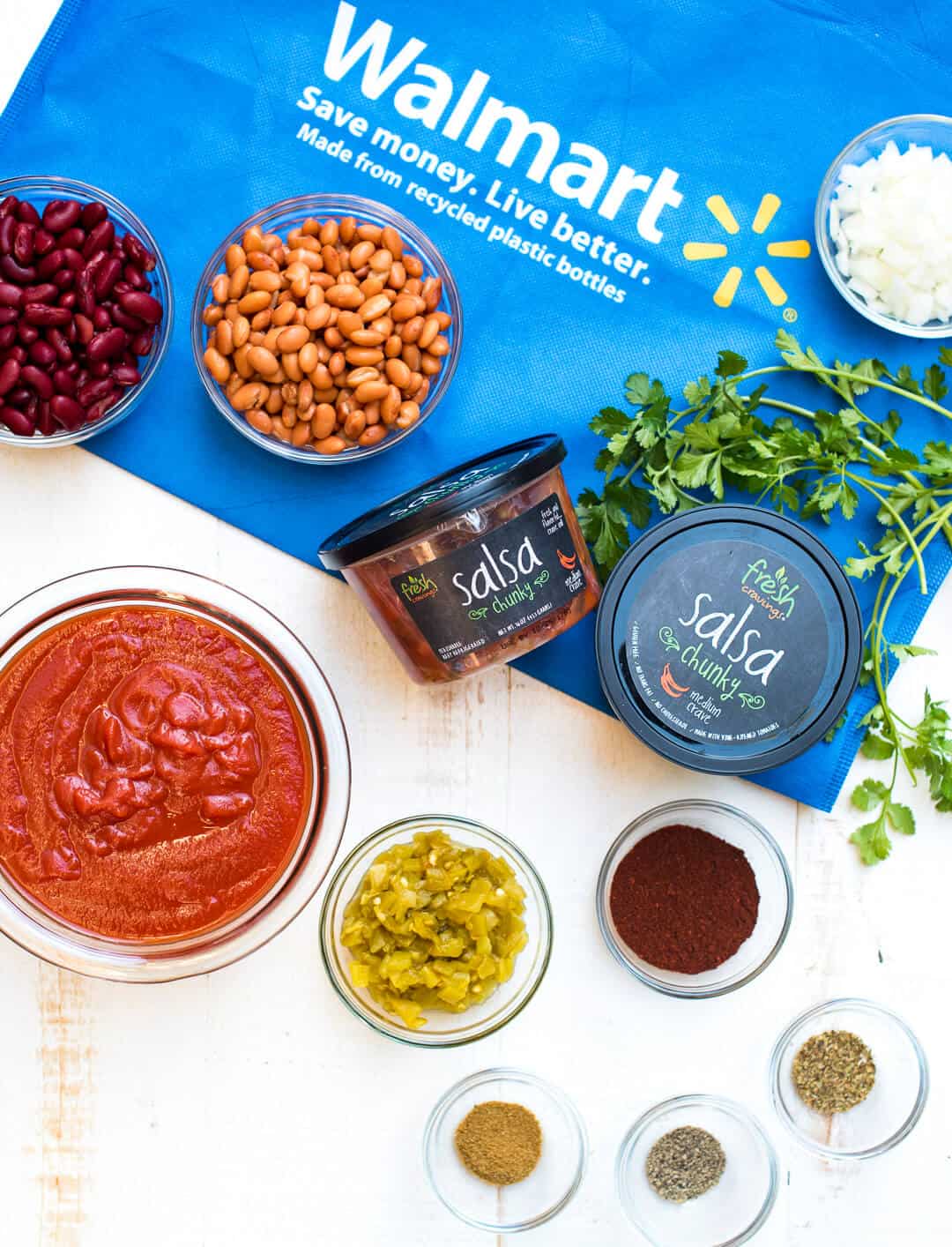 Fresh Cravings makes seriously game-changing refrigerated salsas that aren't cooked like jarred salsas or pasteurized like other refrigerated salsas. The ingredient list includes simple, fresh ingredients including vine-ripened tomatoes, onions, and chilis for bold, authentic taste making it an excellent ingredient in recipes like this.
You can find Fresh Cravings refrigerated salsas in the chilled produce section (near the bagged salads and dressings) at your local Walmart store.
Let's make chili!
After browning 2 pounds of lean ground beef, this is literally a dump everything in the slow cooker and walk away recipe.
Transfer the browned beef to the slow cooker along with some diced onion, a can of diced green chiles, tomato sauce, a little beef broth, chili powder, cumin, oregano, and black pepper. Stir in a full container of Fresh Cravings Chunky Salsa. I went with medium for a mildly spicy chili but you could use the mild variety if you prefer.
Stir to combine and then cover and cook on LOW for 5 to 6 hours to let those wonderful flavors intensify.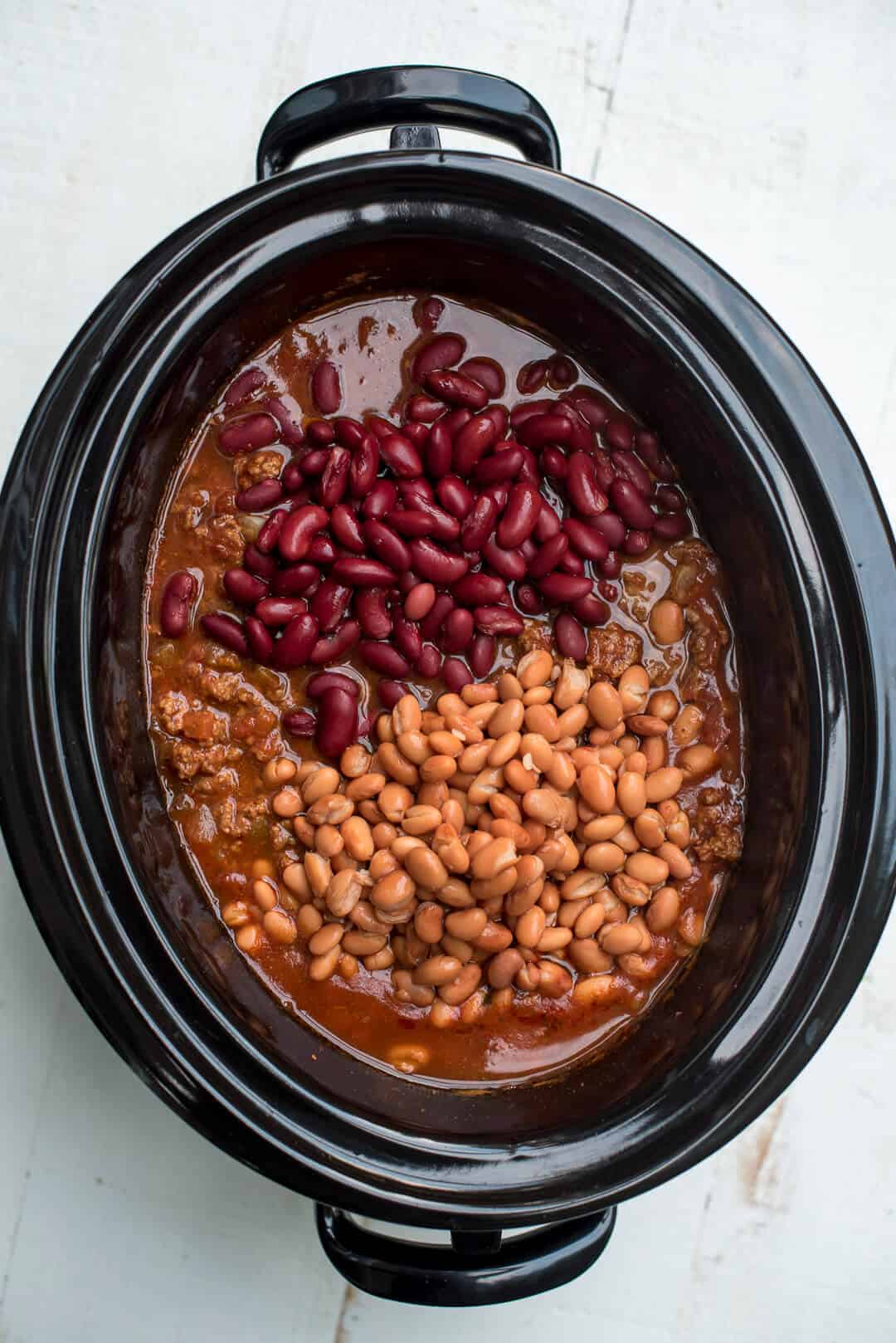 A can each of kidney beans and pinto beans are added during the last 30 minutes of the cooking time. I always add canned beans towards the end in slow cooker recipes because it ensures they'll have a nice bite and won't get mealy or mushy from over-cooking.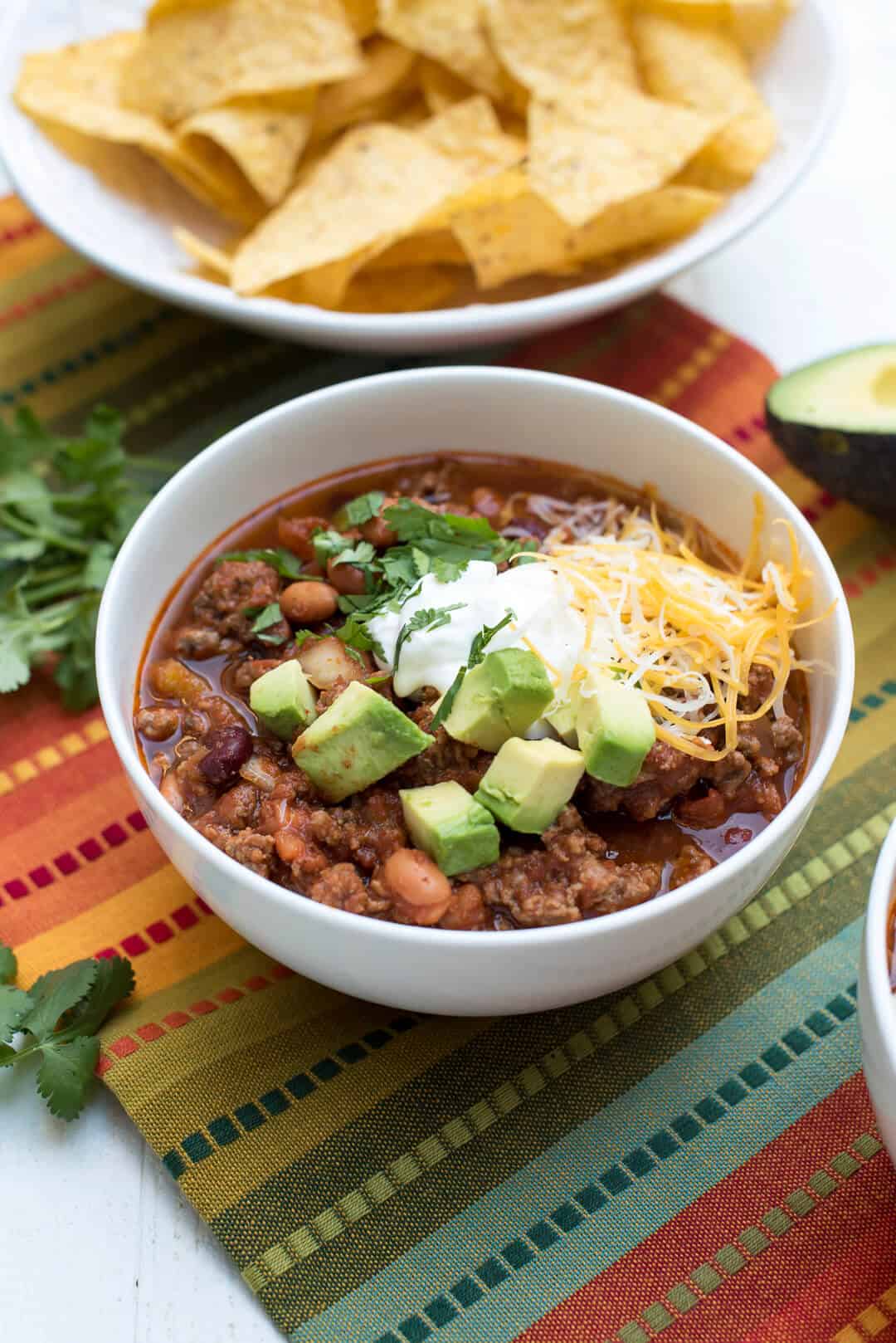 Serve it with your toppings of choice but I highly recommend a little sour cream and avocado. The avocado was absolutely delicious with the flavors in this recipe.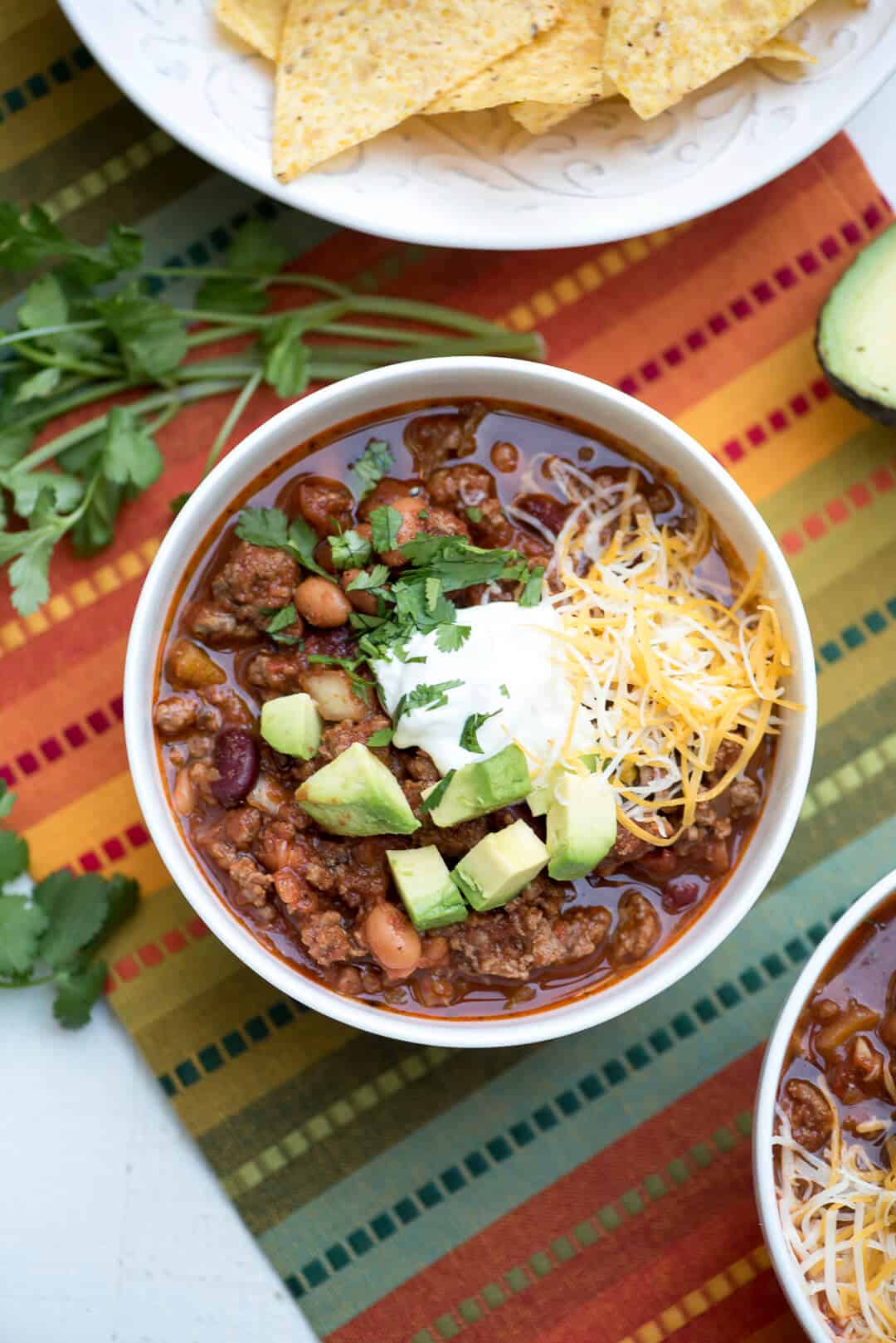 Slow Cooker Salsa Chili
With just 15 minutes of prep time you'll have this beefy Slow Cooker Salsa Chili simmering away for a fun game day meal or no-fuss dinner on a busy day.
Prep Time 10 minutes
Cook Time 6 hours 30 minutes
Total Time 6 hours 40 minutes
Servings 8
Change the number in the box above to adjust serving size. Please note that size of cookware and cook time may vary.
Ingredients
2 pounds lean ground beef
32 ounces tomato sauce (2 (16 ounce) cans)
16 ounces Fresh Cravings Chunky Salsa (Mild or Medium Crave)
4 ounces diced green chiles, drained
1/2 cup low sodium beef broth
1/2 cup diced white or yellow onion
2 tablespoons chili powder
1  teaspoon ground cumin
1 teaspoon oregano
1/2 teaspoon fresh ground black pepper
15 ounces kidney beans, rinsed and drained
15 ounces pinto beans, rinsed and drained
Optional toppings: shredded cheese sour cream, avocado, thinly sliced green onion, cilantro
Instructions
Place a large deep skillet over MEDIUM-HIGH heat, add beef and cook, stirring to break up, until beef has browned. Drain grease and transfer the cooked ground beef to a 6 quart slow cooker. Add tomato sauce, Fresh Cravings Chunky Salsa, diced green chiles, beef broth, onion, chili powder, cumin, oregano, and pepper. Stir mixture, cover with lid and cook on LOW for 5 to 6 hours.

After initial cooking time, stir in beans, cover and continue to cook on LOW for an additional 30 minutes.

Serve with any or all of the optional toppings.

Also delicious spooned over tortilla chips, baked potatoes, rice, or cornbread.
Nutrition
Calories: 348kcal
Fat: 13g
Saturated fat: 5g
Cholesterol: 74mg
Sodium: 1456mg
Carbohydrates: 29g
Fiber: 9g
Sugar: 8g
Protein: 31g
Course Main Course
Cuisine Mexican