My oldest is out on his own and like most people when they first move out on their own, he lives in a small apartment with a very small kitchen. It seems that no matter how large your kitchen space is, there is never enough room for everything. Small kitchens, however, have unique issues.
So, when OXO contacted me to see if I'd like to do a little work in the kitchen, I said, why yes, I would!
Here's what we had to work with. There's a lot going on inside those cabinets. Ryan had managed to squeeze all of his kitchen staples into two cabinets but Mom felt they were in need of a little organization.
After a quick scan of his cabinets, we decided which items we'd transfer into the 10-Piece POP Container Set. We labelled the items we knew he would use and replenish continually – flour, sugars, and rice. He'll be switching up the contents of the other containers more frequently so we left those alone.
I found these chalkboard labels and chalkboard pen at a local crafts store. These are similar to what I used for my own kitchen pantry project last year.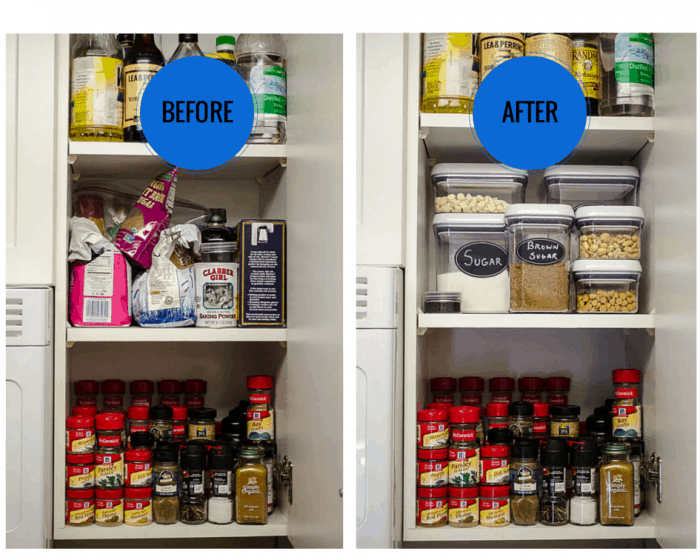 You don't realize how much you've got stuffed into your kitchen cabinets until you pull it all out and see it scattered all over your counter. Time to get everything back in place.

The stackable containers fit snugly next to each other and fit perfectly in the small cabinets. In addition to increasing the shelf life and keeping items ultra fresh, I think the biggest benefit is that it's so easy to see what items you're running out of when you're making a run to the store.
We used the remainder of the containers in the second cabinet for kitchen essentials like rice and peanut M&M's. Priorities people, priorities.
In addition to the 10-Piece POP Container Set, OXO generously sent along three POP Cereal Containers ranging in size from 2.5 to 4.5 quarts. We filled them with cereal and oats and set them next to the coffee maker to make a sharp looking breakfast station. Easy to grab for a quick breakfast before work.
The airtight dispensers have a pop-open lid for one-handed opening and closing and easy pouring and the lids are interchangeable between all three sizes.
Disclosure – OXO provided me with the a 10-Piece POP Container Set and the POP Cereal Containers featured in this post but all opinions expressed are solely my own.