This creamy, flavorful Smoked Salmon Dip has risen to the top of my list of favorite party snacks. Make it for your next gathering and watch it disappear – fast!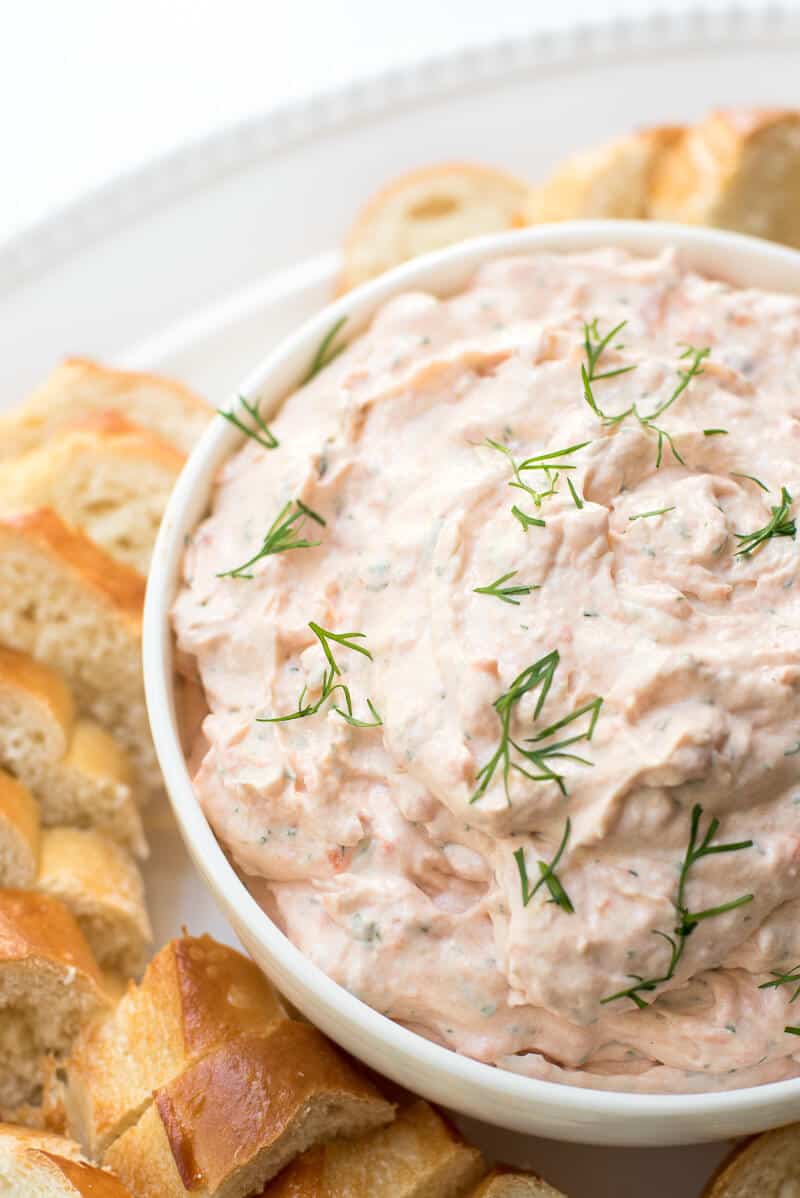 I cooked and baked like a champ all of last week and right through Easter weekend. My youngest, little itty-bitty, 6'3″ baby boy was home from college and I took it upon myself to stuff him and his girlfriend with all kinds of food before they headed back to Santa Barabara for the start of spring quarter. And, it was so satisfying… I can't even explain. But, I'm sure you mamas out there know exactly what I'm talking about.
Having him home meant the family could be together for Easter brunch and click, BOOM, I was off and running! Menu planning, shopping, and recipe prep. Don't get in the way of a woman with a holiday meal to prepare.
On a completely unrelated note, have you entered my most recent giveaway? It's a good one so be sure to click on over and enter. Okay, back to the dip.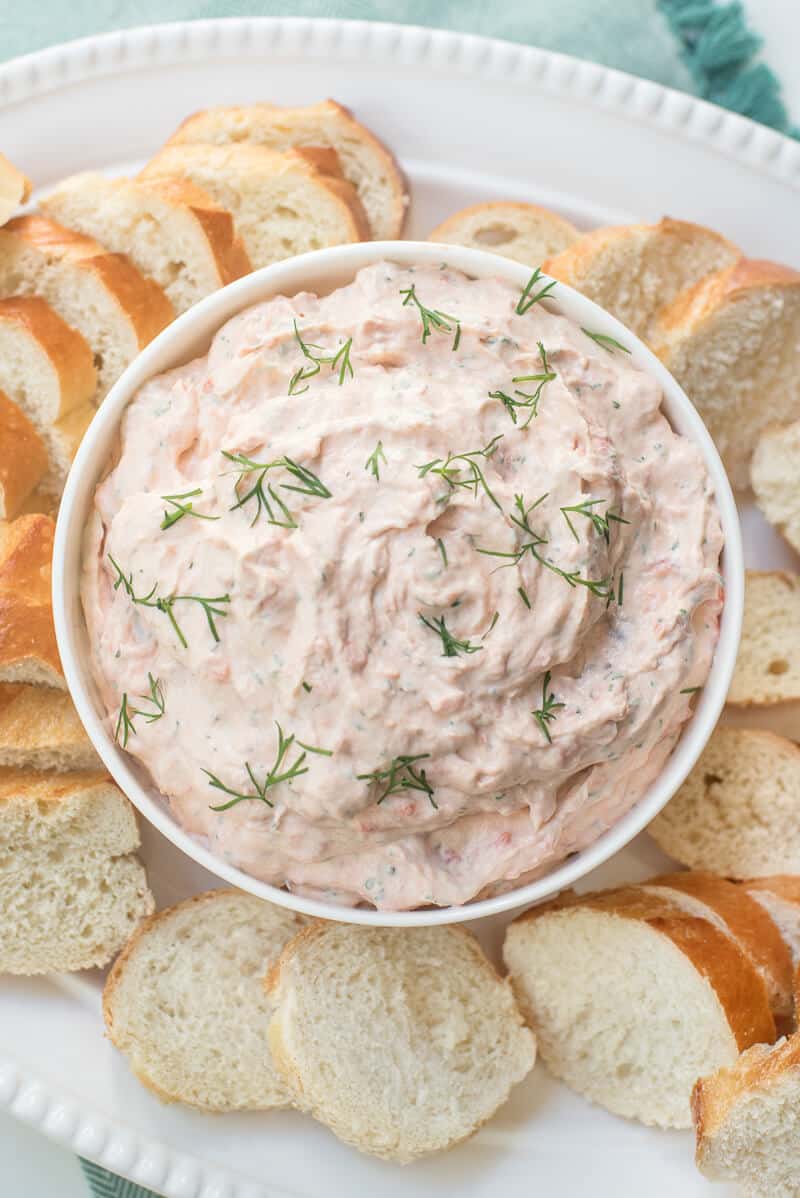 For my Easter brunch menu this year I did lots of my tried and true stuff but I also took the opportunity to include a few new things – including this exquisite dip. I made a double batch and it was consumed heartily and happily and it was GONE!  
Smoked Salmon Dip
It  starts with a package of smoked salmon. I got this two-pack of Wild Alaskan Smoked Sockeye Salmon from Costco. A full pound of really nice quality smoked salmon for $14.89 – crazy good deal. Each package is 8 ounces, enough to make a double batch of this recipe which worked perfectly for my big group on Easter.
It's a dump everything in the food processor, pulse a few times, and you're done recipe. Don't you just love those?
In the bowl of my Cuisinart– reduced fat cream cheese, a little mayonnaise, sour cream, a little cream-style horseradish for a bit of a kick, fresh dill, fresh chives, the smoked salmon, and the juice from half of a lemon. Give it a whirl, or two, or three…
I was going for this nice creamy consistency. If you'd like more texture, hold back about half of the salmon and add it to the mixture after you've processed everything together and then just pulse the mixture a couple of times, or until you've reached the desired consistency.

This dip is delicious served with sliced baguette and I also put out some Triscuits. There's something about Triscuits that meshes perfectly with it. You could also serve it with assorted veggies, bagel chips, or pita chips and it is wonderful spread on toasted bagels.
Smoked Salmon Dip
This versatile dip would work just as well for Sunday brunch as it would at your next game day party.
Prep Time 5 minutes
Total Time 5 minutes
Servings 8 to 10
Change the number in the box above to adjust serving size. Please note that size of cookware and cook time may vary.
Ingredients
1 8 ounce package cream cheese (reduced fat or regular), softened
1/4 cup sour cream light or regular
1/4 cup mayonnaise light or regular
2 teaspoons cream-style horseradish be certain it is cream-style
2 tablespoons chopped fresh dill plus additional for garnish
2 tablespoons chopped fresh chives
1/2 lemon juiced
4 ounces smoked salmon chopped
Instructions
In the bowl of a food processor, pulse together all the ingredients until smooth. If you'd prefer more texture, reserve half the salmon and add it to the mixture once the other ingredients have been combined. Process briefly until you've reached the desired consistency. Alternately, fold in the remaining salmon with a spoon for even more texture.

Transfer mixture to a serving bowl and garnish with additional fresh dill. Serve with sliced baguette, crackers, bagel chips, chopped vegetables, or spread it on toasted bagels.
Valerie's Kitchen is a participant in the Amazon Services LLC Associates Program, an affiliate advertising program designed to provide a means for us to earn fees by linking to Amazon.com and affiliated sites. For more information on our site policies click HERE.