With a special baking method and a few helpful tips you can make your own granola at home that binds together into snackable little clusters. These Snacking Granola Clusters are a great snack choice for both kids and adults alike. For a real treat, try serving it over yogurt with fresh berries and honey.
Click HERE to sign up for your FREE email subscription and never miss a recipe!
I'm writing this post from the road, literally. We just packed up Boy #4 and his belongings and after a quick, hearty breakfast, jumped on the freeway to head to Santa Barbara. Paul is at the helm and I've got my computer on my lap, type, type, typin' away. It's time for Adam to head back, get settled into his off-campus pad and gear up for the 2nd summer session of classes (right after some big concert that is taking place in LA this weekend…aaahh to be 20!) From there he'll head directly into the new school year and in all likelihood, we won't get him back until Thanksgiving.
It also just happens to be our anniversary so we are extending the trip by a couple of days to head down to Ojai for some rest and relaxation. It's our 31st, which seems completely impossible to me. It's funny how mature and independent we felt when we took the plunge back in 1984, and we truly were independent, financially and otherwise. Things seemed to move a lot faster for young people back then. I can't imagine today's kids moving into adult life as quickly as we did. But, we were crazy in love and it's only grown from there. I wouldn't trade the history we share for anything in this world.
Okay, enough romantic, nostalgic ramblings. Let's talk about this cool method for baking cluster granola.
I love making my own granola and the people in my house consume it with wild abandon whenever I get the urge to bake a batch. I usually go with my Maple Honey Granola, but this time I wanted to create something a little different.
Instead of the loose form that results from most recipes, I was on a mission to create a cluster granola suitable for snacking. Deb Perelman's egg white method is probably the most widely known, but I wanted to try something a little different.
One of the best ways to ensure your granola will hold together in clusters is to process a portion of the oats until finely ground. This powdery substance will act as a binding agent when mixed with the wet ingredients to create "granola glue". In addition, I'm using quick-cooking oats here. The smaller size of the oats will bind better than the larger, old-fashioned variety. I found these little gems of wisdom on this very informative post on The Kitchn.
Grab a large mixing bowl and combine the finely ground oats with the remaining oats, flaked coconut, and any nuts and/or seeds you choose.
In a small saucepan over medium-low heat combine 1/4 cup butter, 1/4 cup vegetable oil, and 1/2 cup brown sugar until the butter has melted.
Add 1/4 cup honey, 1 teaspoon vanilla, 1/2 teaspoon each of cinnamon and sea salt, and 1/4 teaspoon nutmeg.
Pour the wet mixture over the dry mixture and combine well.
Add 1 cup of any dried fruit that makes you happy. I'm using a combination of dried cherries, cranberries, and a variety of different colored raisins.
Divide the mixture between two rimmed baking sheets lined with parchment paper. Form each mound of granola into a nice rectangle, using your hands to flatten it down.
Compact and flat is what we are going for. Pop the baking sheets into a preheated 300 F degree oven and let them bake for about 20 minutes, undisturbed. After the initial baking time, remove the baking sheets from the oven and use a spoon or spatula to stir the granola to ensure it will brown evenly. Flatten and shape the granola back into a rectangle and return it to the oven for an additional 10 minutes, or until nicely browned.
It will not be crunchy or hold together at this point, but don't be fooled. This will happen as it cools.
Let it cool completely on the baking sheet.
Once completely cool, break it apart as much as you'd like.
Store the granola in airtight containers and snack away!
CLICK HERE OR ON THE IMAGE BELOW TO PIN THIS RECIPE!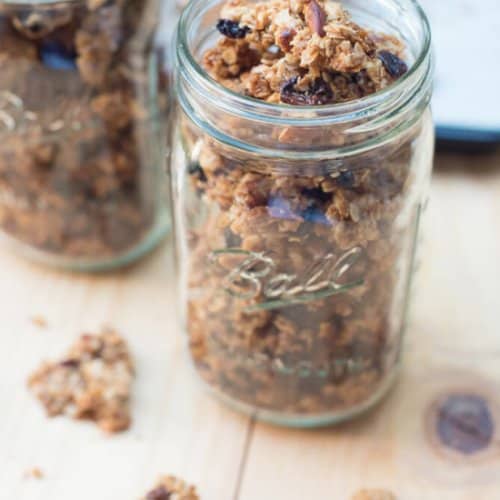 Snacking Granola Clusters
Ingredients
3-1/2

cups

quick-cooking oats

,

divided

1

cup

coarsely chopped raw nuts

,

I used cashews and almonds

1/2

cup

sweetened

,

flaked coconut

1/4

cup

butter

1/4

cup

vegetable oil

1/2

cup

brown sugar

1/4

cup

honey

1

teaspoon

vanilla extract

1/2

teaspoon

ground cinnamon

1/2

teaspoon

sea salt

1/4

teaspoon

ground nutmeg

1

cup

dried fruit of your choice

,

I used a mixture of raisins, cherries, and cranberries
Instructions
Preheat the oven to 300 F. Line two large rimmed baking sheets with parchment paper.

Place 1/2 cup oats in the bowl of a food processor and process until finely ground. In a large bowl, combine remaining whole oats, the ground oats, chopped nuts, and flaked coconut. Set aside.

In a small saucepan over medium-low heat, combine the butter, vegetable oil, and brown sugar. When butter has melted add honey, vanilla, cinnamon, salt, and nutmeg. Stir until well combined. Remove from heat and pour over the oat/nut mixture, stirring until completely incorporated. The dry mixture should be completely coated. Add dried fruit and mix well.

Divide the mixture between the prepared baking sheets. Use your hands to flatten the mounds and shape them into nice rectangles. Bake for 20 to 25 minutes, or until edges are beginning to brown, without stirring. Remove from oven and use a spoon or spatula to stir the mixture. Flatten and shape the granola back into a rectangle and return to the oven for an additional 10 to 15 minutes, or until golden brown. Remove from the oven and use a spoon or spatula to press and flatten the granola down. Allow to cool completely, undisturbed. Use your hands to break the granola into small clusters.

Store in mason jars or airtight containers.
Notes
Granola WILL NOT be hard and crispy when you remove it from the oven. It will harden as it cools, allowing you to break it into clumps.
Every oven is different so watch granola closely while cooking. If it appears to be browning too quickly around edges you may need to reduce the cooking time or the oven temperature.
This is an excellent snacking granola but also delicious served over yogurt with fresh fruit and honey.
Nutrition information is automatically calculated using generic ingredients, and is an estimate not a guarantee. For more accurate results, please refer to the labels on your ingredients at home.
Did You Make This?
We love seeing what you've made! Tag us on social media at @fromvalerieskitchen for a chance to be featured