Sour cream adds moisture and great texture to this Sour Cream Chocolate Chip Crumb Cake. Baking it in a loaf pan makes it easy to slice and serve. No fork needed!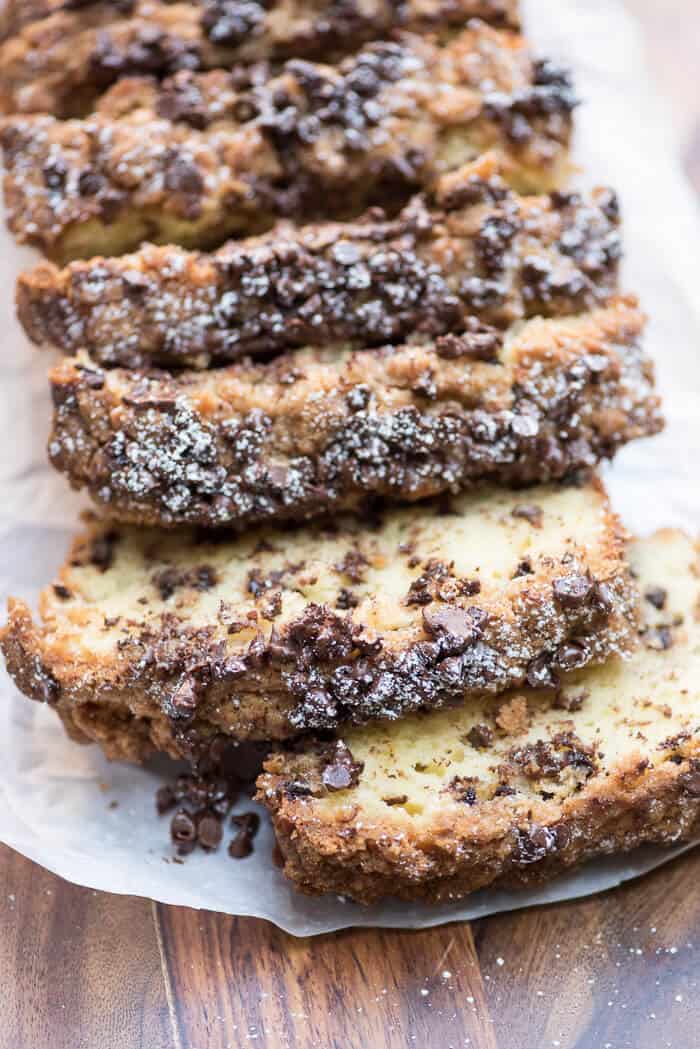 If you were to ask me "What is your favorite thing to do in the kitchen" the answer would clearly be EAT. But after that, it would have to be baking quick breads, muffins, crumb cakes and the like. I'm the queen of no-fuss baking and these recipes are typically quite easy and yield a fabulous result. Instant gratification of the best sort – especially when chocolate is involved.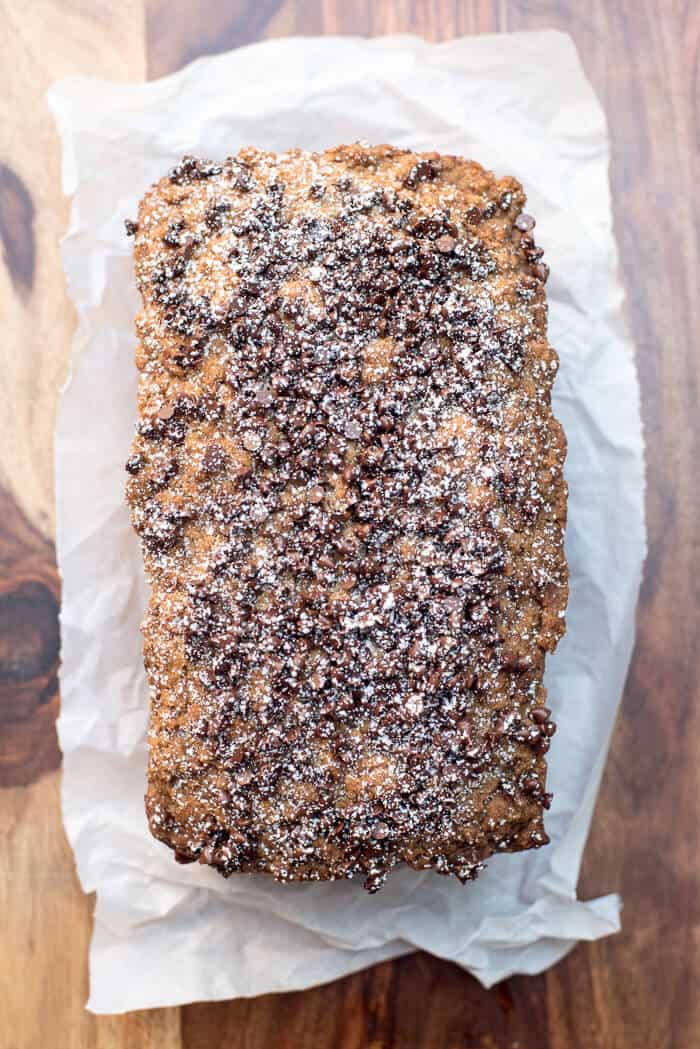 I saw a gorgeous image of a crumb cake on Pinterest a while back and hunted down the original source only to find the recipe had been removed. Frustration!  I've made a crumb cake or two (or 500) in my life so I decided to create my own version and I'm pretty excited about the result. If you know me well, you know I have an affinity for baking with sour cream and Greek yogurt and it has done me good again in this recipe.  
I found inspiration in several places, including my own crumb cake and muffin recipes, and the result is this substantial, chocolate chip studded, lightly sweet cake with a hint of orange. The crumb topping and light dusting of powdered sugar make it pretty darn gorgeous. On top of all that, we loved it.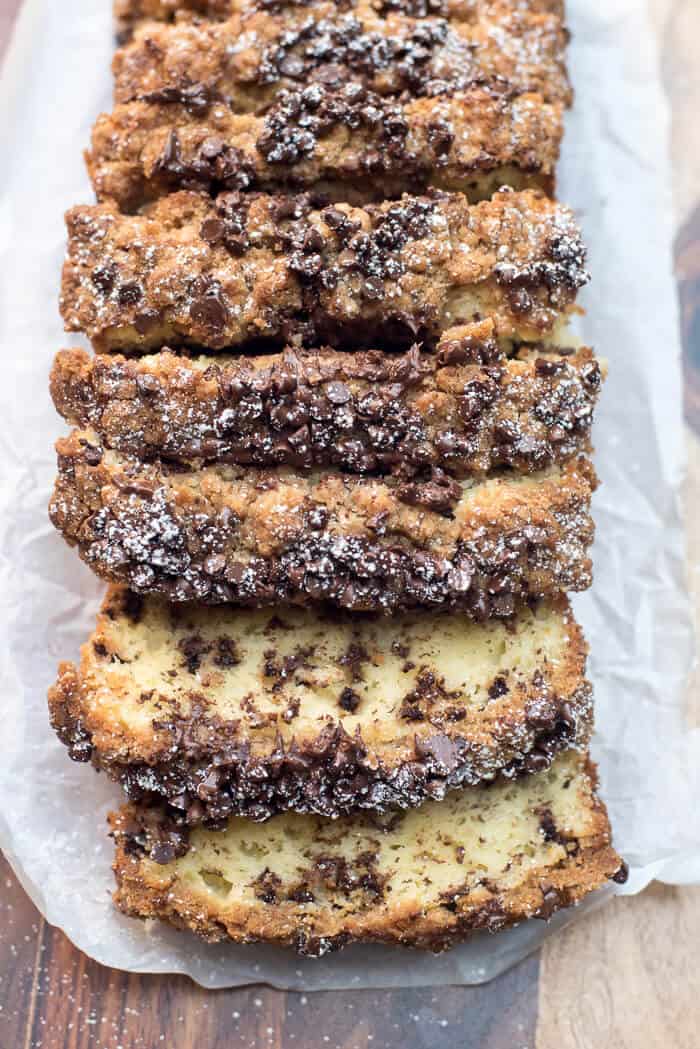 Here is how it's done.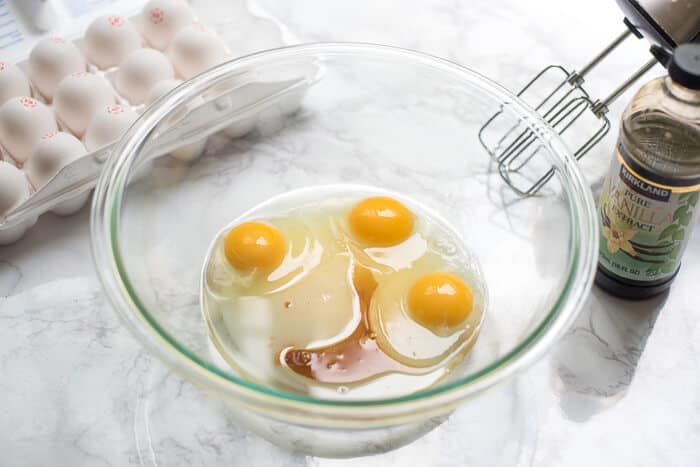 In a large mixing bowl use an electric mixer to combine sugar, vegetable oil, eggs, and vanilla extract (see the recpe below for the precise amounts).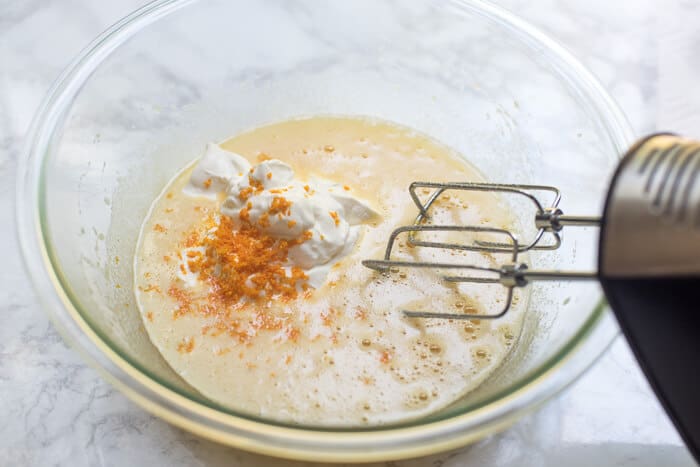 Add the sour cream and orange zest and mix until well combined.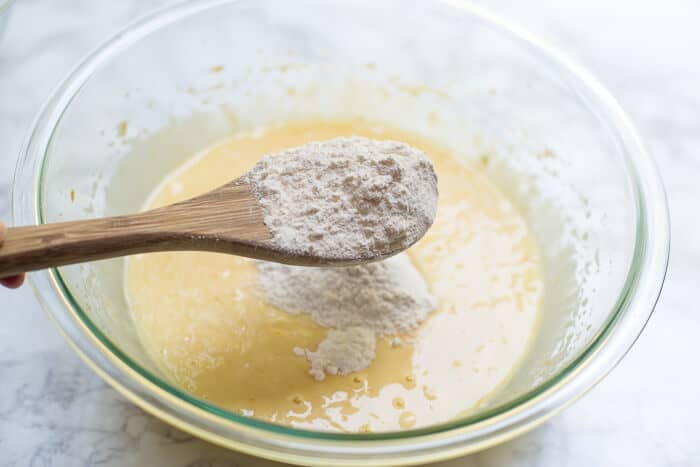 The dry mixture is combined is a separate bowl and consists of flour, baking powder, and salt. Put those beaters away and use a spoon to add the dry mixture, a spoonful at a time, mixing in between additions.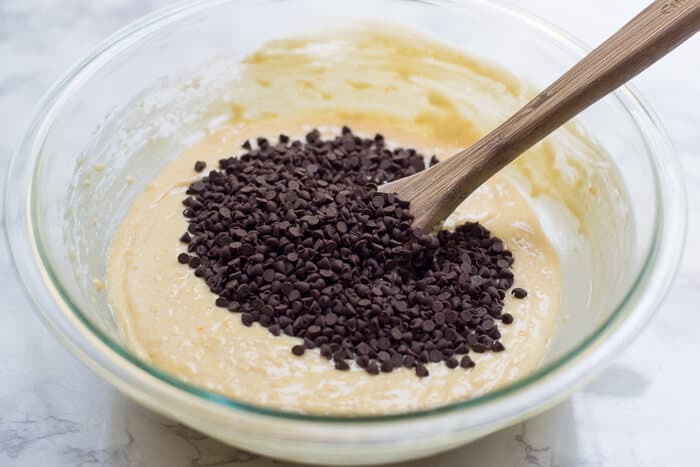 In goes the happiness – or sometimes also referred to as mini chocolate chips. I used semi-sweet but the recipe would work awesomely with dark chocolate as well.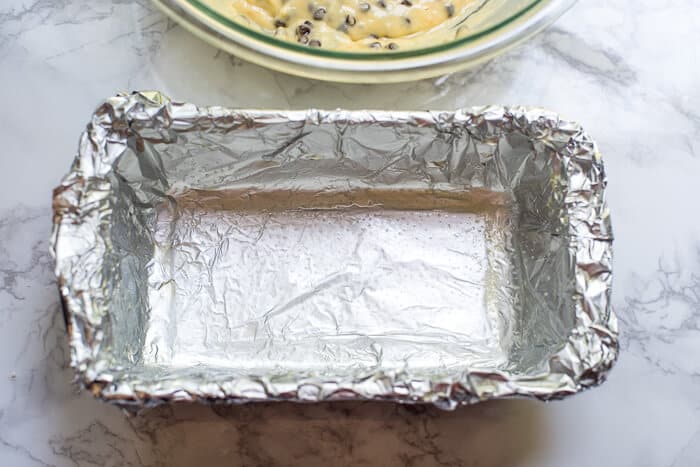 This part is important so stay with me. Line a 9″ x 5″ loaf pan with a piece of foil large enough to hang over the edges and coat it generously with non-stick cooking spray. Heavy duty foil works really well for this purpose since it doesn't tear as easily.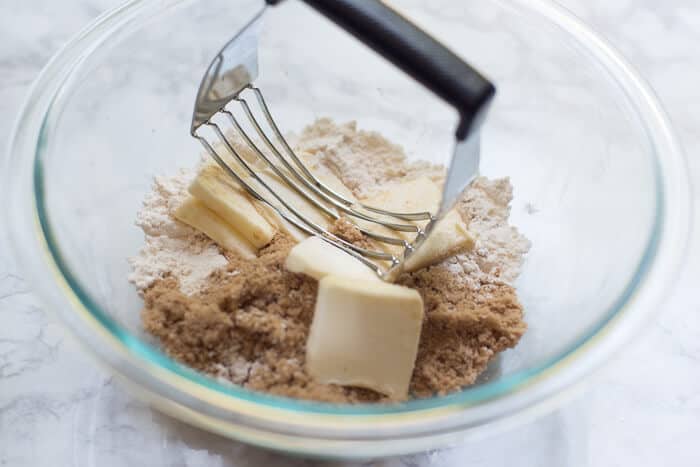 Time to put the "crumb" on the crumb cake. Slice 6 tablespoons of cold butter into pieces and use a pastry blender to cut it into flour and brown sugar. I also added a touch of vanilla extract for good measure.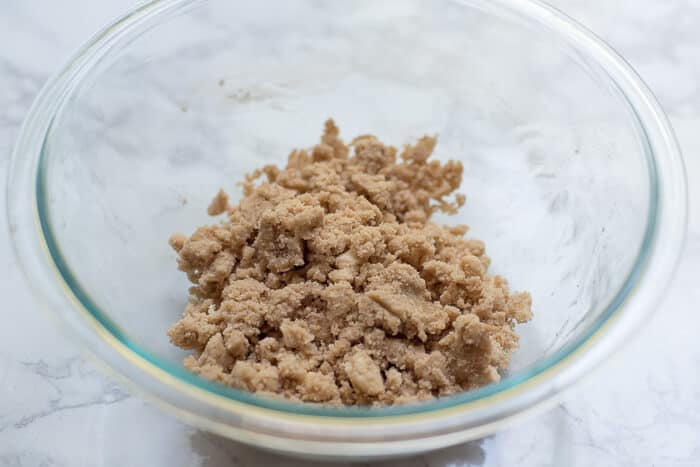 I always get in there with my fingers towards the end to be sure the mixture is well combined.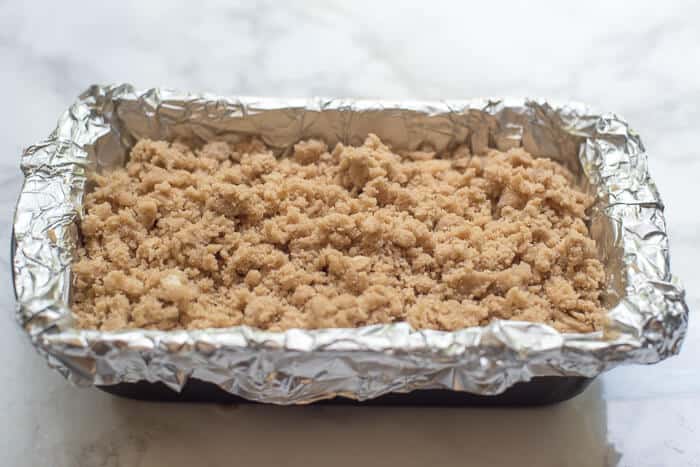 Transfer the batter to the prepared pan and sprinkle the crumb topping evenly over the top.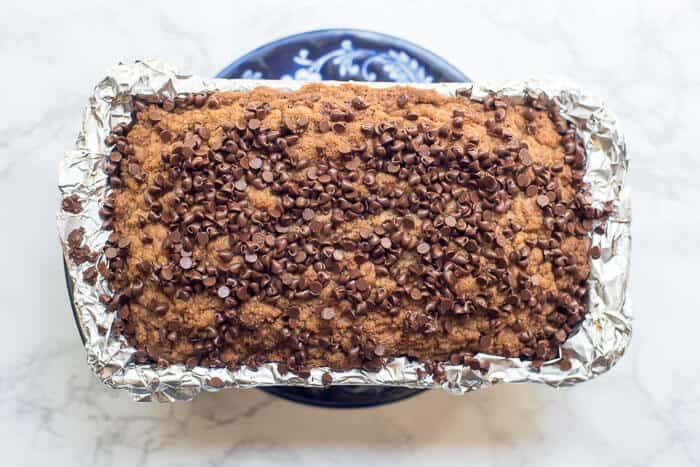 Bake the cake until a toothpick inserted in the center comes out clean which should take about 50 to 65 minutes. Remove the cake from the oven and immediately sprinkle 1/2 cup of mini chocolate chips on top. They will become glossy and wonderful from the heat of the cake.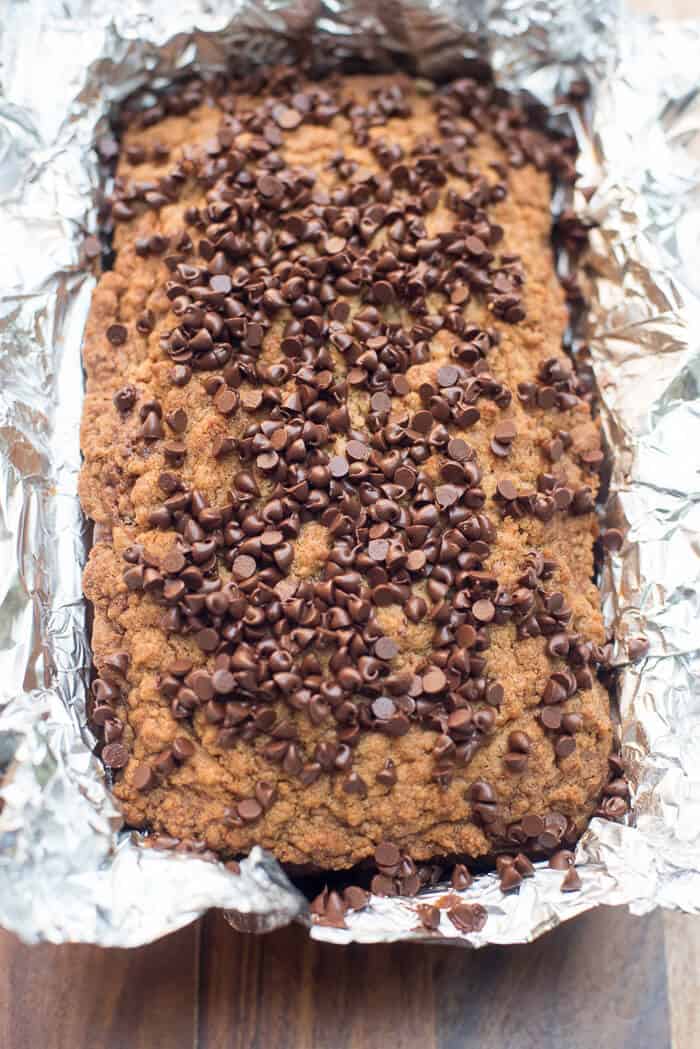 Allow the cake to cool completely in the pan and then use the foil to lift it out to a cutting board. See! The foil was important. This is not a cake you want to flip out of a pan. You might lose a chocolate chip or two and that would be a bad, bad thing.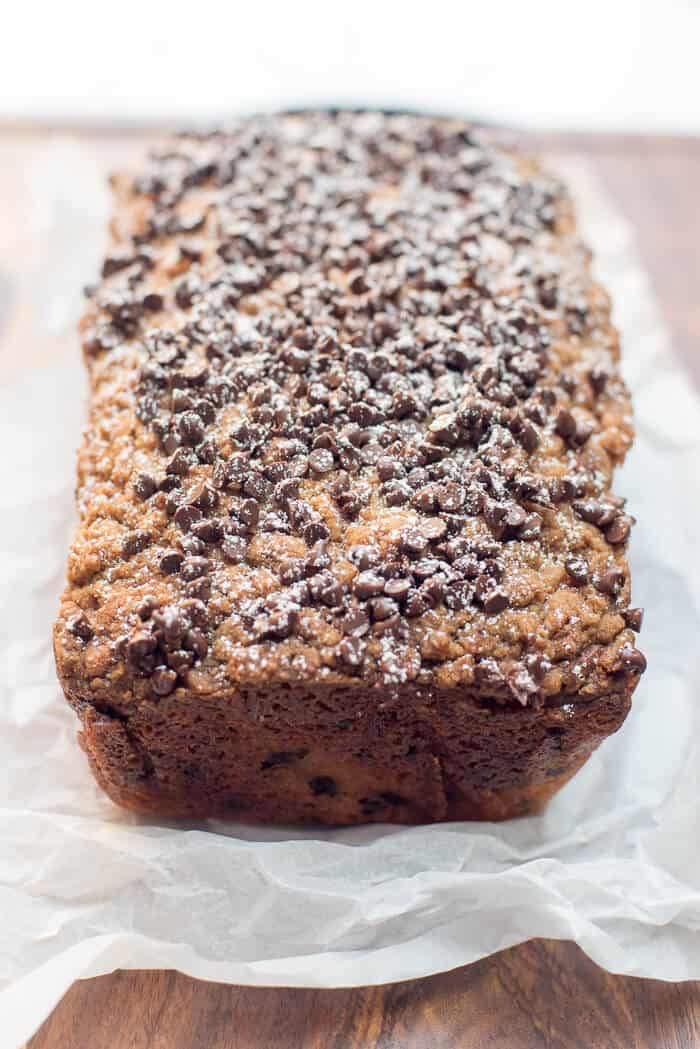 And, just to make it even more irresistible, dust the top with some powdered sugar.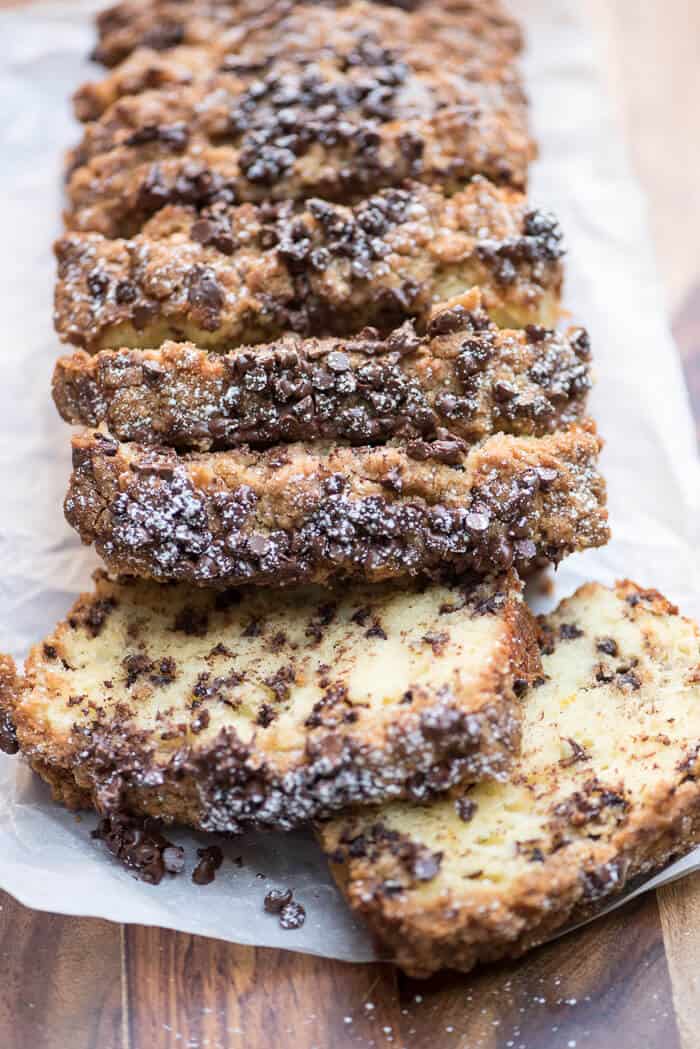 Sour Cream Chocolate Chip Crumb Cake
Prep Time 15 minutes
Cook Time 50 minutes
Total Time 1 hour 5 minutes
Servings 10 slices
Change the number in the box above to adjust serving size. Please note that size of cookware and cook time may vary.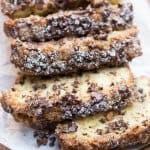 Ingredients
Cake:
1-1/2 cups all-purpose flour
2 teaspoons baking powder
1/2 teaspoon salt
1-1/4 cups sugar
1/2 cup vegetable oil
3 large eggs
1 teaspoon pure vanilla extract
3/4 cup sour cream
1 teaspoon orange zest
1 cup mini chocolate chips
Crumb topping:
1/2 cup all-purpose flour
1/2 cup light brown sugar
6 tablespoons cold butter sliced into small pieces
1/2 teaspoon pure vanilla extract
1/2 cup mini chocolate chips
powdered sugar for sprinkling on cooled cake
Instructions
Preheat oven to 350 degrees F. Line an 9" x 5" loaf pan with a piece of foil large enough to hang over edges and spray the foil with non-stick cooking spray.

In a medium mixing bowl, combine flour, baking powder, and salt and set aside.

In a large mixing bowl use an electric mixer to combine sugar, vegetable oil, eggs, and vanilla extract. Add sour cream and orange zest and mix until well combined. Using a wooden spoon, add the dry mixture and stir to combine. Add 1 cup chocolate chips and stir, just until combined.

To make crumb topping place flour, brown sugar, butter, and vanilla extract in a medium bowl and use a pastry blender or fork to combine. Finish by working the mixture with your fingers to be sure it is well combined and crumbly.

Transfer batter to prepared loaf pan and sprinkle with crumb topping and bake in preheated 350 degree F oven for 50 to 65 minutes, or until toothpick inserted in center of bread comes out clean. Remove from oven and immediately sprinkle with 1/2 cup mini chocolate chips. Allow to cool completely in pan. Use the foil edges to lift the cake from the pan and transfer it to a cutting board or serving platter. Dust with a bit of powdered sugar, slice and serve.
Nutrition
Calories: 565kcal
Fat: 27g
Saturated fat: 19g
Cholesterol: 77mg
Sodium: 230mg
Potassium: 177mg
Carbohydrates: 75g
Fiber: 1g
Sugar: 53g
Protein: 6g
Vitamin A: 400%
Vitamin C: 0.5%
Calcium: 112%
Iron: 1.9%
Course Dessert
Cuisine American
Valerie's Kitchen is a participant in the Amazon Services LLC Associates Program, an affiliate advertising program designed to provide a means for us to earn fees by linking to Amazon.com and affiliated sites. For more information on our site policies click HERE.