The classic party appetizer with a Southwest twist. These pretty tortilla pinwheels are made ahead and are waiting for you in the refrigerator to slice and serve at party time. A great addition to your appetizer menu at any time of year.
Click HERE to sign up for your FREE email subscription so you never miss a recipe!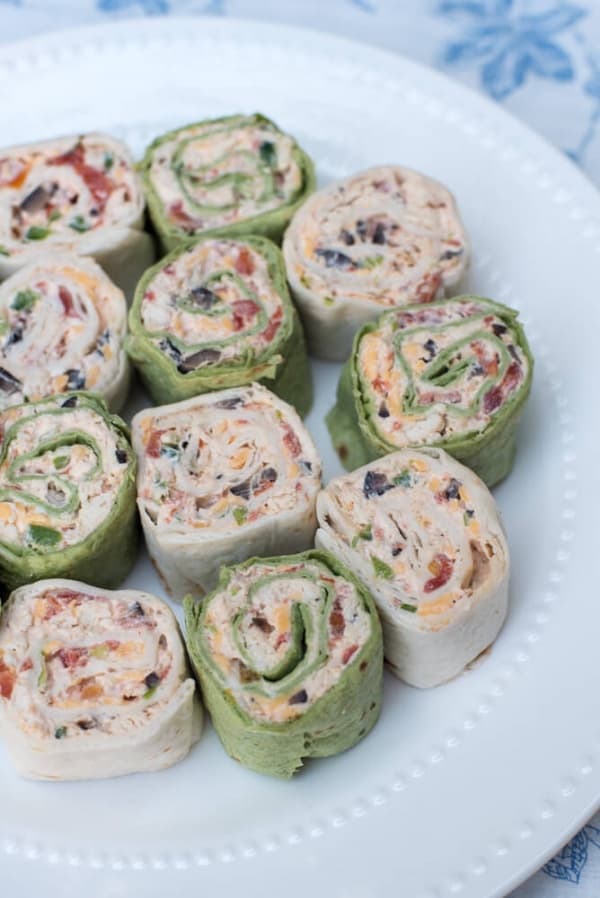 Sometimes it is the simplest of recipes that we tend to forget when menu planning. Tortilla pinwheels are one of those simple, no-brainer recipes that should be in the front of your mind when planning a party or gathering of any kind. They meet all of my criteria for keeping things low-stress – they include simple ingredients, they're quick and easy to put together, and they're made ahead with very little prep at party time. This gives them a solid place on my "awesome party snack" list.
OUR LATEST VIDEOS
They are also easy to transport, look oh-so-pretty on a plate, require no utensils, and people love 'em.  Need I say more?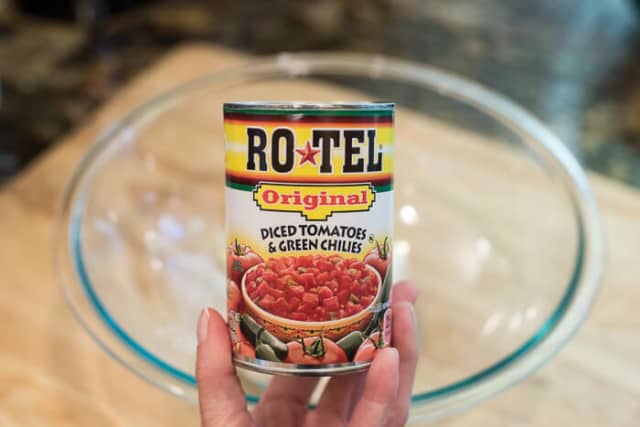 To add a Southwest twist you'll need a can of Ro-Tel Diced Tomatoes & Green Chiles. These come in a hot version as well but I find when serving a group, it's best to go mild.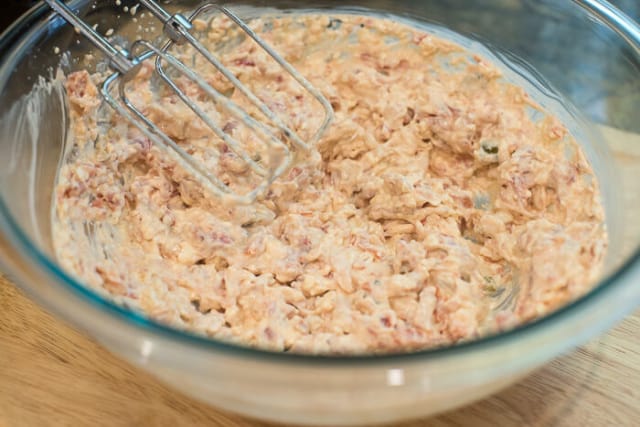 Combine one 8 ounce package of softened cream cheese (I always use reduced fat Neufchatel cream cheese), a little bit of sour cream, the entire slightly drained can of Ro-Tel, a little bit of seasoning salt and fresh ground black pepper. Mix until creamy.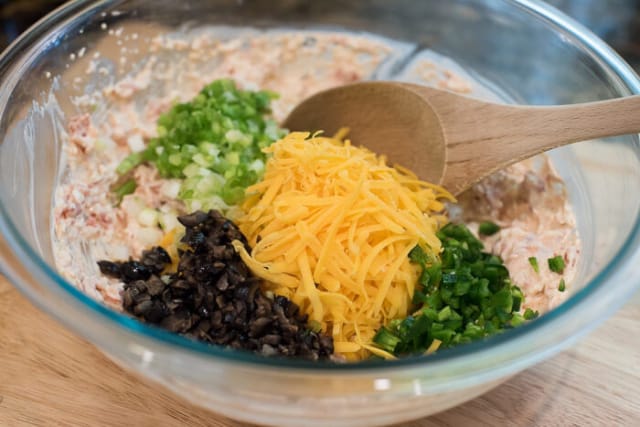 Add some thinly sliced green onion, chopped black olives, shredded cheddar cheese, and a diced jalapeno. I typically seed the jalapeno well but those sensitive to heat can leave it out altogether.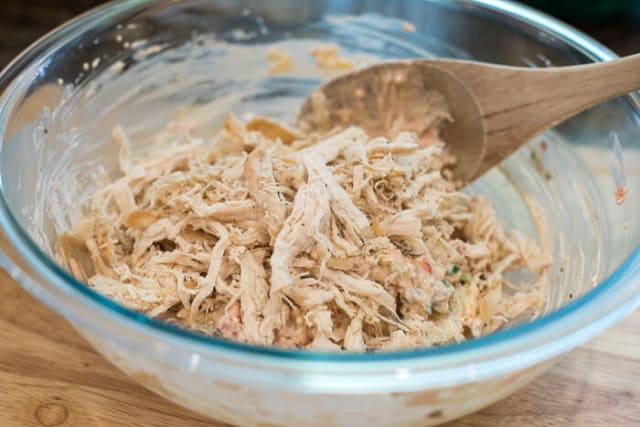 Add 2 cups of cooked, shredded chicken. You can cook your own (see recipe below for directions) or make it even easier and use the meat from a store-bought rotisserie chicken.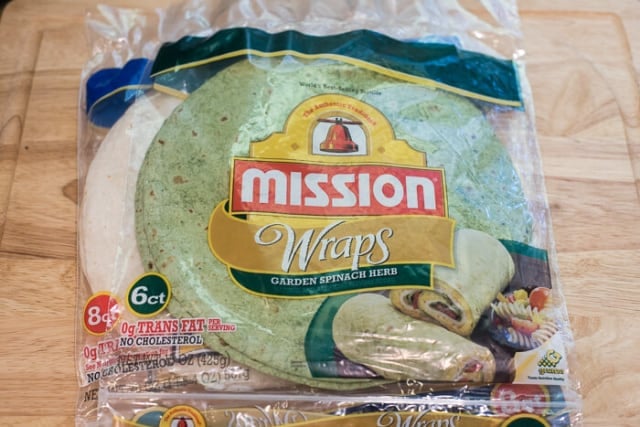 I love to use different flavored wraps in addition to basic flour tortillas for pinwheels. These Garden Spinach Herb wraps from Mission are really tasty and add some nice color contrast to your plate. Be sure the wraps are at room temperature before assembling the pinwheels.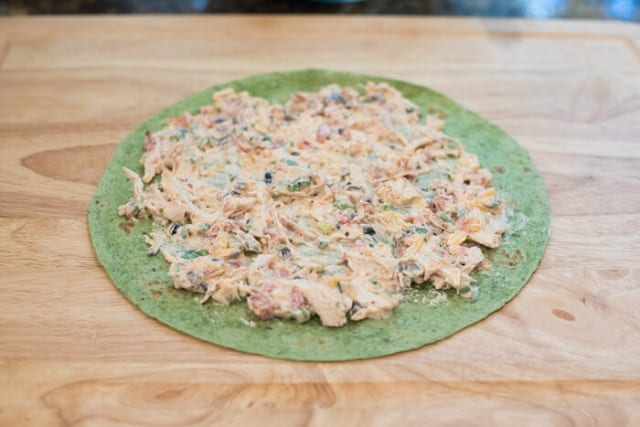 Spread a thin layer of the chicken mixture over the tortilla, leaving about a 1/2″ border so it won't squish out when you roll it.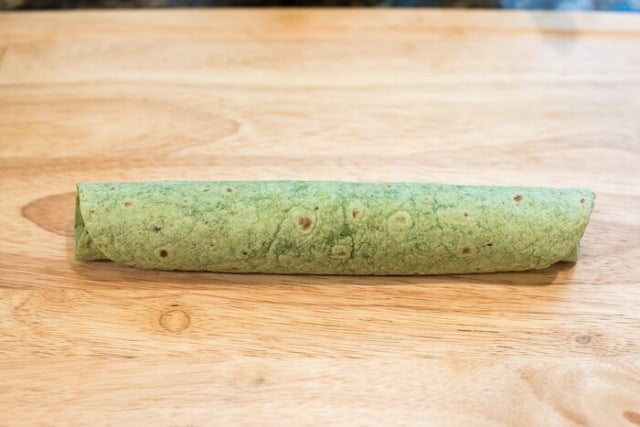 Roll 'er up! Tightly.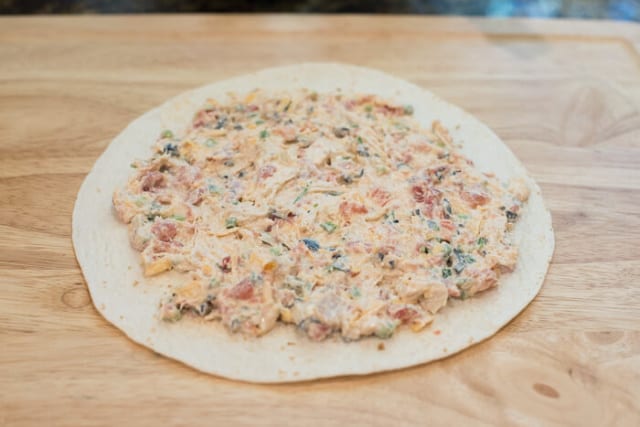 Repeat the process. This recipe will fill five large, burrito size tortillas.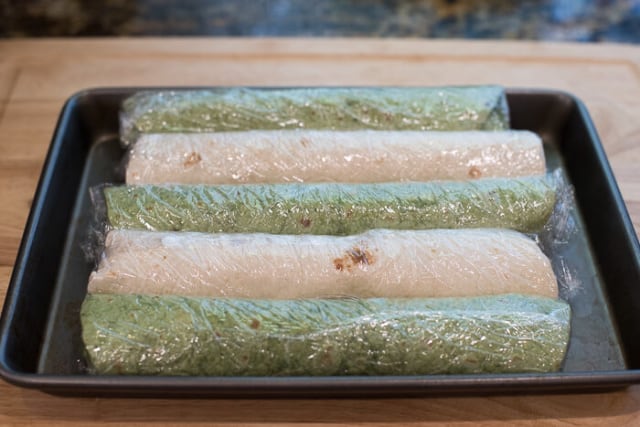 Wrap the rollups individually and tightly with plastic wrap. Place them in the refrigerator for about an hour or two. I wouldn't recommend refrigerating them for more than a few hours or the tortillas can get a big soggy.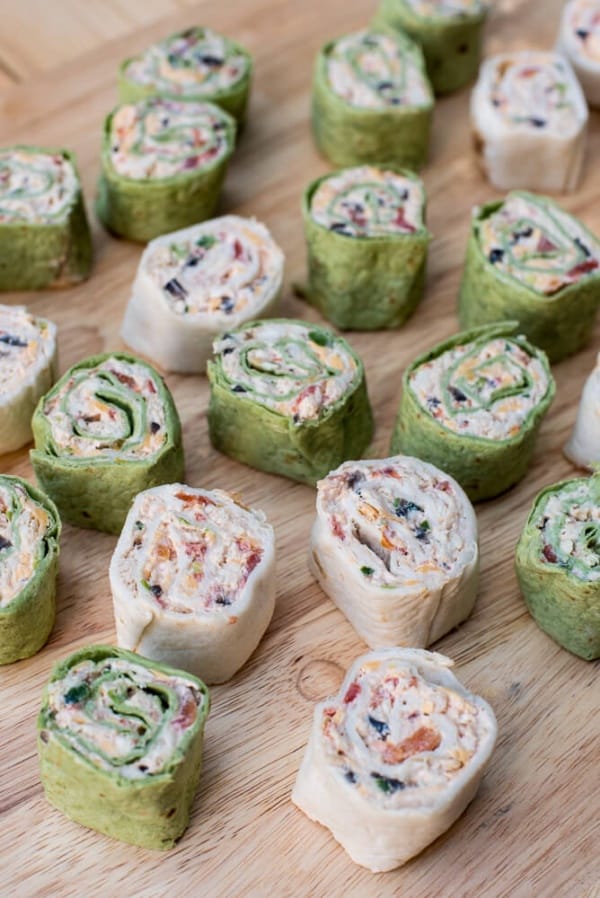 Just before party time, use a sharp knife to slice the rollups into 2″ (or so) pieces. My husband informed me that they look like sushi…now all I can see is sushi…thanks husband.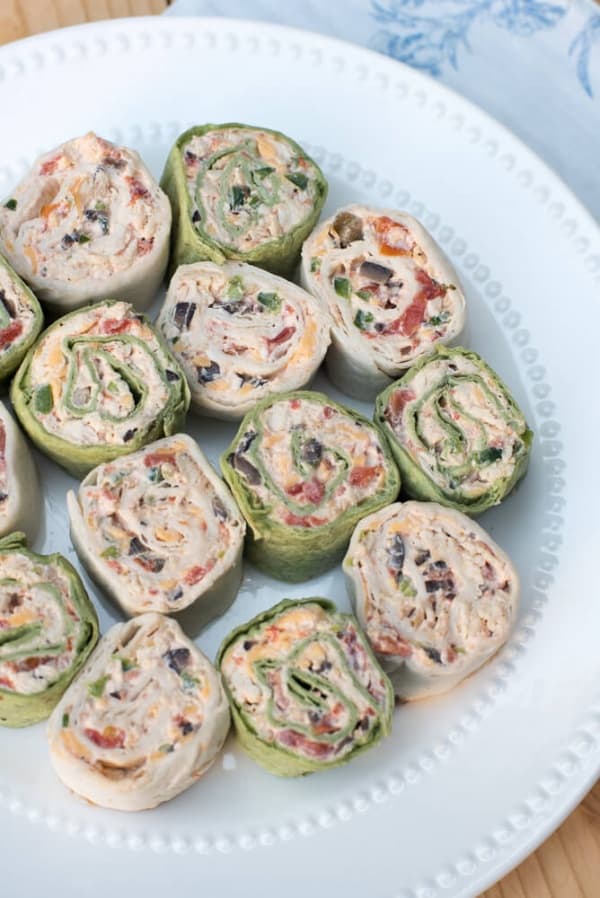 Ready to serve in nothing flat.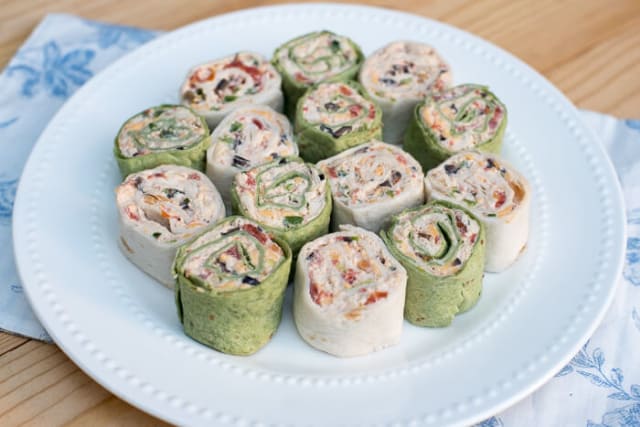 Southwest Chicken Tortilla Pinwheels
Prep Time 1 hour 10 minutes
Total Time 1 hour 10 minutes
Servings 10
Change the number in the box above to adjust serving size. Please note that size of cookware and cook time may vary.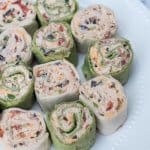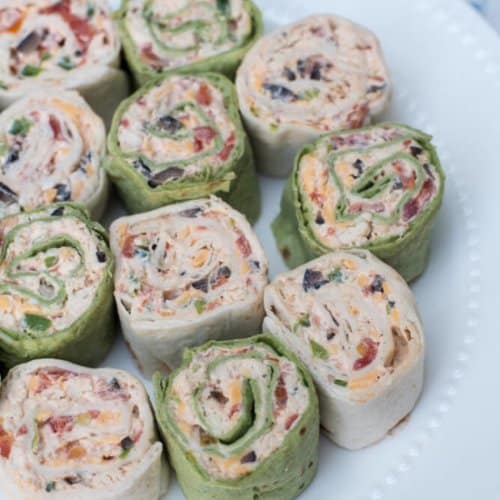 Ingredients
1 8 ounce package Neufchatel (light) or regular cream cheese, softened
3 tablespoons light sour cream
1 10 ounce can RoTel Tomatoes, drained slightly
1/2 teaspoon minced garlic
1/2 teaspoon seasoning salt like Lawry's
1/2 teaspoon fresh ground black pepper
1 cup shredded cheddar cheese
5 green onions thinly sliced
1 2.25 ounce can chopped olives
1 jalapeno seeded as desired and diced (optional)
2 cups cooked shredded chicken
5 large burrito size flour tortillas or wraps in assorted flavors
Instructions
Use a mixer to combine cream cheese, sour cream, diced tomatoes, garlic, and seasonings. Use a spoon to stir in cheese, green onion, olives, jalapeno (if using), and shredded chicken.

Divide mixture between the tortillas, spreading out evenly leaving about a 1/2" border at the edge. Roll up tightly. Wrap rollups tightly in plastic wrap and transfer to the refrigerator to chill for at least an hour or until ready to serve.

Remove from refrigerator and use a sharp knife to slice into 2" pieces.
Recipe Notes
If you don't want to use a rotisserie chicken, here is how I cook my own. Place a couple of tablespoons of vegetable oil in a large skillet over medium-high heat. Add 1 large or 2 small boneless, skinless chicken breasts and cook just long enough to get a good sear, about 3 minutes per side. Season both sides of the chicken with some seasoning salt (like Lawry's) and fresh ground black pepper while browning. Lower heat to medium-low and add 1 cup of chicken broth. Cover skillet and let the chicken simmer for about 10 minutes or until cooked through and tender enough to shred. Remove from heat and when cool enough to handle use two forks to shred the chicken. Let cool completely before adding to cream cheese mixture and proceed with recipe as directed.
Prep time includes one hour chilling time.