This Spinach Mushroom and Feta Crustless Quiche is easy to put together and will make a savory, delicious addition to your brunch menu. Quiche can be fast and easy if you go crustless!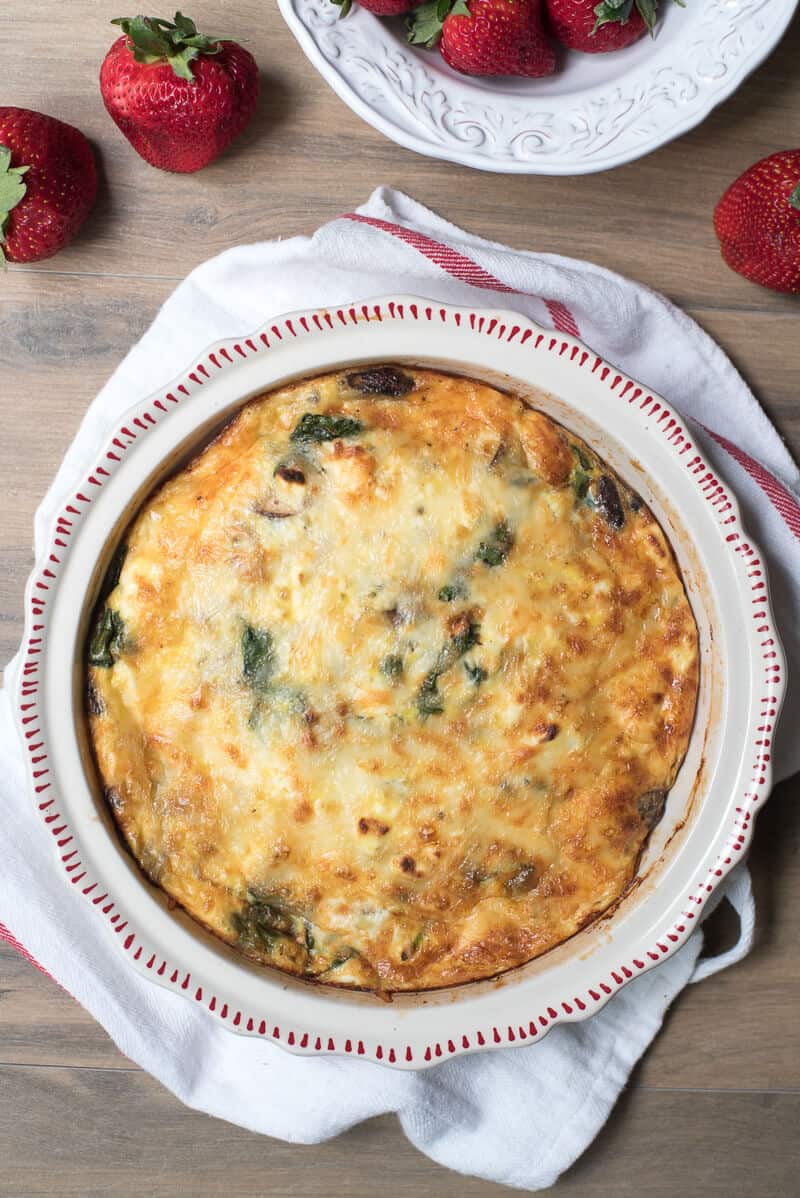 Hey, guys… listen up, Mother's Day is just around the corner! I can practically feel all those brunch menus swirling around in the atmosphere so I thought it was the perfect time to talk about quiche.
I did this Spinach Mushroom and Feta Crustless Quiche for Easter and I think it is spot-on perfect to serve on Mother's Day. But, the cool thing is, it's so easy to make that you don't have to wait for a special occasion to serve it.
I think brunch menus are my favorite menus to plan. You get to combine breakfast favorites with some heavier, heartier fare, and it's even totally acceptable to throw in a dessert or two. Quiche jumps to the front of the line as one of the most popular brunch items and when I've got a lot of recipes I'm working on – crustless quiche is THE way to go!
Here are just a few of the reasons why I think you're going to love it:
It's crustless which means it is fast and easy to put together AND it's better for us. Less fat, less carbs, less calories, big flavor.
It's all veggie. It's always nice to include one menu item that is meatless.
It contains three types of cheese – Feta, Parmesan, and Swiss. That's just plain YUM.
Let's start this thing off by sauteeing some thinly sliced onion, cremini mushrooms, and minced garlic in a couple of tablespoons of vegetable oil until softened. Season with a little all-purpose seasoning salt – I use Lawry's.
Next, add a small bag of fresh baby spinach. It's going to look like way too much but trust me, spinach has a serious wilting issue…
…and will shrink quickly as it cooks down into the other veggies. Once the spinach has wilted, remove the pan from the heat. Want to use frozen spinach instead? You totally can! See the recipe card below for the details.
Transfer the cooked veggies to a 9″ deep dish pie plate that has been coated with non-stick cooking spray. You'll definitely need a deep dish for this recipe – don't go trying to do this in a shallow pie plate.
Scatter 3/4 cup of crumbled feta over the cooked veggies.
Whisk together 7 large eggs and 1 cup of whole milk in a large mixing bowl. Many quiche recipes call for heavy cream or half-and-half but I've had very good results using whole milk. Feel free to substitute all or part of the milk with your dairy of choice. For instance, you could use half half-and-half for a richer result, or you could just say you did because it's fun to say half half-and-half!
Sprinkle 1 tablespoon of flour over the egg mixture and whisk it in, smoothing out any lumps. There are a lot of veggies in this recipe and veggies contain moisture. The flour will help a bit to set the quiche and absorb some of that moisture.
Add 1/2 teaspoon salt, a little fresh ground black pepper, and 1/4 cup Parmesan.
Pour the egg mixture over the top of the cooked veggies and feta. This is getting really delicious.
Scatter 1/2 cup grated Swiss over the top. Even more delicious!
Bake the quiche in a preheated 375 degree oven for about 30 minutes.
When it's set in the center and deliciously golden brown, remove the quiche from the oven and let it sit for 10 minutes before slicing.
Now, give your mama a kiss and a slice of this quiche and she'll be a happy lady. That's all we need in life – an occasional kiss and a slice of quiche and we're good to go.
Happy Mother's Day to all you moms out there. I hope it's a day filled with relaxed fun and delicious food!
Ingredients
2 tablespoons vegetable oil
1/2 cup thinly sliced white or yellow onion
8 ounces cremini brown button mushrooms, rinsed and thinly sliced
1 teaspoon minced garlic
1/2 teaspoon all-purpose seasoning salt like Lawry's
fresh ground black pepper to taste
1 5 ounce package fresh baby spinach (see recipe note if you want to use frozen spinach)
3/4 cup crumbled feta cheese
7 large eggs
1 cup whole milk can use half-and-half or heavy cream or a combination
1 tablespoon all-purpose flour
1/4 cup grated Parmesan
1/2 teaspoon salt
fresh ground black pepper to taste
1/2 cup shredded Swiss cheese
Instructions
Preheat oven to 375 degrees F. Coat a 9" deep-dish pie plate with non-stick cooking spray.

Add vegetable oil to a large deep skillet and place over medium-high heat. Add sliced onions and cook, stirring until softened and lightly golden brown, add mushrooms and minced garlic and saute until the mushrooms have softened. Season with all-purpose seasoning and a little fresh ground black pepper. Add spinach to skillet and cook until spinach has wilted, an additional two to three minutes.

Scatter the cooked veggies evenly over the bottom of the prepared pie plate and sprinkle with feta.

In a medium bowl whisk together the eggs, milk, and flour. Add parmesan, and salt and pepper and whisk well to combine. Pour the egg mixture over the cooked veggies and feta.

Sprinkle the shredded Swiss cheese over the top. Bake until top is golden brown and center is set, approximately 30 to 35 minutes. Remove from oven and let sit for about 10 minutes before slicing.
Notes
Frozen spinach can be used in place of the fresh if preferred. Completely thaw one (10-ounce) box of frozen chopped spinach, remove the spinach from the package and squeeze it to remove as much moisture as possible. Add to the pan with the cooked mushrooms and onions and combine well. Proceed with recipe as directed.