This Stir Fried Noodles with Shrimp recipe (Easy Mie Goreng) is a homestyle Indonesian dish that takes just minutes to prepare. This comforting noodle dish is a fabulous way to add Southeast Asian flair to your recipe collection.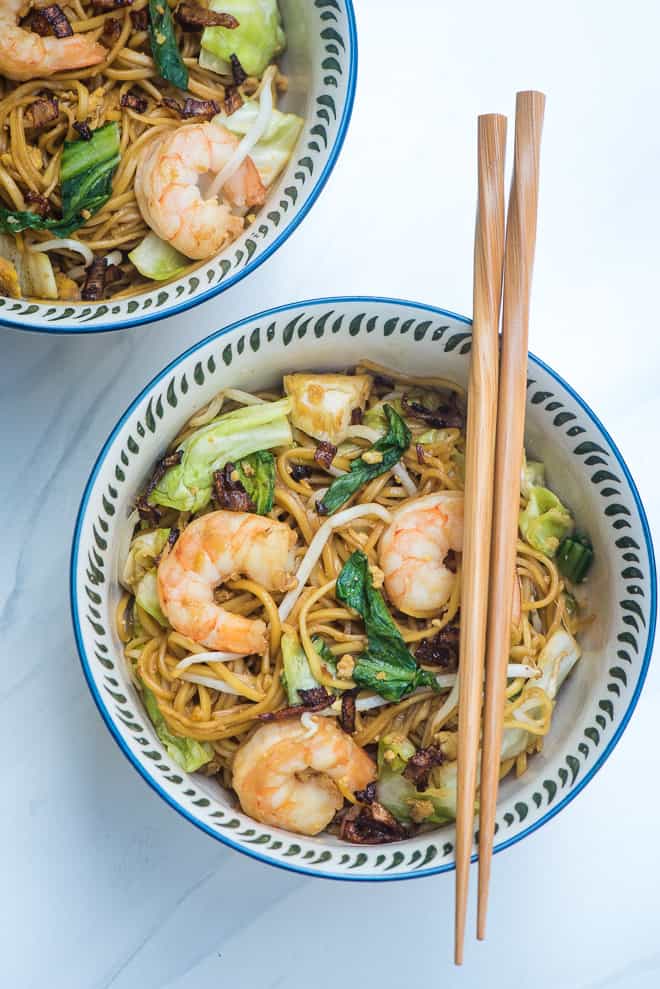 I love a good stir-fry and this one is stellar. It's from my friend, Abigail's new cookbook, Rice. Noodles. Yum. and it is seriously YUM!
It's also surprisingly quick and easy to put together and I was so pleased with the end result.
The Ingredients in Stir Fried Noodles with Shrimp
Part of the fun in creating recipes from different cuisines is shopping for the ingredients. The main components to mie goreng are cooked yellow egg noodles – I went with chow mein stir-fry noodles that I found in the Asian section at my local Safeway. The veggies consist of baby bok choy, green cabbage, and bean sprouts. You'll also need some peeled and de-veined shrimp. I chose to pull the tails off but you can also leave them on for presentation if you prefer.
What is Sweet Soy Sauce?
The key flavor component to this recipe is Indonesian sweet soy sauce, also known as kecap manis. It's quite different than the salty Japanese-style soy sauce we all have in our kitchens. It has a syrupy consistency and adds a distinctive rich, molasses-like flavor to Asian dishes. Sweet soy sauce is the most popular condiment in Indonesian cuisine and is used in stir-fries, marinades and to create tasty dipping sauces. While you might be tempted to substitute traditional Japanese soy sauce, don't do it! Kecap manis is the key flavor component to this recipe and the only way to create the unique Indonesian-style flavor profile.
I picked up the bottle pictured above at a local Asian grocery store but it is also available on Amazon. Or, you can try making your own kecap manis at home.
This is just one recipe from the delicious collection included in Abby's new cookbook, Rice. Noodles. Yum. She has been sharing her take on traditional Filipino and Southeast Asian dishes for over 7 years on her blog Manila Spoon. Her new cookbook concentrates on the true heart of this cuisine – rice and noodle dishes.
The recipes in the book are organized into chapters that include:
Rice N Easy
Delicious Noodle Dishes
Mouthwatering Meals
Satisfying Soups
Street Food Favorites
Best Ways to Begin the Day
Tease My Taste Buds (Salads & Nibbles)
Satisfy Your Sweet Cravings
She's also included a Quick Guide to Ingredients and Helpful Tools for Asian Cooking that will help you navigate any unfamiliar ingredients and/or cooking techniques.
I doubled Abby's recipe for my big group here. You can use any large deep skillet or sauté pan to prepare these Stir Fried Noodles but this recipe gave me an excellent excuse to put my Le Creuset Wok to work.
Once your ingredients are prepared it takes literally just minutes to complete the process of stir-frying and you are ready to serve.
Abigail recommends garnishing the dish with fried shallots. This is one of the new gems I'm taking away from this recipe that I know I will use over and over again. Something magical happens to thinly sliced shallots when you fry them in oil in a skillet until they are golden brown. They add a sweet-salty-crispy element to recipes. You can quickly and easily make fried shallots yourself but you'll also find bottled fried shallots in the Asian section of many grocery stores.
Ingredient Tip
To make fried shallots heat about 3 or 4 tablespoons of vegetable oil in a small saucepan over medium-high. Add a couple of peeled and thinly sliced shallots and cook, stirring, until light golden brown, about 6 to 8 minutes. Use a slotted spoon to transfer the shallots to a double layer of paper towels to drain.
Stir Fried Noodles with Shrimp (Easy Mie Goreng)
This Stir Fried Noodles with Shrimp recipe (Easy Mie Goreng) is a homestyle Indonesian dish that takes just minutes to prepare. This comforting noodle dish is a fabulous way to add Southeast Asian flair to your recipe collection.
Ingredients
3

tablespoons

cooking oil of choice,

,

divided

8

ounces

shrimp,

,

peeled and deveined

2

eggs

3

cloves

garlic,

,

sliced

1

cup

roughly chopped green cabbage

1

cup

baby bok choy,

,

cut into 2-inch pieces

8

ounces

cooked yellow egg noodles

,

(like thin wonton noodles or chow mein noodles)

3

tablespoons

kecap manis

,

(sweet soy sauce)

1

cup

bean sprouts

salt and pepper,

,

to taste

fried shallots,

,

optional
Instructions
Heat 1 ½ tablespoons of the oil over medium-high heat in a wok or large skillet. Add the shrimp and fry for 3 to 4 minutes or until opaque and bright pink. Remove the shrimp from the pan and set aside.

Adjust the heat under the pan to medium. Add the remaining oil. Fry the eggs and scramble briefly. Push the eggs to the side. Add the garlic and cook for about 30 seconds or just until aromatic. Add the cabbage and baby bok choy and mix with the eggs. Cook for 1 to 2 minutes or until the vegetables are just starting to wilt. Add the cooked egg noodles (see recipe note below) with the kecap manis and the cooked shrimp, then mix thoroughly. Cook until the noddles are fully heated through. Add the bean sprouts and give everything a quick stir.

Adjust the seasoning with a little salt and pepper to taste. Serve with fried shallots for garnish.
Notes
Noodles should be cooked, rinsed with cold water, and drained well before you begin the stir-fry process.
You can use chicken instead of shrimp or omit it altogether for a vegetarian option.
Nutrition
Calories:
454
kcal
·
Carbohydrates:
56
g
·
Protein:
24
g
·
Fat:
14
g
·
Saturated Fat:
9
g
·
Cholesterol:
225
mg
·
Sodium:
1238
mg
·
Potassium:
153
mg
·
Fiber:
4
g
·
Sugar:
13
g
·
Vitamin A:
1393
IU
·
Vitamin C:
26
mg
·
Calcium:
140
mg
·
Iron:
4
mg
Nutrition information is automatically calculated using generic ingredients, and is an estimate not a guarantee. For more accurate results, please refer to the labels on your ingredients at home.
Did You Make This?
We love seeing what you've made! Tag us on social media at @fromvalerieskitchen for a chance to be featured
Recipe from Rice. Noodles. Yum. by Abigail Soto Raines