These Stout & Sriracha Barbecue Bacon Burgers are a delicious option to corned beef on St. Patrick's Day!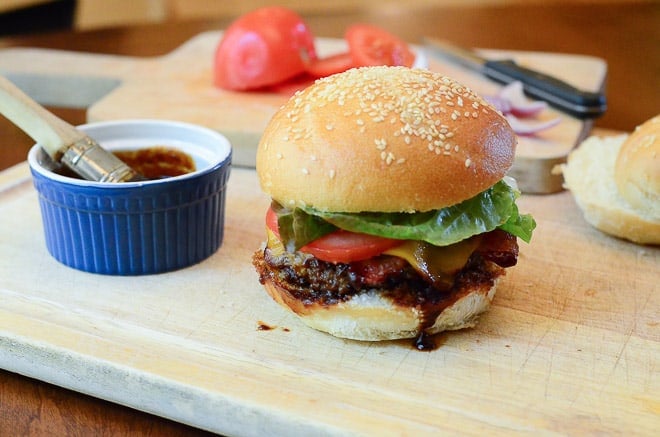 Beer and St. Patrick's Day go hand in hand, right? So when I got to thinking about this I knew exactly where to head for inspiration. I've followed Jackie Dodd of Domestic Fits for quite some time and then she went and did something that made me an even bigger fan (if that is possible). She started The Beeroness where she shares her recipes that all have one common ingredient – beer. Her focus is exclusively on craft beers and with each post she shares a little about the particular beer she has featured. It's a fun way to introduce yourself to new and interesting brews you might not otherwise come across. She is helping to expand our beer worlds! Thank you for this, Miss Jackie.
In honor of St. Patrick's Day and beer in general, I whipped up a batch of Jackie's Stout and Sriracha Beer Barbecue Sauce. It is rich, dark, a little sweet and a little spicy and absolutely finger lickin' good. I had a hard time deciding what type of meat it would complement best. My mind was swimming with possibilities. Of course ribs would be fantastic. Chicken? Yes, please. And then it struck me. What goes perfectly with beer? Burgers, with a little bacon added in for good measure. Yes sir.
The sauce features the flavors of two ingredients that really pack a punch. Stout beer and Sriracha. I went with Murphy's, a nice Irish stout for the holiday. You'll want to start this sauce first so it has time to cook down and thicken up before starting in on the burgers. Visit The Beeroness for the full recipe and then get back over here to see how this thing turns out.
For the burgers – a couple of pounds of ground beef, salt, pepper, and some thick cut bacon. I like to use one package each of 80% and 90% lean ground beef since a little fat helps the flavor but a lot of fat makes us fat. These are the little games I play with myself; then I add bacon.
Speaking of bacon, let's get it going. As far as I'm concerned, roasting bacon in the oven is the best method around. It's clean and easy and we're going to do it right now. Line a rimmed baking sheet with heavy duty foil and add the bacon. Bake in a 375 degree oven for 15 minutes or until it has crisped to your liking.
Drain the cooked bacon on paper towels.
Blot the grease off the top with additional paper towels.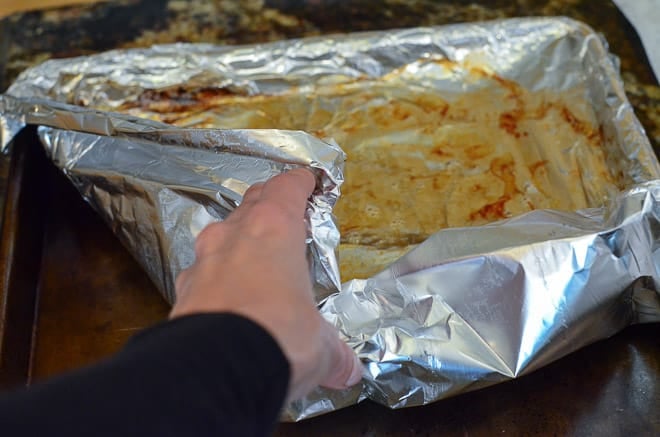 Here's the best part. If you carefully pull up the foil with the grease inside, you can just toss it and put the clean pan away. No muss, no fuss.
We are sticking with the basics for the burgers. They don't need anything more than a little salt and pepper because the sauce is going to do the rest.
Form the meat mixture into patties. I had a little over 2 pounds of meat and ended up with 7 patties. You'll get 6 nice sized burgers with 2 pounds of meat.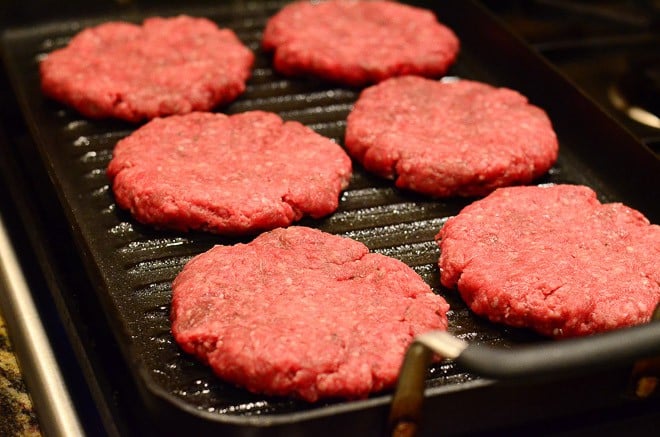 Since it's a little early in the year to bust out the BBQ, I did these on my stove top grill pan that I coated with some non-stick cooking spray.
After they are nicely browned on one side, flip them and coat them generously with the Stout & Sriracha Barbecue Sauce.
Let them go till they are cooked throughout and no longer pink in the center.
Top each burger with 1 slice of bacon, cut in half.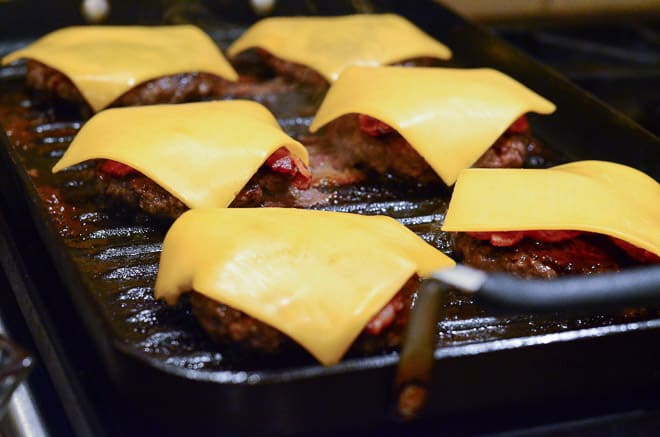 Add a slice of sharp cheddar cheese.
Time to assemble the burgers.
Add the toppings that do it for you. I did thinly sliced red onion, tomato, and red leaf lettuce, but anything goes.
Time to eat!
Burgers and beer for St. Patrick's Day. Why not?
I covered the basics for St. Patrick's Day last year. If you want to go a more traditional route, be sure to check out my posts for Guinness Corned Beef and Guinness Beef Stew. I highly recommend any of these recipes for your St. Patrick's Day feast.
Stout and Sriracha Barbecue Bacon Burgers
These Stout & Sriracha Barbecue Bacon Burgers are a delicious option to corned beef on St. Patrick's Day!


Ingredients
6

pieces

thick cut bacon

2

pounds

ground beef

1

teaspoon

salt

1

teaspoon

fresh ground pepper

6

slices

sharp cheddar cheese

6

Kaiser rolls or hamburger buns

Optional toppings - sliced red onion

,

sliced tomato, lettuce
Instructions
Prepare barbecue sauce according to directions. Set aside or refrigerate if made ahead time.

Preheat oven to 375 degrees F. Line a rimmed baking sheet with heavy duty foil. Place bacon on the prepared baking sheet and roast in the oven for 15 minutes or until crisped to your liking. Drain well on paper towels, blotting tops with additional paper towels to remove as much grease as possible. Carefully remove and toss foil from pan. Set bacon aside.

In a large mixing bowl combine the ground beef with salt and pepper. Form into 6 patties.

Coat a stove top grill or large pan with non-stick cooking spray and cook the patties over MEDIUM heat for about 5 minutes or until nicely browned on one side. Flip the patties and generously coat with the prepared barbecue sauce. Cook an additional 5 minutes or until cooked well throughout and no longer pink in the center.

Slice each piece of bacon in half and top each burger with 2 halves, in a criss cross pattern. Top with a slice of sharp cheddar cheese and cook just till cheese has melted.

Assemble burgers with toppings of your choice.
Nutrition information is automatically calculated using generic ingredients, and is an estimate not a guarantee. For more accurate results, please refer to the labels on your ingredients at home.
Did You Make This?
We love seeing what you've made! Tag us on social media at @fromvalerieskitchen for a chance to be featured