This Sweet and Salty Popcorn Snack Mix is a special treat on movie night, a great tailgate snack or just perfect for birthday party treat bags!
Thank you to Albertsons Safeway for sponsoring this post.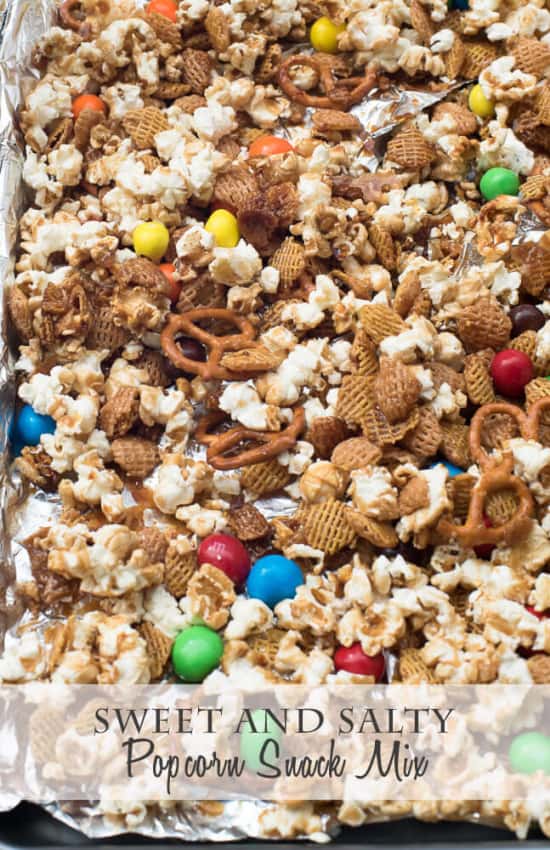 It's funny how what we cook or bake can seriously alter our attitude. This bright, cheerful snack mix is happy party food and working on this recipe has me in a happy party mood.
I've also had the pure joy of delving into all things Peanuts (as in Charlie Brown and Snoopy) while writing this post and that, my friends, will put a smile on your face.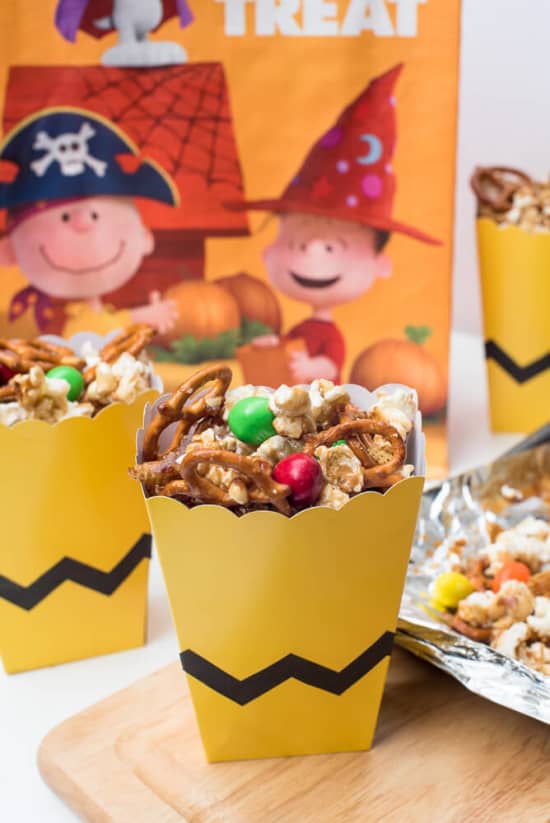 I'm sharing both a recipe and (brace yourself) a craft today! I'm not exactly the craft master here but the fact that I'm partnering with Safeway to promote the upcoming, sure-to-be-a-massive-hit, The Peanuts Movie, has inspired me to get crafty!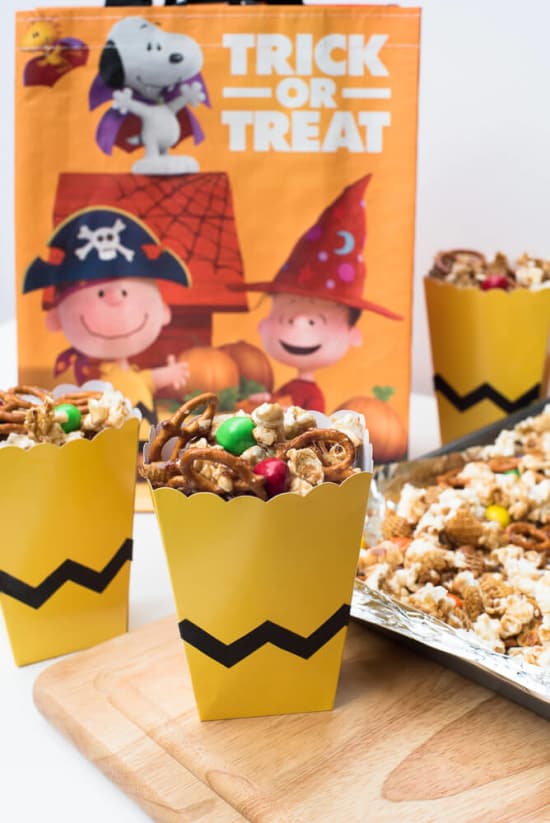 I had quite the reaction when I saw the ad for the Peanuts the Movie on TV recently. This sweet cartoon has had such an impact on my life. Long before the arrival of the DVR or Netflix, we actually had to wait for shows to air and plan our schedules accordingly (imagine that!). It added an exciting, anticipatory element that I'm happy was part of my childhood. Waiting each year for It's the Great Pumpkin, Charlie Brown to come on TV is a standout memory for me. My sister and I were mesmerized by the adorable characters and the calming, familiar tone of that piano theme song. Everyone in the house loved it. Even my very stoic Dad was a Snoopy fan and the fact that the silly pup could get the man to laugh out loud made me love Snoopy to pieces.
Then there was the long wait till the Christmas special would air in December.
The Peanuts tradition continued with my own kids. When our boys were little, we'd choose the night The Great Pumpkin was being broadcast as our pumpkin carving night and it just plain gets me jacked up for Halloween to this day.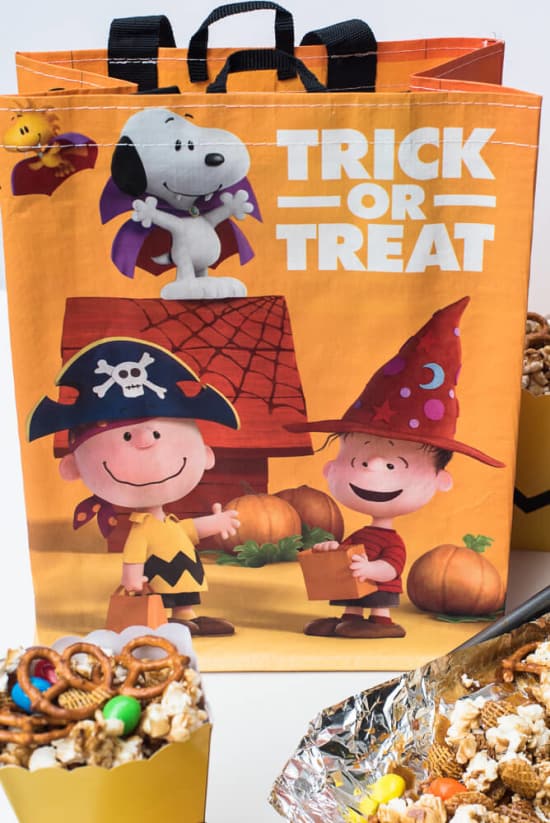 Let's get down to business …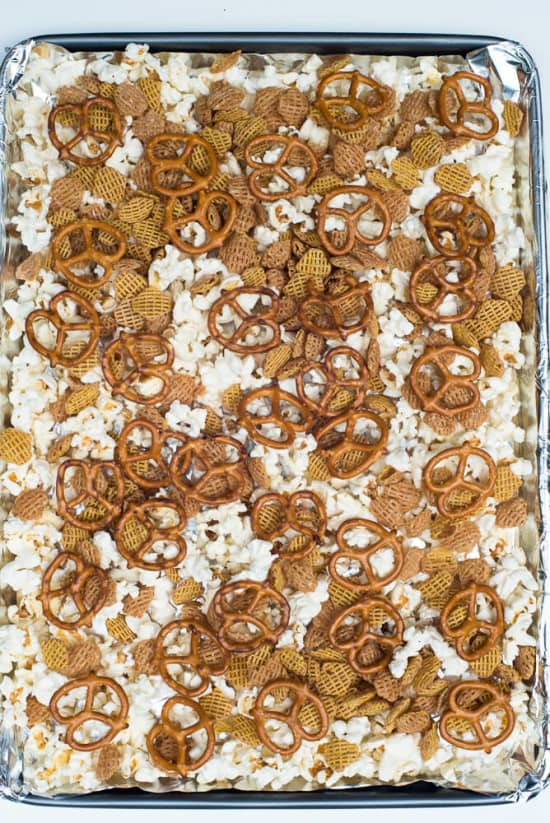 Line a large rimmed baking sheet with heavy duty foil and give it a light coat of non-stick cooking spray. Spread out one packet of popped Pop Secret, 3 cups of Crispix Cereal, and 1-1/2 cups of small twist pretzels.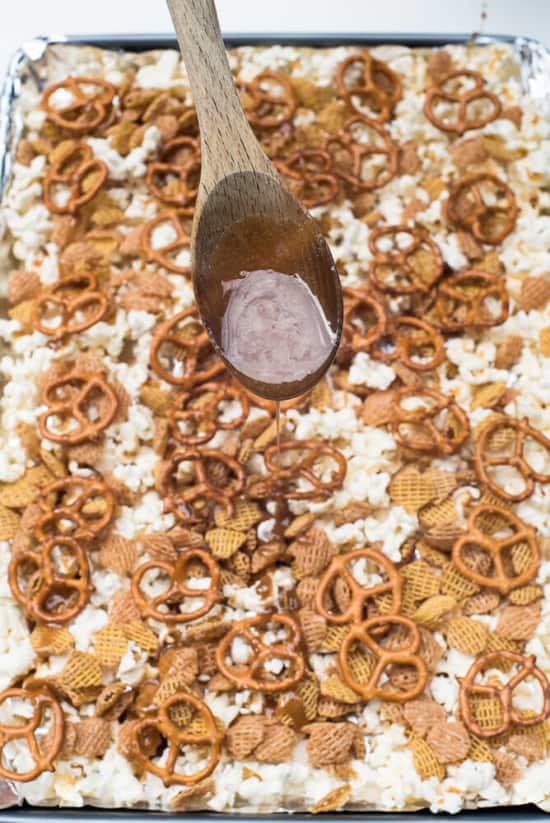 The instructions for the buttery sweet caramel sauce are on the printable recipe below. Use a spoon to drizzle the mixture even over the snack mix.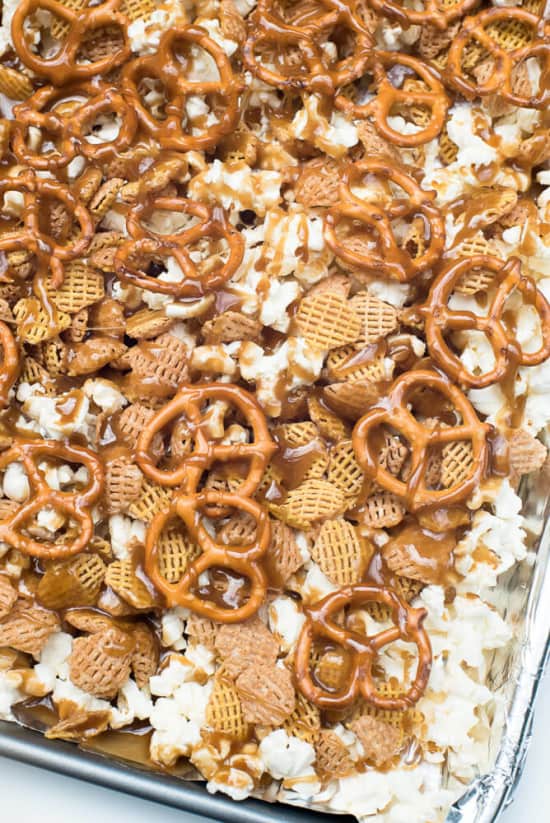 Use a spoon or spatula to toss it around a bit and then spread it out in an even layer before popping it in a preheated 300 degree oven. After baking for 10 minutes, stir the mixture and then continue to bake for an additional 10 minutes.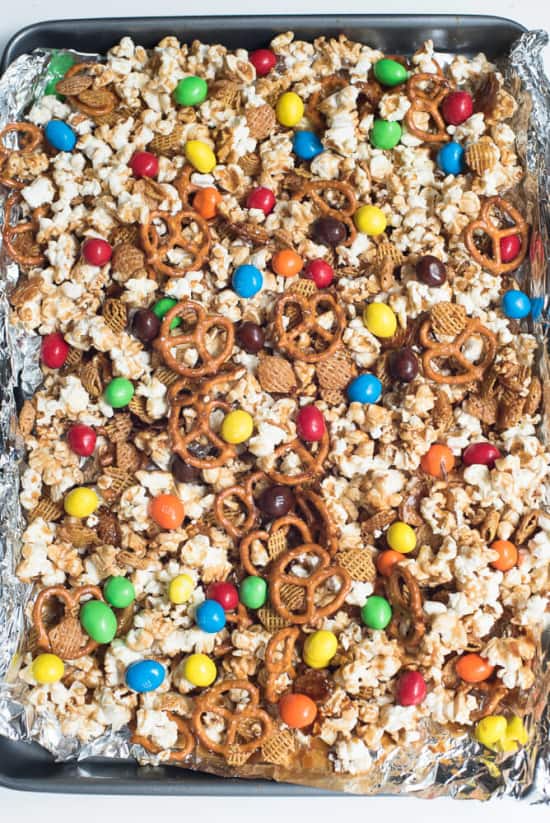 Once the mixture has cooled, break it up with your hands and add the M&M's.
So cheerful!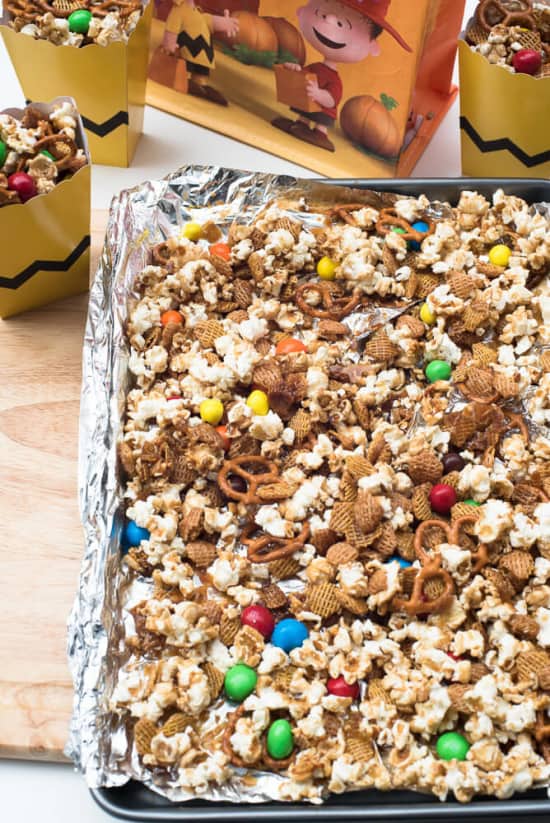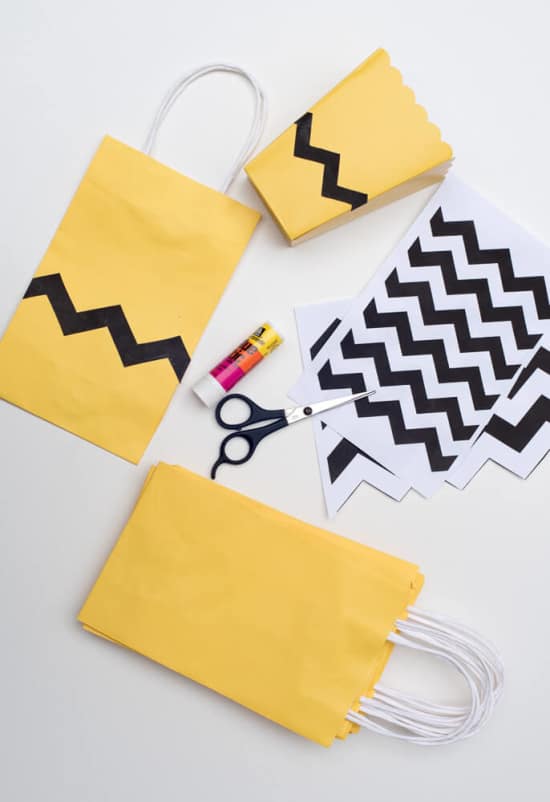 These cute, Charlie Brown inspired treat bags and boxes are so easy to make. Trust me – if I can do it, you can do it!
I found generic, bright yellow treat bags and boxes (pictured above) at a local party supply store. Since I couldn't draw a zigzag pattern freehand if my life depended on it, I did a quick Google search for "black zigzag clip art" and voila! Up popped a ton of choices. I printed out a couple of different sizes, cut them out, and used a glue stick to secure them to the bags/boxes. Once they were glued securely, I trimmed them to fit.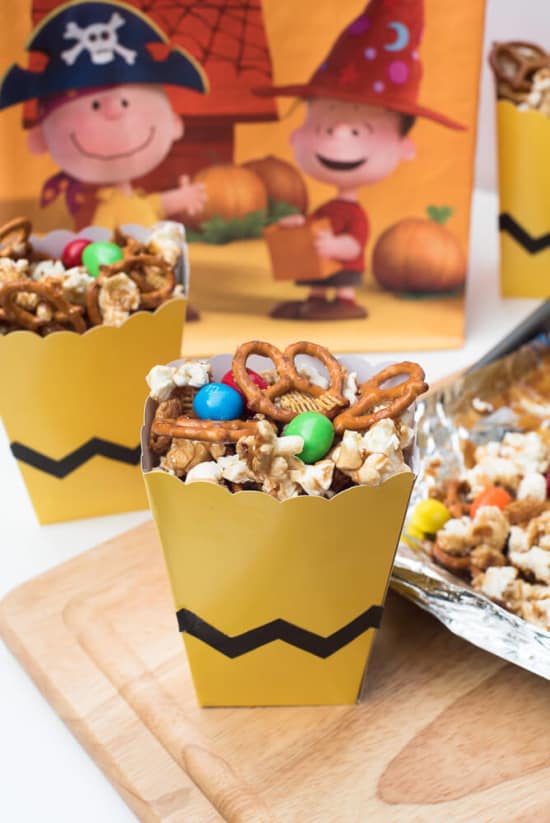 So cute, right? The boxes are the perfect size for holding the snack mix and the bags would be just the thing for packing up treats or gifts for a Peanuts-themed party.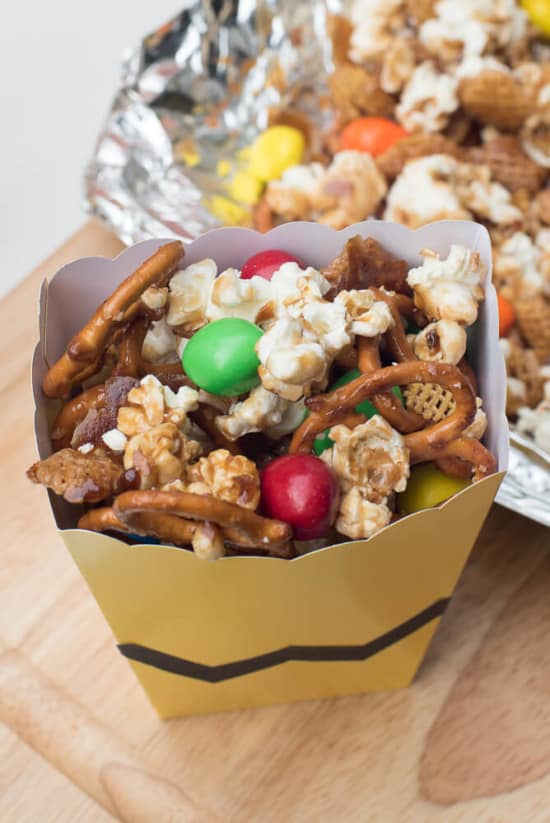 Have you Peanutized yourself yet? That's me up there with my pal, Snoopy. Click HERE to create a Peanuts character in your likeness that you can share on Facebook or download to make your new profile picture. You've got to do it!
Sweet and Salty Popcorn Snack Mix
This Sweet and Salty Popcorn Snack Mix is a special treat on movie night, a great tailgate snack or just perfect for birthday party treat bags!
Ingredients
1

packet Pop Secret Popcorn

,

popped (approximately 6 cups popped popcorn)

3

cups

Crispix cereal

1-1/2

cups

small twist pretzels

1/2

cup

butter

1

cup

light brown sugar

1/4

cup

light corn syrup

1/4

teaspoon

salt

1-1/2

cups

Peanut M&M's
Instructions
Preheat oven to 300 degrees F. Line a large rimmed baking sheet with heavy duty foil and spray lightly with non-stick cooking spray.

Pour popped popcorn out onto foil lined baking sheet. Pick out any kernels. Add Crispix and pretzels and spread out evenly with popcorn.

Melt butter in a large, heavy saucepan over medium heat. Add brown sugar, corn syrup, and salt. Bring to a boil, stirring constantly, and then allow to boil for two minutes, stirring occasionally. Remove from heat and use a spoon to drizzle the mixture over the popcorn mixture in an even stream. Toss the popcorn mixture lightly to distribute and then spread it back out in an even layer.

Bake for 10 minutes. Use a spatula to stir the mixture and bake for an additional 10 minutes. Remove from oven and stir once more. Spread the mixture back out in an even layer and allow to cool for 10 minutes or until cool enough to handle. Break apart and allow to cool completely. Add peanut M&M's and toss to combine.

Store in an airtight container or zippered plastic storage bags.
Nutrition information is automatically calculated using generic ingredients, and is an estimate not a guarantee. For more accurate results, please refer to the labels on your ingredients at home.
Did You Make This?
We love seeing what you've made! Tag us on social media at @fromvalerieskitchen for a chance to be featured
This is a sponsored conversation written by me on behalf of Albertsons Safeway. The opinions and text are all mine.