These tasty Thai Peanut Chicken Meal Prep Bowls include a layer of simple sesame noodles topped with quickly sautéed chicken, fresh and crunchy slaw, and some peanut sauce for dipping. A delicious, grab-and-go meal!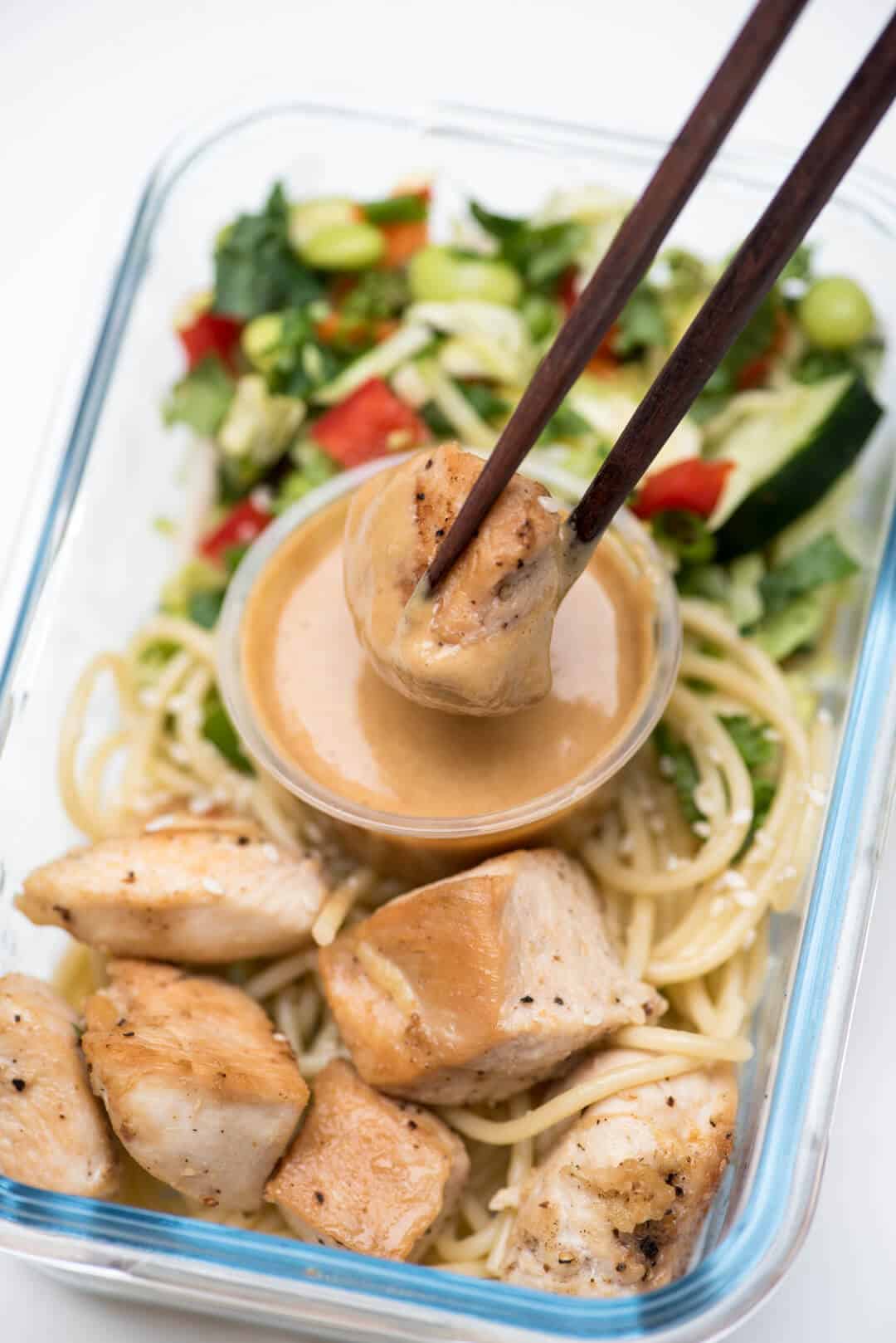 These flavorful, nutrition packed bowls are the latest in my meal prep adventures. There will be more.
I knew exactly what flavors I was going for and this recipe hits the mark BIG time. There's also a nice texture thing happening. Cooked and chilled noodles, crunchy slaw, and sautéed chicken. It's really a match made in heaven.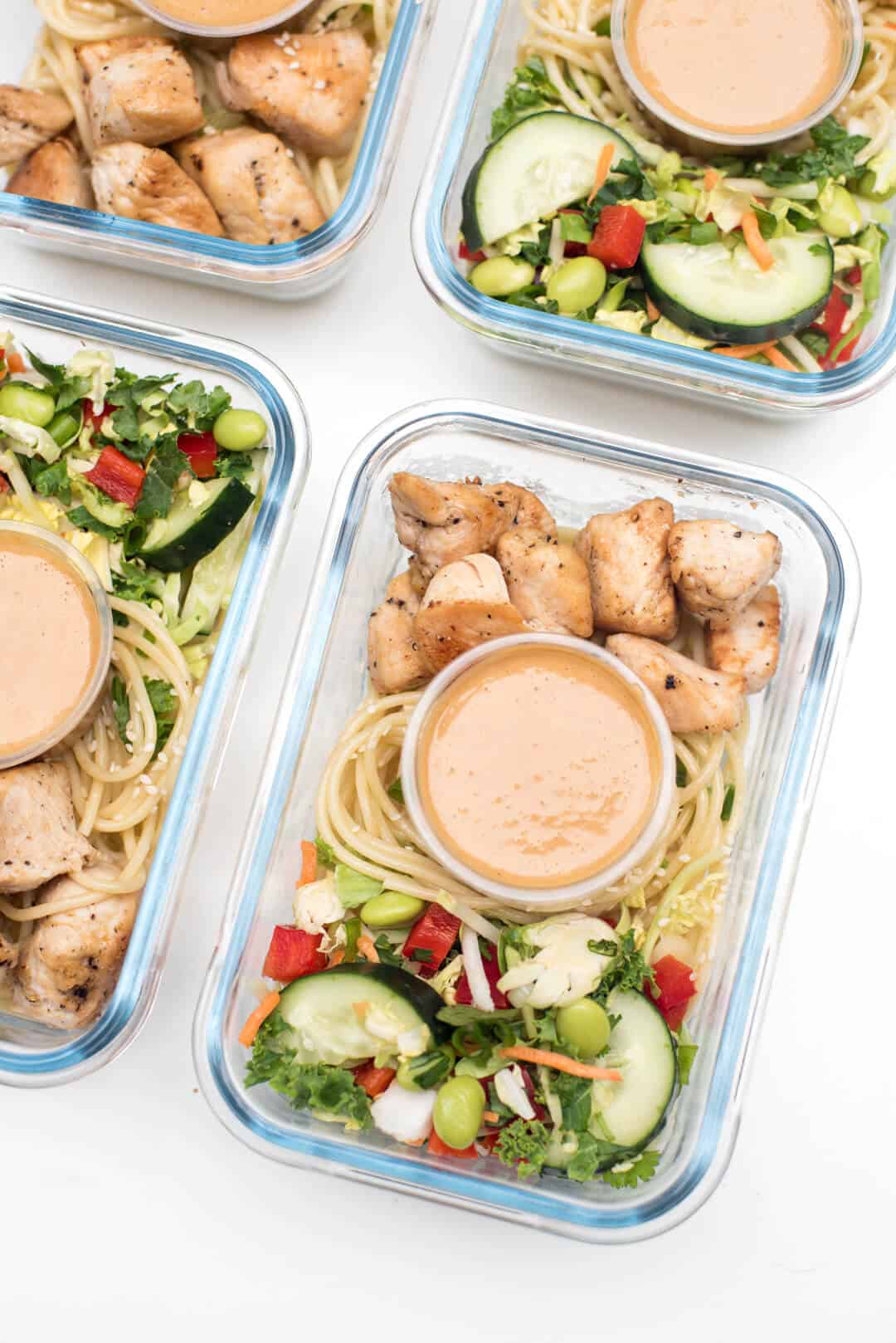 I also love that it is eaten cold; no microwave needed. Just grab the container from the fridge, grab a fork, and you're good to go. Perfect for sending to school with your peanut sauce loving high-schoolers or taking to the office for yourself.
Or, can we have them poolside? Yes, let's have them poolside.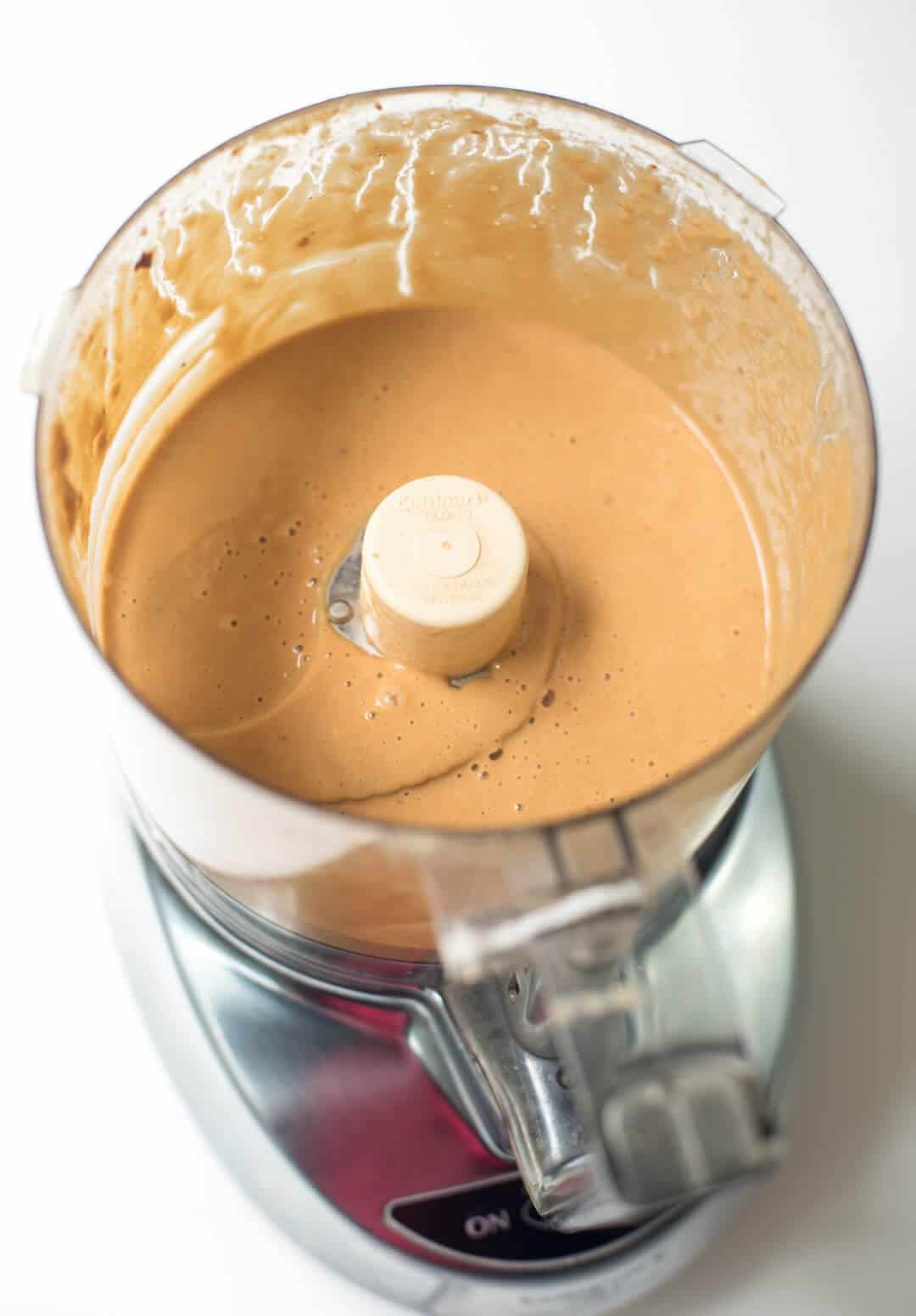 Oh, how I love peanut sauce. The one I make most often goes with my Grilled Chicken Satay but I wanted to do something a little different here. I set out to create a simpler version that didn't require opening a can of coconut milk or heating anything on the stove.
You literally just add everything to a food processor and pulse a few times, adding as much warm water as needed to thin it to the desired consistency.
It's fabulously addictive and adds so much to this meal prep bowl.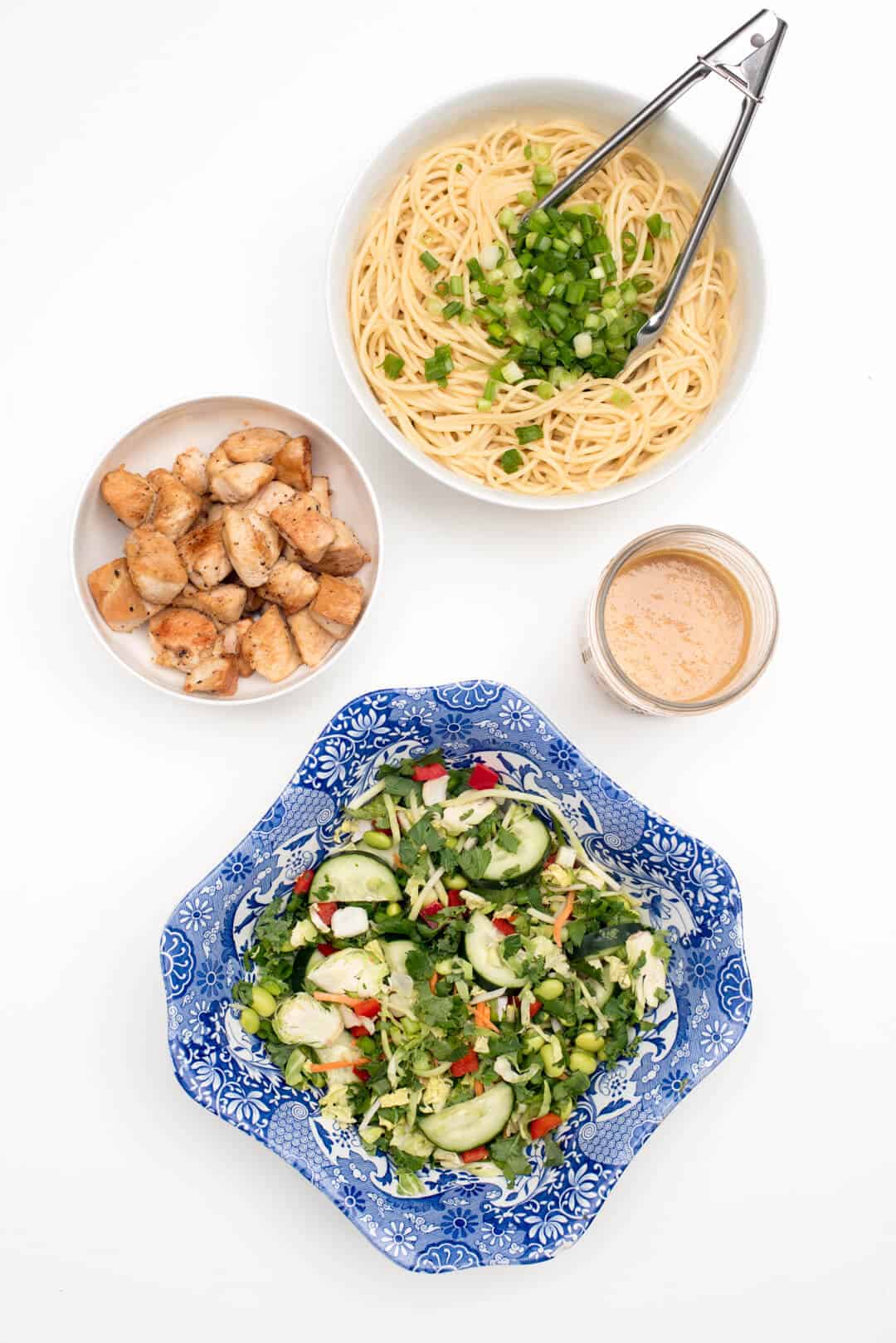 The components of the bowls:
Simply seasoned and sautéed boneless, skinless chicken breast chunks.
Cooked spaghetti noodles that are tossed with sesame oil and topped with sliced green onion.
Bagged broccoli slaw dressed up with chopped red bell pepper, chopped cucumber, edamame, green onion, and cilantro. Look for a bagged slaw that contains sturdy ingredients like broccoli, cabbage, carrots, kale, and any other hardy greens that don't easily wilt.
Easy Peanut Sauce.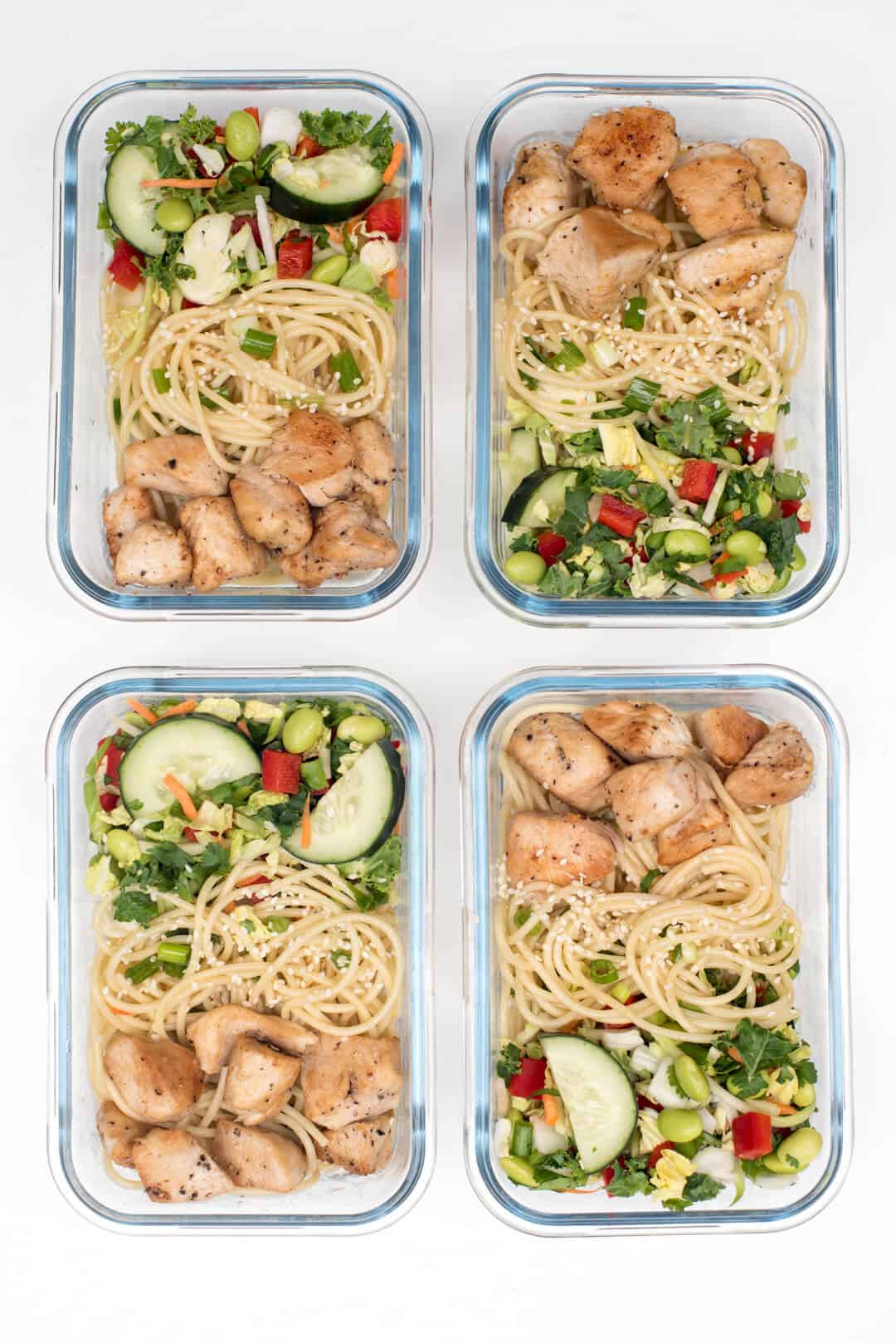 Divide the sesame noodles between four meal prep bowls and sprinkle with some sesame seeds. Top the noodles with the chicken and slaw, leaving a space in the middle for the dipping sauce.
Nestle a small container of the Easy Peanut Sauce in the center. These little disposable condiment containers are super inexpensive and so useful to have on hand.
I recommend packing your make-ahead meals in a good quality meal prep container to ensure they will stay fresh and ready to eat through the week.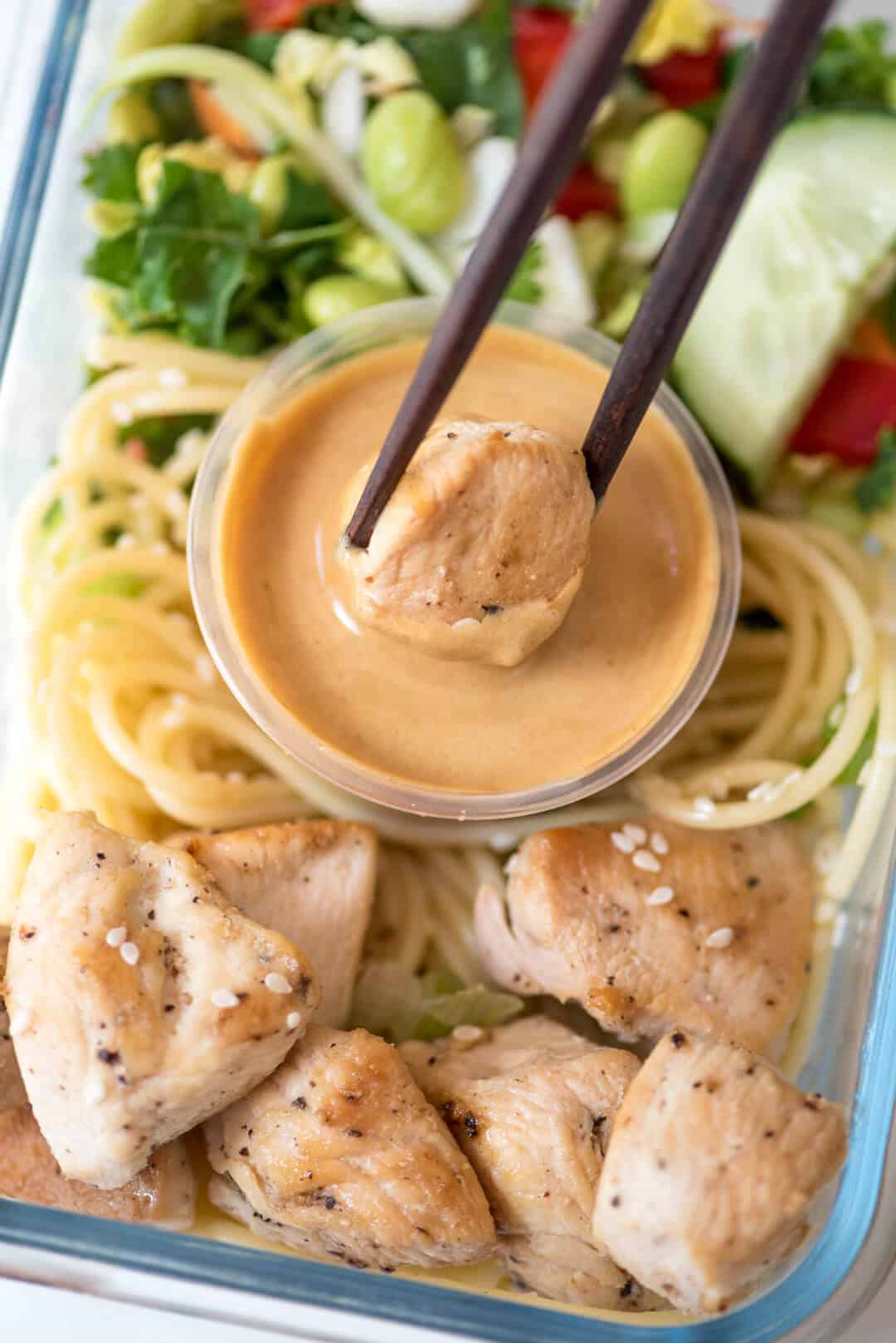 Dip away! Or, just pour that luscious sauce right over the top of everything. It works just as well as a dressing for the noodles and slaw as it does a delicious dipping sauce for the chicken.

If you're a fan of Tex-Mex flavors, be sure to check out my Tex-Mex Chicken Meal Prep Bowls.
Thai Peanut Chicken Meal Prep Bowls
These tasty Thai Peanut Chicken Meal Prep Bowls include a layer of simple sesame noodles topped with quickly sautéed chicken, fresh and crunchy slaw, and some peanut sauce for dipping. A delicious, grab-and-go meal!
Print
Pin
Rate
Servings: 4
Calories: 619kcal
Ingredients
For the Easy Peanut Sauce:
1/2 cup creamy peanut butter
2 tablespoons lite low-sodium soy sauce
2 tablespoons honey
2 tablespoons unseasoned rice vinegar
1/2 lime juiced
3/4 teaspoon ground ginger
1/2 teaspoon minced garlic
1/4 teaspoon curry powder
1/4 teaspoon crushed red pepper or to taste
1/3 warm water. use as needed to reach desired consistency
For the Thai Peanut Chicken Meal Prep Bowls:
8 ounces dry spaghetti noodles
1 tablespoon sesame oil
2 tablespoons vegetable oil
2 boneless skinless chicken breasts (approximately 1-1/4 pounds), cut into chunks
salt and pepper to taste
1/2 teaspoon garlic powder
2-1/2 cups broccoli slaw
1/2 cup chopped cucumber
1/2 red bell pepper chopped
1/3 cup fully-cooked shelled edamame
1/4 cup chopped cilantro
2 green onions chopped
sesame seeds optional garnish
chopped peanuts optional garnish
Instructions
Prepare the Easy Peanut Sauce:
Add peanut butter, soy sauce, honey, rice vinegar, lime juice, ground ginger, minced garlic, curry powder, and crushed red pepper to the container of a blender or food processor. With the motor running, slowly pour water through the feed tube a little a time, until the mixture reaches the desired consistency. You want it thin enough to pour, but not watery.

Transfer to an airtight container (a small mason jar works perfectly) and store in the refrigerator up to a week.
Prepare the Thai Peanut Chicken Meal Prep Bowls:
Bring a big pot of salted water to a boil. Add spaghetti noodles and cook according to package directions. Rinse cooked noodles with cold water and drain well. Toss cooked and cooled noodles with sesame oil. Set aside.

Add vegetable oil to a 10" skillet. Add chicken chunks and season with salt, pepper, and garlic powder. Cook and stir until golden brown and cooked through. Remove from heat and set aside to cool.

Toss broccoli slaw with veggies and cilantro.

Divide chicken, noodles, and some of the slaw mixture between four meal prep containers. Sprinkle chicken and noodles with sesame seeds and/or chopped peanuts, if desired. Add a small container of the Easy Peanut Sauce to each container.

Keeps well in airtight containers for up to 4 days.
Nutrition
Calories: 619kcal | Carbohydrates: 64g | Protein: 32g | Fat: 30g | Saturated Fat: 10g | Cholesterol: 36mg | Sodium: 499mg | Potassium: 773mg | Fiber: 3g | Sugar: 13g | Vitamin A: 760IU | Vitamin C: 51mg | Calcium: 68mg | Iron: 4mg
Valerie's Kitchen is a participant in the Amazon Services LLC Associates Program, an affiliate advertising program designed to provide a means for us to earn fees by linking to Amazon.com and affiliated sites.