Perfectly seasoned, incredibly tender fried chicken. You'd never guess this crispy Air Fryer Fried Chicken was made using a tiny fraction of the oil called for in traditional methods.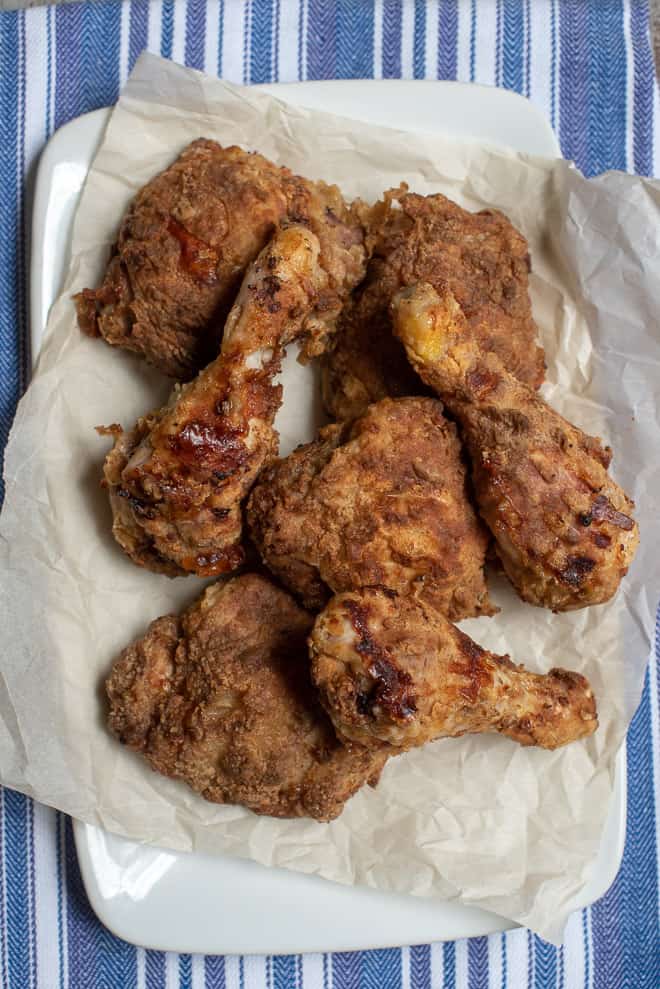 If I were to tell you that you could create perfectly crispy fried chicken using just a teeny-tiny bit of oil would you believe me?
I've been over here quietly working with my new air fryer and I'm here to say that this method of cooking is something to get excited about!
If you've followed this blog for any amount of time you know that I've long been a fan of oven-frying as a way to reduce the amount of oil needed to create a crispy, satisfying result. I've used the method for everything from Crispy Oven Baked Fries, Baked Chicken Taquitos, and one of my most popular recipes of all time – Baked Eggplant Parmesan. So, I guess it comes as no surprise that I'm getting along just fine with this new appliance.
Once you've got the prep out of the way, you'll be less than 30 minutes away from this irresistible chicken. There are a few tips and tricks to yield a perfectly crispy result and I'm going to cover all of those here for you.
One of the most exciting results of my testing – it works beautifully with the skin on or off. On my third round I decided to pull the skin off of my bone-in chicken thighs and friends, the result was fabulous! So, if you're really looking to reduce the amount of fat in your diet, the air fryer is going to be your new best friend.
How to Prep the Chicken
You can get this part of the prep out of the way 1 to 24 hours in advance which is a wonderful thing because the actual cooking process is fast.
For this Air Fryer Fried Chicken you want to pick up bone-in chicken pieces – I went with thighs and drumsticks.
After seasoning the chicken with a little salt and fresh ground black pepper immerse it in a mixture of buttermilk and hot sauce. The hot sauce will not make the chicken too spicy – it just adds a bit of zing.
The chicken can be coated and air fried immediately or you can cover and refrigerate it and allow the chicken to marinate in the buttermilk mixture for up to 24 hours. This means you can get this portion of the recipe done in the morning and it will be ready to go when you get home from work.
Keep in mind that if you're cooking more than four or five pieces of chicken, it will have to be cooked in batches. We'll talk a little more about that in just a bit.
The coating is a simple mixture of all-purpose flour and Old Bay Seasoning. You don't want to skimp on the Old Bay – the flour should be well-seasoned. Old Bay has the perfect blend of flavors to create that classic fried chicken taste. It's a winner.
I find it easiest to mix up the coating in a large plastic storage bag and then drop the buttermilk-coated pieces of chicken in one-by-one. Hold the bag closed at the top and give it a little shake to coat the chicken.
Transfer the coated chicken to a foil-lined baking sheet and let it sit while you preheat your air fryer.
I highly recommend you pick up an Oil Mister. It allows you to more precisely control the amount of oil you're using and makes it really easy to apply oil to items that have been breaded. I also use it to apply a light coat of oil to the air fryer basket to help ensure the items won't stick during the cooking process.
You don't want to use an aerosol non-stick cooking spray (like Pam) since many contain additives that will damage the coating of your air fryer basket over time. Instead, use a mister or pasty brush to apply your oil of choice.
Check out some more helpful air fryer tips from Cooking Light.
How to Cook Chicken in an Air Fryer
After the unit preheats, mist both sides of the pieces of chicken with vegetable or canola oil as you add them to the air fryer basket. You want the chicken to be in one layer. It's fine if the pieces touch, but they shouldn't overlap to allow for air flow over as much surface area as possible. I was able to fit 4 thighs in one batch and 5 drumsticks in the next.
About halfway through the cooking time, open the unit and mist any dry spots with a little more oil. I love that you can open and check on the items through the cooking process.
This is the perfectly crispy result after cooking for 25 minutes.
The recipe below makes enough Air Fryer Fried Chicken to serve two (two pieces each) but you can double it and cook it in batches. Just add a little more buttermilk and hot sauce to what's left after dipping the first batch and marinate the second batch of chicken in the fridge while the first batch cooks. I like to mix up a fresh bag of the flour mixture for coating the second batch for the best result.
My family absolutely loved this chicken. The flavor is spot-on, classic fried chicken. No one will ever know you didn't deep fry it.
Tips for Making the Best Air Fryer Fried Chicken
Marinate the chicken in advance to save time.
Use an Oil Mister to easily control the amount of oil you are using.
Lightly coat the air fryer basket with a few mists of oil before adding the chicken.
Don't overlap the pieces of chicken.
Use either skin-on or skinless chicken – it works well with both!
Cook up a couple of batches and refrigerate it for a picnic lunch.
It's delicious served cold and also reheats well.
CLICK HERE OR ON THE IMAGE BELOW TO PIN THIS RECIPE!
Air Fryer Fried Chicken
Prep Time 10 minutes
Cook Time 25 minutes
Total Time 35 minutes
Servings 2
Change the number in the box above to adjust serving size. Please note that size of cookware and cook time may vary.
Ingredients
4 bone-in chicken pieces (skin-on or skinless), thighs or drumsticks are my favorite
salt and fresh ground black pepper, to taste
1 cup buttermilk
3 tablespoons hot sauce
1 cup all-purpose flour
3 tablespoons Old Bay Seasoning
vegetable or canola oil for spraying, as needed
Instructions
If using skin-on chicken, trim any excess fat from the edges, or remove it completely, and season both sides with salt and pepper, to taste.

Whisk together the buttermilk and hot sauce in a medium mixing bowl. Add the chicken pieces and push the down to submerge them in the liquid. Let sit for 5 to 10 minutes or cover and refrigerate for up to 24 hours if prepping in advance.

Line a small baking sheet with foil or wax paper. Add the flour and Old Bay Seasoning to a large plastic storage bag and shake it to combine the mixture.

Drop one piece of chicken into the flour mixture and shake the bag to coat the chicken well, shaking off any excess flour. Transfer the coated chicken to the foil-lined baking sheet and repeat the process with remaining chicken. Let the coated chicken rest while you preheat the air fryer to 390 degrees F for 5 minutes.

When air fryer is preheated, use an oil mister to lightly coat the bottom of the air fryer basket with oil. Lightly coat both sides of the chicken with oil and transfer them to the preheated air fryer. It's okay if the chicken is touching but the pieces should not overlap. Set the air fryer to 390 degrees F for 25 minutes.

Check on the chicken about halfway through the cooking time and spray any dry spots with additional oil.

The internal temperature of the fried chicken should read at least 165 degrees F at the end of the cooking process.
Recipe Notes
Nutrition information was calculated for bone-in, skinless chicken thighs.
Nutrition
Calories: 602kcal
Fat: 18g
Saturated fat: 10g
Cholesterol: 199mg
Sodium: 825mg
Potassium: 803mg
Carbohydrates: 56g
Fiber: 2g
Sugar: 6g
Protein: 50g
Vitamin A: 240%
Vitamin C: 16.3%
Calcium: 207%
Iron: 6%
Course Main Course
Cuisine American
The air fryer shown in the images in this post was provided courtesy of SharkNinja but all opinions expressed are my my own.
Valerie's Kitchen is a participant in the Amazon Services LLC Associates Program, an affiliate advertising program designed to provide a means for us to earn fees by linking to Amazon.com and affiliated sites. For more information on our site policies click HERE.