These Bacon Horseradish Deviled Eggs take classic deviled eggs to a new level. They're creamy, tangy , and smoky with just the right kick from horseradish.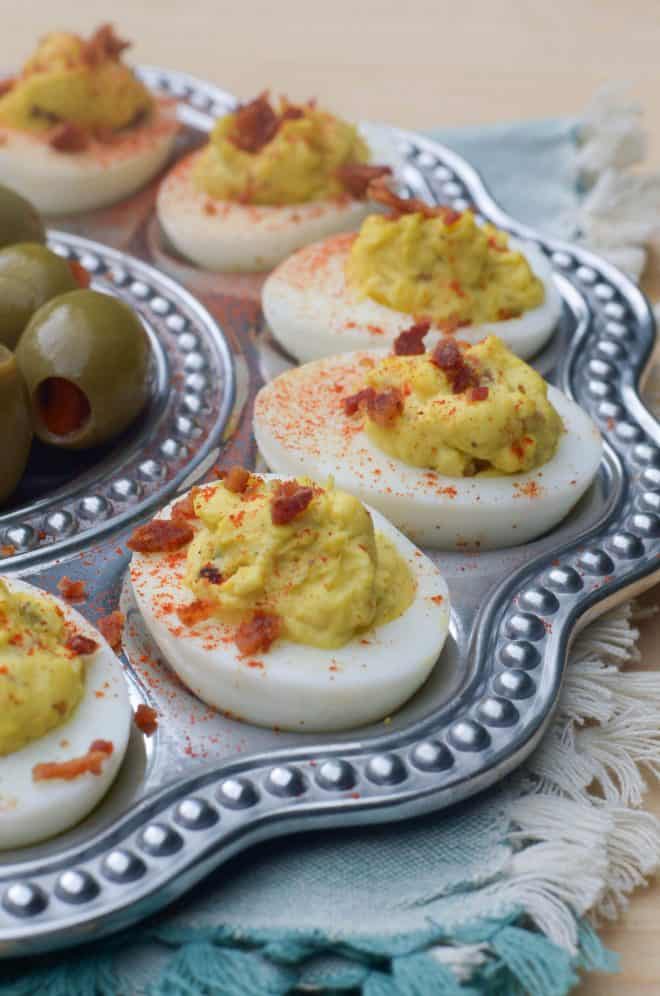 These deviled eggs have stirred something deep down inside me. They are out of this world good, my friends. You know I wouldn't lie about important things like bacon and horseradish.
They hit on just about every flavor component all at once. A touch sweet, a little spicy, deliciously creamy, tangy, and savory. They've got it all and I'm afraid they've ruined me on all other deviled eggs. I'm quite sure I'll never be able to make the run of the mill variety again.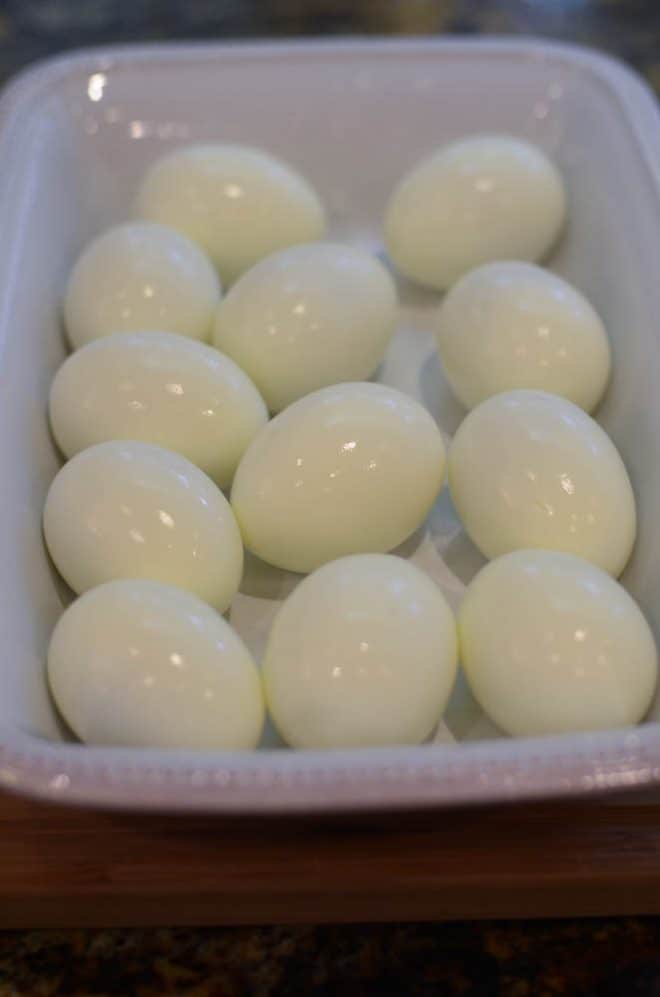 The most vital step in ensuring you'll end up with a picture perfect plate of deviled eggs is taking care in how you boil the eggs. If you missed my recent How To post on the subject you can see it HERE.
Once you've got your hard-boiled eggs peeled and ready to go you will be just minutes away from happiness.
How to Make Bacon Horseradish Deviled Eggs
Shall we?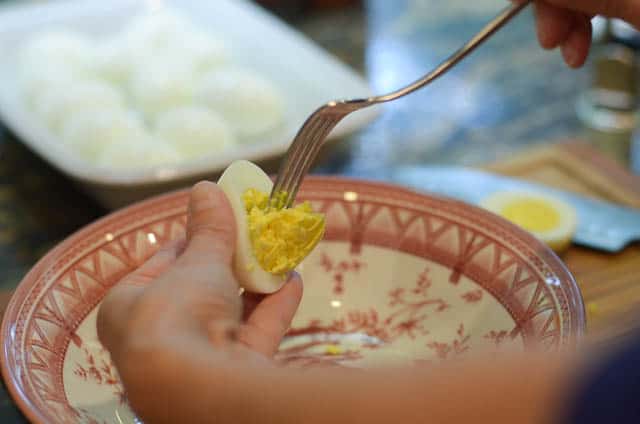 Slice a dozen of your perfectly hard-boiled eggs in half, lengthwise, and use a fork to transfer the yolks into a mixing bowl.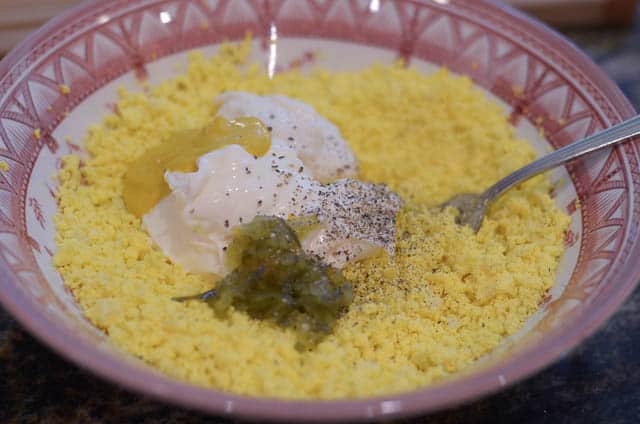 Use the fork to mash the egg yolks to a fine crumble and then add a little mayo, sweet pickle relish, yellow mustard, creamed horseradish, a little salt and some fresh ground pepper. Scoot on down to the printable recipe below for all the exact measurements.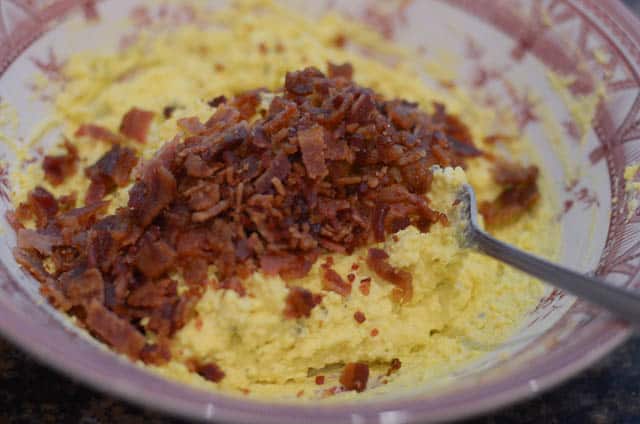 Hello lover. Toss in four strips of crispy, crumbled bacon. We're going to hang on to the remaining bacon for the garnish.
How to Make a Makeshift Pastry Bag
If you don't have a pastry bag in your collection don't fret. A gallon-sized plastic storage bag will work in a pinch.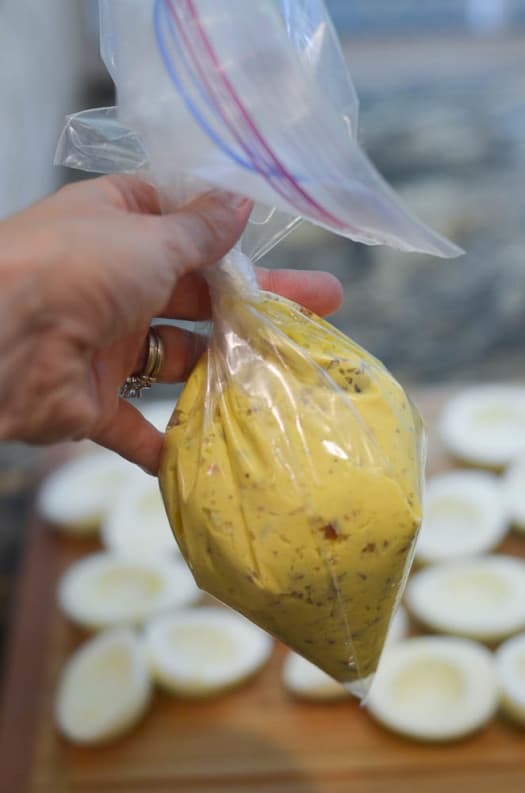 Transfer the glorious mixture to a gallon-sized plastic storage bag, squishing the contents down into one of the corners and twisting the top. See that pointy end corner? Use scissors to snip that off and you have yourself a makeshift pastry bag that can be tossed away when you're done.
If you want to be all big shot fancy pants, go ahead and use a pastry bag with a decorative tip for a very pretty result. I'm just going for quick and easy here.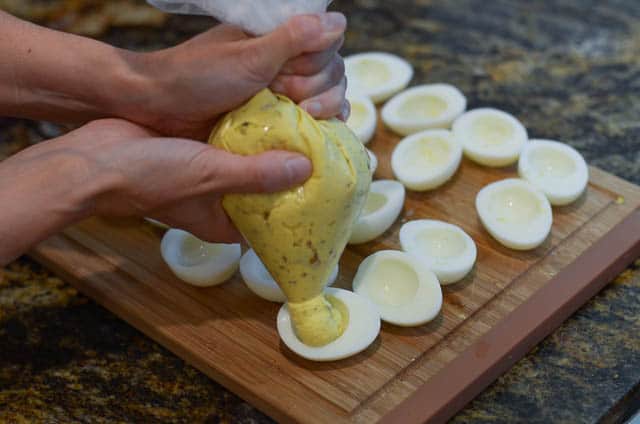 And, away we go! Squeeze the mixture into the egg whites.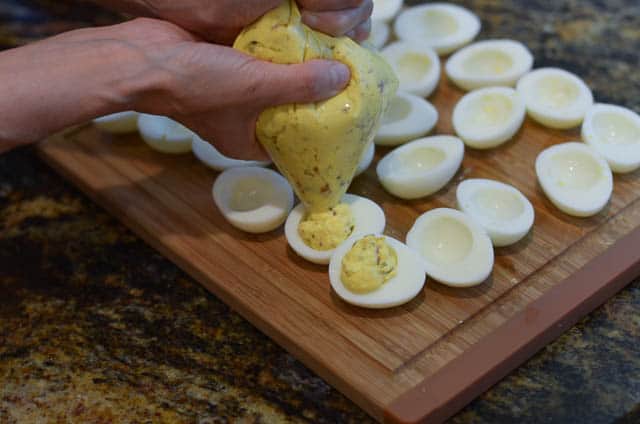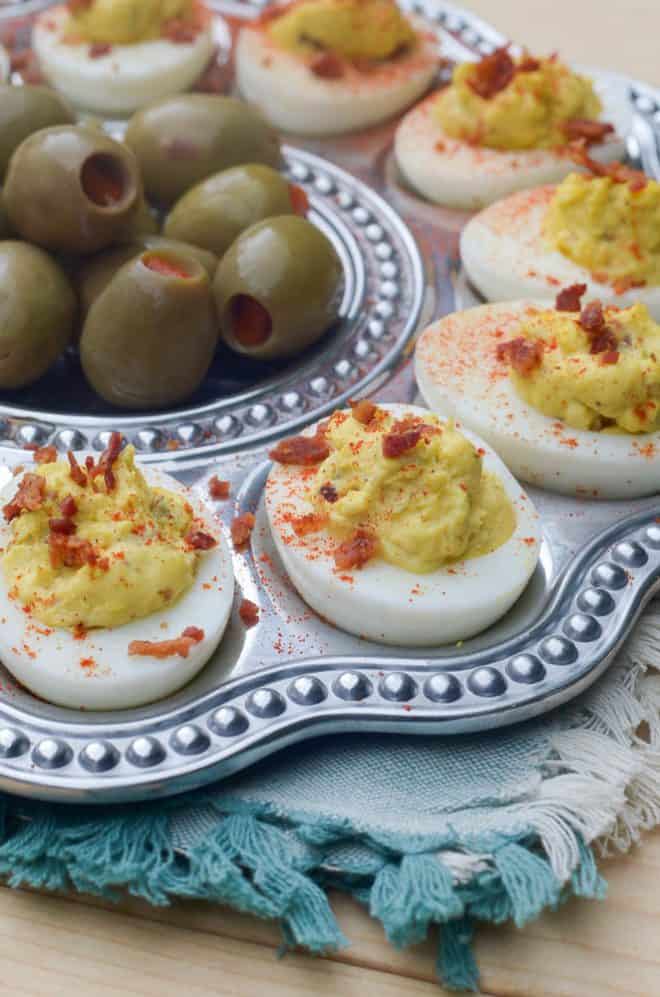 Transfer the eggs to a serving dish and garnish with a little smoked paprika and the remaining crumbled bacon. That's the end of the story but only the beginning of a new and beautiful relationship.
I hope you try them and love them as much as I do.
Bacon Horseradish Deviled Eggs
These Bacon Horseradish Deviled Eggs take classic deviled eggs to a new level. They're creamy, tangy , and smoky with just the right kick from horseradish.
Prep Time 15 minutes
Total Time 15 minutes
Servings 24 deviled eggs
Change the number in the box above to adjust serving size. Please note that size of cookware and cook time may vary.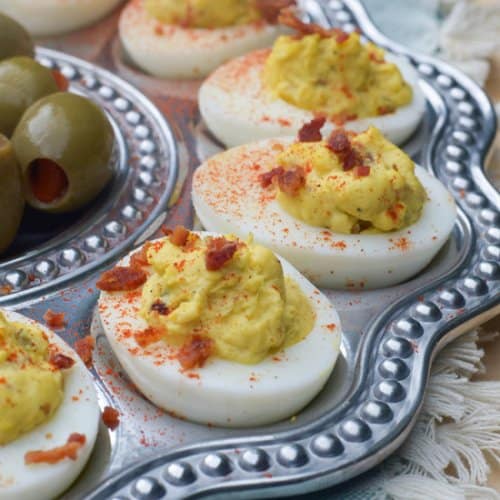 Ingredients
12 large hard boiled eggs, peeled
1/3 cup light or regular mayonnaise
1 tablespoon creamed horseradish
1 tablespoon sweet pickle relish
2 teaspoons prepared yellow mustard
salt, to taste
freshly ground black pepper, to taste
6 slices crispy cooked bacon, crumbled and divided
smoked paprika, for garnish
Instructions
Use a sharp knife to slice the hard-boiled eggs in half, lengthwise. Use the tines of a fork to carefully remove yolks and transfer them to a medium bowl. Mash the yolks with a fork until crumbly. Add mayonnaise, creamed horseradish, sweet relish, mustard, and salt and pepper, to taste. Mix well. Stir in 3/4 of the crumbled bacon (4 slices) and retain the rest for garnish.

Place egg yolk mixture in a one gallon plastic storage bag. Squeeze the mixture down to the corner of the bag and snip off the corner tip with scissors. Squeeze egg yolk mixture into egg whites. Garnish the eggs with remaining bacon crumbles and sprinkle, lightly, with smoked paprika.
Nutrition
Nutrition facts per serving (1egg)
Calories: 57kcal
Fat: 4g
Saturated fat: 1g
Cholesterol: 96mg
Sodium: 125mg
Potassium: 43mg
Carbohydrates: 1g
Fiber: 1g
Sugar: 1g
Protein: 4g
Vitamin A: 140%
Vitamin C: 1%
Calcium: 13%
Iron: 1%
Course Appetizer
Cuisine American
Adapted from The Blond Cook