A homemade teriyaki sauce and simple baking method creates incredibly moist and tender Baked Chicken Teriyaki. Serve with rice and veggies for a wholesome and complete meal.
I don't make New Year's resolutions for myself that involve food or nutrition.
What we consume ebbs and flows like the tide, but in November and December, it was more like a tidal wave around here. It started with Thanksgiving, built up some steam at Christmas, and just rolled all the way through New Years Eve. It's a natural thing to make a correction in January. I don't think of it as a resolution because those never hold. It's just a matter of getting back on course.
My plan for January is to back off the baked goods – whoa Nellie did we have some baked goods! – and include lots of chicken, fish, and veggies in my menu planning. I'll be sharing it all with you as I go and I'm starting it off with this Baked Chicken Teriyaki.
Skinless chicken pieces of your choice are baked with a scrumptious homemade sauce. The method is simple but the result is fork tender and SO good. In addition to being incredibly tasty, it's such a pretty dish.
Here is how it's done.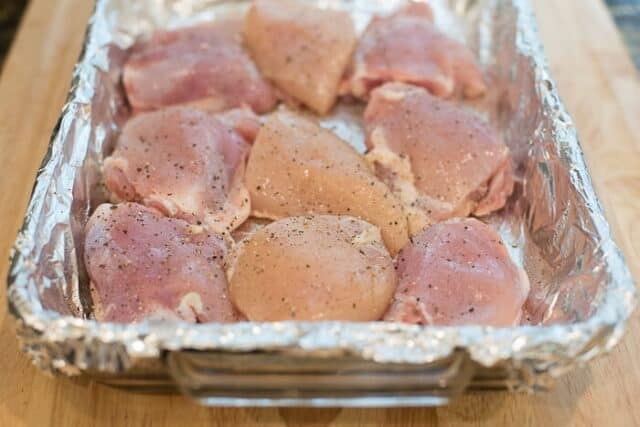 Line a 13″ x 9″ baking dish with foil and spray it with a little non-stick cooking spray. You can use any variety of chicken pieces you'd like. I went with bone-in thighs and boneless breasts that I cut in half.  Just be sure to pull off and discard the skin.
The teriyaki sauce is super simple and only takes minutes to prepare. See the printable recipe below for instructions. Spoon about 1/3 of the sauce over the chicken, reserving the rest for later. Cover the dish with foil and pop it in a preheated 400 degree oven for 30 minutes.
After 30 minutes remove the dish from the oven, remove the foil, and spoon the remaining sauce over the chicken. Return the dish to the oven for an additional 20 minutes, or until the chicken is cooked through.
Sprinkle the chicken with sesame seeds and thinly sliced green onion and you are ready to serve.
I highly recommend cooking up some white or brown rice and a simple veggie like broccoli or carrots to go along with the chicken for a vibrant, delicious meal the entire family will love.
P.S. – If you're a fan of teriyaki, be sure to check out my Grilled Steak Teriyaki.  Same sauce, different meat, different method, equally delicious!
Baked Chicken Teriyaki
Prep Time 10 minutes
Cook Time 50 minutes
Total Time 1 hour
Servings 4 to 6
Change the number in the box above to adjust serving size. Please note that size of cookware and cook time may vary.
Ingredients
9 skinless chicken pieces I used bone-in thighs and boneless breasts
salt and fresh ground black pepper to taste
Teriyaki Sauce:
2/3 cup lite soy sauce
2/3 cup mirin sweet rice wine
1/4 cup sugar
2 tablespoons sesame oil
1 teaspoon finely grated or minced fresh ginger
1 teaspoon minced garlic
2/3 cup water
2 tablespoons cornstarch
For Garnish:
2 tablespoons sesame seeds
3 or 4 green onions thinly sliced
Instructions
Preheat oven to 400 F degrees. Line a 13" x 9" baking dish with aluminum foil and coat the foil with non-stick cooking spray.

Whisk together all of the Teriyaki Sauce ingredients, through garlic, in a medium saucepan. Place over medium-high heat. In a small bowl or measuring cup, whisk the cornstarch and water until dissolved and then add the mixture to the pan. Bring just to the boiling point then reduce heat to medium-low and cook for several minutes, stirring, until slightly thickened. Remove from heat.

Place chicken pieces in the prepared dish and season to taste with salt and fresh ground pepper. Spoon about 1/3 of the teriyaki sauce over the chicken, being sure to coat each piece. Reserve remaining sauce. Cover dish with foil and cook in preheated oven for 30 minutes. Remove foil and drizzle remaining sauce over the chicken. Bake, uncovered, for an additional 20 minutes, or until chicken is cooked through. Remove from oven and garnish with sesame seeds and green onions.

Serve with rice and vegetables of your choice.