This Chocolate Peanut Butter Sheet Cake is a great choice for the chocolate-peanut butter lovers in your life. Sweet, simple to make, and so indulgent!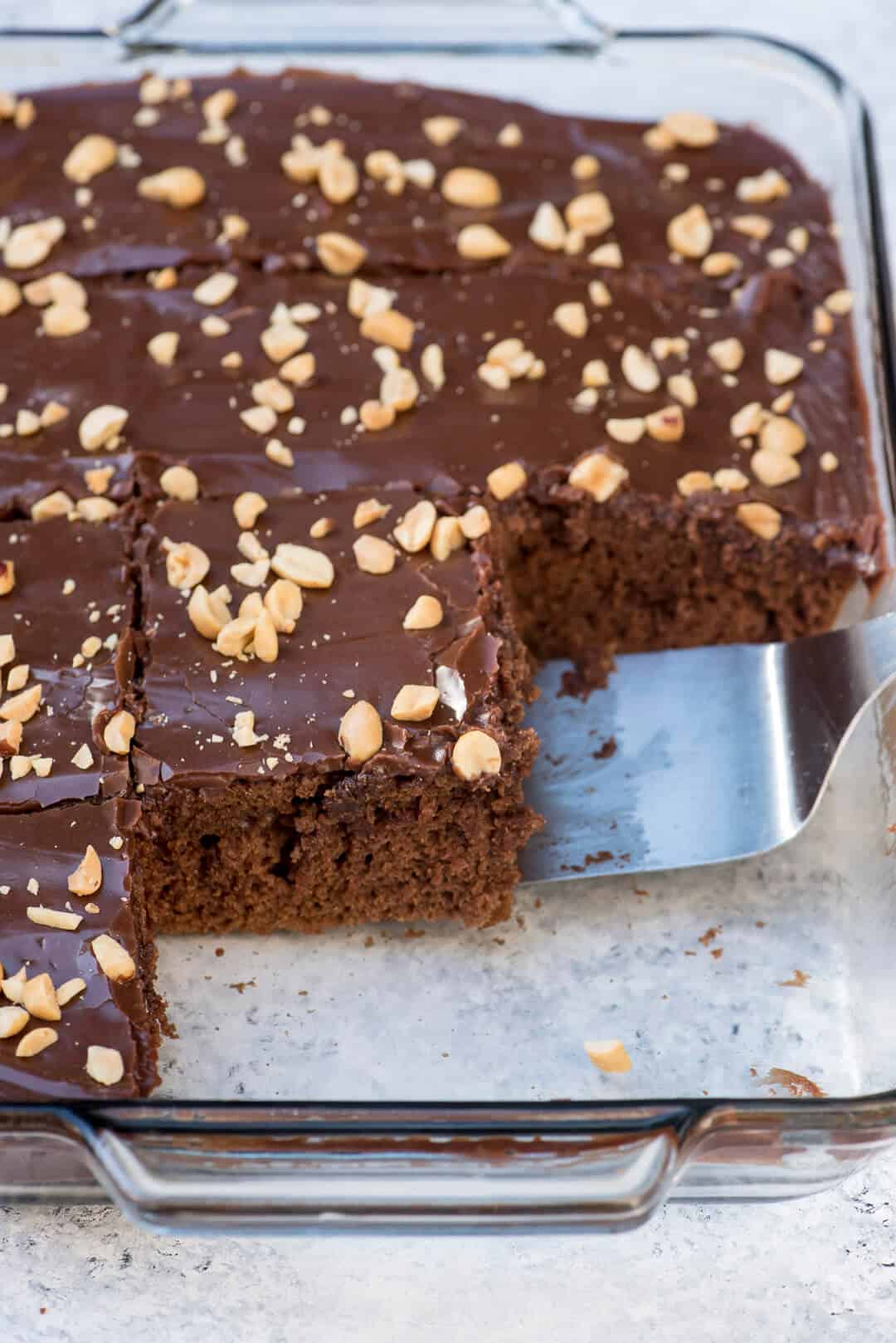 Sheet cakes are one of my favorite dessert choices for pretty much any occasion. And, even for no occasion whatsoever! They're fun and easy to bake and they just make people happy. I made this cake for Super Bowl weekend and thought it would be a perfect choice for Valentine's Day next week.  
When I'm in need of a simple cake recipe, I turn to my One Bowl Chocolate Cake most frequently, but, this one has become a favorite as well. It completely satisfies those chocolate-peanut butter cravings and while it does require the use of a saucepan, it is still practically as easy as a boxed mix to prepare.
You don't even need to pull out the electric mixer – a wooden spoon will do the trick.
There is peanut butter both in the cake itself and the chocolaty icing poured over the top while the cake is still warm from the oven. I like to sprinkle the top with chopped salted peanuts.
If you can't quite make it until the cake has completely cooled before diving it, that's just fine. It is delicious while still a bit warm. I recommend allowing it too cool for at least 30 minutes but then get in there!
Check out the quick video below to see how it's done. So easy!
Chocolate Peanut Butter Sheet Cake
For lots of delicious recipes, giveaways, and more, be sure to follow Valerie's Kitchen
Facebook | Twitter | Pinterest | Instagram | YouTube
Chocolate Peanut Butter Sheet Cake
Ingredients
Chocolate Peanut Butter Sheet Cake:
2 cups all-purpose flour
2 cups sugar
1 teaspoon baking soda
1/2 teaspoon salt
1/2 cup (1 stick) butter
1/2 cup creamy peanut butter
1 cup water
1/2 cup unsweetened cocoa powder
1/2 cup sour cream
3 large eggs, lightly beaten
2 teaspoons vanilla extract
Chocolate Peanut Butter Icing:
1/2 cup (1 stick) butter
1/4 cup creamy peanut butter
4 tablespoons unsweetened cocoa powder
6 tablespoons milk (I use 2%)
1 teaspoon pure vanilla extract
3 1/2 to 4 cups powdered sugar, as needed to reach desired consistency
1/4 cup chopped salted peanuts
Directions
For the Chocolate Peanut Butter Sheet Cake:
Preheat oven to 350 degrees. Coat a 13" x 9" baking pan with non-stick cooking spray.
In a large bowl, whisk flour, sugar, baking soda and salt; set aside.
In a small saucepan, melt the butter with the peanut butter over LOW heat. Stir in the water and cocoa powder and increase heat to MEDIUM-LOW to bring just barely to a boil, stirring occasionally. Remove from heat and add to flour mixture, stirring just until moistened.
Add sour cream, lightly beaten eggs, and vanilla, whisking until completely incorporated. Transfer to prepared baking dish. Bake 25-30 minutes or until a toothpick inserted in center comes out clean.
Prepare icing while cake is baking.
For the Chocolate Peanut Butter Icing:
Melt butter with peanut butter in a small saucepan over LOW heat. Whisk in cocoa powder, milk and vanilla. Whisk in powdered sugar, a little at a time, until you've reached desired consistency. It should be thick but pourable. Continue whisking vigorously until powdered sugar has dissolved and icing is smooth.
Remove from heat and immediately pour icing over warm cake. Use an offset spatula or butter knife to spread it out evenly over the surface. Sprinkle with chopped peanuts.
Allow to set for at least 30 minutes or longer before slicing and serving the cake.