If you have a child in college that can't make it home for Easter, send them a care package filled with a variety of fun and useful items and tons of love! Come take a look at the Easter care package I put together for my son and my college care package ideas that can easily be customized for anytime of year.
This post has been sponsored by American Greetings. All thoughts and opinions are
my own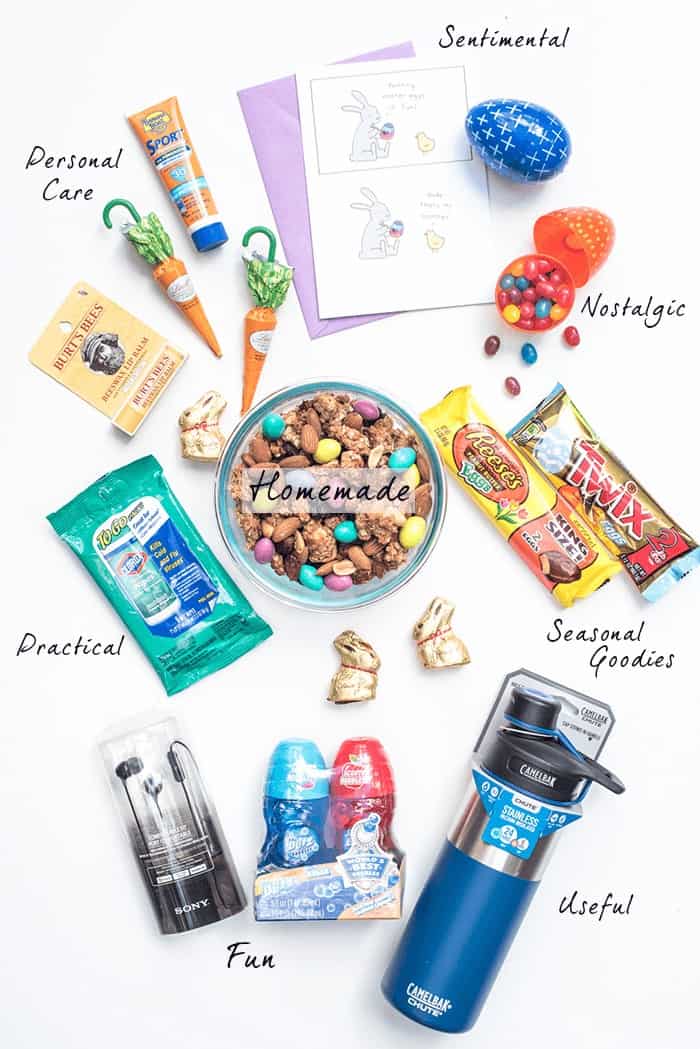 If you have a child who is currently attending college or heading to college this fall, it's inevitable that at some point in their college career they won't make it home for one of the holidays. Adam is in his 4th year at UC Santa Barbara and I'm still getting used to the idea that he sometimes can't make it home for every school break.
A good college care package consists of mix of your child's favorite homemade and store bought treats, fun gifts, a little nostalgia, and some practical items your child may not have even considered he or she would need when they headed off to college. Be sure to check out my full list of idea starters at the end of this post.
Pictured above are some of the items I included in my Easter care package this year.
Easter card with handwritten note
Plastic Easter eggs filled with jelly beans and cash!
Candy
Stainless steel water bottle
Bubbles (you're never too old to blow bubbles, especially on Easter)
Earbuds
Antibacterial cleaning wipes
Lip balm
Sunscreen
Homemade Easter trail mix (see more on this below)
Target gift card (not pictured but packed)
A holiday care package will make your child feel special and loved on a day when regardless of what else they are doing, they will for sure be missing home. But, as much as we tell ourselves they are for the kids, putting a care package together is a great way to make you feel better about the separation. It's something to plan for, shop for, and bake for. It gives you an excuse to pick out a special card and pour your heart out.
A special handwritten note from Mom and Dad has more meaning now than ever so don't skip it. Let them know how proud you are, how loved they are, and how much they are missed. The emotions expressed by loved ones at home will add fuel to their efforts and help to span the time between visits. It's just as important as your homemade goodies.
Target has an excellent selection of Easter cards appropriate for every age, from youngsters all the way up to Grandma and Grandpa. I was pleased to find a lot of really funny, laugh-out-loud cards that are perfect for college aged kids and it was awesome to be able to pick up everything I needed for my care package at the same time. One stop shopping is my jam.
Here are a few of my tips for packing the goods.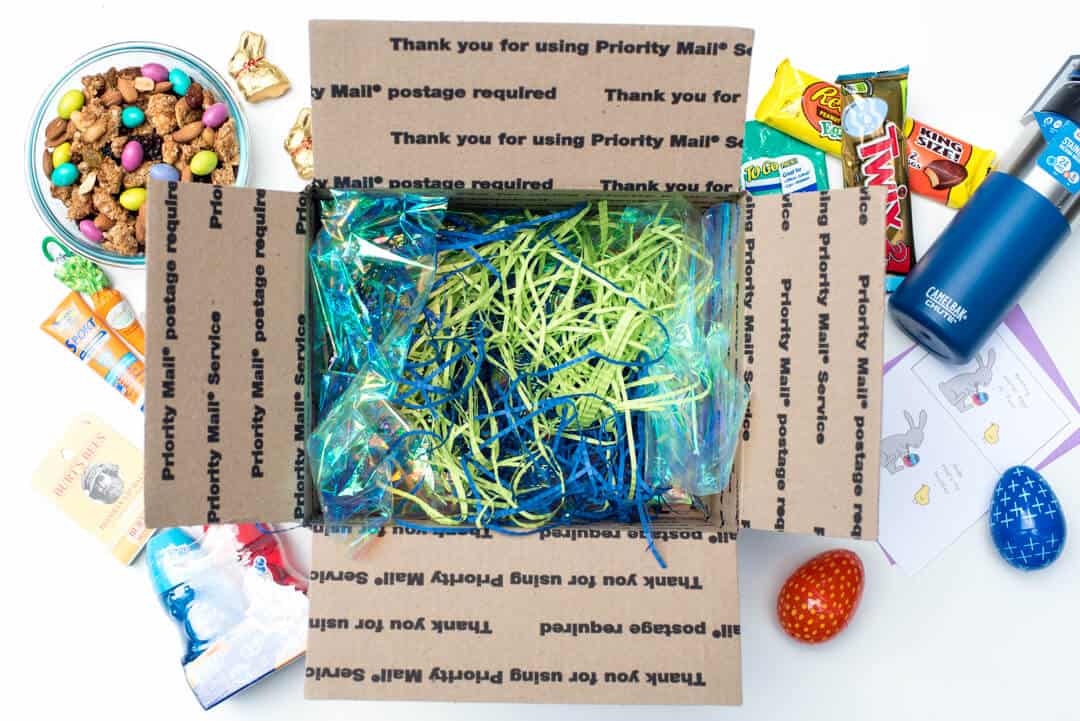 I ship most of my care packages via Priority Mail by the good old U.S. Postal Service. I love that you can grab the box size you need and pack in as much as you can fit and it ships at a flat rate, regardless of the weight. This can save you quite a bit on shipping cost. The box I used here is one of their medium sized boxes and it was just perfectly sized for my items.
To give your package an Easter basket feel, pick up a roll of Easter basket cellophane and some paper or plastic Easter grass to use as packing material.
Be sure to add a layer of newspaper or additional packing material before taping the box shut to keep everything snugly in place for shipment.
I always include something homemade and for holidays I like to add a seasonal twist. Homemade granola ships really well and my son loves it so I dressed my Snacking Granola Clusters up with some pastel Easter candies and packed it into a microwave safe storage container he can reuse after the granola is long gone. Yummy and practical.
My Caramel Oat Bars are another long-standing care package favorite.
College Care Package Ideas
Here are some great items that work for any season for both guys and girls. Pick an item from each category for a well-rounded college care package.
Home-Baked Goods
Favorite cookies or bars.
Homemade granola or trail mix.
Cereal snack mix.
Kitchen Goods
Reusable food storage containers – send your home-baked goods in something they can reuse.
Microwavable cookware, mugs, etc. – whether in a dorm or off-campus, your child will most likely have access to a microwave.
Microwaveable food! Popcorn, mac and cheese, soups, ramen, oatmeal, tea, hot chocolate.
Individually wrapped snacks like granola bars, beef jerky, trail mix.
Travel mugs and sports bottles.
Gift Cards
I like to include a Target gift card so he can buy anything from groceries to socks to laundry detergent.
Coffee shops, grocery stores, restaurants – find out what is near campus and convenient for them.
A driving service, like Uber, is also a fabulous idea for when they need a ride and for Mom and Dad's peace of mind.
Entertainment/Electronics
Playing cards and favorite board games for a group.
TV subscription sports packages for those living off campus.
Earbuds – they can never have enough!
Smart phone accessories – extra long charging cords are super useful.
Wireless bluetooth speakers.
Miscellaneous
Seasonal holiday decorations to add a festive touch to their room.
Double-sided mounting tape for posters so they won't need to use push pins on walls.
Stamps – they will eventually need to mail something so they'll be happy you sent them.
Books and magazines.
Notebooks and journals.
Personal Care
Razor blades – your child may go into shock when they find out how expensive replacement blades are.
Shaving cream
Moisturizer
Sunscreen
Lip balm
Shampoo/Conditioner
A new toothbrush and dental floss
New workout wear (and a little encouragement to use of the on campus fitness facilities).
Laundry/Cleaning Supplies
Laundry pods
Quarters (if they use coin operated machines)
Antibacterial cleaning wipes – I'm just going to say it – college students are not the neatest humans.
Pack it with love and send it early to allow ample time for delivery.