Thin-sliced chicken with a luscious lemon cream sauce served over basil Parmesan pasta. This Creamy Lemon Chicken with Pasta is simply elegant but easy enough to make any night of the week.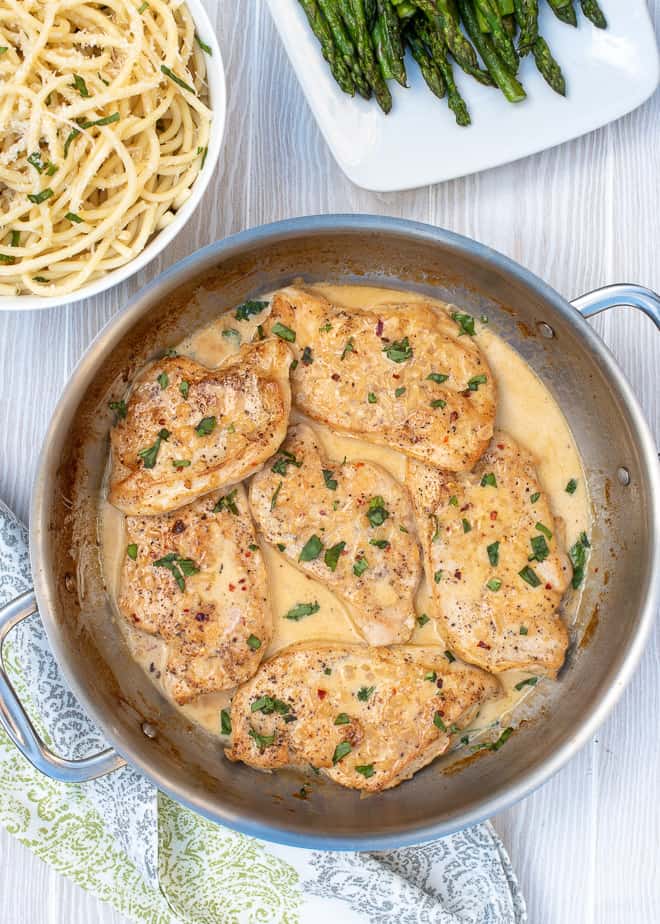 I'm in love with this chicken dish, friends.
Maybe it's because this is the meal I prepared for my group here on Valentine's Day and love is in the air! But honestly, it's the heavenly lemon cream sauce that has won my heart. It's bright, fresh, and creamy all at the same time and it has a bit of a kick from the addition of crushed red pepper flakes. It is fabulous drizzled over the simply sautéed chicken and pasta.
My lemon tree is bursting with fruit right now and I've got some really delicious plans for all that citrus, starting with this Creamy Lemon Chicken with Pasta. I really, really want you to try this recipe. It is pure, simple, deliciousness.
How to Make Creamy Lemon Chicken with Pasta
You need 1/2-inch thick pieces of boneless chicken breast for the best result. To make it really easy, pick up boneless, skinless chicken breast that is labeled as "thin-sliced" from the store. It may still be a bit too thick, so to fix that, place the chicken on a cutting board or large piece of foil, place a piece of plastic wrap over it, and use the smooth side of a meat mallet to lightly pound the surface to the desired thickness.
The other option is to purchase regular boneless breasts and use a sharp knife to slice them right through the middle. They will likely need to be pounded a bit thinner once sliced.
The incredible creamy lemon sauce consists of dry white wine, chicken broth, diced shallots, minced garlic, the juice from a good-sized lemon, and crushed red pepper flakes. As the sauce simmers it will reduce and thicken up. It is finished off with a little butter and cream.
The Right Wine
Look for a dry white varietal like the Pinto Grigio pictured above. My other favorite is Sauvignon Blanc. Ideally you want a fresh, crisp, bright white wine. If you have Chardonnay on hand, it will work just fine as well.
Cook up your favorite pasta separately and toss it with Parmesan, fresh basil and just enough of the starchy water it cooked in to moisten the mixture.
I have new found love for bucatini pasta which is what you see pictured here. It is thicker than spaghetti and has a tiny hole that runs all the way through the center. It works really well with creamy sauces that will coat both the outside and the hollow center of the noodles. So fun and so good!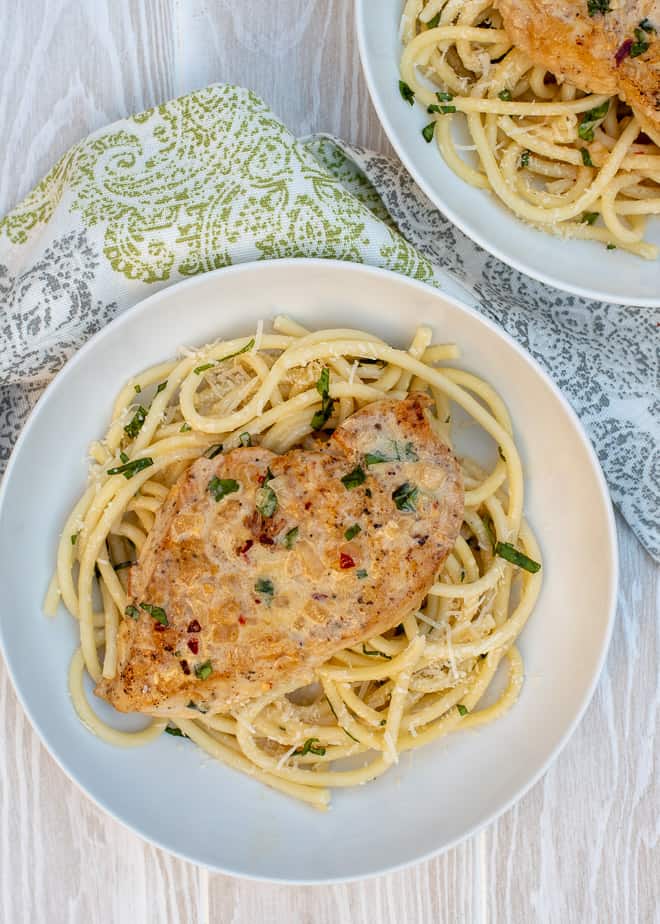 Creamy Lemon Chicken with Pasta
Thin-sliced chicken with a luscious lemon cream sauce served over basil Parmesan pasta. This Creamy Lemon Chicken with Pasta is simply elegant but easy enough to make any night of the week.
Print
Pin
Rate
Servings: 6
Calories: 548kcal
Ingredients
12 ounces uncooked dry pasta, like spaghetti, bucatini, linguine, angel hair
6 thin-sliced boneless skinless chicken breasts
salt and fresh ground black pepper, to taste
3 tablespoons olive oil, divided
1/3 cup finely diced shallots
2 teaspoons minced garlic
1 cup dry white wine, like Sauvignon Blanc, Pinot Grigio, or Chardonnay
1 1/2 cups low-sodium chicken broth
1/4 cup fresh lemon juice, 1 large lemon, juiced
1/4 teaspoon crushed red pepper flakes, or to taste
2 tablespoons butter
1/4 cup heavy cream
4 tablespoons chopped fresh basil, divided
1/2 cup finely shredded Parmesan cheese
Instructions
If necessary, cover chicken breasts with plastic wrap and use a mallet to lightly pound them until 1/2″ thick. Season with salt and freshly ground black pepper on both sides.

Preheat oven to 375 degrees F.

Cook pasta according to package directions.

Meanwhile, add olive oil in a large oven-safe skillet and place over MEDIUM-HIGH. When oil is good and hot add the chicken and cook for 2 to 3 minutes per side, until nicely browned. Chicken does not need to be cooked through at this point. Transfer the browned chicken to a plate or large piece of foil to rest. Do this in batches, if necessary, to avoid over-crowding the skillet.

Reduce the heat to MEDIUM, add the shallots and garlic to the skillet. Cook, stirring, for a minute or two. Add the white wine and use a spoon to scrape up any browned bits from the bottom of the skillet as the wine comes to a simmer. Allow wine to simmer at a low boil for 3 to 4 minutes until slightly reduced. Add the chicken broth, lemon juice, and red pepper flakes. Increase heat to MEDIUM-HIGH and bring sauce to a low boil. Allow to simmer for about 10 to 15 minutes until thickened and reduced.

Remove the skillet from the heat and add the butter and stir until completely melted. Add the heavy cream and stir to combine. Transfer the browned chicken to the skillet and drizzle the sauce over the top. Transfer the skillet in the oven for 8 to 10 minutes or until the chicken is completely cooked through. Remove from oven and top with 2 tablespoons chopped basil.

Drain pasta, reserving 1/2 cup pasta water. Place pasta in a large bowl and add cheese and remaining basil and toss to combine, adding enough reserved pasta water to moisten pasta. Serve with chicken and and spoonful of sauce.
Nutrition
Calories: 548kcal | Carbohydrates: 45g | Protein: 35g | Fat: 20g | Saturated Fat: 7g | Cholesterol: 101mg | Sodium: 326mg | Potassium: 649mg | Fiber: 1g | Sugar: 2g | Vitamin A: 455IU | Vitamin C: 5.9mg | Calcium: 133mg | Iron: 1.5mg