Smoked sausage combined with a sweet, tangy BBQ sauce mixture that stays warm in the Crock-Pot for the duration of your game day party. A classic party snack and a sure-fire crowd pleaser.
Click HERE to sign up for your FREE email subscription and never miss a recipe!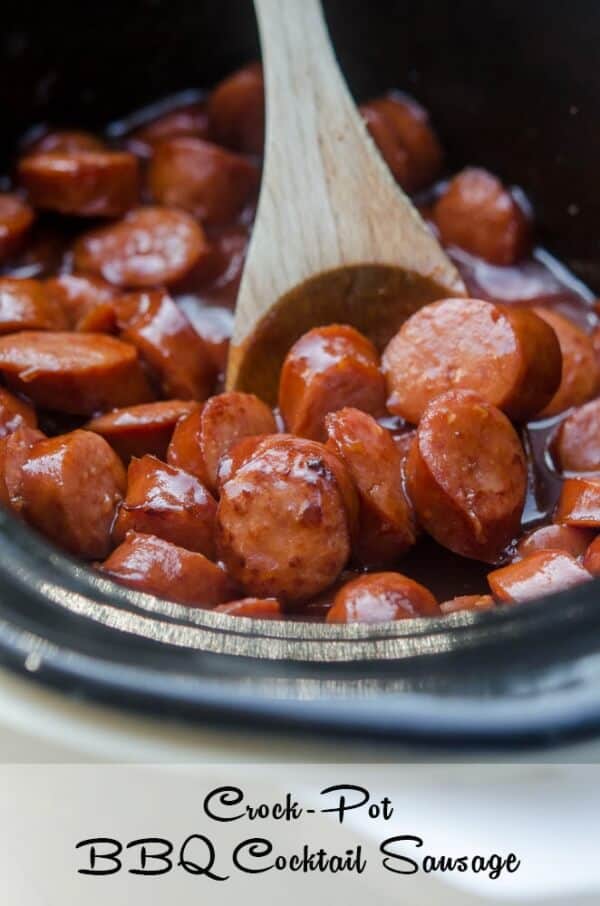 I had the TV on most of the day yesterday. I like the background noise while I do the wildly exciting work involved in running a plumbing and electrical supply shop. The topic of the day from The Today Show all the way through to The Tonight Show was "Deflate-Gate", the deflated balls scandal that has rocked the sports world since the playoff game last weekend. I listened to a series of TV anchors – from the most seasoned to the not-so-serious entertainment news folks – snicker at Tom Brady's deadpan delivery of some very descriptive adjectives he used to explain precisely how he likes his balls.
Twelve year old boy humor at it's best.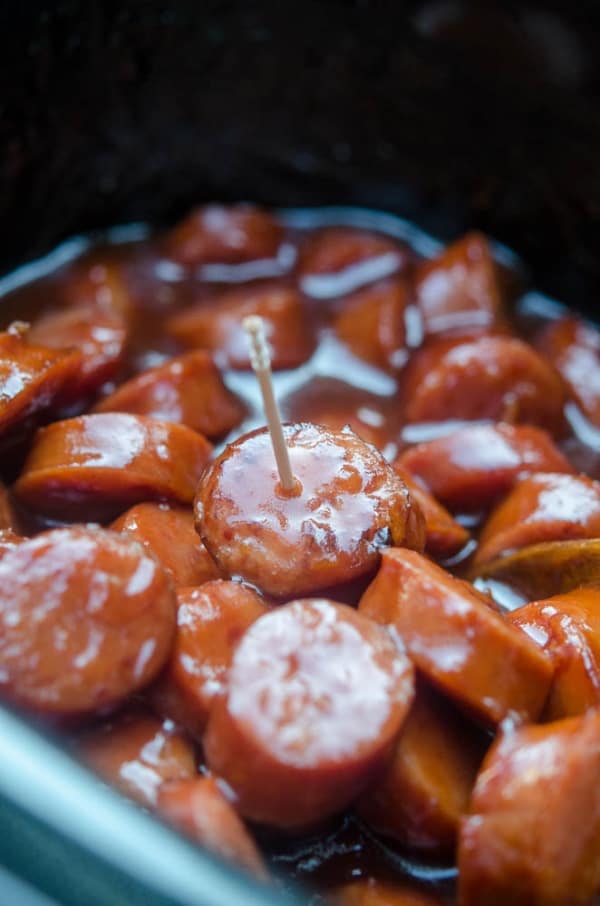 Each year there seems to be something interesting surrounding the Big Game that gives us something to discuss around the water cooler. Wardrobe mishaps at half-time (Miss Jackson), brother vs. brother coaches (that was so cool), power outages (whaaattt??) and this year, Tom's deflated balls. While I sat editing photos and thinking about what to say about these tasty little sausage bites it struck me.
What's more fitting to serve on Super Bowl Sunday in the midst of the deflated balls controversy than cocktail weenies?
And, that, my friends, was my first and last weenie joke on the blog (promise). Thanks, Tom Brady.
It's a classic recipe and a simple one that calls for a total of four ingredients. BBQ sauce, chili sauce, and apricot jam. I'm going to say it for the 528th time, go get yourself some Kinder's BBQ Sauce. It's THE best. Do not confuse chili sauce with cocktail sauce. Big diff. Check the label before throwing it in your cart.
I'm using basic smoked sausage here but if you're serving a bunch of big, burly, football watchin', manly men (or me), you could substitute a spicy sausage – like andouille- to spice things up.
To get a nice little sear on the sausage before tossing them in the slow cooker, cook them in a little vegetable oil over high heat for just a minute or two. You could omit this step but it adds a level of savory-ness to these little sausage bites that I really like.
Transfer the browned sausage to a double layer of paper towels and blot them to remove any excess oil.
In the slow cooker they go.
Combine the BBQ sauce, chili sauce, and apricot jam.
Pour that tasty mixture into the slow cooker over the top of the sausage.
Set the slow cooker to LOW for three to four hours or HIGH for a couple of hours and they are ready to serve.
The sausage will stay warm in the slow cooker for the duration of the game. Set some toothpicks nearby for serving.
Enjoy the food, the drink, the half-time performances, and oh yeah…the game!

Crock-Pot BBQ Cocktail Sausage
Smoked sausage in a sweet, tangy BBQ sauce that stays warm in your slow cooker for the duration of your gathering. A classic party snack that is a sure-fire crowd pleaser.
Print
Pin
Rate
Servings: 12 servings
Calories: 373kcal
Ingredients
3 (14 ounce) packages fully cooked smoked sausage sliced slightly on the diagonal
2 tablespoons vegetable oil or just enough to coat bottom of skillet
1 cup BBQ sauce
1/2 cup chili sauce
1/2 cup apricot jam
Instructions
Heat oil in a large skillet over high heat. Saute sausage in batches for just a minute or two until browned. Transfer browned sausage to a double layer of paper towels and blot away excess grease and then transfer to your slow cooker.

Whisk together the sauce ingredients and pour them over the sausage. Stir to combine. Cover and set slow cooker to LOW and cook for 3 to 4 hours or HIGH for 2 to 3 hours.

Keep the sausages in your slow cooker for the duration of your party to keep them warm. Serve with toothpicks.
Notes
To add some heat, substitute a spicy sausage (like andoullie) or use a spicy BBQ sauce. I like to use a combination of Kinder's Hot and Mild BBQ Sauce. Perfection!
Nutrition
Calories: 373kcal | Carbohydrates: 14g | Protein: 12g | Fat: 28g | Saturated Fat: 11g | Cholesterol: 70mg | Sodium: 1238mg | Potassium: 284mg | Sugar: 9g | Vitamin A: 130IU | Vitamin C: 2mg | Calcium: 17mg | Iron: 1.2mg