These mini Turkey Burger Sliders make for a fun party snack or toss a salad and call it dinner!
I'm making good on my promise to share some of the goodies I made for our Halloween party last weekend. I love to make sliders for several reasons. They are small and light, no utensils needed – they truly are finger food which makes them perfect for parties, and they are universally loved by all ages. If you are a slider fan you might also want to check out my Ham and Cheese Sliders.
In this version I make some kicked up turkey burger patties, top them with smoked gouda cheese and a mildly spicy Sriracha mayonnaise and bake them inside soft, buttery potato dinner rolls. Heavenly! And it's so easy, I promise. Shall we begin?

First, mix your ground turkey together with a couple of diced cremini mushrooms, 1/2 cup of finely chopped onion, 1 tablespoon of any cajun or creole seasoning you can get your hands on, and a little bit of your favorite barbecue sauce. Ground turkey does not have as much fat as ground beef. Fat = Flavor. This is why you need to be sure to add enough seasoning with any recipe calling for ground turkey. The chopped mushrooms seem to act as little flavor sponges in combination with the onions, cajun spice and barbecue sauce.
Get in there and mix it all up with your hands. It's the only way I tell you!
Form the mixture into 24 balls, approximately the size of golf balls, I think. I don't really play golf but they look like golf balls to me. I always seem to have a little meat left over so I cook it up and hand it over to whoever happens to be standing closest to me at the time.

I LOVE my stove top griddle. We use it for all kinds of things. Pancakes, grilled cheese sandwiches, quesadillas, and of course, sliders.
Spray your stove top griddle or a large pan with cooking spray and place over medium high heat. Form the meatballs into patties as you place them on the griddle, by pressing them between the palms of your hands. Cook them, in batches, for a few minutes on each side till cooked through.
Remove them to paper towels to drain.
I've said it before but I'll say it again, these Colombo Potato Dinner Rolls are my first choice when making sliders. They are soft and buttery and perfect. Slice each roll in half.
Now, on to the cheese. Stack up the 12 slices of cheese and cut them into quarters.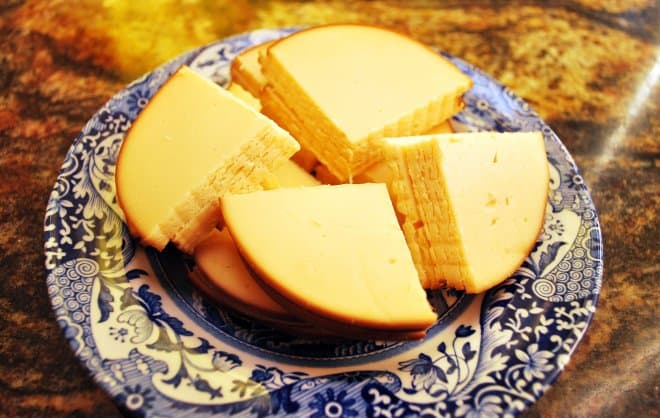 Smoked gouda cheese really does it for me.
Now grab some Sriracha sauce. If you have not tried this yet, you must! Sriracha is a Thai chile sauce also known as "rooster sauce" thanks to the rooster logo on the bottle. It's not your average hot sauce – the flavor is addicting and something magical happens when you mix it with mayonnaise. It's perfect on these sliders but try it with sweet potato fries too. You won't regret it.
I realize this is a point of controversy but I use light mayonnaise. I always have and I always will, with maybe just a few exceptions. If you are a light mayo hater, use regular. I never measure, I just mix it together till it looks right. I can tell by the color. Sriracha can be mighty spicy if you use too much so you might want to start by adding 1 tablespoon and then add more till you get it just right. With 2 tablespoons per 1/2 cup mayo it is just right for us and I am a bit of a wimp when it comes to spicy food.
To assemble the sliders, spread a little of the Sriracha mayo on the bottom half of each roll. Place a turkey burger on top, then 2 pieces of the cheese and then the top of the roll. Place the assembled sliders on a rimmed 12 x 17 baking sheet and bake at 350 degrees for about 15 minutes or till these cheese has melted and the tops of the rolls are lightly toasted.
Now stand back and watch them go!
Turkey Burger Sliders
These mini Turkey Burger Sliders make for a fun party snack or toss a salad and call it dinner!
Ingredients
2

pounds

lean ground turkey

1/2

cup

onion,

,

finely chopped

2 or 3

cremini mushrooms,

,

finely chopped (about 1/2 cup)

1/4

cup

barbecue sauce

1

tablespoon

cajun or creole seasoning

non-stick cooking spray

1

(24 count)

package potato dinner rolls,

,

sliced in half

12

slices

smoked gouda cheese,

,

sliced into quarters

1/2

cup

light mayonnaise

2

tablespoons

Sriracha sauce,

,

more or less to taste
Instructions
In a large mixing bowl combine ground turkey, onion, mushrooms, barbecue sauce, and seasoning. Mix well with your hands till completely combined. Form into 24 balls about the size of golf balls.

Coat a stovetop griddle or large frying pan with cooking spray. Place over over medium heat. Flatten meatballs with the palms of your hands as you place them on the griddle. Cook for several minutes on each side until cooked through. Cook in batches, transferring cooked burgers to paper towels to absorb any excess grease.

In a small mixing bowl combine the light mayonnaise and Sriracha sauce. Mix well.

To assemble sliders, coat bottom half of dinner roll with Sriracha mayonnaise, place a turkey burger on top and then 2 quarter slices of smoked gouda cheese. Place top half of dinner roll on top and place assembled slider on a 12 x 17 rimmed baking sheet. Assemble remaining sliders.

Bake at 350 degrees for 10 to 12 minutes or until cheese is melted and tops of rolls are lightly toasted.
Notes
Make Ahead Method: Assemble sliders and place on rimmed baking sheet. Wrap well with plastic wrap and store in refrigerator until ready to bake, up to 8 hours. You may need to bake for an additional 5 to 10 minutes if cold when going into oven.
Nutrition
Serving:
1
slider
·
Calories:
132
kcal
·
Carbohydrates:
3
g
·
Protein:
11
g
·
Fat:
8
g
·
Saturated Fat:
4
g
·
Cholesterol:
46
mg
·
Sodium:
249
mg
·
Potassium:
137
mg
·
Fiber:
1
g
·
Sugar:
2
g
·
Vitamin A:
266
IU
·
Vitamin C:
1
mg
·
Calcium:
118
mg
·
Iron:
1
mg
Nutrition information is automatically calculated using generic ingredients, and is an estimate not a guarantee. For more accurate results, please refer to the labels on your ingredients at home.
Did You Make This?
We love seeing what you've made! Tag us on social media at @fromvalerieskitchen for a chance to be featured